OK, I know some of you will think I'm coo coo for Cocoa Puffs for trading out my traditional entryway furniture for something more fun. More eclectic. More me. A vintage eclectic style.
But a girl has to do what she has to do.
I'm a firm believer that your entryway should reflect the type of decor your visitors should expect to see once they walk farther into your home.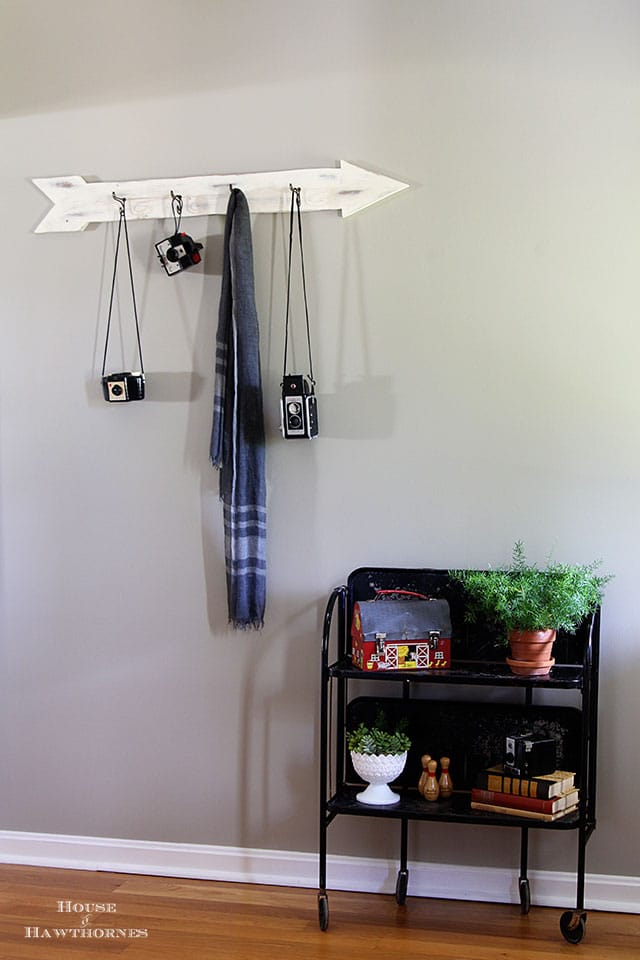 And this was my way of setting the stage for things to come.
A vintage eclectic style home.
So I kicked my formal entryway table to the curb (not really, it's in the dining room) and I brought my vintage Versa Fold n Roll Table down from my craft room/office to replace it (the ugly BEFORE photos are coming up in a bit).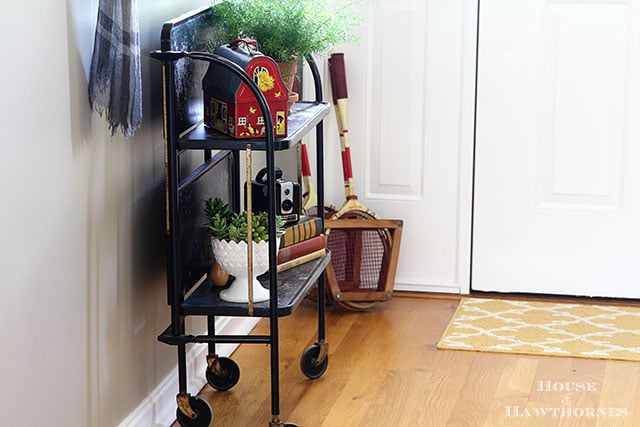 The table is a little bit funky and unique and rusty. I found it at a church rummage sale a few years ago and couldn't fork over my $5 fast enough.
It's made to fold down to make it flat like a bar serving cart, if need be. Since I need a bar cart rarely (like never), I tend to keep it folded up.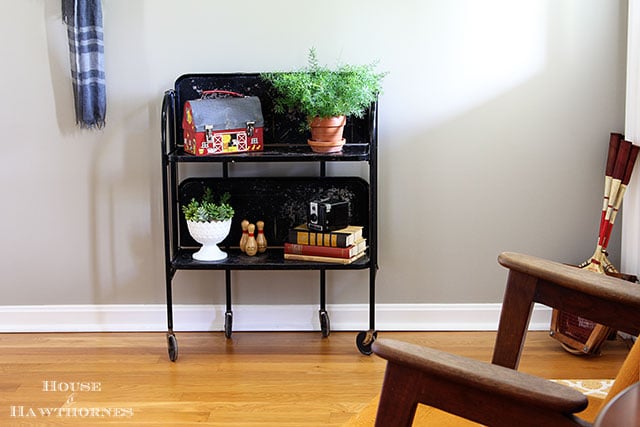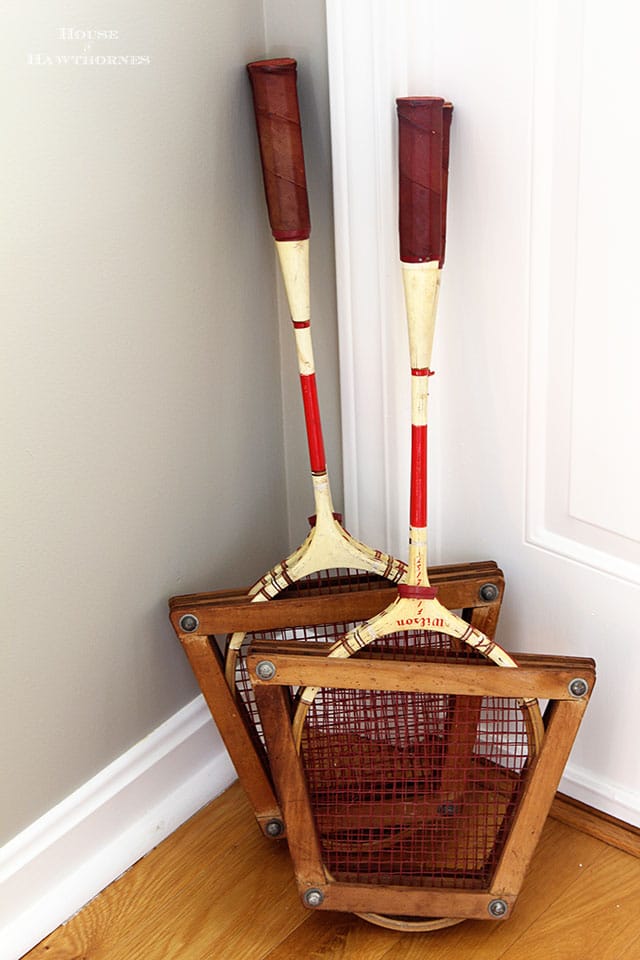 On the cart, I have my Thermos brand barn lunchbox that I bought at the Country Living Fair this year,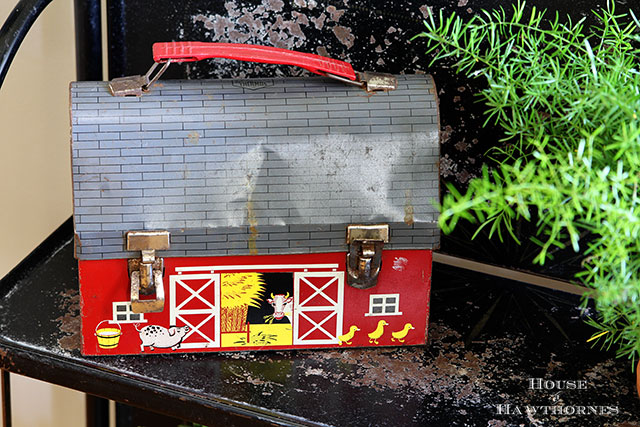 some mini bowling pins that my friend Terri from Olive Out sent me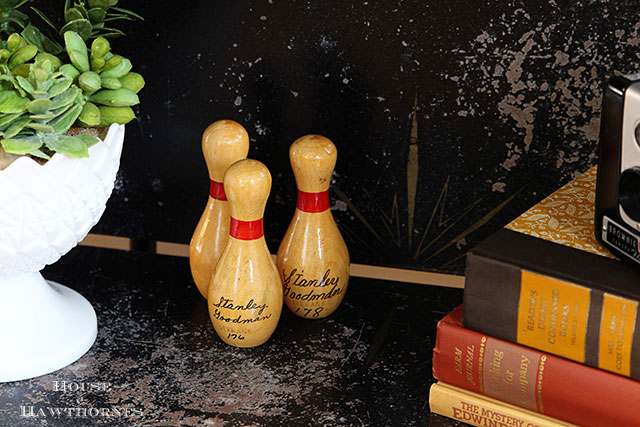 and my Kodak Brownie Hawkeye setting on some thrift store books.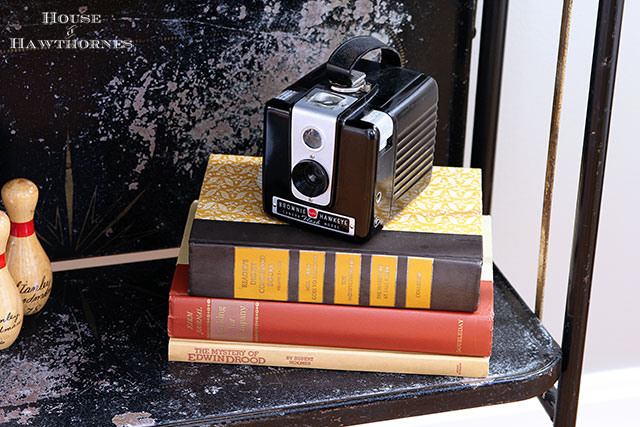 All fun things that appear to have nothing in common, but just went well together in my mind. That's pretty much the definition of a vintage eclectic style, I think.
Speaking of cameras, I hung a few more on my coat hooks. Were you expecting to see coats on the coat hooks?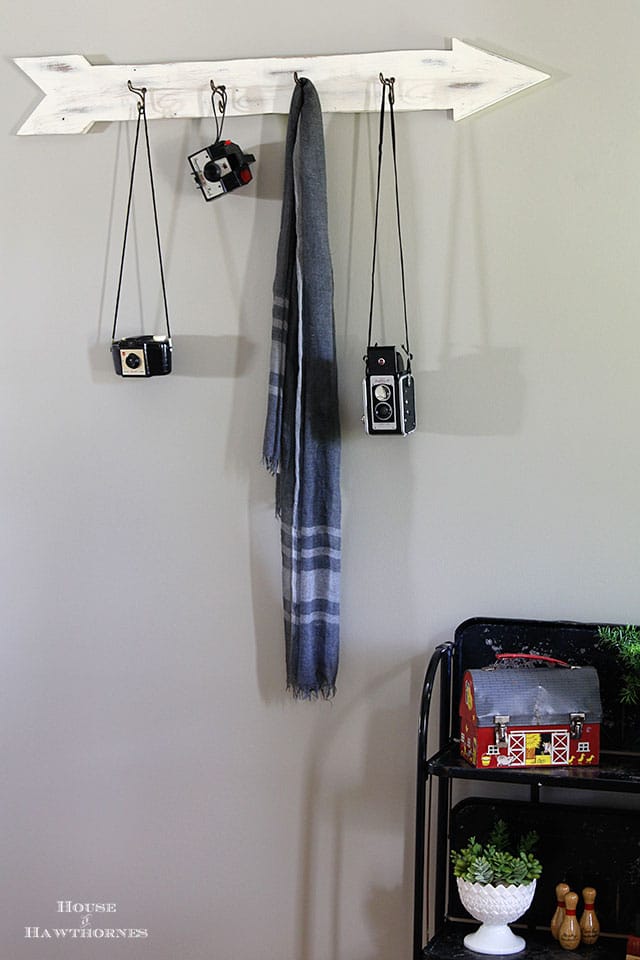 Imperial Mark XII camera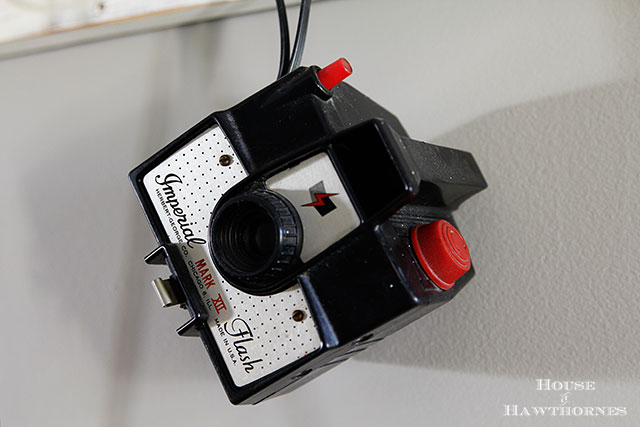 Kodak Duaflex III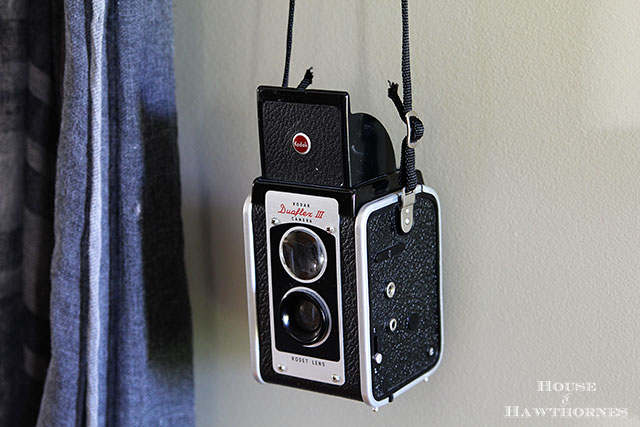 Kodak Brownie Starlet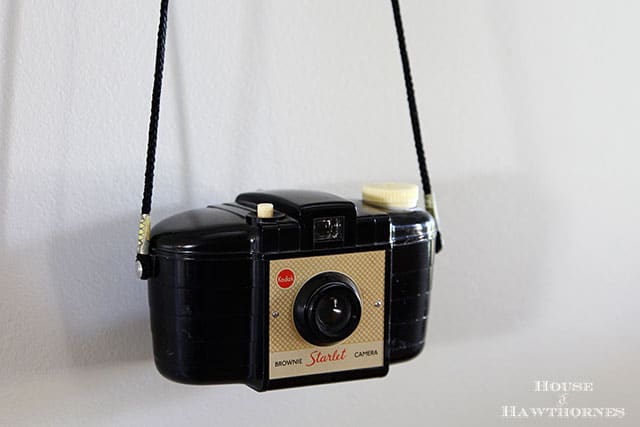 I never met a vintage camera I didn't love. Or didn't buy.
This arrow was handmade by me from an old piece of wainscoting.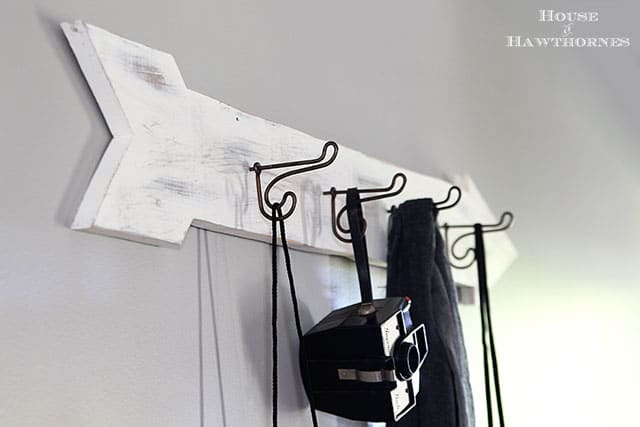 This is the other side of the entryway. Nothing spectacular, but it's a pretty small entryway.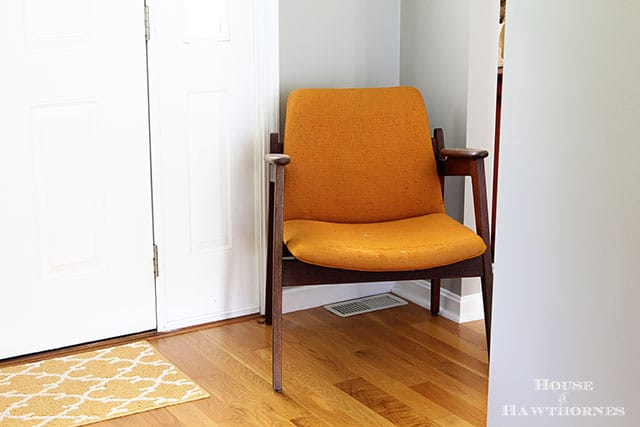 Since taking these photos, I have started to update my mid century modern chair. I hope to get that done this weekend, so I can show her to you in all her groovy glory.
OK, as promised, here are the BEFORE photos for you.
This entryway was yellow!!! As in put on your sunglasses because it's going to be a hot one!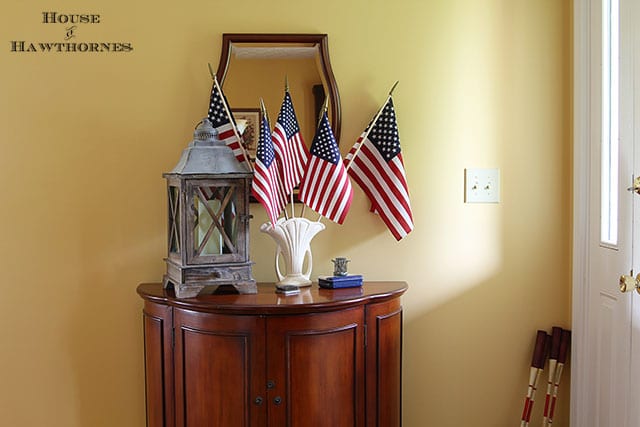 I loved the color for years, but it made it soooo hard to shoot photos here. Everything had a yellowish cast to it.
Plus I wanted something less stuffy and formal. More eclectic and fun.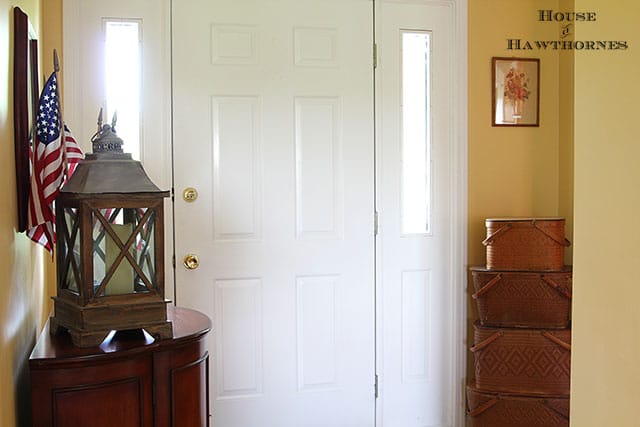 Since the rest of my home is not stuffy and formal AT ALL.
I think I achieved that!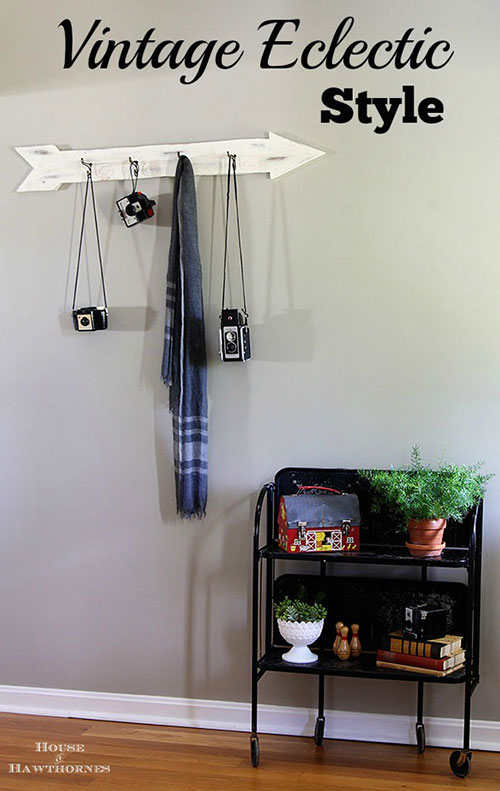 Does your entryway show visitors a taste of what's going on in the other areas of your home?
Love it? Hate it?
Not my style, but I'll trust that you haven't really gone coo coo for Cocoa Puffs, Pam?