These easy to grow vintage flowers are making a comeback in popularity for the flower garden. I'll show you some of my favorite annuals, perennials and biennials for an old fashioned flower garden.
My grandma died when I was about 7 (way to kick it off with a downer there, Pam), so there's not a whole lot that I remember about her.
But I do remember her love of flowers. She was an avid gardener.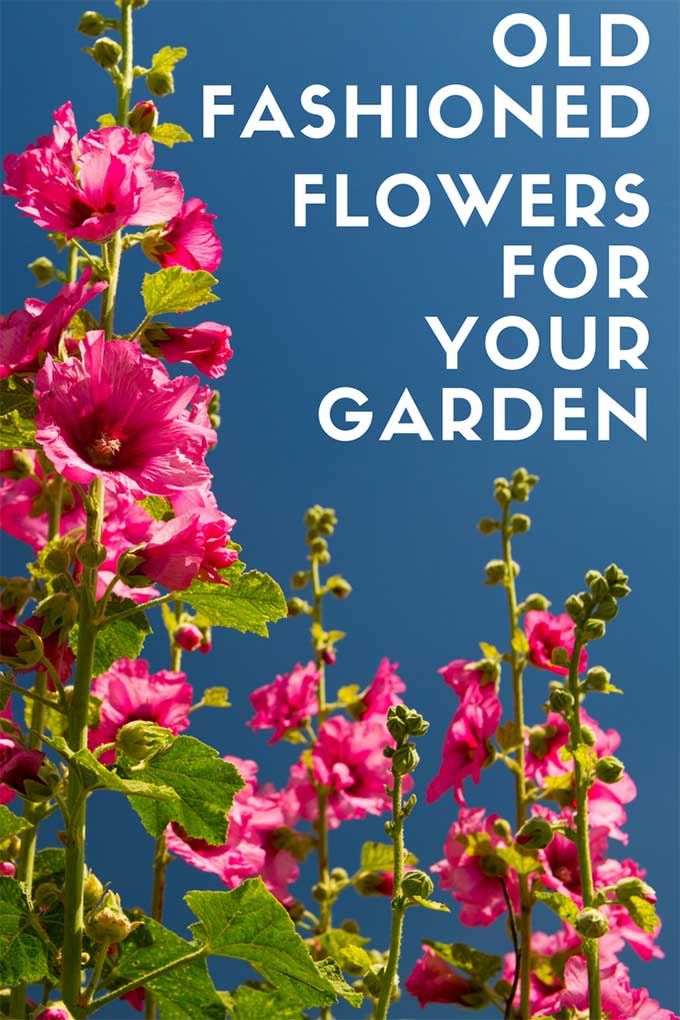 Her backyard was FULL of flowers. Lots and lots of flowers. But not the impatiens and wave petunias everyone and their brother grows today. They grew different flowers back then.
Here is a list of some flowers that may have been in her garden. Or your grandmother's garden.
They are all old fashioned. Or vintage. Or classic. Whatever you want to call them, they would look AWESOME in your garden this year.
Vintage Flowers For Your Garden
Hollyhock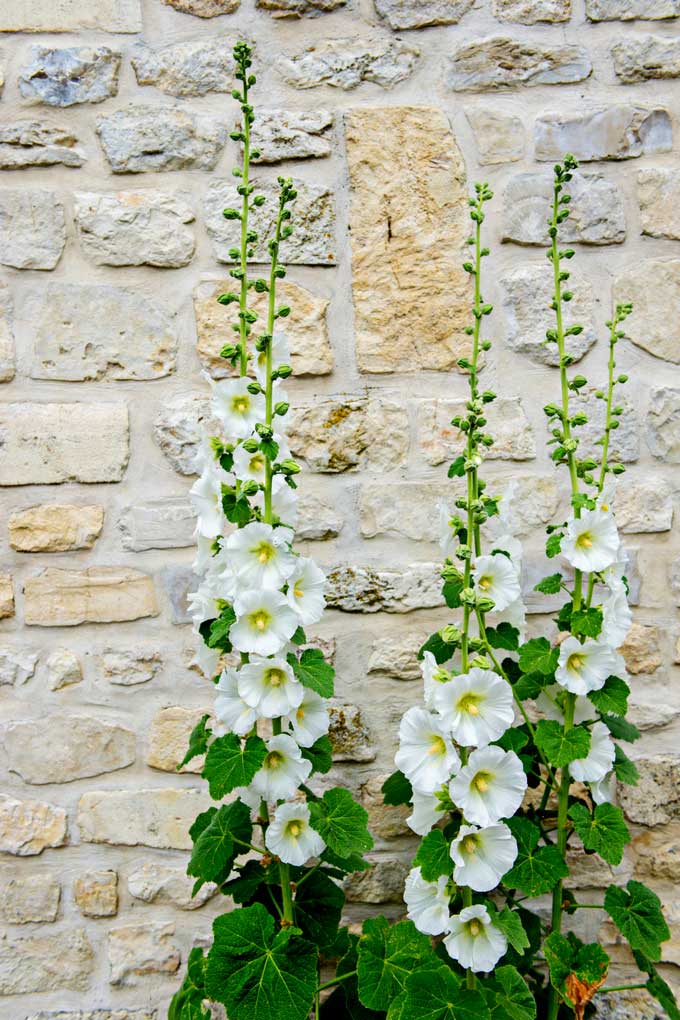 Nothing shouts COTTAGE GARDEN more than a cluster of Hollyhocks along a brick wall or picket fence.
Although they tend to be a perennial with a shorter lifespan (normally only lasting 2-3 years), hollyhocks are totally worth growing! Besides, they reseed themselves easily so you will have new hollyhocks popping up to replace the previous ones.
How To Grow Hollyhocks
Hollyhocks (Alcea Rosea)
full sun, sheltered from winds
grows up to 10' tall
Sweet Peas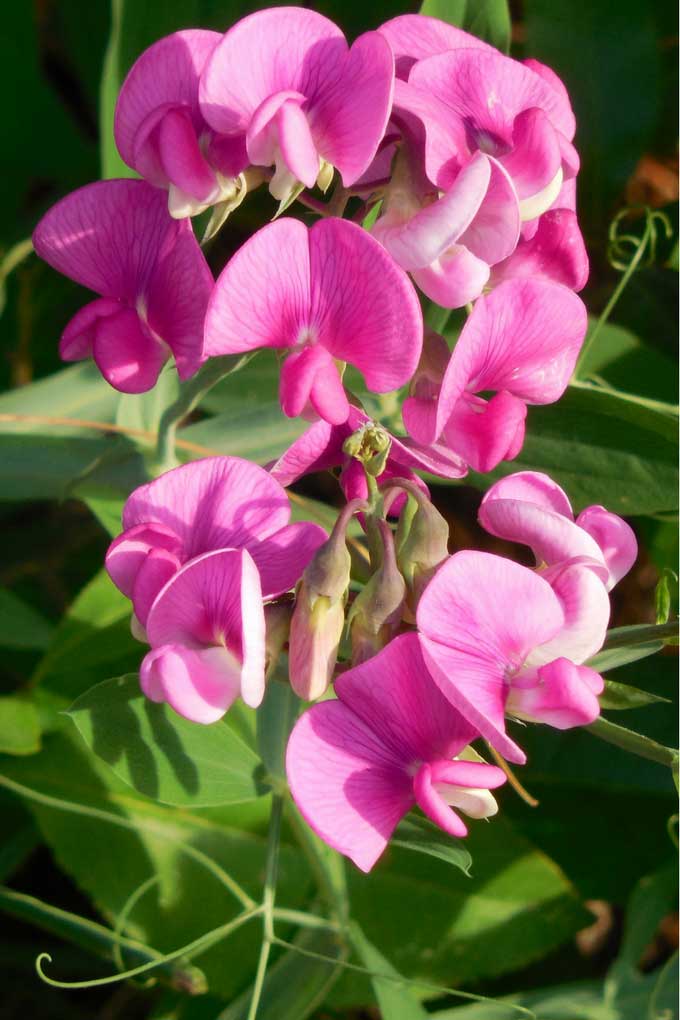 Sweet peas have a Heavenly scent that will remind you instantly of your Grannie's garden. Grab a bunch of them and place them in a mason jar for a lovely bouquet for your kitchen table.
I am a firm believer that EVERY cutting garden should have at least a row or two of these flowers growing in it. Period.
How To Grow Sweet Peas
Sweet Peas (Lathyrus odoratus)
full sun
can climb to 10'
Heliotrope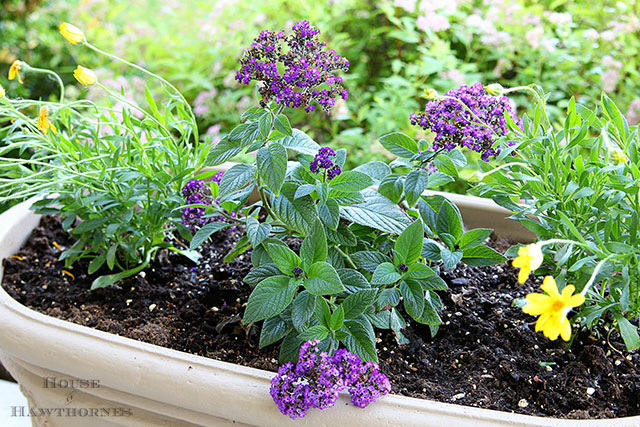 The flowers smell like grape Popsicles. Some say they smell like cherry pie and some say they smell like vanilla. I think they are nuts. Clearly grape Popsicle. Clearly.
Although I love the bushiness of this plant and the beautiful purple flower clusters, there is some thought that it may be toxic to dogs if ingested, so please keep that in mind if you have a plant eater in your midst.
How To Grow Heliotrope
Marine Heliotrope (Heliotrope arborescens)
part sun (4-6 hours direct)
grows to 10-14" tall
Spiderflower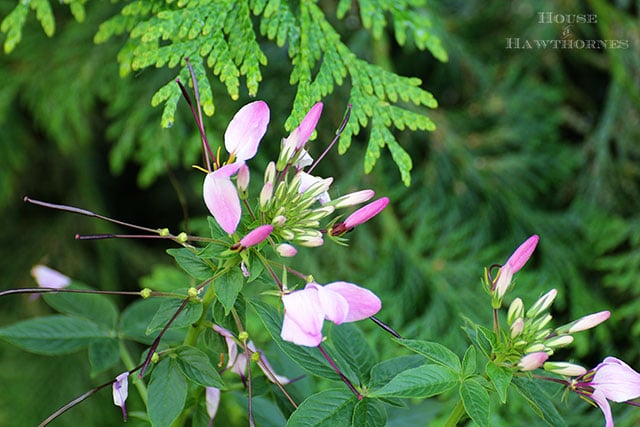 Gorgeous spider like flower blooms that grow on super sturdy long stems. Now, the bottom half of the plant is nothing to write home about, so it's best to plant them to the backs of your flower beds with lower growing plants in front of them to cover some of that blandness.
These can easily be grown from seed too. So if you can get rid of your arachnophobia, this is a great plant.
How To Grow Spiderflower:
Clio Magenta Spiderflower (Cleome 'Clio Magenta')
full sun
grows to 24-30" tall
Delphinium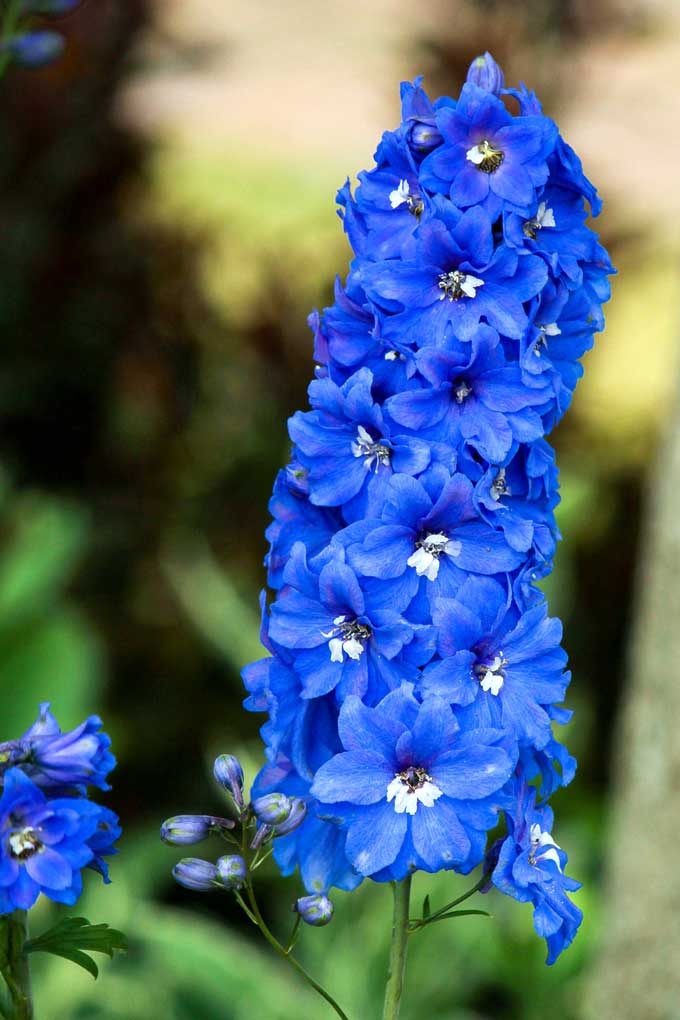 Delphiniums have gorgeous spiky blooms that poke out over the top of the garden. Although commonly seen in shades of blue, they can also be grown in lavender, white, yellow and red.
If you deadhead the initial blooms, they will bloom again.
How To Grow Delphinium
Delphinium (Delphinium)
full to part sun
grows 2-6' tall
Plumbago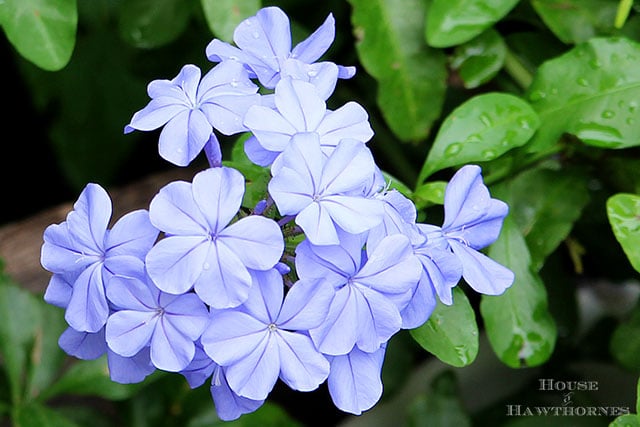 Hate to be redundant on the gorgeous thing, but . . . gorgeous blooms! They sort of resemble phlox.
Grows as a perennial for all the lucky people in the deep south and will look like a shrub (because technically it is a shrub). Can grow as an annual or in a pot for all of us who live in the world of four seasons.
How To Grow Plumbago
Imperial Blue Plumbago (Plumbago auriculata)
full sun to part shade
grows to 4' tall (mounding)
Foxglove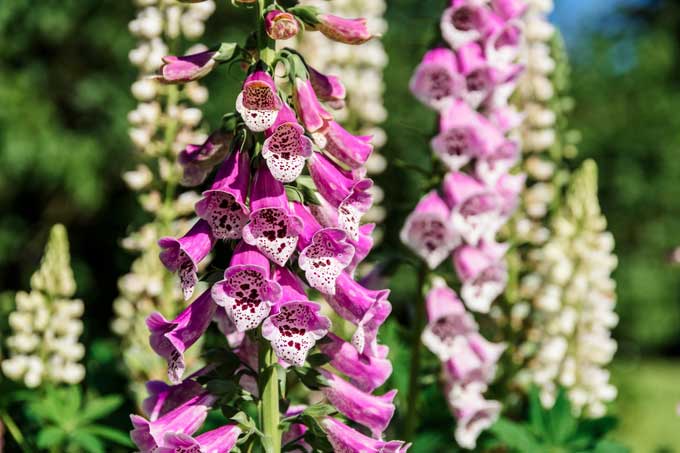 Foxtail is a beautiful flower for your garden with dramatic trumpet shaped blooms. It is a biennial, which means it has a 2 year life span, will require staking and may be poisonous. But hey, everyone has their downsides!
Actually I have never had an issue with the toxicity of this plant, but if that concerns you please read up on it before planting them.
BTW, my friend Pamela at Flower Patch Farmhouse has a whole article devoted to her love of foxtail and has some gorgeous photos of them in her cottage garden.
How To Grow Foxglove
Foxglove (Digitalis purpurea)
partial shade
height varies, but some varieties can grow to 7' tall
Coleus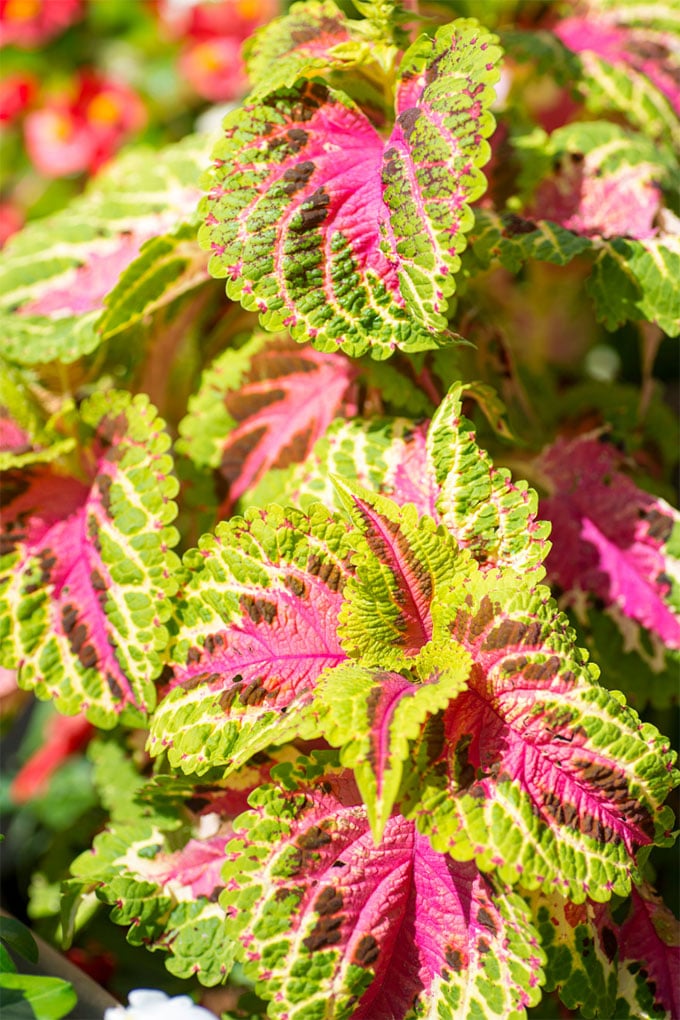 The flowers on these plants are not important. At all. In fact, I pluck them off as soon as I see them.
Why grow them then? The foliage!!! To die for foliage that gives a nice contrast to a shadier area of the garden.
And now that I've said that, I'll have to apologize for the sad coleus photo. I took that very early in the season before they had a chance to grow very well. Trust me, they look great once they've grown together and create a sea of colorful foliage.
How To Grow Coleus
Wizard Mix Coleus (Solenostemon scutellarioides)
part sun or shade
grows to 10-12" tall
Portulaca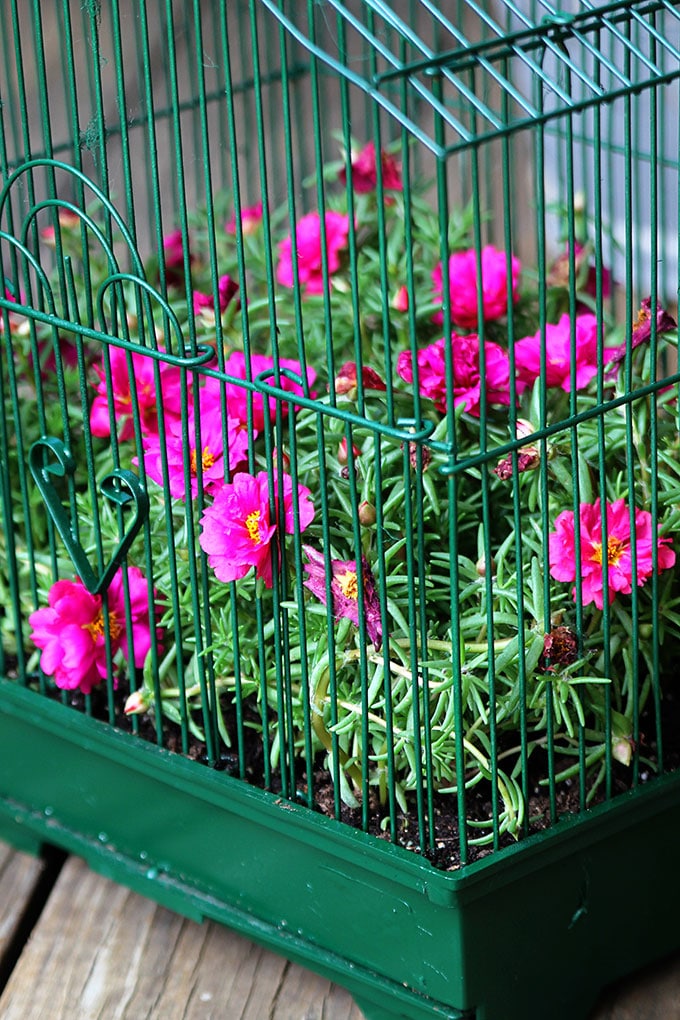 These are actually a succulent, but with masses of flowers (as seen in my How To Make A Birdcage Planter article).
And they thrive in drier conditions.
Not in your dryer, just drier soil. Just want to clarify that. We don't need any plants bouncing around your dryer. It's bad enough they're locked in the parakeet's cage.
How To Grow Portulaca
Portulaca (Portulaca grandiflora) aka Moss Rose
full sun
grows to 4-6" tall
Caladium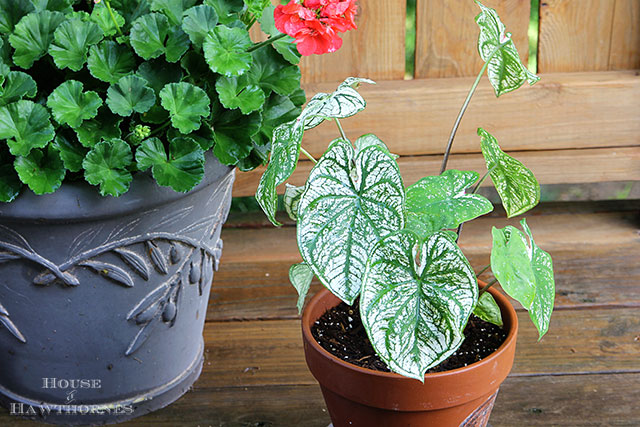 Another one grown for foliage only.
I strongly believe that every garden should have at least one of these. They're different. They're exotic looking. They're easy to grow. Enough said.
How To Grow Caladium
Candidum Caladium (Caladium hortulanem)
part shade to shade
grows to 12-18" tall
Are there any plants you would add to my vintage flower list? Are there any ones that you remember from your grandma's garden?
You can view the web story version of this article HERE.
Other post you may enjoy:
Container Gardening Made Easy
Ditch The Urns: Creative Garden Containers For Your Porch
Black-eyed Susan Vine AKA Heaven On Earth