Whether giving these as gifts or using them for Valentine's Day decorations, these cute DIY vintage-inspired Valentine candy boxes are a fun and easy craft project bringing a bit of nostalgia back to candy giving.
Do you find that most of the Valentine candy boxes found at the stores these days are somewhat childish with pictures of puppy dogs or cartoon characters on them?
Or the "romantic" ones are borderline gaudy with just a photo of big red roses emblazoned on them?
They are nothing like the Valentine's Day candy boxes of the old times with lots of ribbons, lace and puffy embellishments. Half the joy of receiving the old Valentine candy boxes was the box itself!

I decided to take some of the newer/uglier candy boxes and try to turn them into fancier vintage-inspired candy boxes.
(This post contains some affiliate links for your convenience. You can read my full disclosure policy here.)
How To Make a Vintage Inspired Valentine's Day Candy Box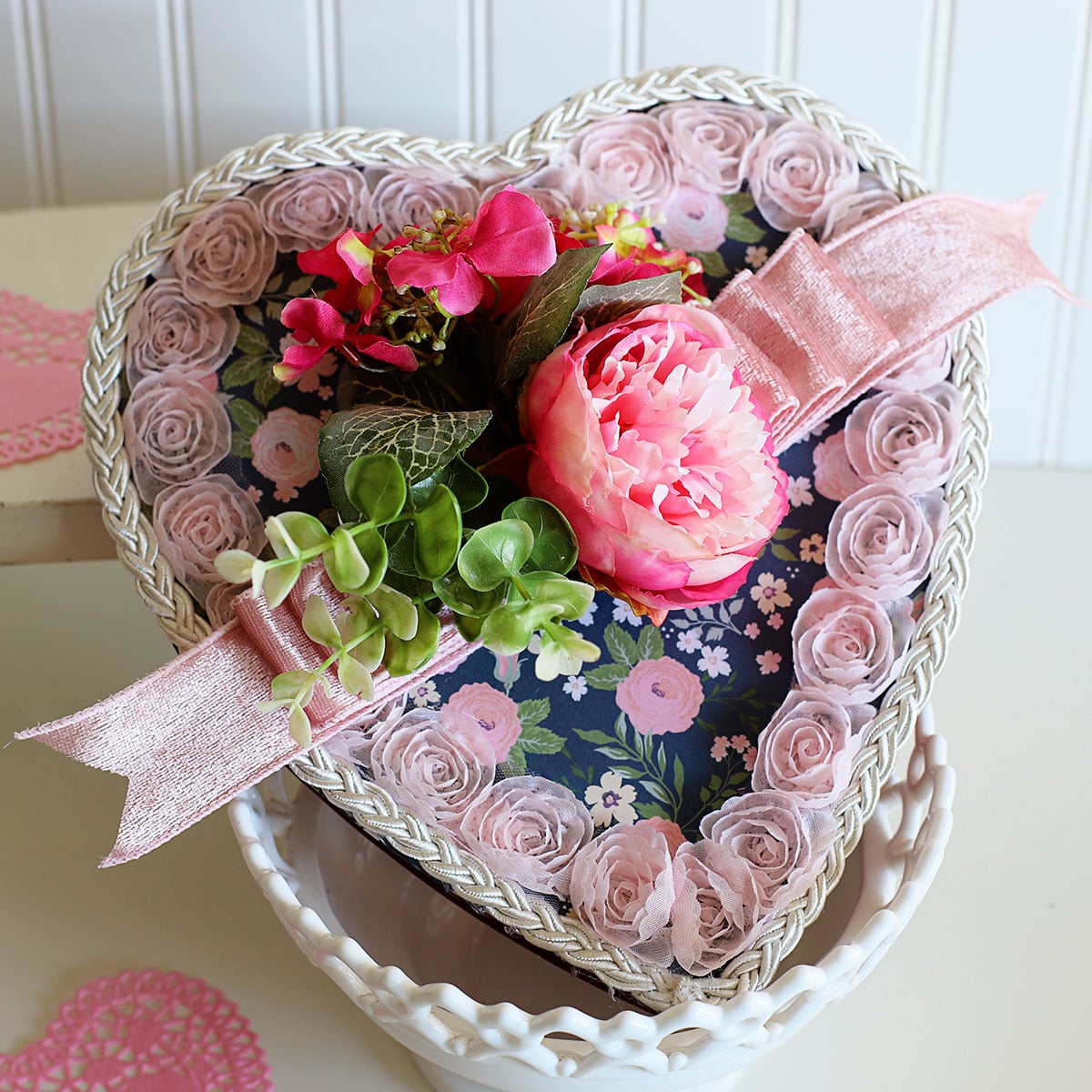 Supplies
Inexpensive Heart Shaped Candy Boxes (the larger boxes are Elmers 8 oz.* and the smaller ones are Elmers 1.6 oz.) - you can find these at your local grocery store or Dollar General
Scrapbook Paper*
Thick Ribbon*
A Few Types Of Fabric Trims*
Peony Or Rose Sprigs*
Valentines Day Die-Cut Shapes - I found mine at Michael's
Hot Glue Gun and Glue Sticks*
Scissors*
Small Craft Paintbrushes*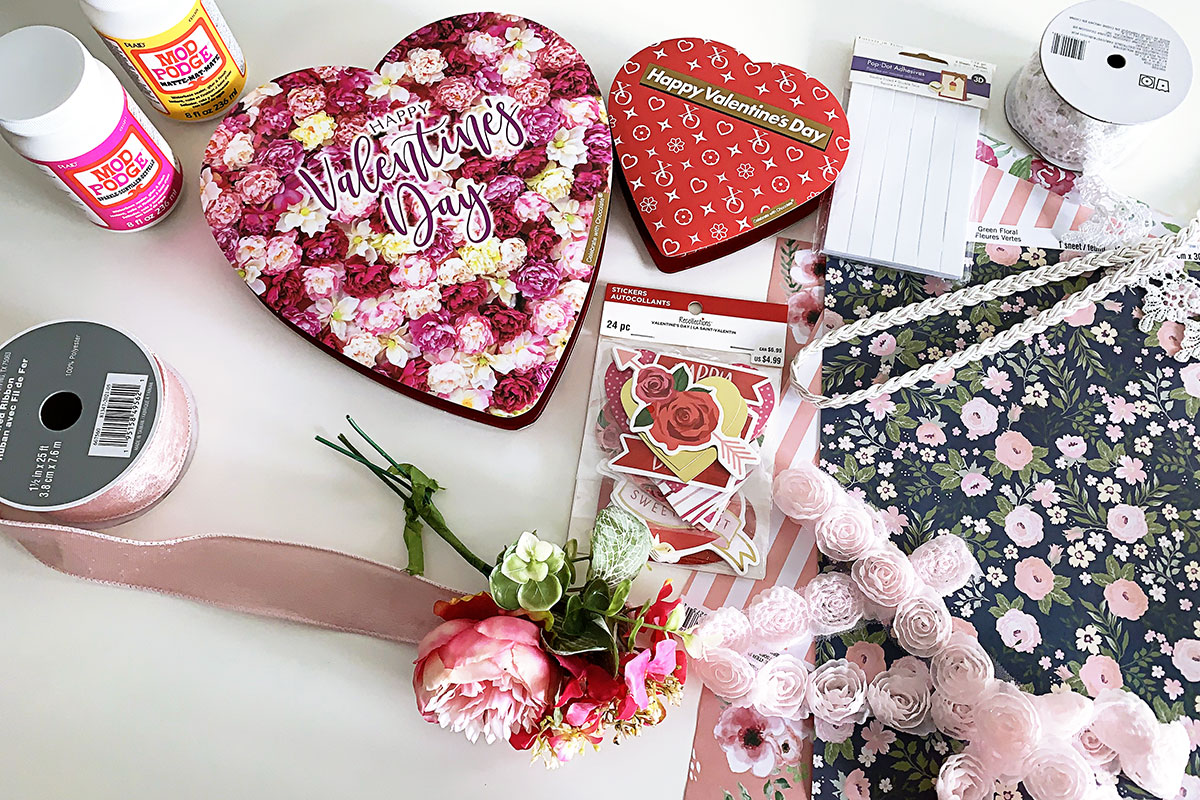 The items with the * are ones I used in the detailed tutorial. All other items are things I used in the other projects down below and you may want to think of having on hand.
Valentine Candy Box Tutorial
Time needed: 20 minutes
Step-By-Step Instructions
Gather Your Supplies

Candy Box
Scrapbook Paper
Ribbons & Fabric Trims
Matte Mod Podge
Scissors
Small Craft Paint Brush
Hot Glue Gun and Glue Sticks


Trace Around Lid

Trace the outline of your lid onto the back of your scrapbook sheet and cut out with scissors.



Attach Scrapbooking Paper

Brush Mod Podge or Elmer's Glue onto the back of the scrapbook paper. Flip it over with the good side up and place it on top of the box, smoothing out any air bubbles as you go.



Attach Your Embellishment Trims

In my case, I was using two trim pieces around the perimeter of the heart, so I started by gluing my braided trim around the outside with my hot glue gun.

You could use E6000 glue or Elmer's, but the hot glue was very easy to work with (minus burnt fingertips) and gave a very strong bond.



Add Other Embellishments

I'm a strong believer in the larger the heart, the more "floof" it needs around the edges. So for this mid-sized heart, I used dainty rose trim as a second row of embellishment. If it was a massive heart I may have used 3-4 rows of different trim pieces.

The hot glue gun was also used to attach these. I just ran a bead of the glue around ⅓ of the heart and then laid down the roses and moved on to the next ⅓.

I bought both of the trim pieces at JoAnn Fabrics in the aisle where they sell embellishments for dresses and such.



Cut A Banner Of Ribbon

I wanted this to look somewhat like an award (or those banners they put on funeral flowers that have someone's name on them, but that would just sound odd, so let's go with "award" shall we).

So I cut a piece of ribbon to length and then cut the ends in a V shape. I applied this to the box with a fairly large dollop of hot glue just in the middle of the box (so the tails flow freely).



Add The Flowers

OK, my husband said this made the box look like a 98-year-old great-grandmother made it, but I waved him away and stuck to my original idea.

If you go back and look at authentic vintage heart-shaped candy boxes, they were very much over-the-top. And the peony achieves just the right amount of over-the-topness I was going for!

I snipped off any extra stem that wasn't needed and simply hot glued the peony bunch to the middle of the box right on top of the ribbon.



Make Some Wavy Ribbon

With just the peony and the award ribbon it looked a bit flat, so I added a wavy section of ribbon on each side of the peony.

I just folded a small piece of ribbon in a zig-zag pattern and hot glued it very close to the peony right on top of the initial ribbon.

You can't tell it's not all part of the same ribbon and honestly, it might have been too bulky if I had tried to make the whole thing out of one piece of ribbon.



The Finished Project

And now you are ready to give the candy box as a gift or use as Valentine's Day home decor.


Other Variations Of Heart Shaped Boxes
If you're not into the over-the-top granny chic heart boxes, you can still doll up those boring candy boxes.
Fabric Rose Valentine Candy Box
This one was made by simply adding pink metallic-looking scrapbook paper to the top, some fabric trim to the edges, and a huge handmade ribbon rose to the center.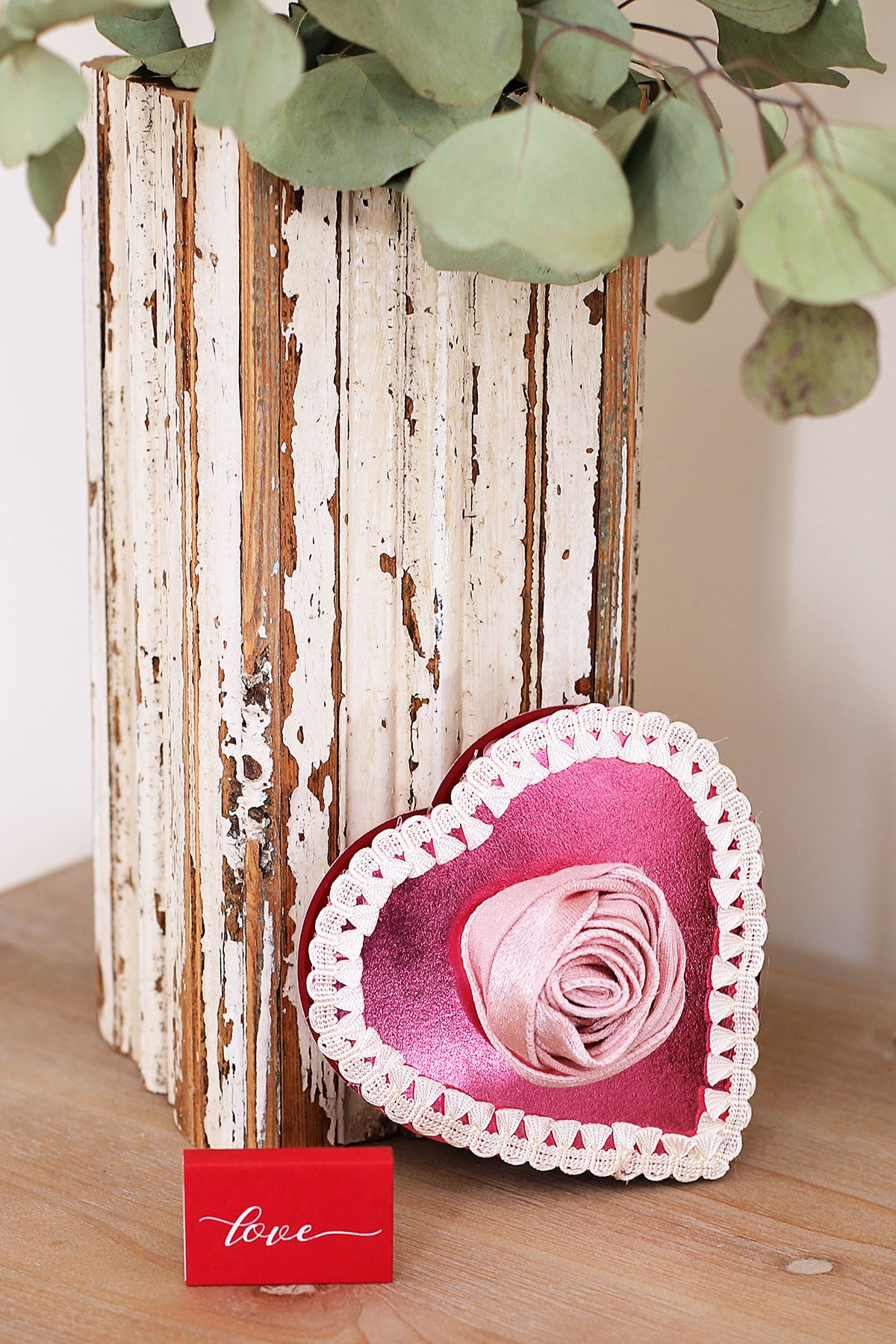 Clean and simple, yet quite a few steps above the child's kitten-themed candy box hiding beneath.
The rose was made out of the same ribbon used in my tutorial above. I followed Shabby Fufu's How To Make No Sew Ribbon Rose Flowers instructions to make it. These floral roses are super-duper simple to make and only take about 3 minutes!!!
Glittery Valentine Candy Box
And this box was made with striped scrapbook paper brushed with Sparkle Mod Podge (basically it's Mod Podge with a bit of glitter in it so it sparkles ever so slightly when dry).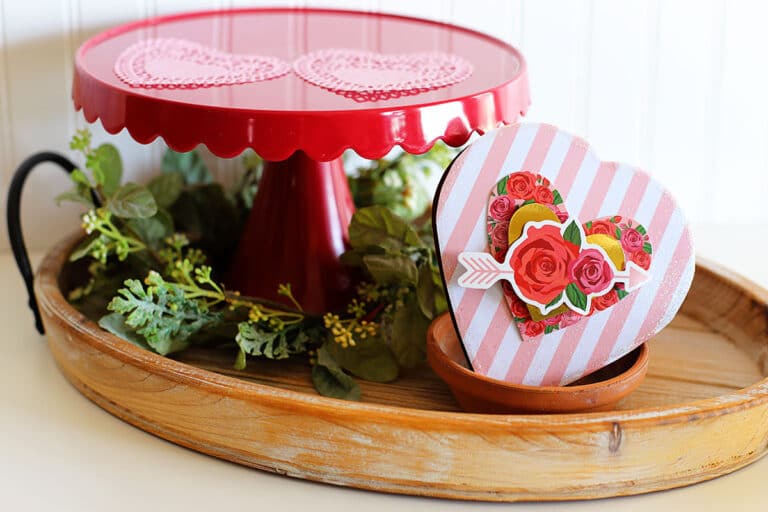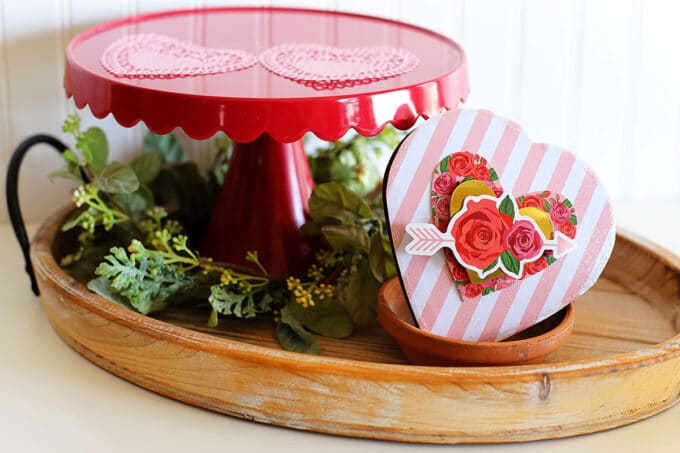 Then I stacked some Valentine die-cuts from a pack I had purchased at Michaels using puffy mounting squares between the layers to give it a 3-D effect.
If I wasn't prone to eating the candy out of the boxes myself, I'd make a whole slew of these just for decorations!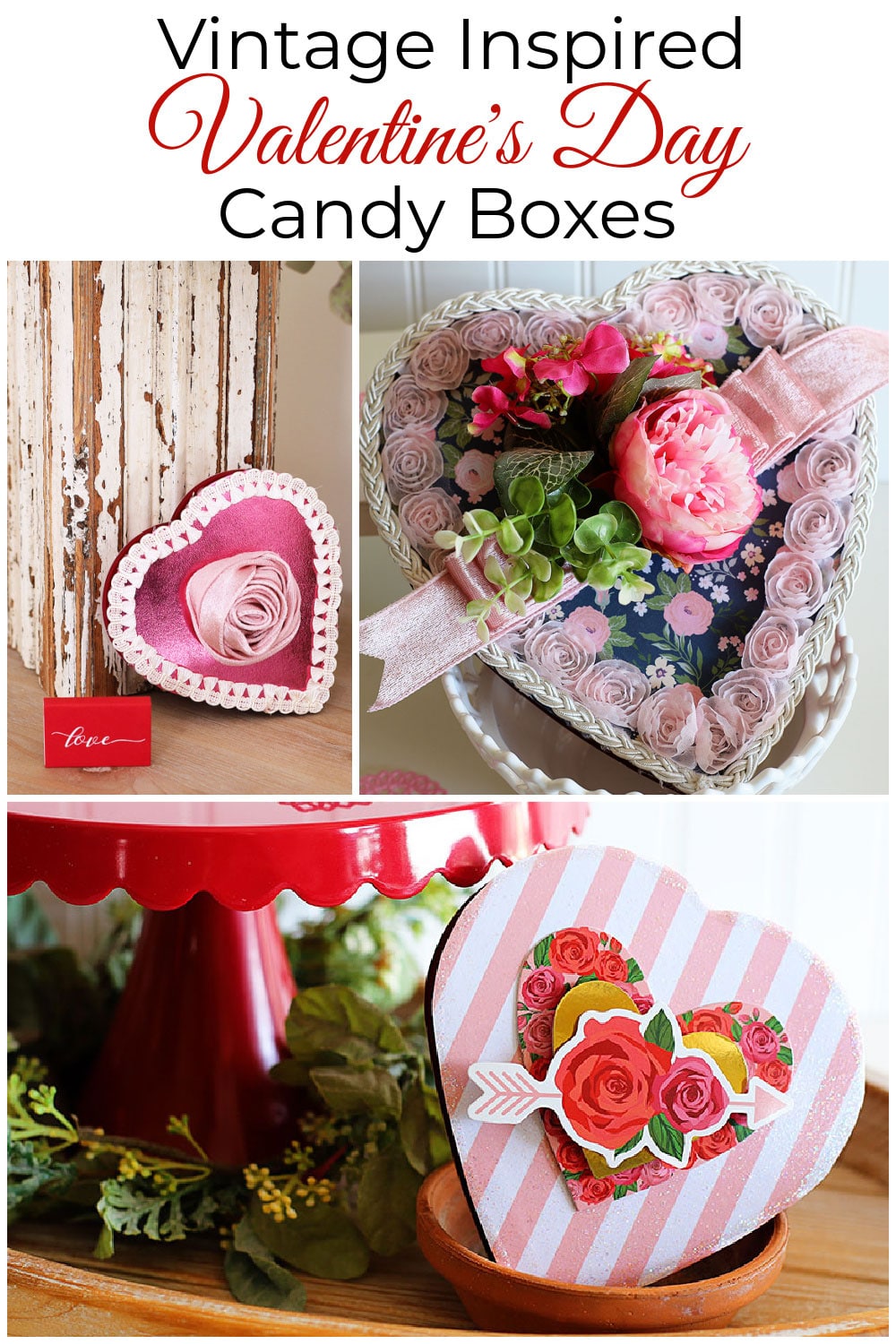 Other Valentine's Day Posts Your May Enjoy:
Decorating For Valentine's Day Vintage Style
25 Funny Valentine's Day Quotes (For Instagram or Letter Boards)
Valentine's Day Hot Chocolate Bar (just a warning, the very cute Valentine's Day candy boxes shown in the post are from a few years ago, sadly you probably won't be able to find them this year).