You have no idea how long I've searched trying to figure out what to actually call this thing. It's technically a monkey pod item. Monkey pod bowls and serving pieces were popular in the 1950's (the mid-century modern era).
But was it made for nuts?
Made for candy?
Made for crackers?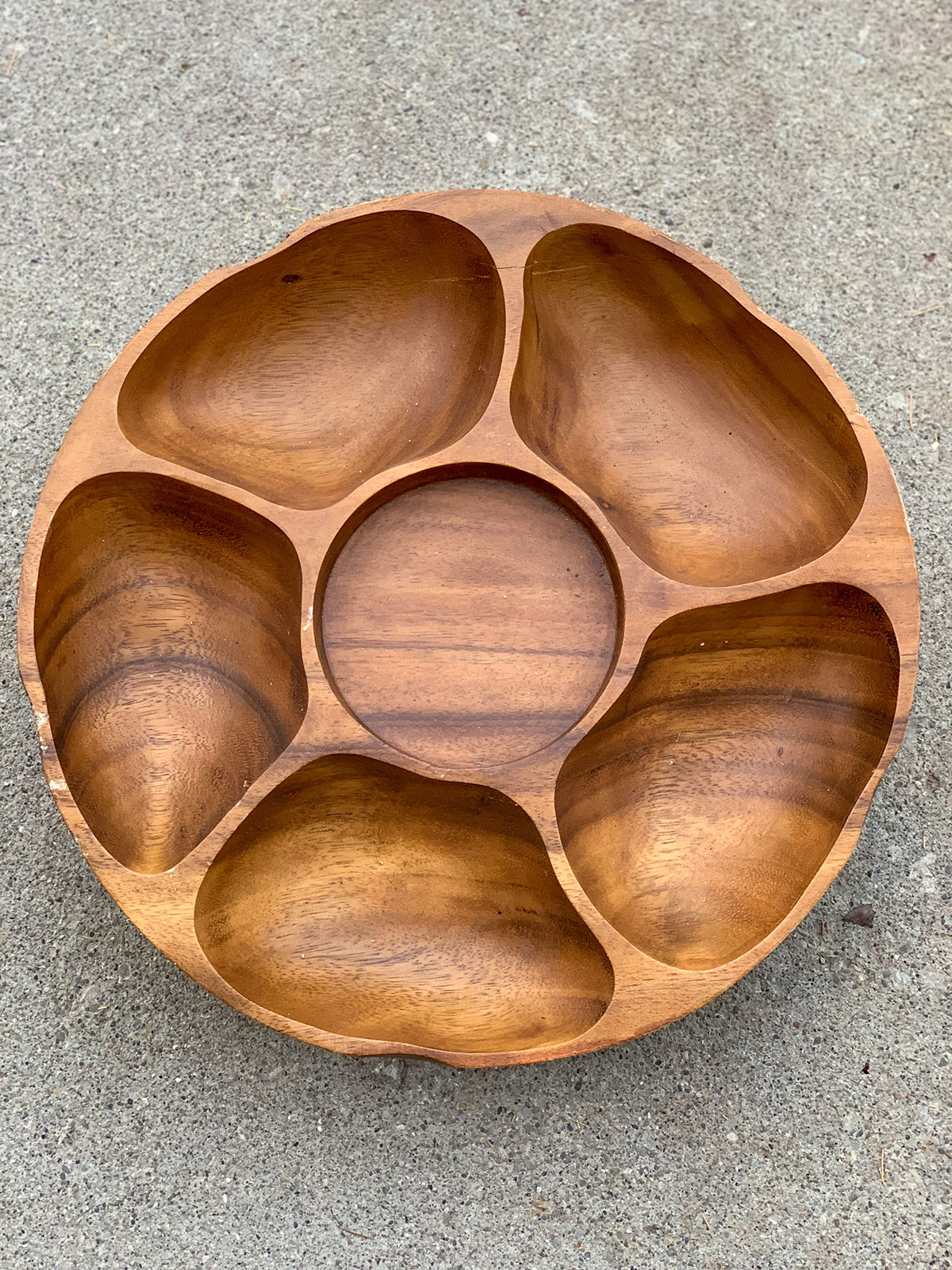 You got me because I don't know.
It is rotating sort of like a lazy Susan, so I assume you sat it on the coffee table and people twirled it around to get to whatever treat they wanted.
It's divided, so obviously you would put different items in each "hole".
Call it whatever you want, because as of now it's none of those things.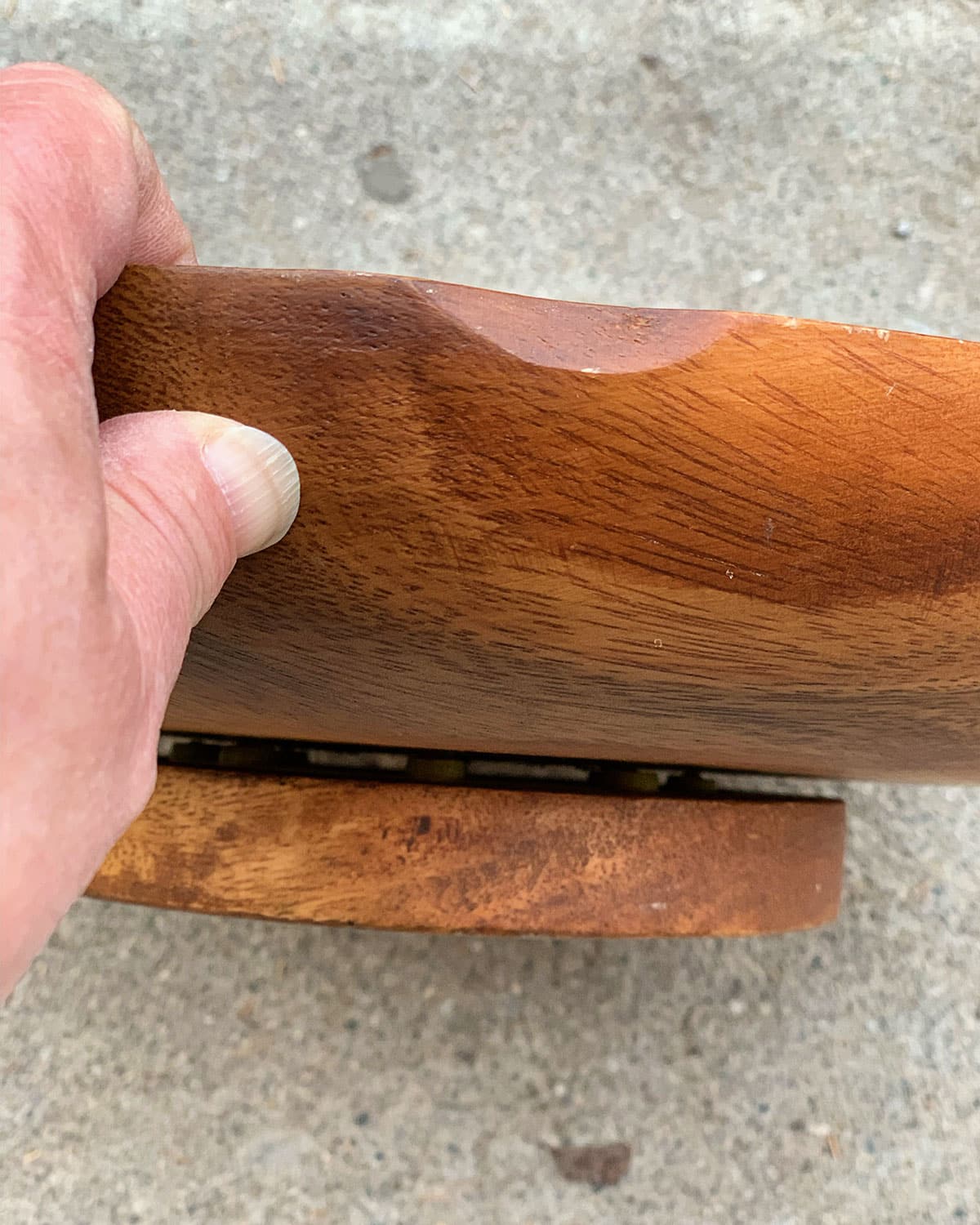 BTW, shortly after this photo was taken I brought this bowl into the house and put it on the kitchen table. A HUGE spider proceeded to crawl out from between the twirly base and the bowl part, jumped on the wall and ran off to who knows where.
✨ BTW, today is Thrift Store Decor Wednesday, so make sure you hang around to the end of the post to see the rest of the team's thrift store repurposes for the month!
What Is Monkey Pod?
Monkey pod generally refers to the mid-century modern wooden bowls, serving pieces and salad bowl sets that were so popular in the 1950's-70's.

The wood is a gorgeous dark golden brown color with lots of even darker veining and streaks throughout. The trees used to make these items are native to Central and South America.
A lot of monkey pod pieces came from Hawaii where they were sold as souvenir pieces.
Where To Find Monkey Pod Bowls And Serving Pieces
Thrift stores, estate sales and flea markets are great places to find your monkey pod pieces. I've never paid over $5 for a piece and most times they're very very inexpensive at thrift stores.
They're the kind of pieces, having been stored in the china cabinet for 50 years without use, that gets tossed in the thrift store donation pile eventually.
If all that fails, then you can find them on Ebay and Etsy quite easily. But not at the super duper inexpensive thrift store prices.
Is It Safe To Eat From A Vintage Wooden Bowl?
Well, I do not.
I will leave that entirely up to you, but with proper cleaning, they should be OK. They were normally meant to be eaten from, so there's also that!
I've just seen my mother-in-law's wooden salad bowl set up close and personal and that is not one I would trust not to have some hidden bacteria in the cracks and crevices that may have miraculously survived for decades.

So I don't eat from them, but you do you, boo!
How To Care For Your Monkey Pod Pieces (Keeping Their 1950's Wooden Gloriousness As Is)
Assuming you want to keep your bowl, serving piece or salad bowl set as God intended, Sarah at Sadie Seasongoods has a tutorial on how to clean your monkey pod pieces. I won't go into great detail here because mine is getting a little makeover.
Upcycling A Monkey Pod Serving Dish Into Holiday Decor
(This post contains some affiliate links for your convenience. You can read my full disclosure policy here.)
Supplies
Rub 'n Buff (I used the Gold Leaf color)*
Inexpensive Paint Brushes
4" x 6" Pillar Candle (Battery Operated is a good idea)
Various pine cones, greenery and ornaments
*Alternatives to Rub 'n Buff would be a gold leaf kit, a paint pen or straight metallic gold paint.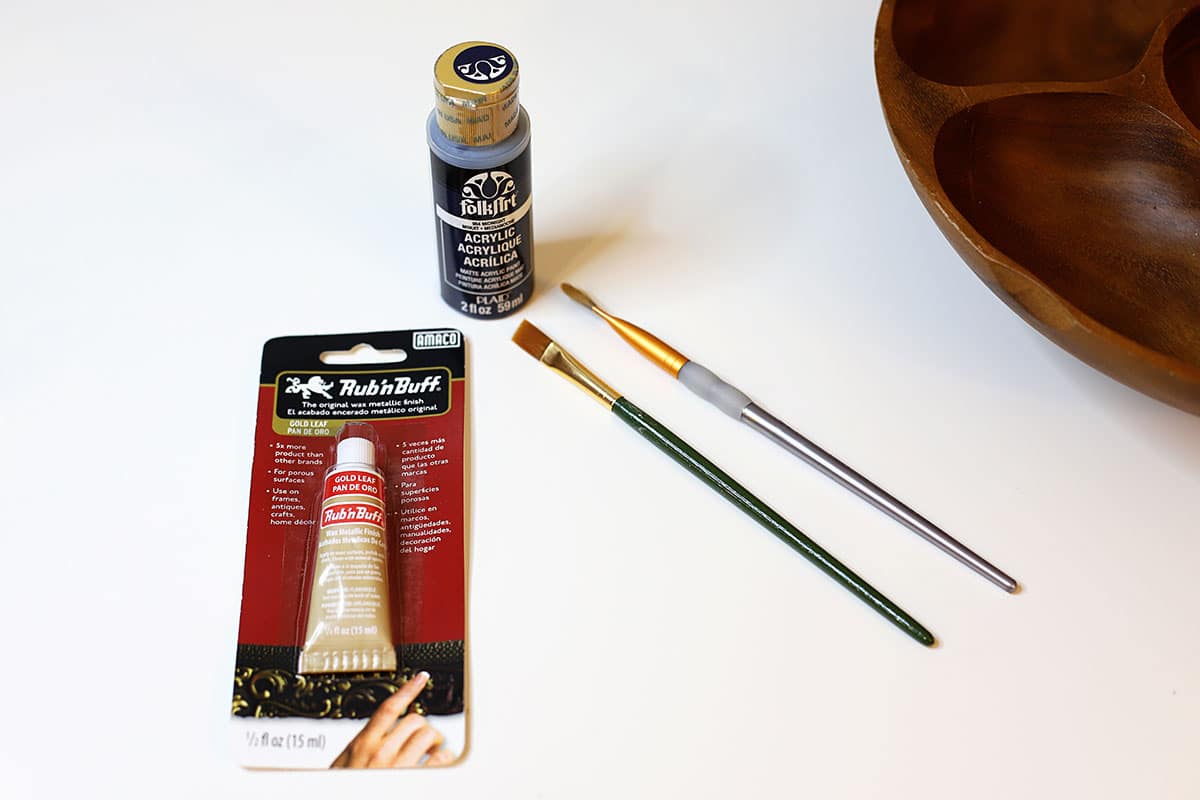 Warning: Rub 'n Buff is a little smelly so I would do this step in the garage if you don't want the paint odor in your home. It's not horrible, but it's definitely not low VOC and odor-free.
Tutorial
Time needed: 1 hour
Instructions For Making A Repurposed Wooden Bowl Candle Ring Centerpiece
Clean Your Bowl

Even though my bowl appeared at first glance to be clean, I ran a damp dishcloth over the bowl. You'd be amazed at the amount of dirt that came off.

Prepping For Gold Leaf Paint

Using black craft paint, paint the area where you will later be wanting to apply the Rub 'n Buff.

Could you just go straight to the Rub 'n Buff? Yes, you could. But I found the dark color made the Rub 'n Buff pop and the occasional spot where the black showed through gave the appearance of an authentic patina.



Clean Up Painting Over Reach

I got a little bit messy with my dark paint, so I just took a q-tip dipped in water (and as I found out later, the edge of my sleeve) to clean up any obvious paint drips.

Allow the dark paint to dry.



Applying Rub 'n Buff

Apply your Rub 'n Buff with a paintbrush, rag or fingertips. I found a paintbrush worked well for this project where I needed to be more precise with paint placement.



Fill It Up

Obviously, the center hole is great for a candle. I just filled up the surrounding indented areas with faux greenery, pinecones and inexpensive Christmas ornaments.

I probably would have used fresh greenery, but it's still a little too far from Christmas and there's no way fresh greens would have lasted that long.

So I bought one large pick of greenery from Michael's and snipped it up into smaller sections with a set of heavy-duty scissors.