Today is probably one of my favorite days of the year. It's the day I get to show you how I decorated my front porch for Christmas.
And it's the day I join a talented group of decorators as they show off theirs.
I'm excited to welcome you to the annual Atta Girl Says Christmas Porch Tour.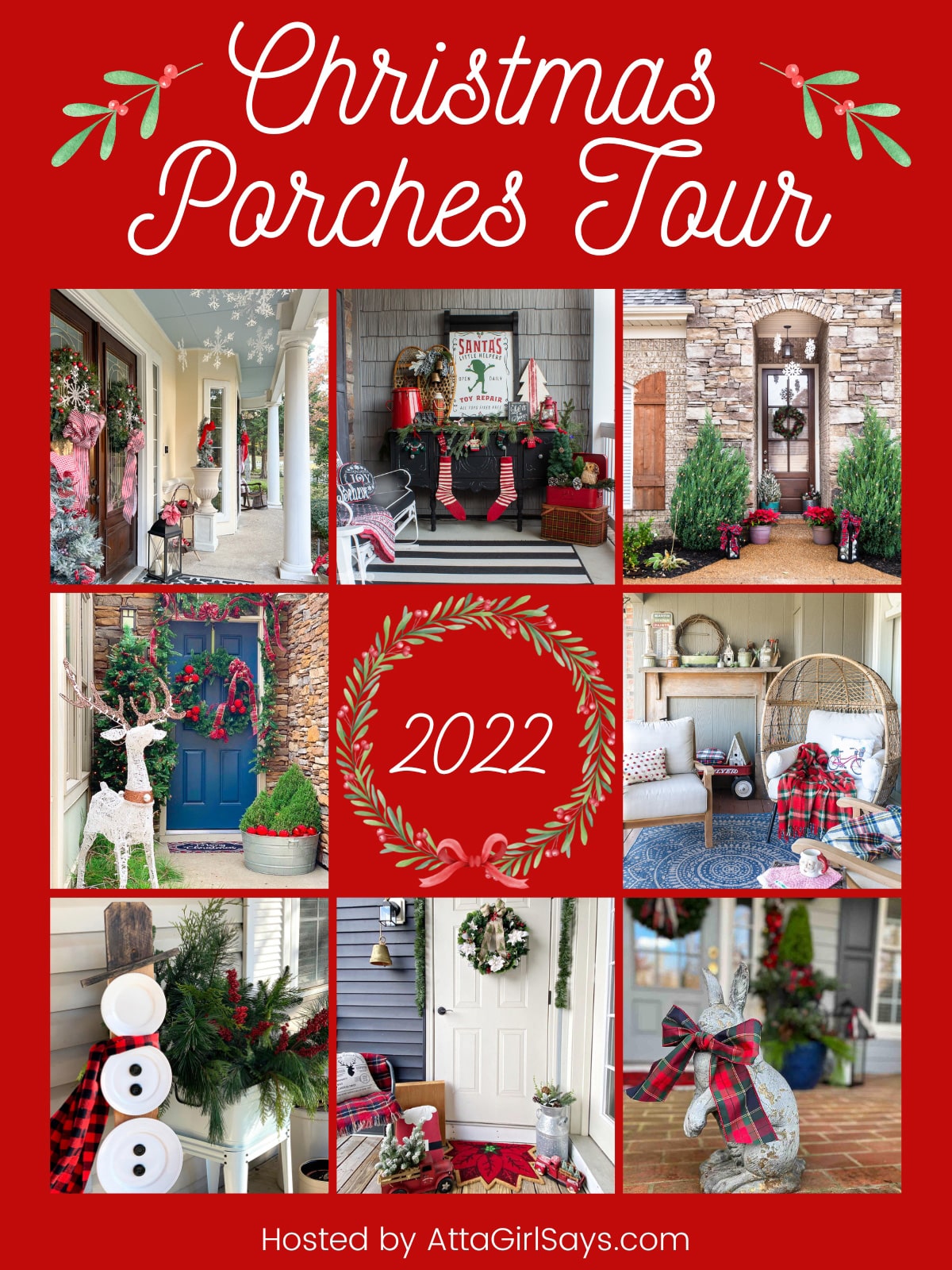 In Honor Of Paula
We dedicate this year's tour to our dear friend, Paula Skulina from Sweet Pea, who died in February after a five year battle with lung cancer. Paula has participated in this tour since 2017, and we are all really missing her this year.
Paula was just the sweetest person, full of love for her family, her beloved dog Sherman and her students.
Her home was beautiful and full of family heirlooms and vintage treasures, which she enjoyed decorating with during the holiday season. Especially on her porch where you would often see vintage coolers, blow mold Santas and antique sleds.

Paula and I were very much alike in our holiday decorating style.
While Paula is not here this year to tour with us, she's still an important part of our group. I encourage you to visit her blog, Sweet Pea, for Christmas decorating inspiration, especially if you like to use vintage items in your holiday displays.
To honor Paula, we are also donating in her memory to LUNGevity and The Humane Society for Campbell County, Va. If you loved Paula and her blog, we encourage you to make a donation in her memory using the links above.
(This post contains some affiliate links for your convenience. You can read my full disclosure policy here.)
My 2022 Christmas Porch Decorations
This year I decided to decorate my front porch in a whimsical style using a lot of things I already had on hand (no need to spend a fortune to have a cute porch) and limit purchasing items to just some key pieces.
And actually, if you ever saw my basement holiday storage area, you'd question why I needed to buy ANYTHING at all!
One thing you may notice is that I did not use a single thermos, vintage cooler or cup of cocoa on my porch this year. I'm not sure that I've ever gone thermos-less on any of my winter porches before (you can find all of my past porches by clicking HERE - Christmas Porch Decorating Ideas!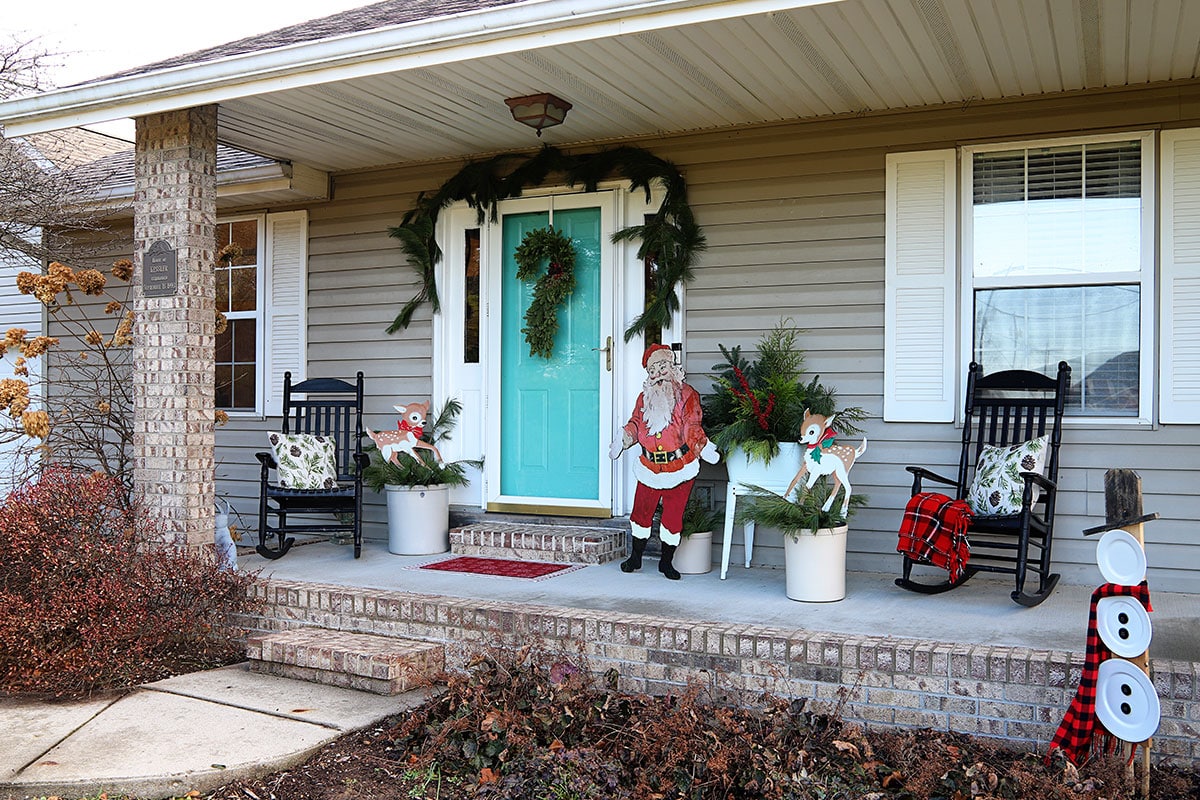 Some things to note - no, that is not a question mark on my door. It is a candy cane "wreath" I purchased at a local greenhouse.
I thought it was a novel and fun way to do a wreath without being too "round and traditional", but when I got it home and hung it on the door my immediate thought was "does it look like I'm questioning Santa's existence?
Believe me, no one wants to do that at this time of year!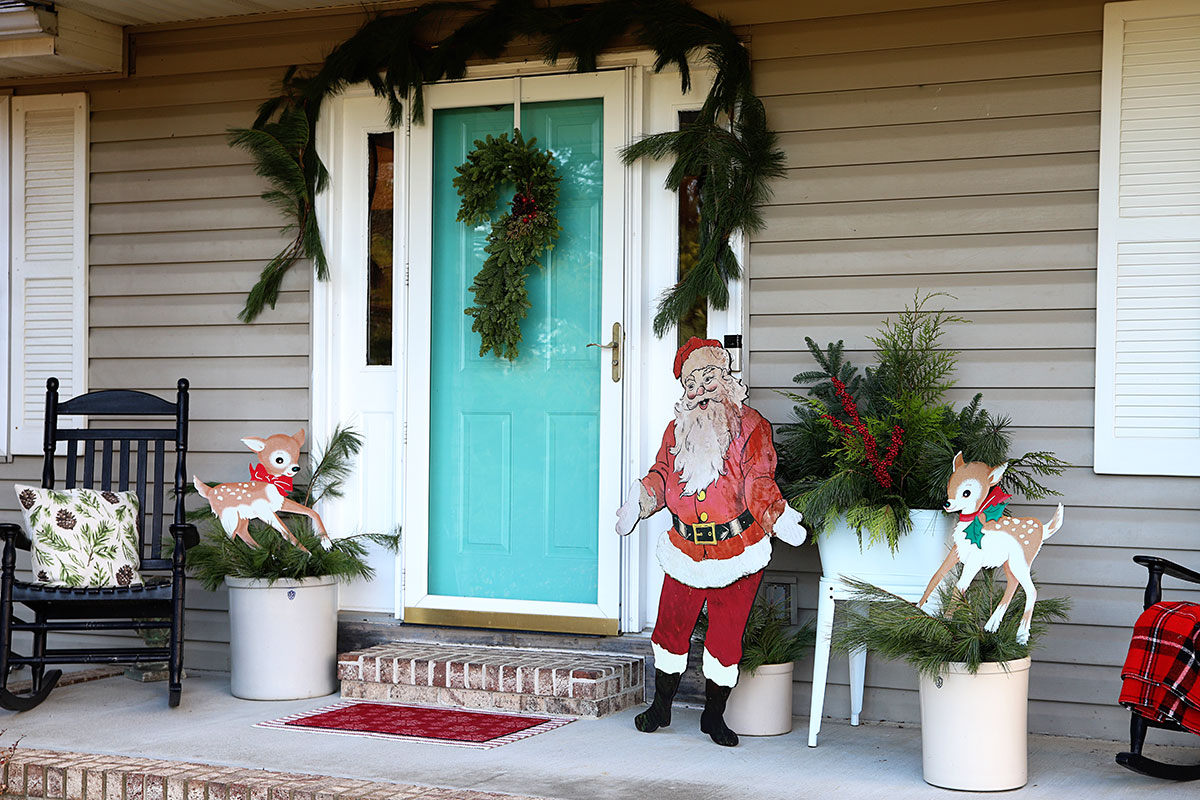 Oh, and that upcycled snowman you can see on the far right in the 1st photo is a project I made last year. You can see how you can EASILY make your own in my Upcycling Plates Into A Snowman article.
These cute as a button retro-styled reindeer yard stakes are from JoAnn Fabrics.
They have two versions - this one with some Holly around her neck (I named her Holly, BTW).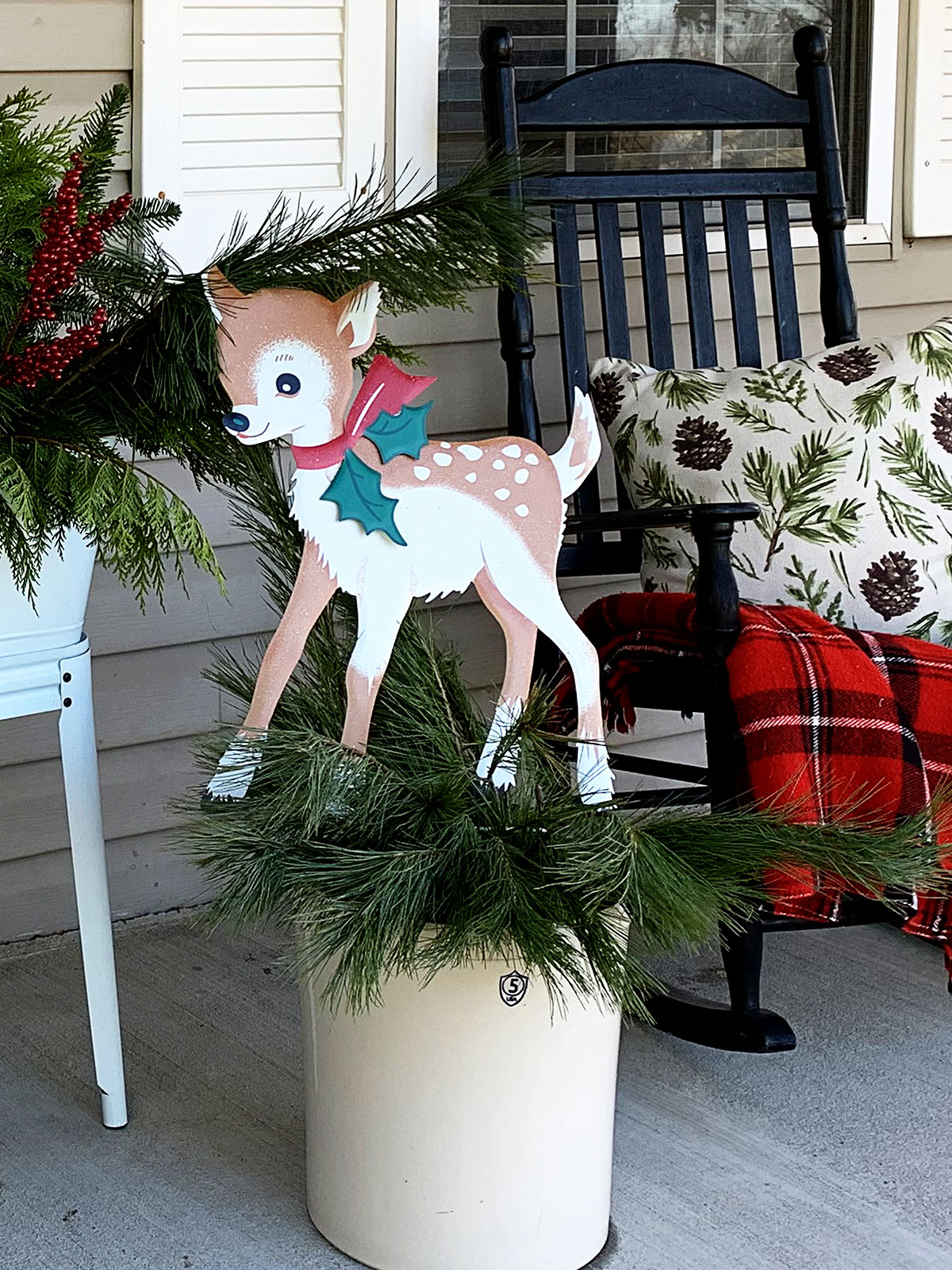 And this one with just the red bow. I named him Jolly.
I guess I could have named him Red, but that seemed too obvious.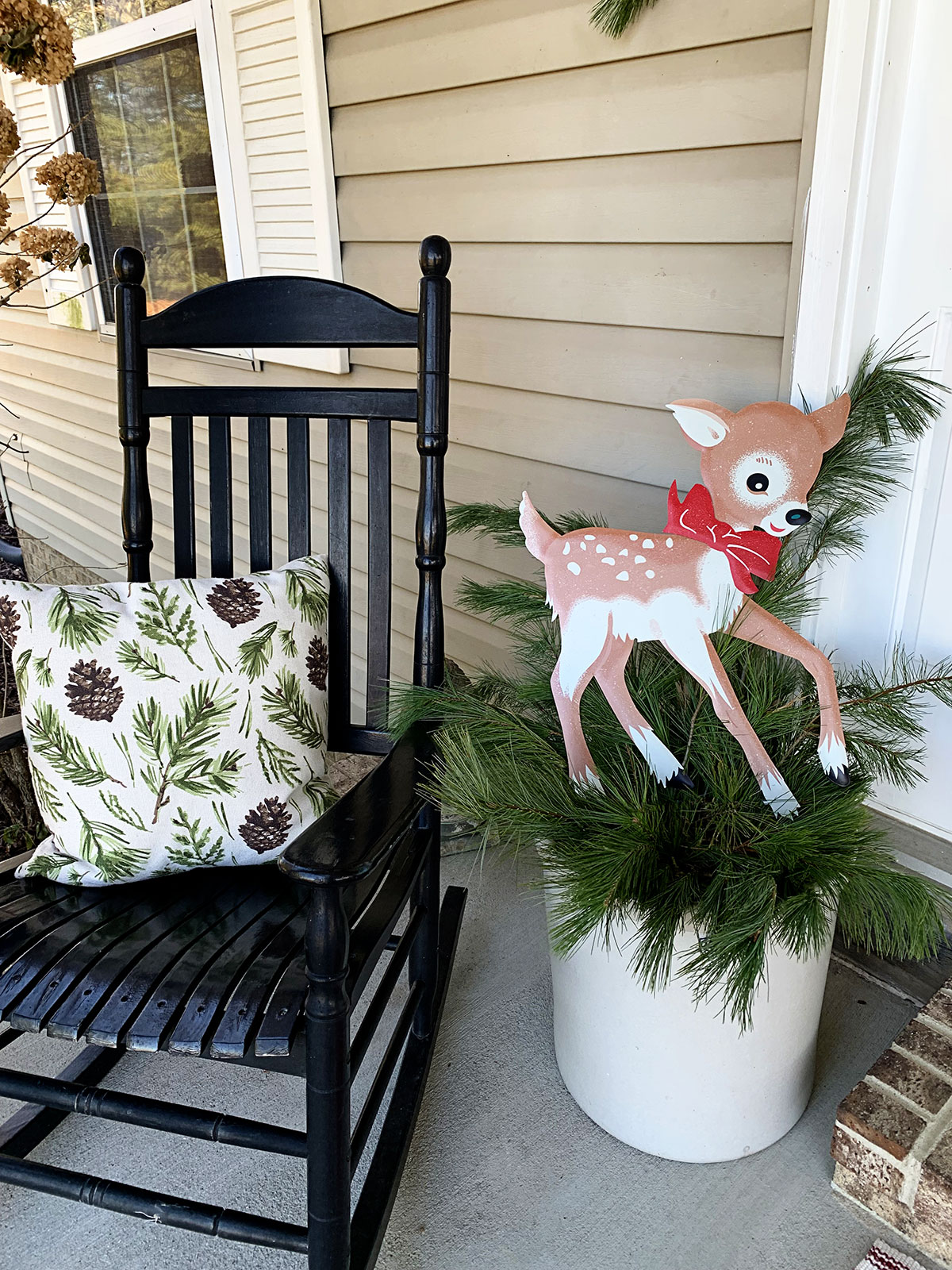 They're made of metal (tin?) and come with stakes on the bottom so you can put them in your yard, flower beds or flower pots.
The wash tub planter and crocks are left over from my fall porch decor.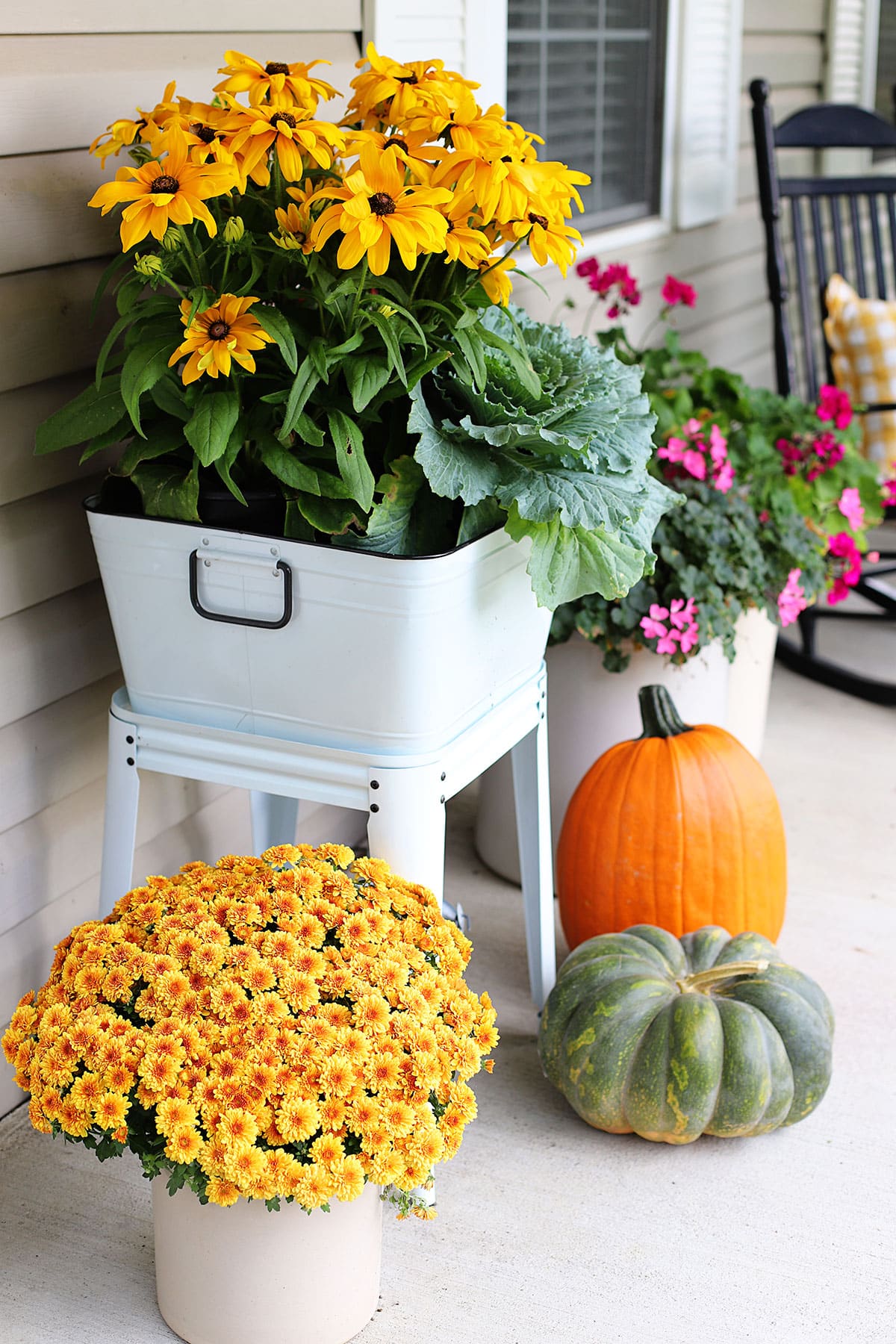 I just cut the existing plants (mums, geraniums, black-eyed-Susan, and ornamental cabbage) down to dirt level in their pots.
Then I replaced them with clippings from my pine trees which I stuck down into the dirt.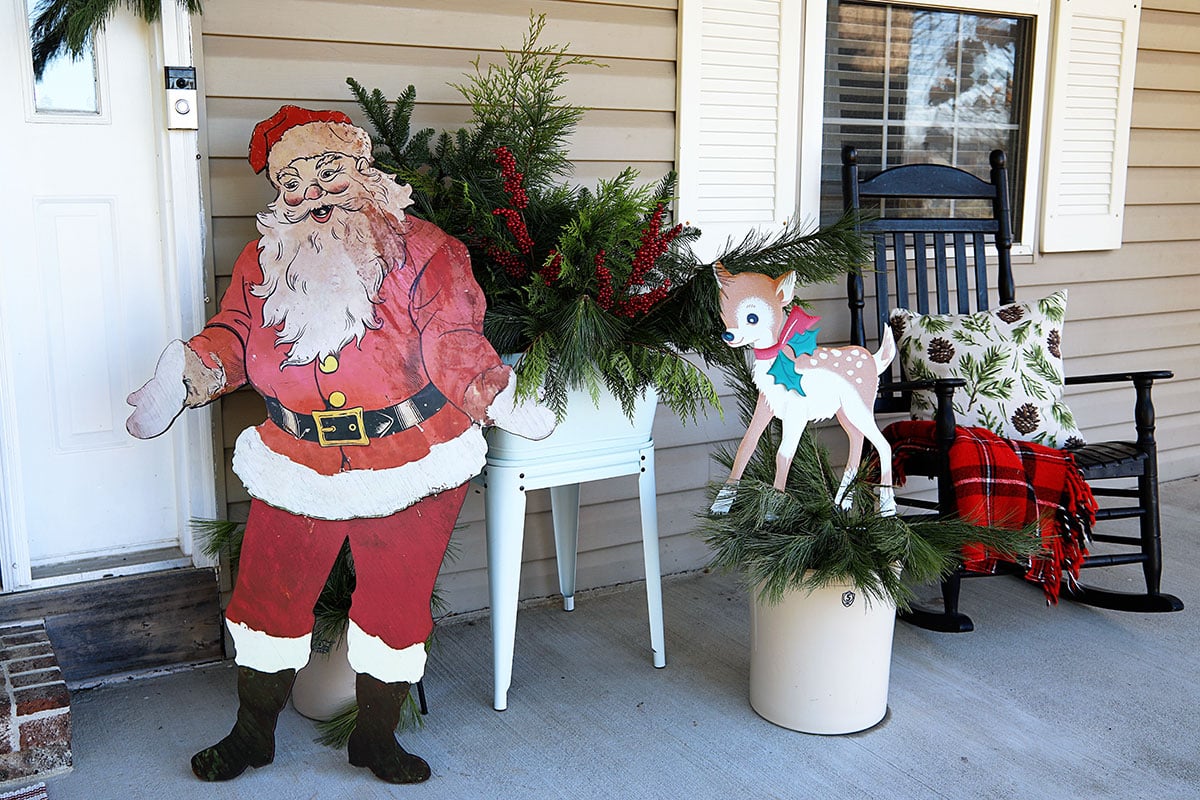 I always water in any greens I am sticking in the dirt so they keep over the winter. The additional benefit of this is when the water freezes it keeps the pine boughs (and deer) in place so they don't fall over or get blown away from the wind.
Normally just one good dose of water right after you "plant" them in the pots will keep them fresh and green until late winter. If you live in a colder climate (Ohio girl here), the water will freeze and thaw and freeze again throughout the winter.
Now let's talk Santa.
I purchased this reproduction wooden Santa porch leaner from Decor Steals way back in September (as of right now it looks to be sold out, but you can get on a wait-list for when it comes back in stock).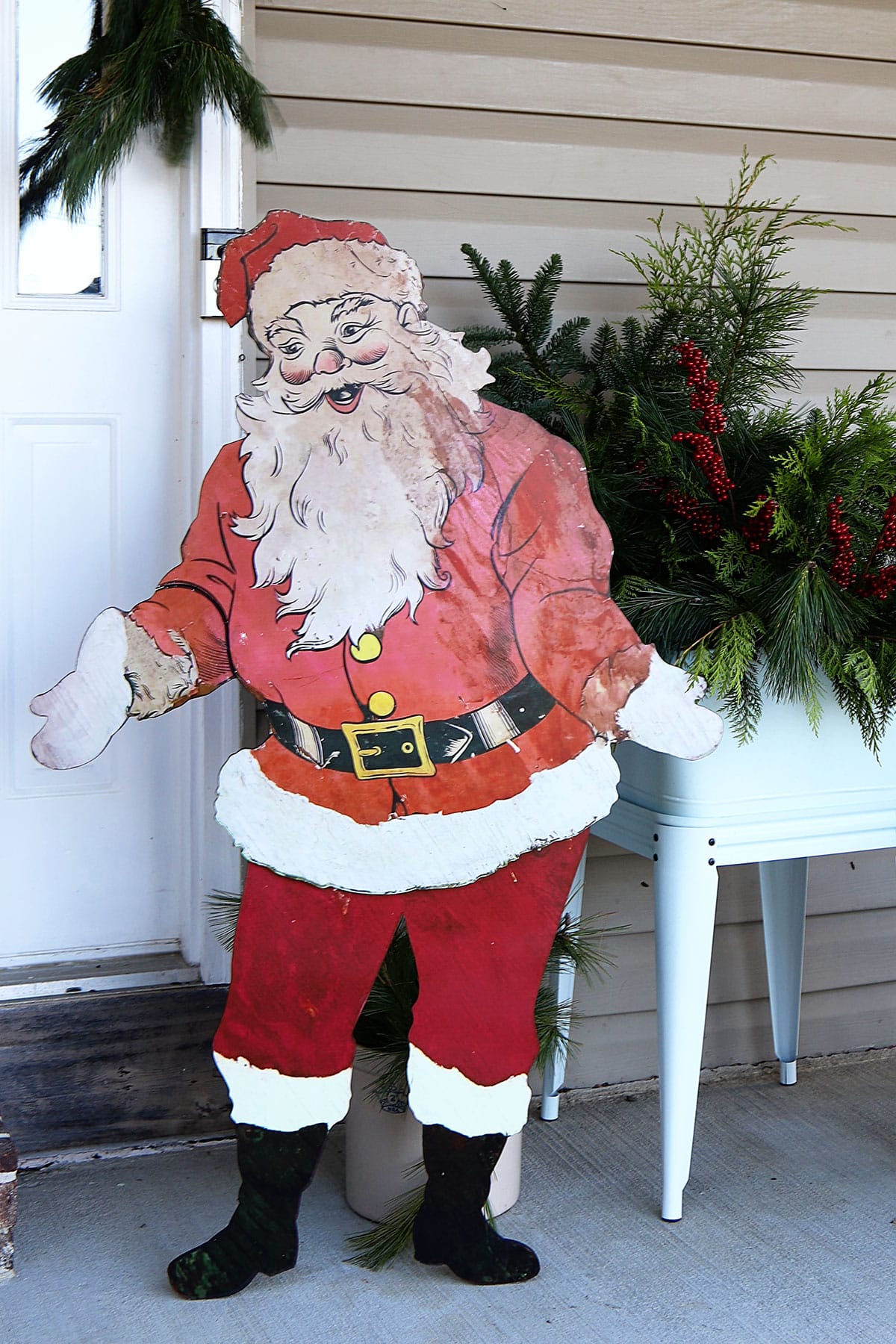 I have a love/hate relationship with him.
I LOVE that he has a vintage look similar to the wooden Santas people used to buy paint-by-number plans for back in the 50's and 60's. He even has a very worn patina that makes it look like he was found in someone's old barn next to an abandoned tractor and a few dead mice.
I HATE that he keeps falling over.
Just in the time it took me to take these photos the wind blew him over 3 times. I think the problem is that he is a fairly large and flat item and it is very easy for the wind to catch him and topple him.
I imagine if I had a more shielded front porch instead of this one which is straight, narrow and open to wind whipping in from the farm fields, it would be much easier for him to stand up correctly.
I am not blaming Santa, I am just going to have to figure out a way to add a more secure stand to his backside.
But he is adorable!
5 Key Tips For Decorating Your Porch For Christmas
Garland Around Your Door - A little bit of fresh greenery hung around your door frame adds so much character to your front porch. By using fresh garland you don't have to store it for 10 months out of the year, plus I have never met a faux garland that didn't need a lot of primping and fluffing every year.
Porch Planters - Nothing says "Welcome to my porch" like a porch planter or urn filled with fresh greens. I walk you through How To Make Winter Porch Pots HERE. And show you 20 Beautiful Winter Planter Ideas HERE.
Festive Wreath - Whether you go with a homemade wreath with fresh evergreens or a funky repurposed wreath made out of a vintage thermos tote, you can never go wrong with a wreath on or near your front door (sometimes I buy an extra large wreath and hang it right beside the door).
Pillows & Throws - If you have a rocker, chair or bench on your porch you can add a little bit of color and interest by putting some pillows and a festive throw blanket on them. No one actually thinks you are going to sit on your porch in 12 degree weather, but it's the little details that make for a fun porch!
A Little Bit Of Nostalgia - An old sled, set of snow shoes found in an antique mall or even a kitschy old blow mold Santa from your childhood make for a fun and welcoming front porch. For me, Christmas is all about celebrating the past. Vintage and antique pieces as part of your porch decor set the mood for guests as soon as they step foot on your porch.
Now on to the rest of the porch tour participants.
Christmas Porches Tour
Be sure to visit all the participating bloggers for festive decorating inspiration for your porches, balconies, decks and other outdoor spaces.

Atta Girl Says // Southern Home and Hospitality // 2 Bees in a Pod // DIY Beautify

Worthing Court // Our Crafty Mom // Postcards from the Ridge // House of Hawthornes