Nothing says 4th Of July like Cracker Jacks and flags. OK, maybe fireworks, parades and picnics. But Cracker Jacks and flags are pretty high up there!
So let's do some Cracker Jack trivia for the 4th Of July:
Did you know that Cracker Jacks has been around since 1896.
The sailor's name is Sailor Jack and the dog's name is Bingo.
In 1908 it was included in the famous "Take Me Out To The Ballgame" song and is now pretty much a part of going to a baseball park.
There are NO MORE TOYS inside the freakin' boxes, they replaced them with a stupid QR code you can scan and it sends you to an online baseball game or other such nonsense. What the h-e-double-toothpicks!!!

In other scandalous 4th of July news, I took a poll on my facebook page on which of these flag holders was liked more. What do you think?
Vintage red Thermos picnic jug?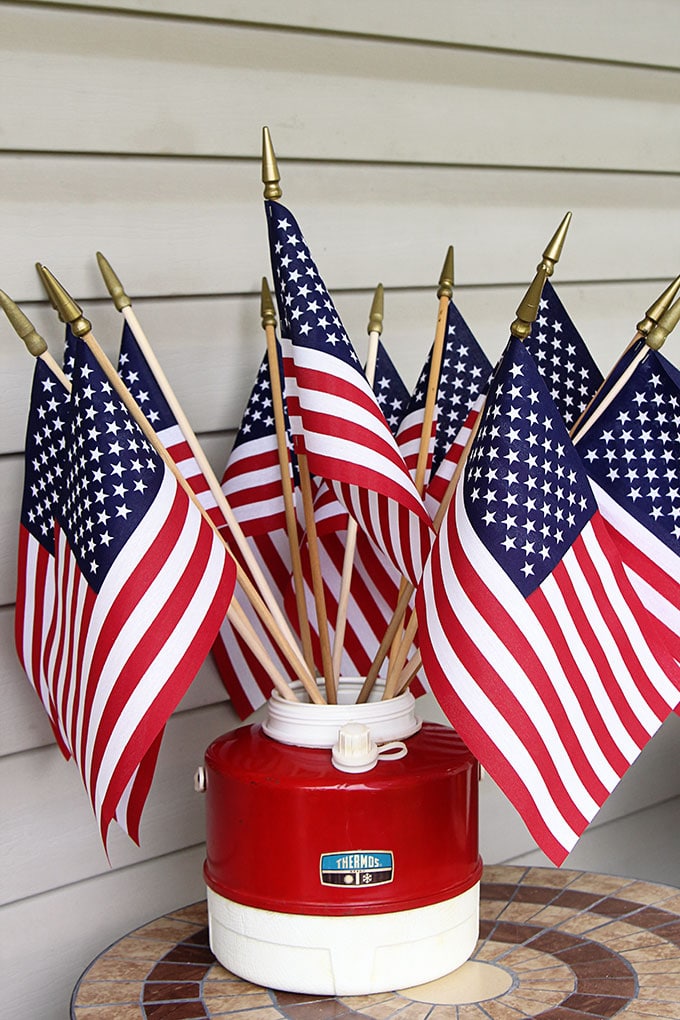 Or classic stoneware crock?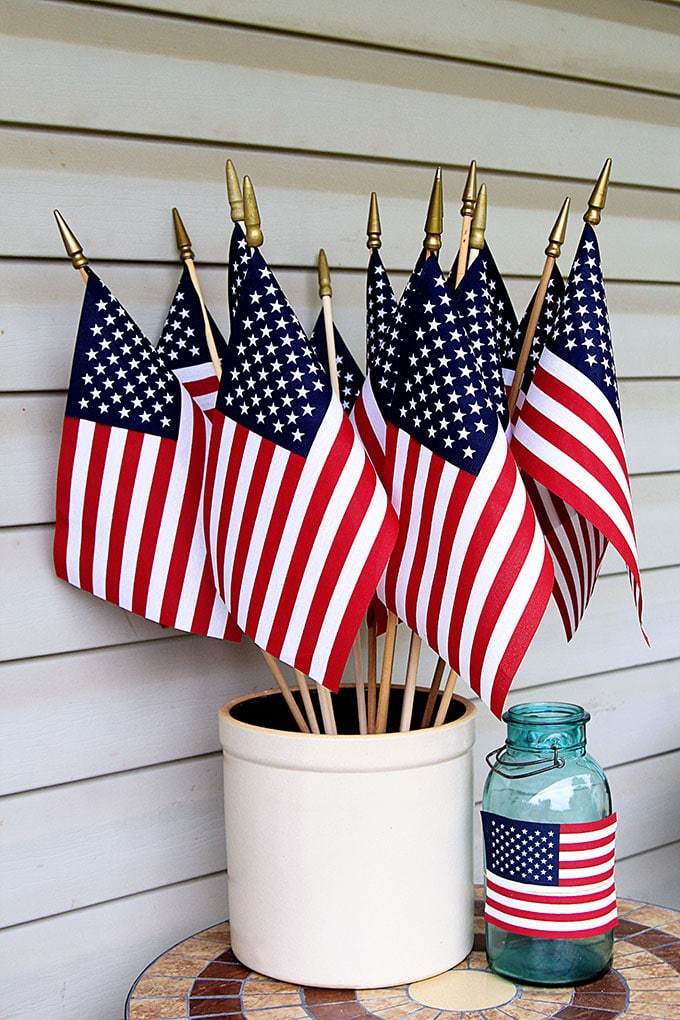 BTW, I put a small piece of styrofoam in the bottom of the crock and jabbed the flags into it so they would stand up straight. Otherwise they flopped over the the side.
And that 4th of July mason jar flag thingie up above in the crock photo? It is so simple I never even thought to do a whole tutorial on it.
It is just a blue mason jar I had setting around the house. A typical clear one would work also.
I used one of those inexpensive little 4x6 flags on a wooden stick (the ones they normally sell with 4-6 in a bag for $1.99).
And removed the flag from the stick.
Then attached the flag to the mason jar with a thin rubber band.
Nothing permanent and it only took about 2 minutes to make. If you wanted to make it more permanent you could Mod Podge it onto the jar.
Sometimes simple is the way to go!
That's all I've got for you on this lazy 4th of July morning.
We're going to a parade today (if it doesn't rain) and a picnic (if it doesn't rain) and fireworks (if it doesn't rain). Pretty much a typical 4th of July here at the House Of Hawthornes (if it doesn't rain).
Can you tell RAIN is pretty much in the forecast here?
I hope you are enjoying your holiday weekend! (And for all my non-U.S. readers, I hope you enjoy your day too!)
Other Post You May Enjoy:
Quick & Easy 4th Of July Desserts
4th Of July Vintage Postcard Printables
Vintage Eclectic Meets Farmhouse: 4th Of July Style