Alert the media. A blogger has used chalk paint!
I repeat.
A BLOGGER HAS USED CHALK PAINT!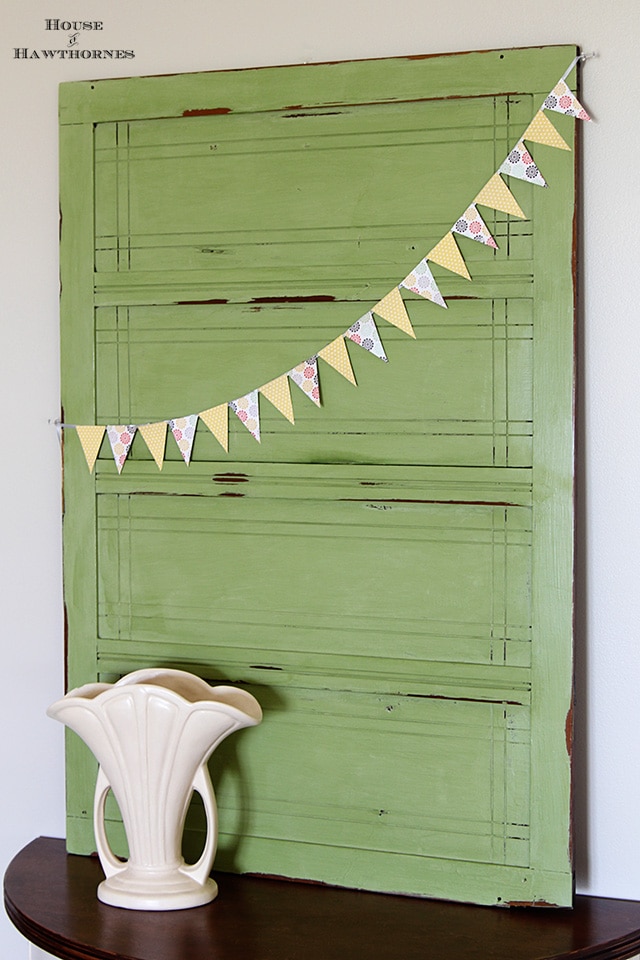 OK, so I may be a little late to the ballgame with this one, but when I see a bunch of bloggers touting the heck out of a product, I normally run the other way.

I guess it's my rebellious side showing. I don't like to jump on a bandwagon unless it's going to a Bruce Springsteen concert and even then I might just walk alongside the wagon.
But I have been curious about some of the paints I have been seeing out there on the internet.
Chalk paint being one of them.
This is a cabinet door that I bought at a barn sale in the fall. One side is a yummy old paneled wood look, prefect as a photo backdrop or just leaning against a wall (I had a boxwood wreath on it at Christmastime).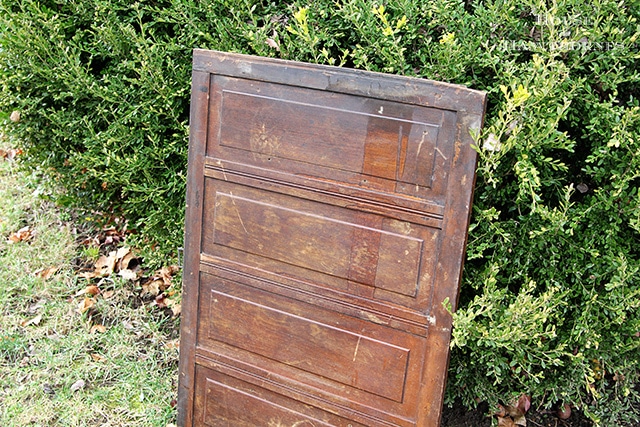 The other side is a yucky varnished wood look. Although this is the side that was made to be shown, it was just too ugly and shiny for me.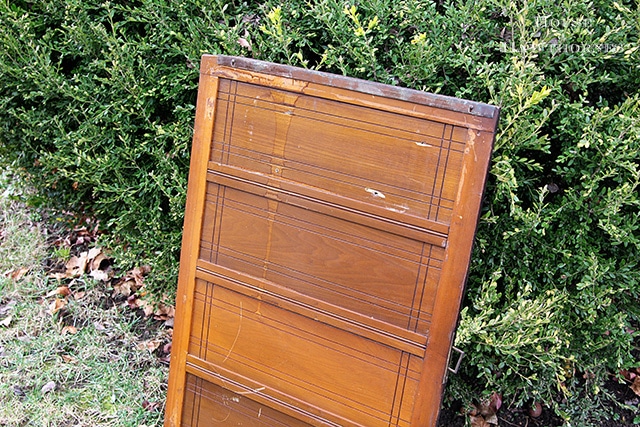 Yummy.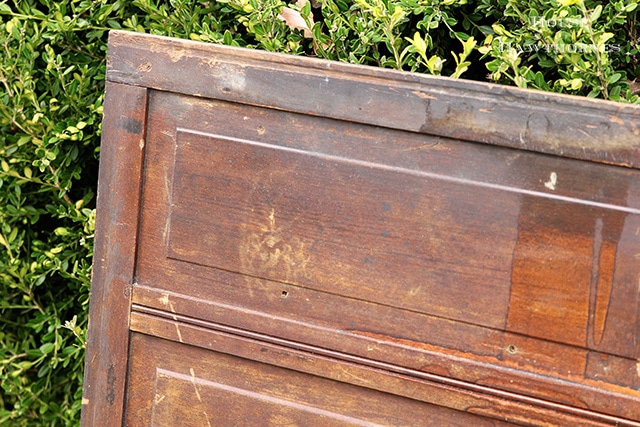 Not so yummy.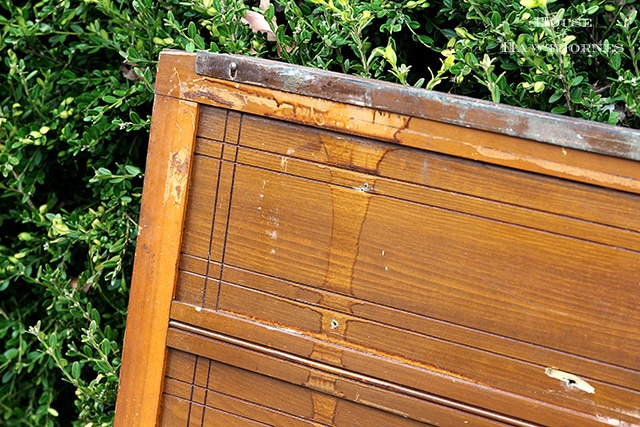 A lot of bloggers have used Annie Sloan Chalk Paint, but the local retailer for that brand is all the way in downtown Columbus, so I trekked a few small towns over to grab a little jar of American Paint Company's Clay/Chalk/Mineral Base Paint.
LOVE it!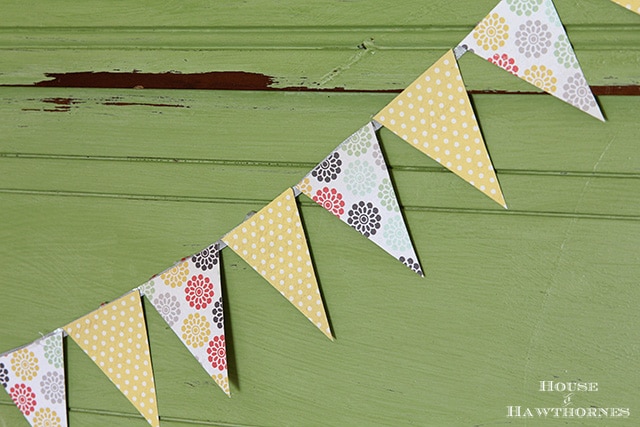 The color I chose is Nana's Cupboard. A delightful green color about halfway between the infamous avocado green from the 70's and a cottage apple green.
I did nothing to the cabinet door prior to painting besides dusting it. Then I slathered on the paint. Two coats. And then distressed it with a wet washcloth.
The easiest distressing known to man. No sandpaper needed. Just grab a washcloth, wet it and go to town.
I loved how I could pick and choose where and how much to distress it.
And now I have the one side painted green and the other side still its original wooden look. Like two doors for the price of one.
Since I had so much fun with that paint, I went back to the same store and picked up a little jelly jar of Miss Mustard Seed's Milk Paint to try it out. For all you milk paint virgins, milk paint comes in a powder and you just add water.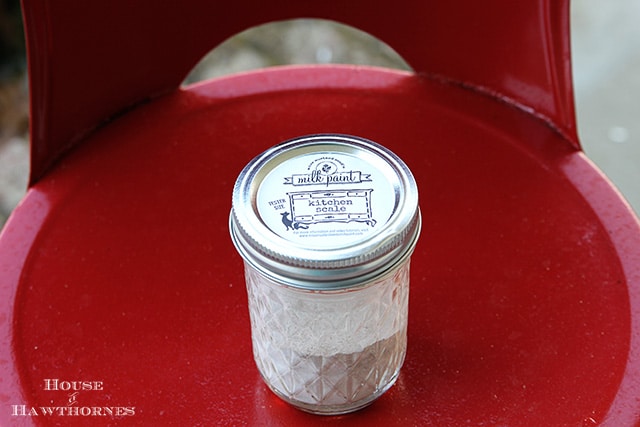 Milk paint has been around for decades. Maybe even centuries.
I used it back in the 80's (please don't make me feel old and tell me you weren't even born yet), but back then we used it to paint unfinished wooden pieces. And cave walls. Makes a mean mastodon drawing.
But I had never used it on pre-painted wood. In this case, a pre-varnished toolbox that I had bought at a thrift store last year.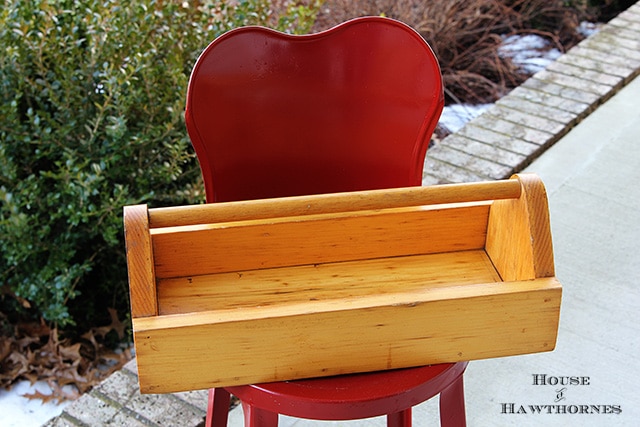 Just like the chalk like paint, I did nothing to the toolbox before painting it.
The color I used was Kitchen Scale. Online examples I could find of it were pretty.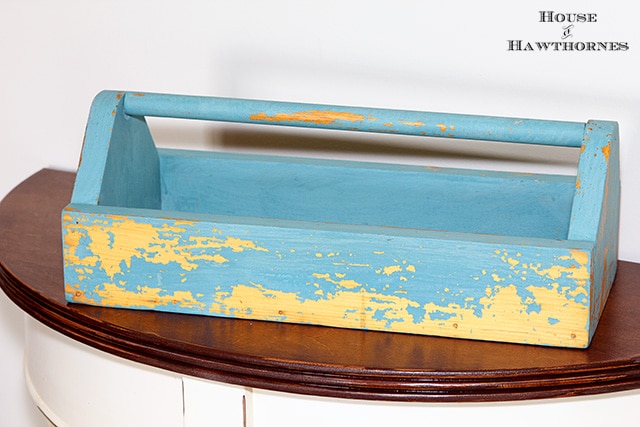 In person, I can't help thinking of that 80's blue color often found with some country ducks nearby. The lovely and talented Laurie at the blog Vin'yet Etc reminded me on Instagram that it was called Wedgewood Blue.
So the color isn't exactly what I thought it would be, but I blame that more on my eyes rather than any fault of the milk paint makers 🙂
Now, my biggest gripe about this paint, and it's not really a complaint as much as an observation, is that when it chips (and it's meant to chip and flake) it isn't necessarily where you would want it to chip. You have absolutely no control over where it distresses itself.
I guess if I were a fly by the seat of my pants sort of girl, then I could be down with that. But I am a little bit of a control freak, so I am thinking that the chalk like paints work better for my anxiety ridden personality.
So there you have it. My extremely late to the game personal opinion on the trials and tribulations of internet paints. You really can't go wrong with either type of paint. It's just whether you want to control your distressing or not.
FYI, none of the paint companies mentioned in this post are sponsors of this blog nor do they know who the heck I am 🙂 Just giving you my opinion in case you want to try out some different types of paint and jump on that bandwagon with me and Bruce.
Linking with Wow Us Wednesday, Be Inspired, Inspire Me Tuesday