A few years ago I showed you how to make an Easy DIY Waterless Snow Globe from a jelly jar. Today we're going to make something similar, although less shakable, with a thrift store cheese dome.
It's a cheese dome turned winter wonderland Christmas cloche.
Now as much as I enjoy a good hunk of cheese, I never actually use a cheese dome as a cheese dome. I'm not a huge entertainer, so my cheese normally just sets in the wrapper it came in.
But when I found this cheese cover at the thrift store I knew it would be perfect for making a Christmas decoration.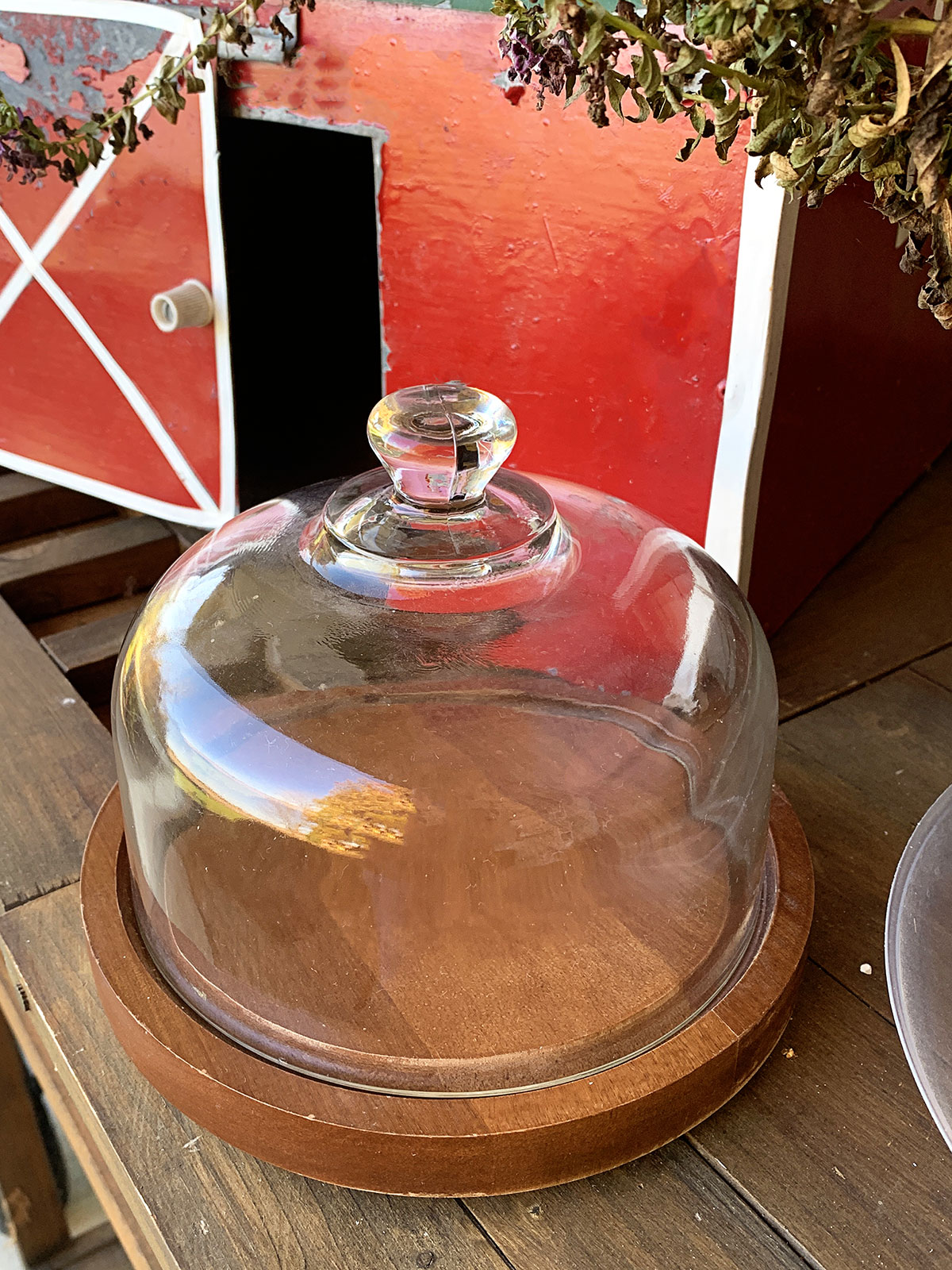 ✨ BTW, today is Thrift Store Decor Wednesday, so make sure you hang around to the end of the post to see the rest of the team's thrift store repurposes for the month!
How to Turn a Cheese Cover into a Winter Wonderland Cloche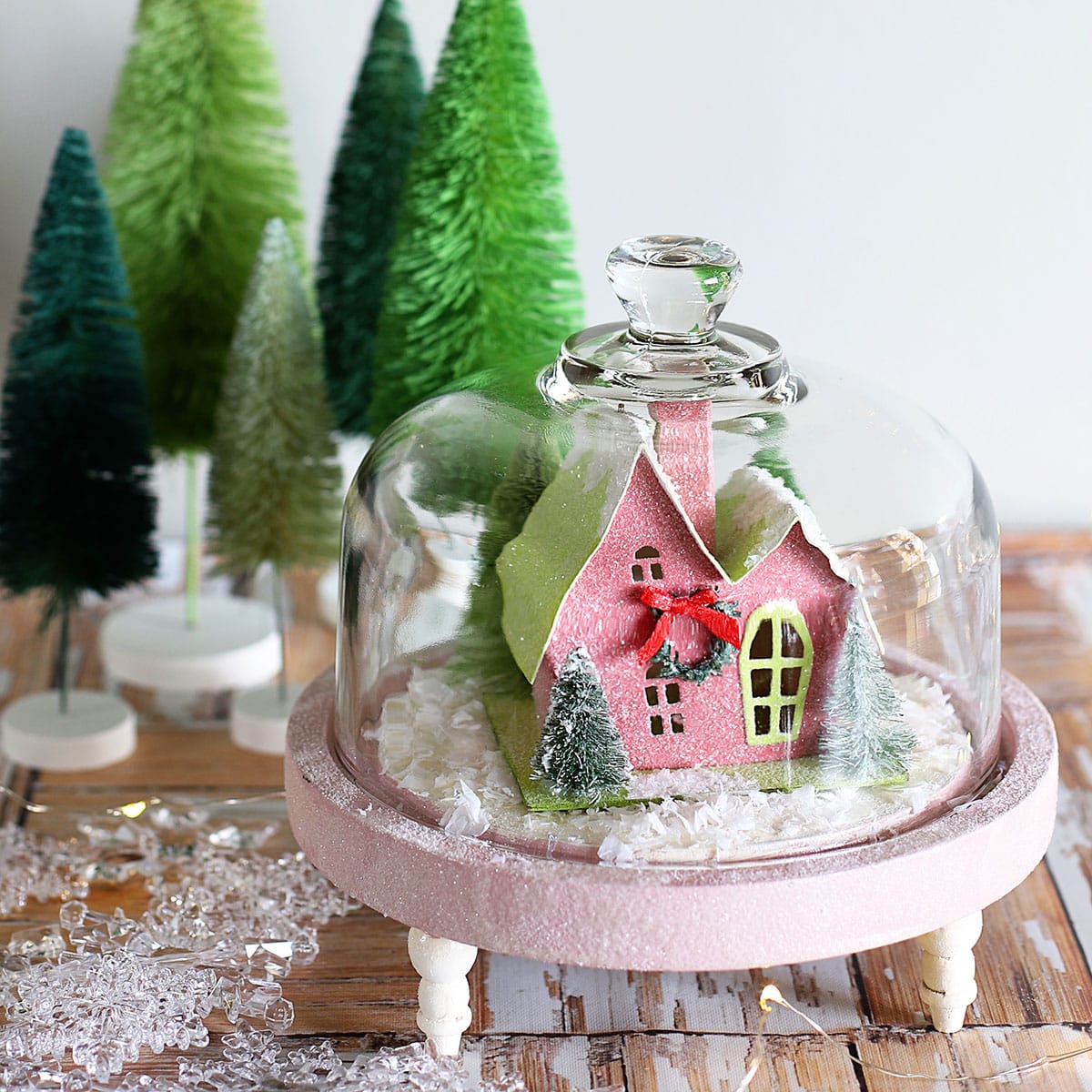 (This post contains some affiliate links for your convenience. You can read my full disclosure policy here.)
Supplies
Cheese Dome (inexpensive ones can be found at the thrift store)
White Paint (chalk or acrylic craft paint)
Pink Paint - optional, but makes a fun accent (chalk or acrylic craft paint)
Wooden Riser Feet (optional) - I found mine at Dollar Tree
Paintbrush
Glitter
Fake Snow Flakes (aka Buffalo Snow)
Spray Adhesive
Mini Bottle Brush Trees (these are the Target bottle brush trees)
Paper House (this is the house ornament I found at Target) - more ideas for fillers below
Hot Glue Gun with glue sticks
Wire Snippers (optional)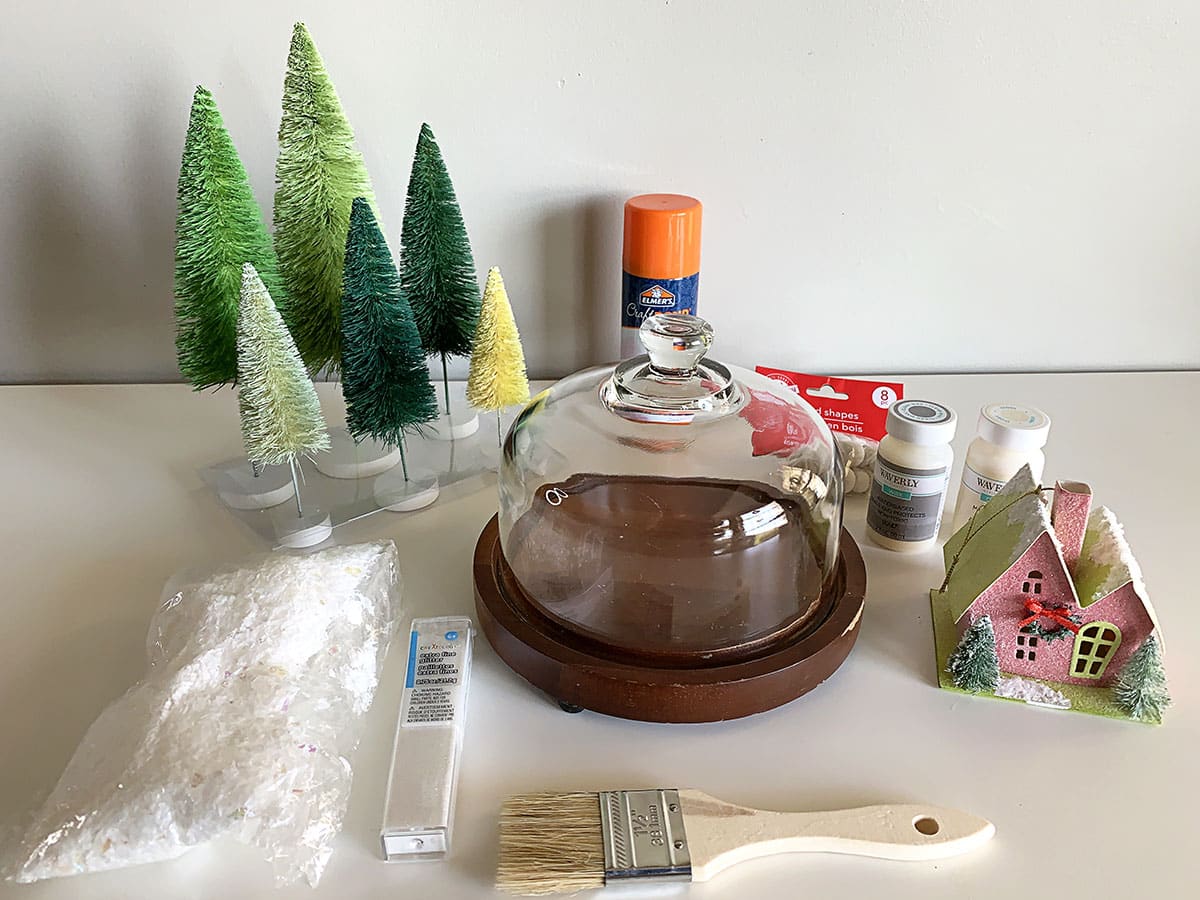 Instructions
Time needed: 30 minutes
Instructions
Unscrew Original Riser Feet

The feet that came with the cheese dome were very very small. Maybe ¼" tall. Since I wanted something taller I am going to replace them.


Add New Taller Feet

Adhere the new feet onto the wooden base with a hot glue gun or E6000 glue. Although it originally had 3 feet, I used 4 feet to make it more sturdy.



About The "Feet" I Purchased

These are the riser feet I purchased from Dollar Tree.

Spoiler Alert - they're cute tiny little wooden snowmen that are supposed to be used in Christmas crafting.

If you flip the snowmen on their heads, they make perfect little riser feet.



Paint The Wooden Base

Paint the middle of the dome white. This is where the snow will sit. Also paint the new feet white.



Add Your Accent Color

Of course, you can use any color for the contrasting color. I chose pink to give it a whimsical slightly mid-century modern look.


Apply Spray Adhesive

Spray your adhesive onto the pink section. Work in small sections. No need to put adhesive on the inner white circle yet.



Add Glitter To Sides

Add glitter to the pink sections, working around the base by applying the spray adhesive then applying glitter, and then moving on to the next section.



Add Snow To The Top

After applying the glitter spray adhesive to the inner white circle and add faux snow on top of it.


Trim Trees If Needed

The Target trees were too tall to fit under the glass dome, so I snipped the tops of the trees off and used the top sections as my actual trees. For my cheese dome 3" was a good height for them.


Place Decorations

Place your trees and house on the wooden base.



To Glue The Decor Down Or Not To Glue The Decor Down?

It's up to you. I decided not to glue my house and trees down simply because I wanted to have the option of changing out the scene on the inside if I wanted to.

Plus I might want to use this for Valentine's Day decor since it's pink. Not gluing things down permanently worked well for me.


Replace Dome

Just replace the glass dome and you're ready to go.


Alternatives For Decorating Your Winter Cheese Dome
You don't have to limit yourself to these paper houses, there are so many choices for decorating the inside.
Holiday Snow Village Figurines - Michaels, Walmart and Amazon all carry a line of miniature people to go with the Christmas village houses (snowmen, ice skaters, carolers, etc).
Favorite Christmas Ornaments - it would be cute to display a few heirloom ornaments in one of these domes.
Little Trucks With Christmas Trees In The Back - You can't go wrong with a truck hauling a Christmas tree and most stores carry small versions as Christmas tree ornaments.
Pinecones And Greenery - I saw so many cute little sprigs of greenery when I was out looking for ornaments that would look cute in there. Add a pinecone or two and you have a simple yet festive look.
Suggestions If You Have Children In The House
Just a note, you notice I did not glue the glass top to the bottom part. This is not the type of "snow globe" you can turn upside down and shake. Nor is it something small kids can play with since there's glitter and paper-like snow involved, not to mention the glass domes on these things are ridiclously heavy.

So if you will have kids or grandkids (or great-grandkids) around, you'd want to keep this as something to just look at and not to play with.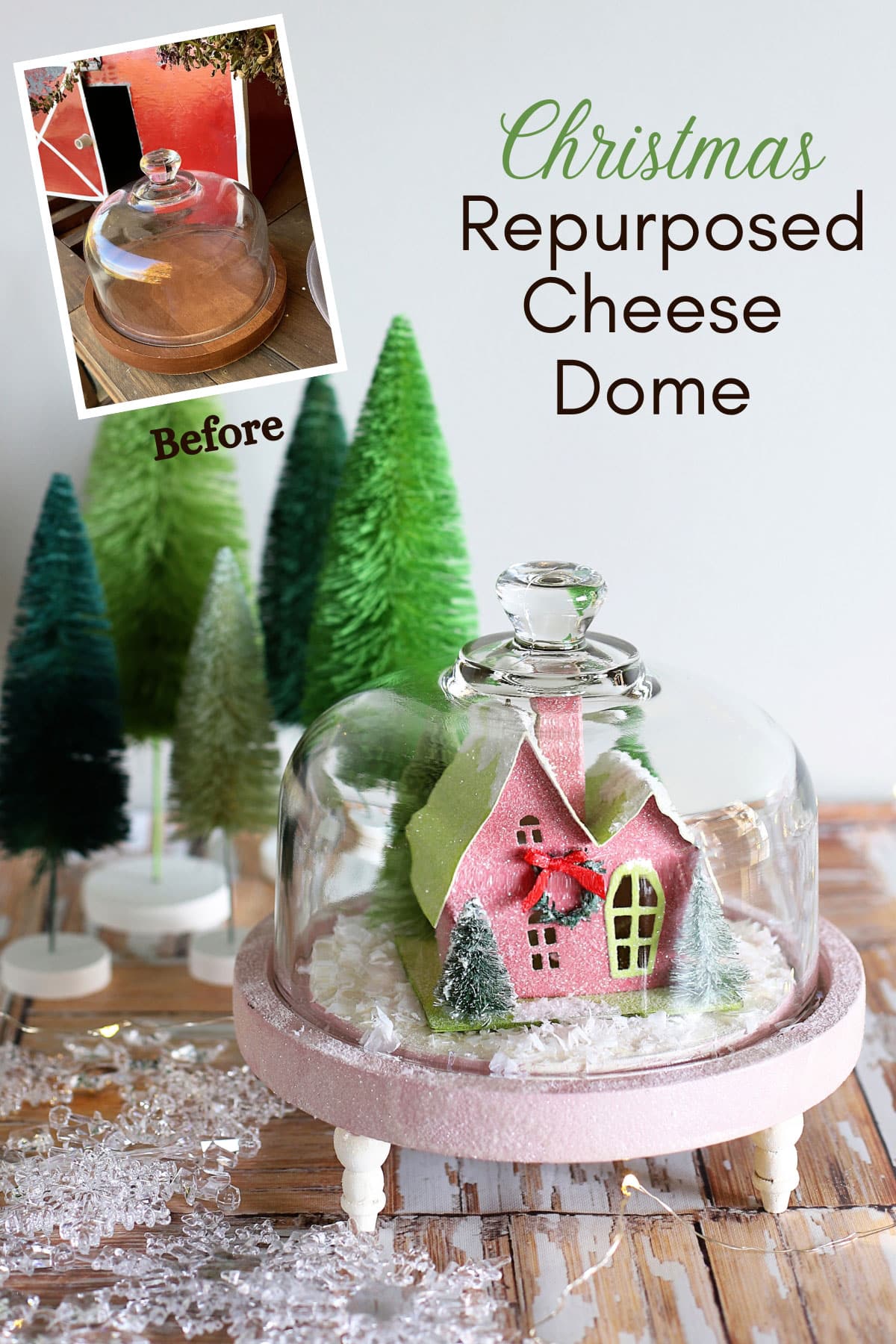 Now let's see what the other Thrift Store Decor Team members are up to this month!
Thrift Store Decor Team Projects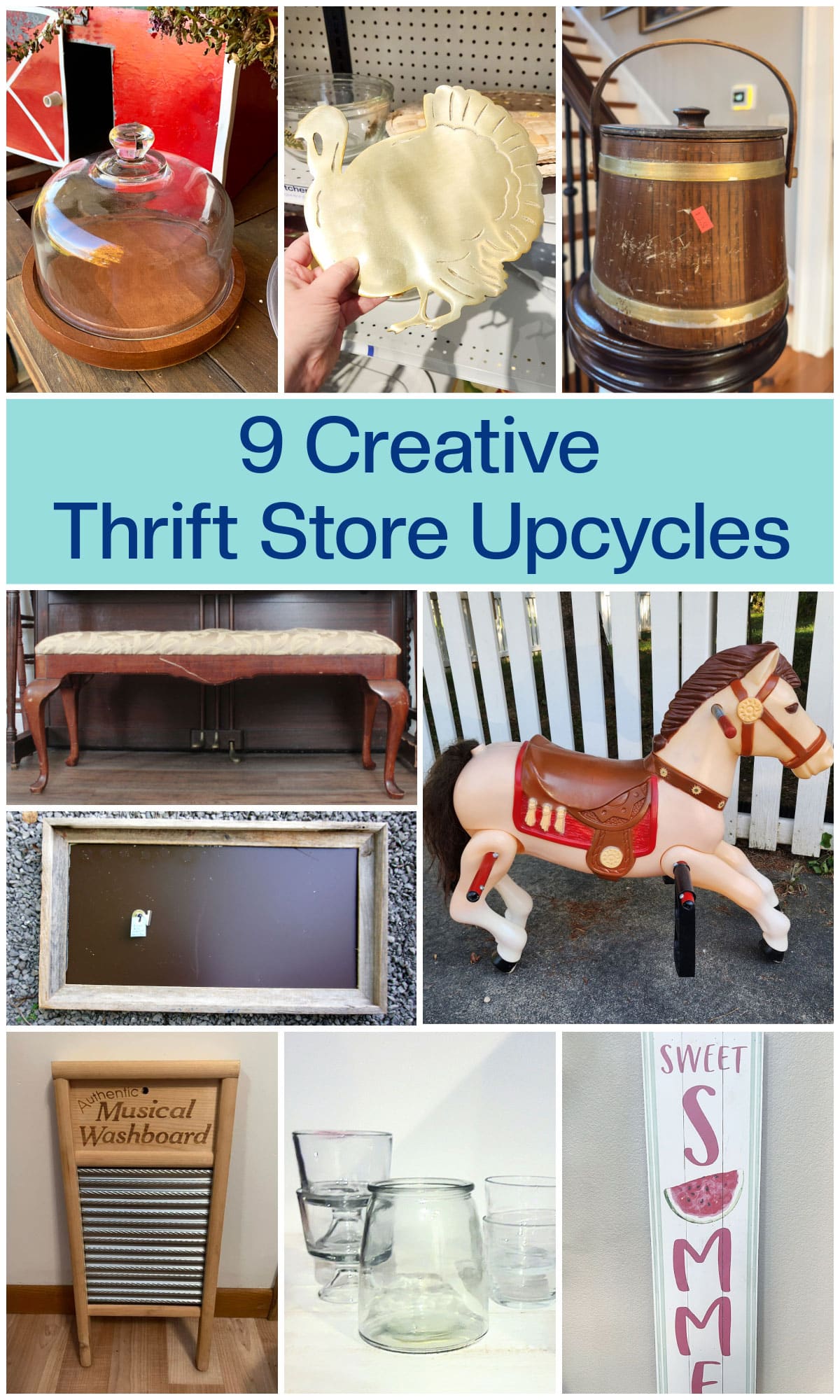 Other posts you may enjoy: