Right about now I start wondering if spring will ever truly get here. It's in the 50's one day and I'm running around outside with no jacket and dreaming about planting some pansies on the porch and it's 20 degrees with 6 inches of new snow the next.
So what can you do when spring just won't hurry up and get here already?
You just gotta start adding some spring to the inside of your house until the weather on the outside of your house starts cooperating.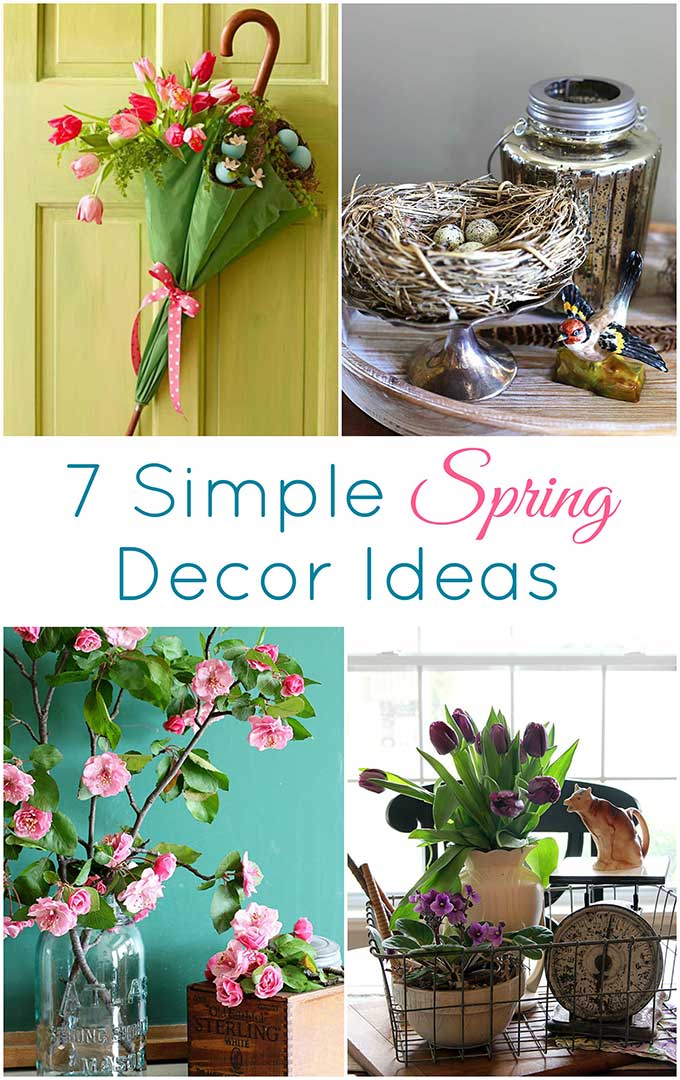 7 Simple Spring Home Decor Ideas
Before we get into the tips, let's get something out of the way.
This might be a no-brainer, but look around the house and see if you have any Christmas decor hanging around. See that stray Santa setting there on top of the refrigerator smirking at you? Yeah, it's time to put him away.
As hard as I try to be all organized when putting my holiday stuff away after Christmas, I ALWAYS find some Christmas decor that I have overlooked.
Which leads into my 1st idea.
Switch Out Your Obvious Winter Items - Pinecones, Snowman, Faux Pine Trees etc.
One of the first things I do to change over to spring is to remove the pinecones (my go to post-Christmas winter decor item) from my baskets and buckets and switch them out with ferns.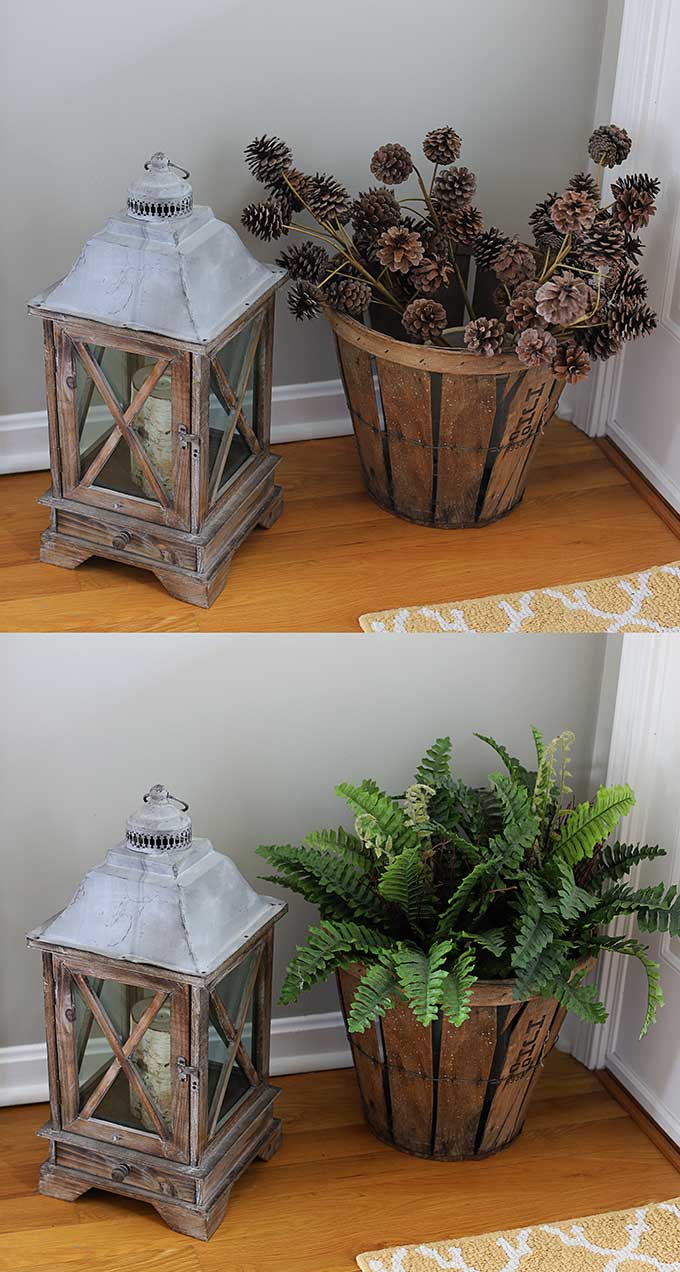 You can use real ones, but honestly for these baskets I prefer the faux ones so I can just pick them up and move them wherever I want and don't have to worry about light requirements, misting them or any of that fern care nonsense.
Faux is your friend in this instance and will take you clear through spring into late summer.
Force Some Branches
My absolutely hands down favorite way to summon spring is to force some branches and in my How To Force Flowering Branches Indoors I show you how.
These are crabapple blossoms, but you can do it with practically any spring flowering tree or bush.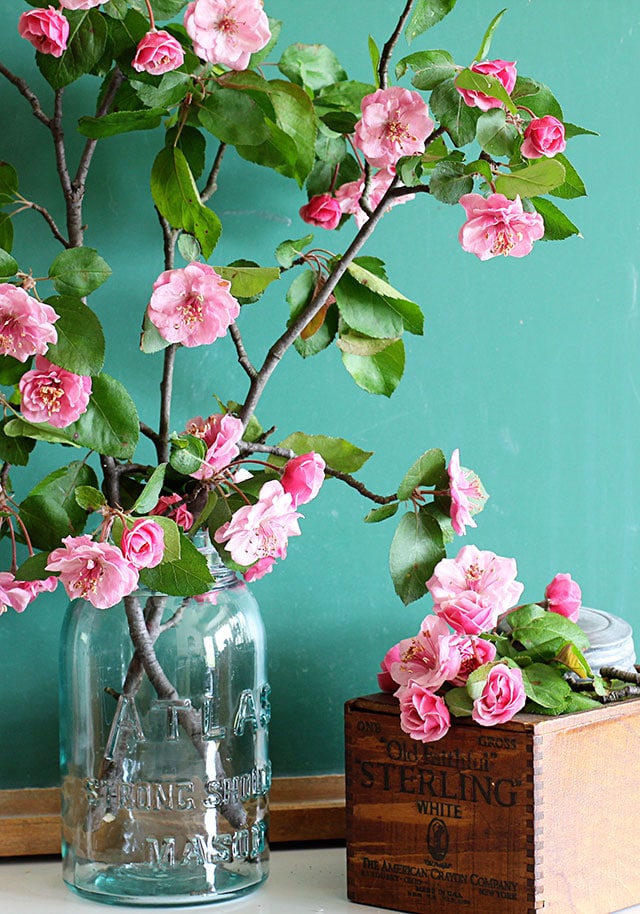 BTW, I love crabapple blossoms, but HATE the tiny little gnarled fruit that litter my lawn in the fall (can you even call a crabapple fruit?).
Birds and Nests
Decorating with a few nests around your home is a quick and easy way to signal that spring is near.
I created this little vignette on my hall entryway table.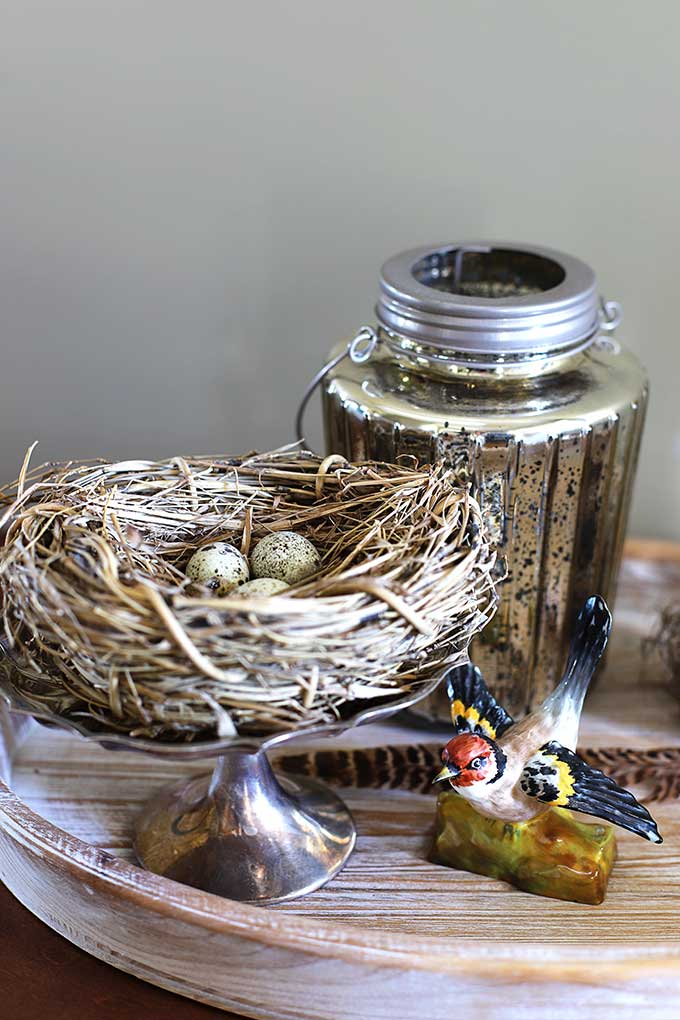 I think nests and birds are a less in-your-face the Easter Bunny is coming way to decorate for spring!
If you don't have any of your own nests yet, Lucy at Craftberry Bush has a great tutorial on how you can make your own realistic looking bird nest.
Tulips - Use Lots And Lots Of Them
Nothing says spring more than tulips and they are at practically every grocery store or Trader Joe's right about now.
If you have problems with tulips flopping over after you get them home, you need to read my post called Making Tulips Last Longer: No More Drooping. It's a game changer.
Indoor Blooming Plants
Having a couple blooming plants around the house sure does chase the late-winter doldrums away.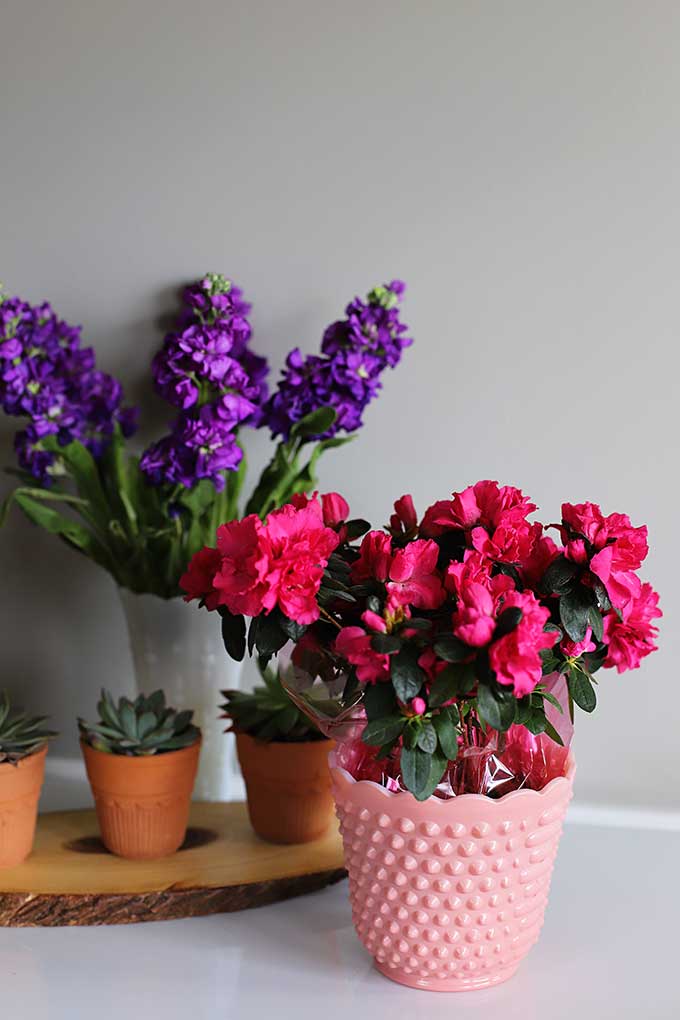 The one on the right is an azalea and the Heavenly purple cut flowers in the back are called stock.
The ones in the middle are succulents, but they don't have blooms so we'll just ignore them.
BTW, this azalea is a grocery store azalea and not really grown to be planted in the ground. You can try it if you want and you might be successful, but generally they are not as hardy as the regular azaleas you buy for planting.
Plant Up Some Porch Pots
Not exactly INSIDE decor, but it's just about time to put some flowers on the porch (probably still too cold to plant in the ground, depending on where you live).
I have some suggestions for some flowers that can handle a little nip in the air - Early Spring Flowers That Can Take The Chill.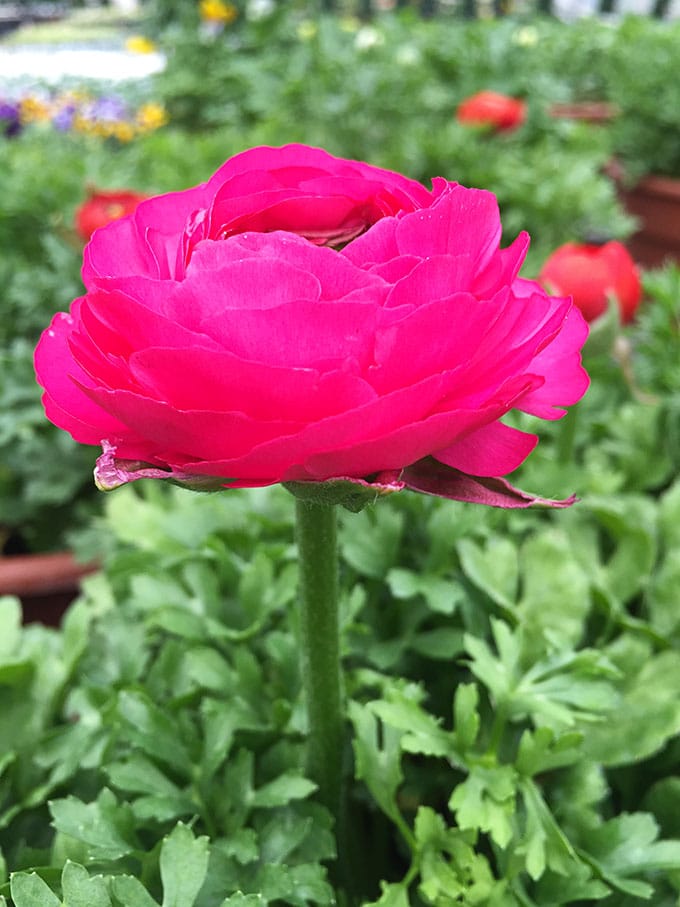 And some ideas on how to freshen up your winter porch pots in no time flat - Easy 5 Minute Spring Porch Pot Refresh.
Spring For A Wreath
If you don't want to do live flowers yet, you can always add a pretty spring wreath to your front door like I did in my Simple Farmhouse Spring Porch Decor. OK, mine is setting in a bucket, but who says wreaths are only for doors.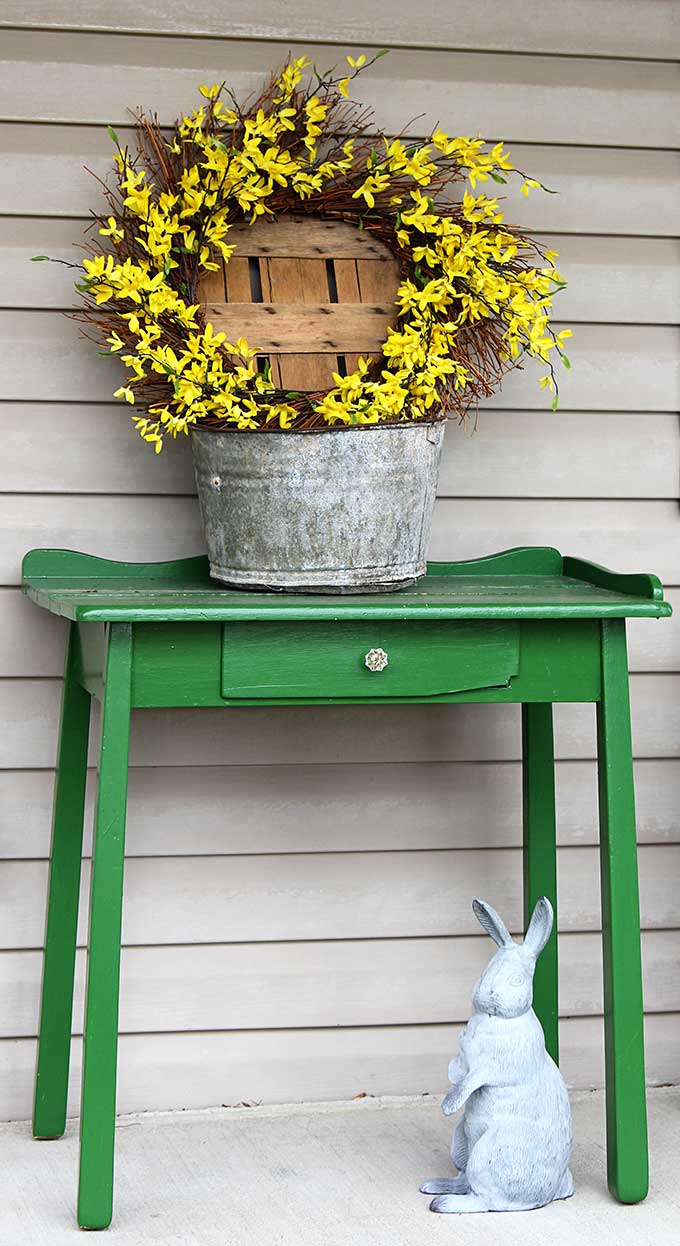 Or for that matter, who says it has to be an actual wreath? Midwest Living Magazine uses an umbrella as a spring wreath!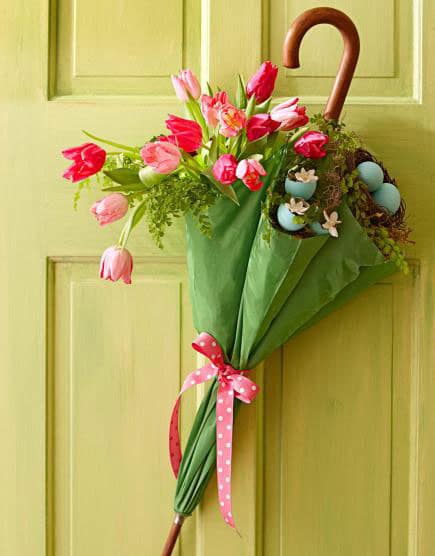 Some other quick ideas to freshen up your home for spring:
Buy a fresh new doormat for the porch.
Throw a couple bright spring pillows on your sofa.
Grab some free printables to decorate with. I have some Vintage Easter Images you can use or you can find a boatload of Spring Free Printables on The Turquoise Home.
Buy some cute new spring dish towels to brighten up the kitchen.
What's your favorite way to add some spring to your home?