So I had this GREAT idea for an American flag craft while out shopping at the local Home Depot the other day. Let's make a flag out of some beadboard.
You know how much I love me some paneling. I just thought it would be a perfectly simple way to make a flag.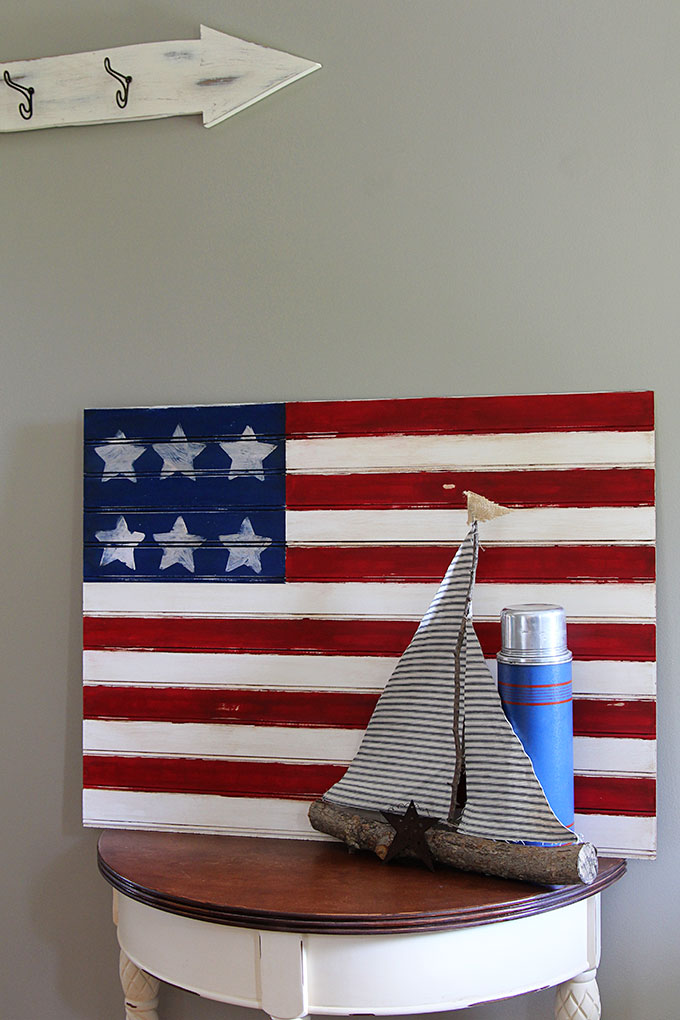 Because beadboard has ready-made stripe lines, y'all!!!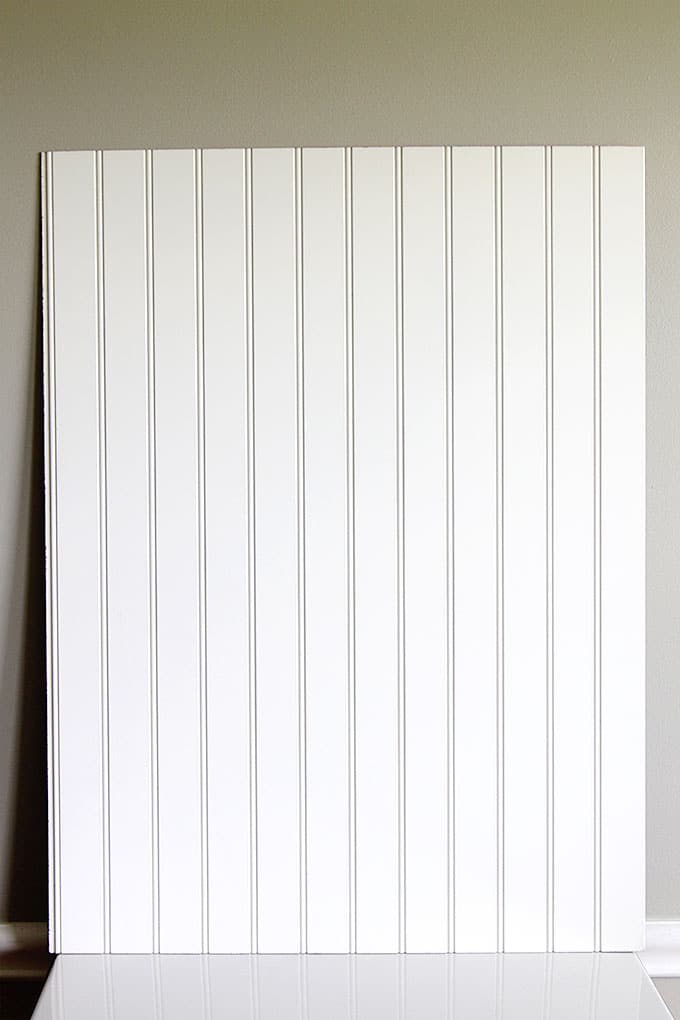 They had these great little pieces of beadboard that looked like they would fit the bill. They are 32" x 48" and cost under $10 a piece.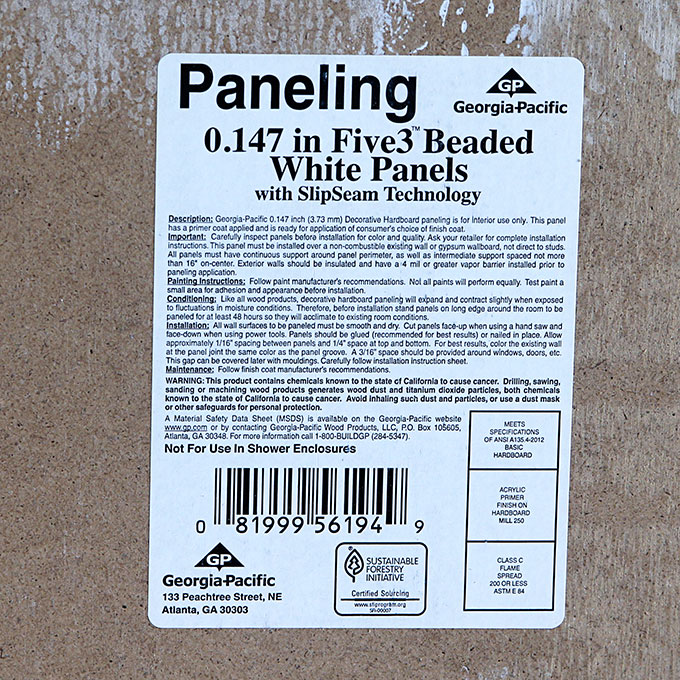 Perfect!
I was destined to become the 4th Of July DIYer of the season with my genius idea!!! Look out HGTV, here I come!
It wasn't until after I got it home that I realized that the number of "boards" on the beadboard panel was 12.
A flag has 13 stripes.
Oops! Or as Betsy Ross would say, "Oh, what a star spangled mess"!
So now I have decided to do a "flag-like" craft project complete with air quotes.
Not the right number of stripes, not the right number of stars, not the right dimensions. But perfect in its artistic interpretation of the spirit of the Old Glory.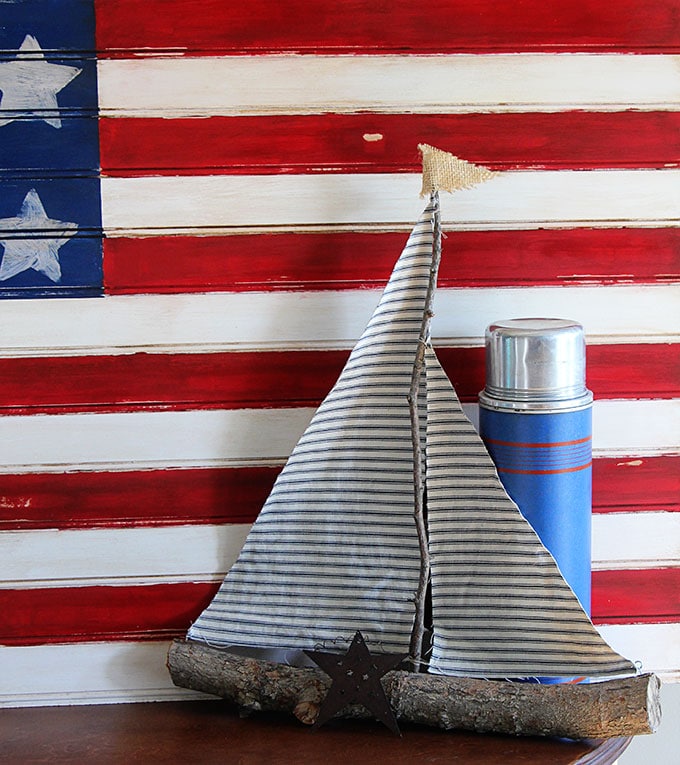 (BTW, you can see how I made this sailboat HERE.)
Sometimes when life hands you beadboard, you have to make lemonade. Or something like that.
Oh, the tutorial. Yeah, forgot that part.
Paint it.
In case you want a little more direction . . .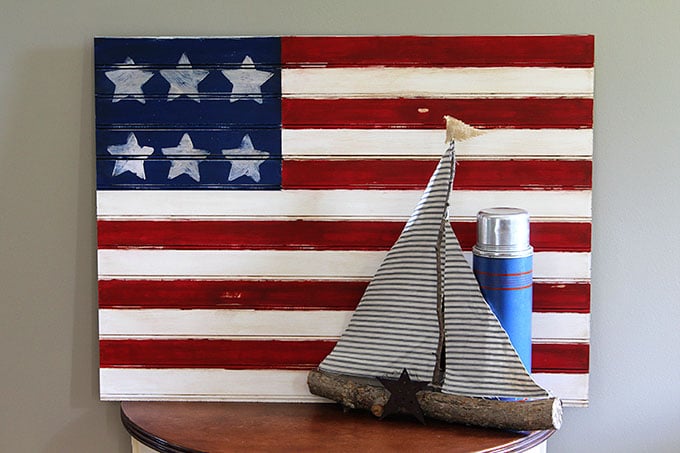 Farmhouse American Flag Craft Project Tutorial
Supplies
32" x 48" beadboard panel (I found mine at Home Depot, but Lowes, Menards or Joe's Local Hardware Emporium should carry them also)
red, white and blue paint (I went with Plaid's Folk Art Home Decor Chalk Paint in the 2 oz mini bottles ($1.99 ish)
Clear wax (I used Plaid's Folk Art Home Decor Wax in the Clear color) OPTIONAL
Dark wax (I used Plaid's Folk Art Home Decor Wax in Antique color) OPTIONAL
large star stamp
foam paintbrushes
chipwood paintbrushes
masking tape or painter's tape
sand paper or sanding block
old t-shirts or lint free cloths
Here's the paint I used,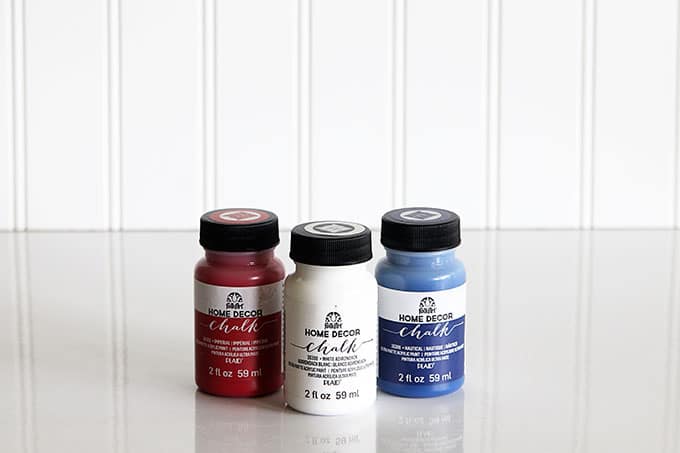 the wax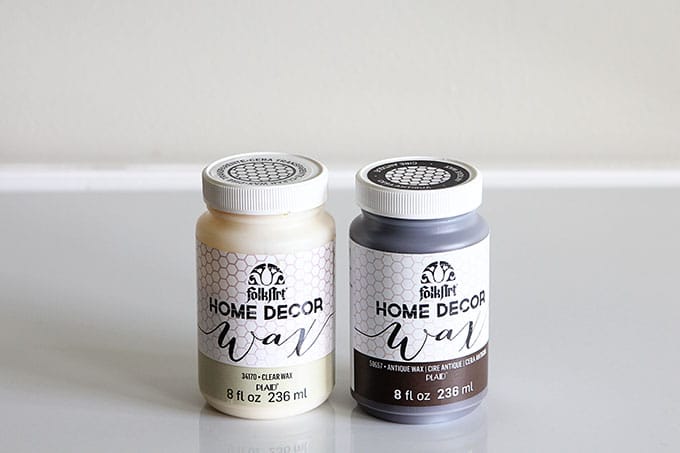 and the stamp (I found this one at Hobby Lobby)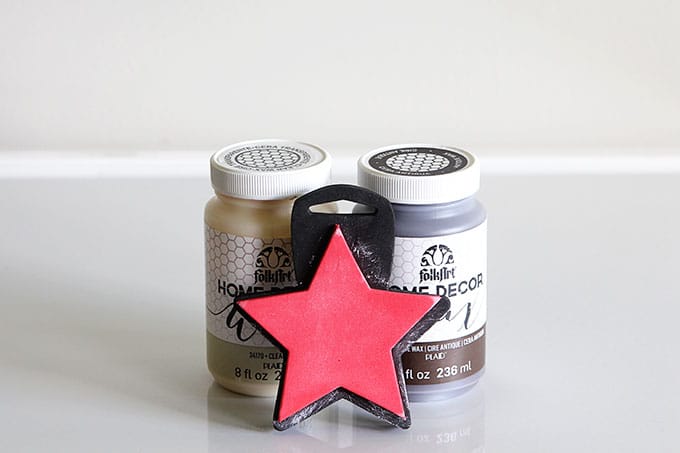 Instructions
Turn you beadboard paneling on its side.
Cuss at yourself, once again, for not counting the "stripes" at the store.
Tape off the area that you want to paint blue. You can make a somewhat traditional design like I did or go wild and be CREATIVE,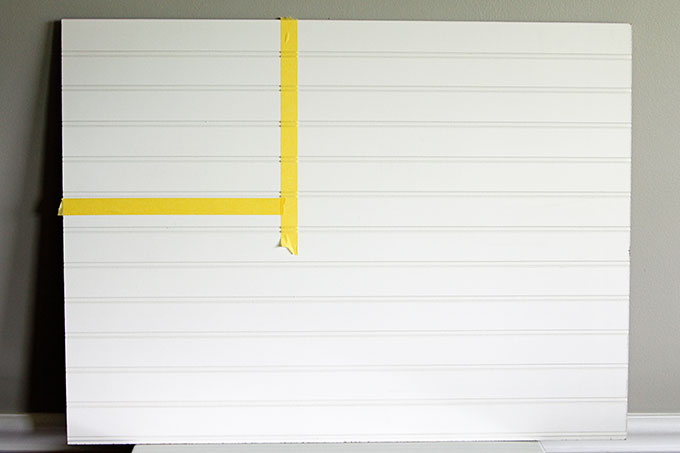 Paint that area blue.
Remove the tape and paint alternating stripes red. Just follow the lines of the beadboard. No need to be super duper precise, this is going to be distressed and rustic.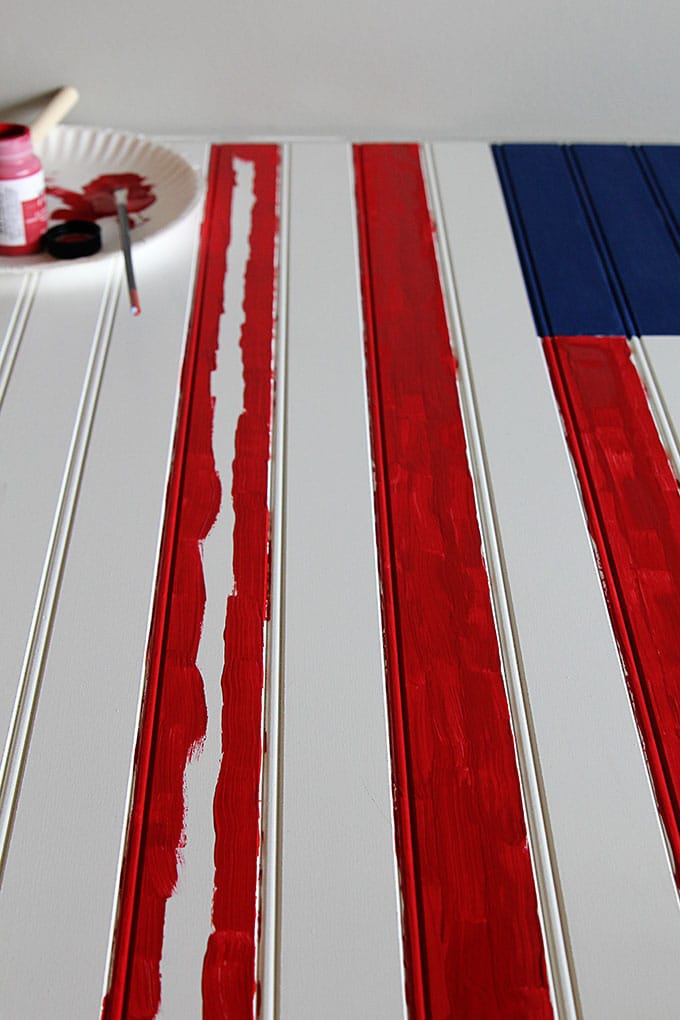 I saw no reason to paint the other stripes white, because hey, they're white already.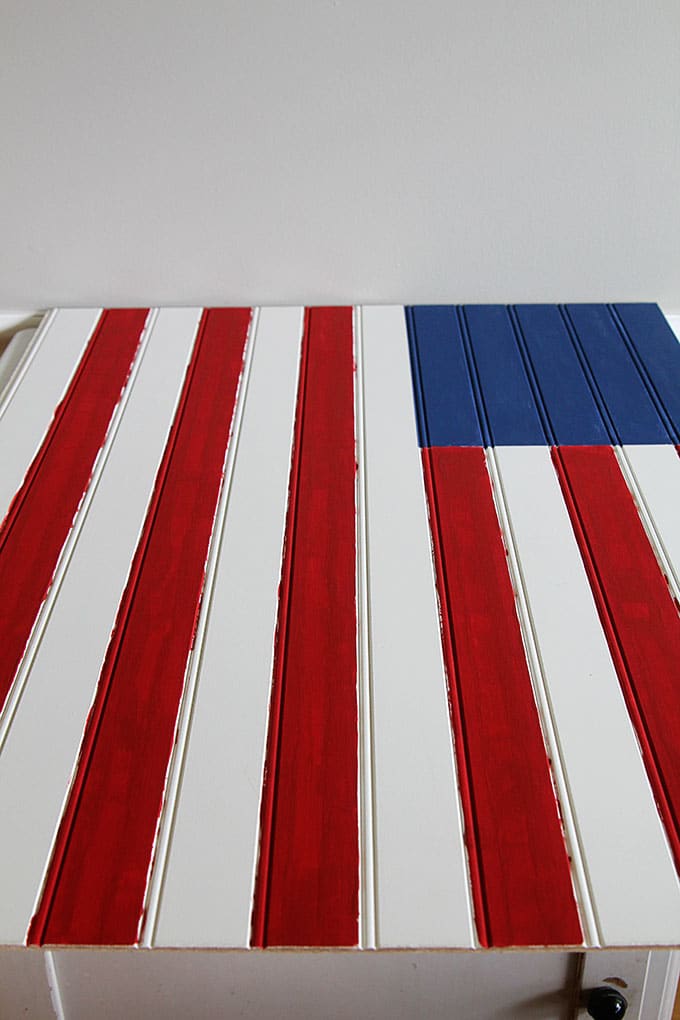 Allow paint to dry.
Run sandpaper or a sanding block over the surface if you want to rough it up to give it a bit of age.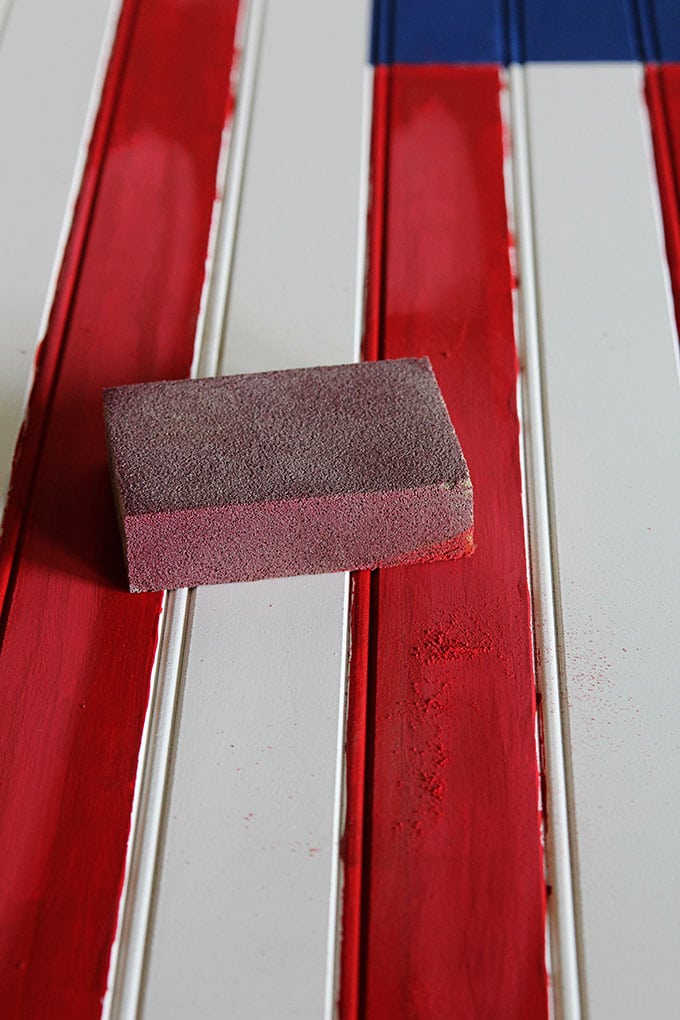 Here's a closer up view of some of the distressing on the "bead" part of the beadboard.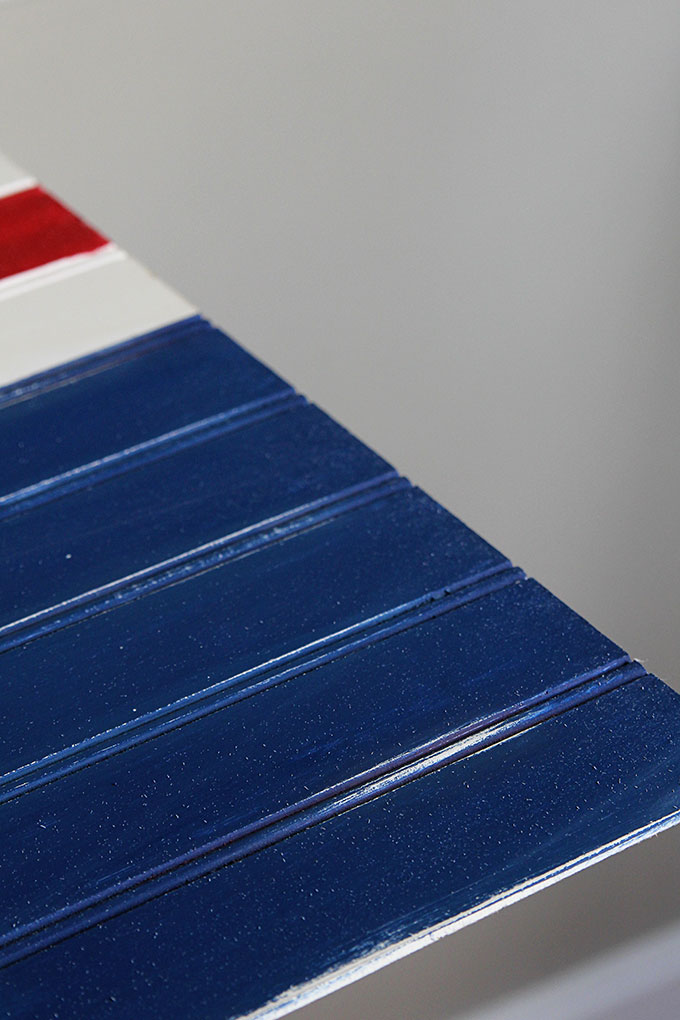 Wipe off excess paint "dust". (If you've never used chalk paint before, it's very easy to distress and the residue is a very fine powder. Like chalk.)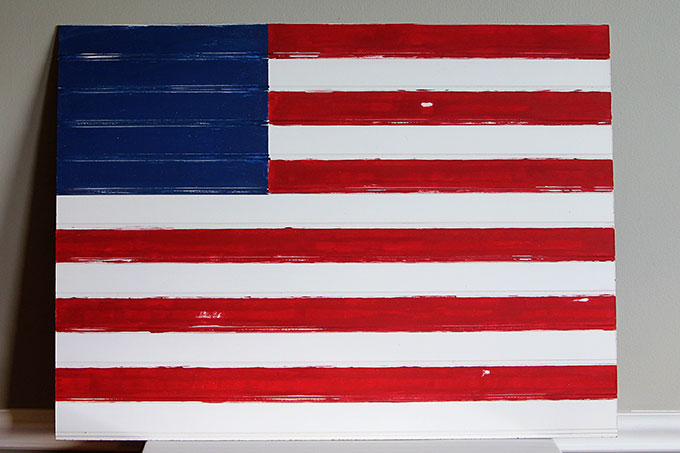 Very lightly apply white paint to your star stamp and lightly press onto the blue background. You could do this prior to sanding, but I knew if I just put a little bit of paint on the stamp it would give me the look I wanted (messy, faded and imperfect).
Apply your clear wax, let dry and buff.
Apply your dark wax over it. (Putting dark was on over clear makes the dark wax easier to work with).
Freak out because this is your first time EVER using dark wax and you are thinking your wax is entirely too dark and you may have ruined this piece!!!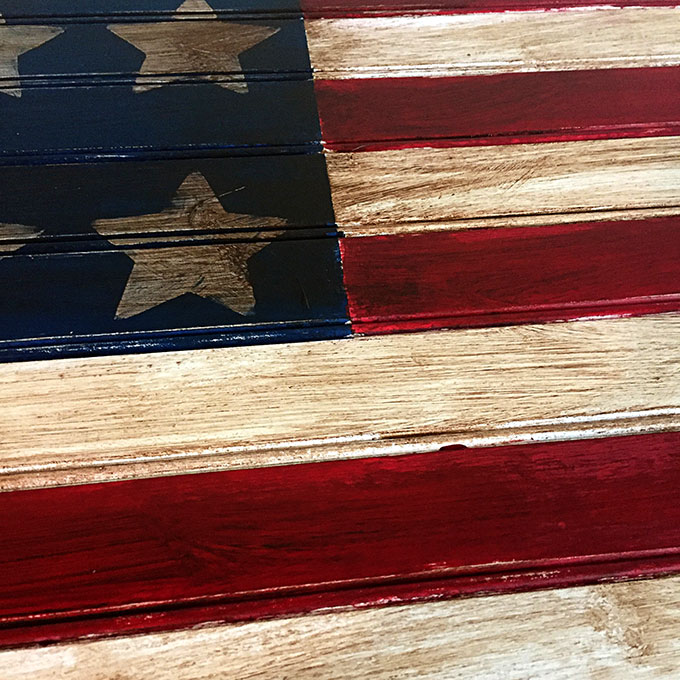 Before it dries completely, run a damp rag over the piece to take off most of the dark wax. (If you want to skip this freak out step, just use the dark wax very sparingly).
Let wax dry and buff it to a shine.
Your American flag craft is done.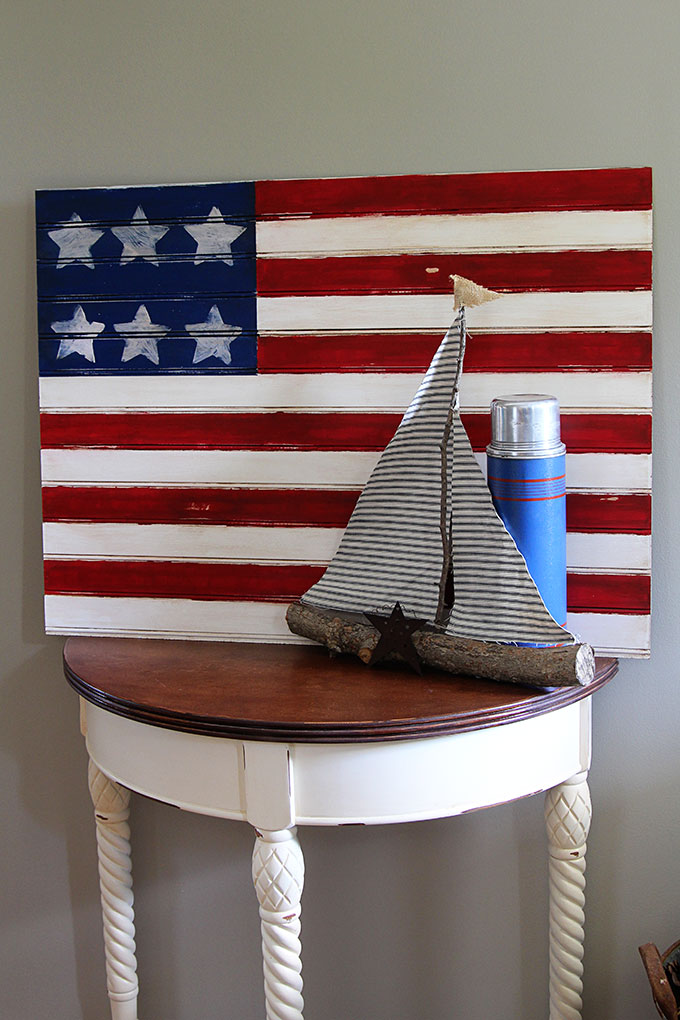 Let's see how many people do not read the tutorial, but will jump in and tell me I have the wrong number of stripes 🙂

Looking for more fun patriotic and summer ideas?
Retro Picnic Supplies For Your Fourth Of July Barbecue
4th Of July Vintage Postcard Printables
Top 10 Patriotic Projects, Recipes And Decor