Phew, that's a long drawn out title for a post.
But I think it about sums up my fall front porch display nicely. A little touch of vintage with a tad of farmhouse and a whiff of eclectic style to make for a fun, festive fall porch. (If I may say so myself!)
Now I have a zillion photos for you here, so not a lot of chatter today.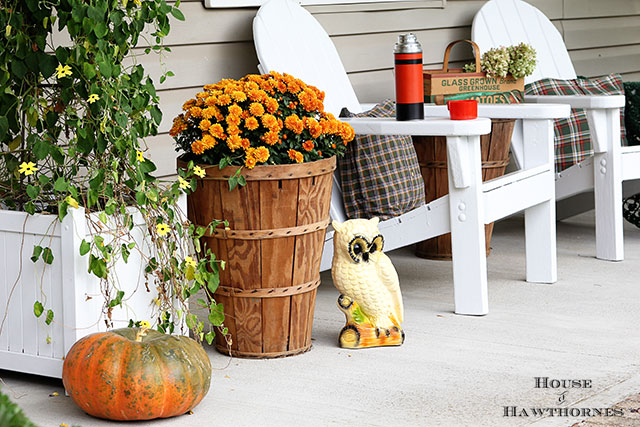 Ha! Had you going there! Chatter is my middle name.
Please feel free to go grab yourself a cup or glass of whatever you normally drink at this time of the day (no judging here) and settle in for a long one 🙂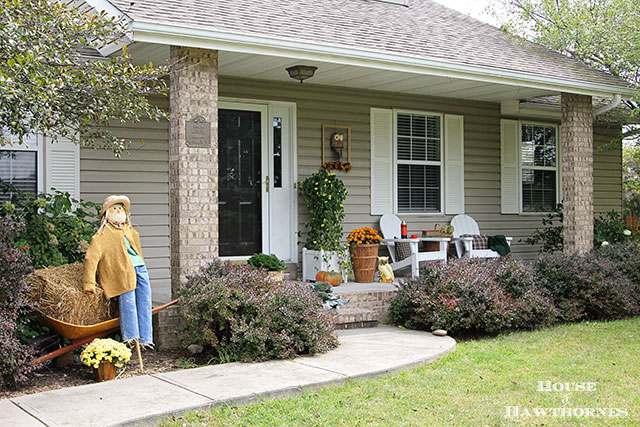 To start with, I sort of have an owl thing going on here this year. If two owls are a "thing".
You've seen Hootie, my front door wreath that I made that is neither on my front door nor a wreath.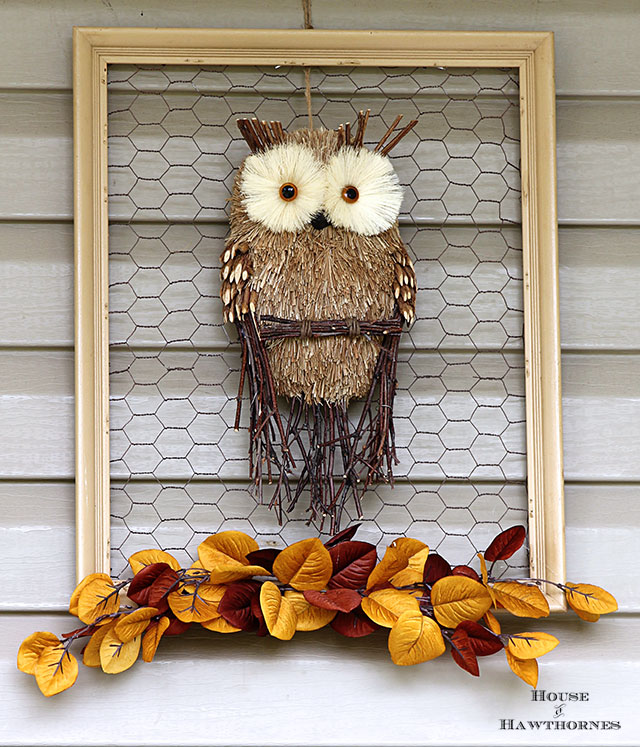 And I have this huge owl bank that I found at a little antique mall one day.
I saw it on a shelf and was a little scared to look at the price. I mean, it's one of those things that could be either $69 or $6.95.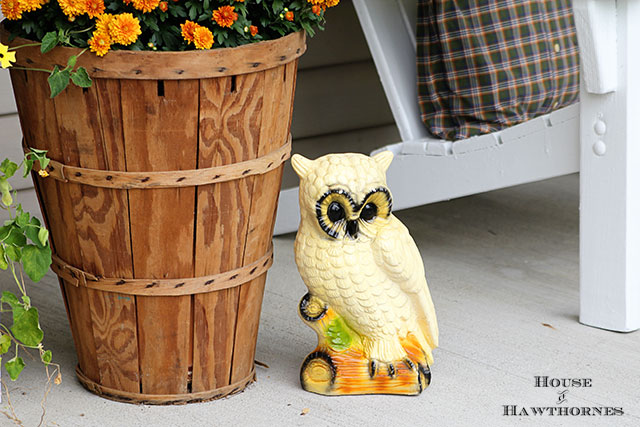 I was very relieved to see it was the latter, because otherwise he would still be living at the antique mall. And no one wants to live at the antique mall.
Don't you picture all the old dolls and clowns coming to life in the middle of the night and zip-lining from one end of the antique mall to the other? Just wreaking havoc and then getting it all cleaned up by the time the store opens again in the morning.
Am I the only one?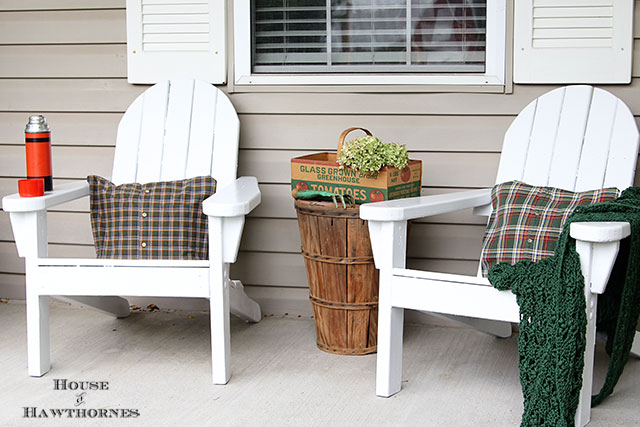 This black and orange thermos was my favorite find from the Country Living Fair.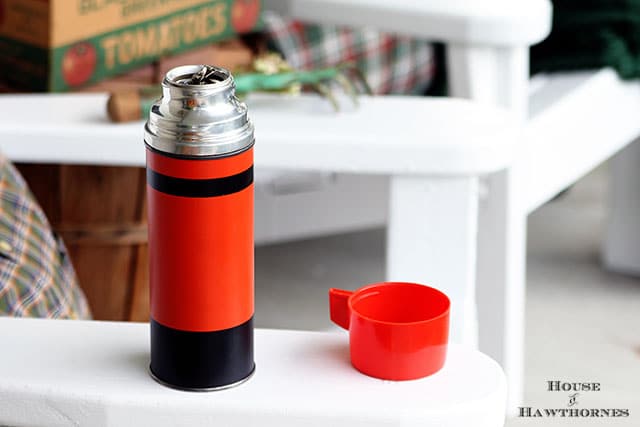 There has been some discussion in my house (from those that don't know a darn thing about fine antiques) whether the top is red or orange.
But considering I have seen another thermos just like this and it too had a lid that was slightly left of orange (ROYGBIV), I do think it is original to the thermos.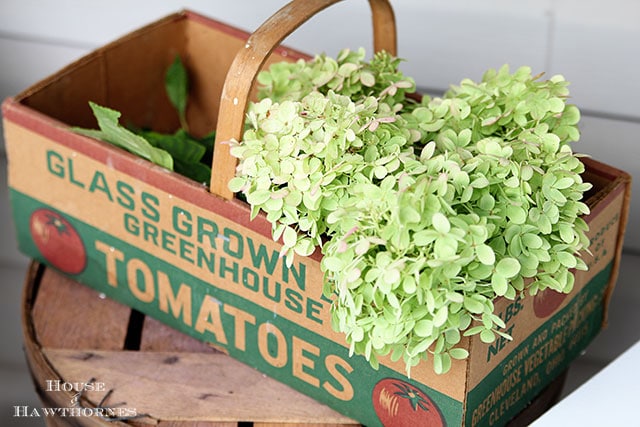 I left my no-sew shirt pillows and my 99 cent thrift store afghan on the Adirondack chairs. Never know when it's going to get chilly out here.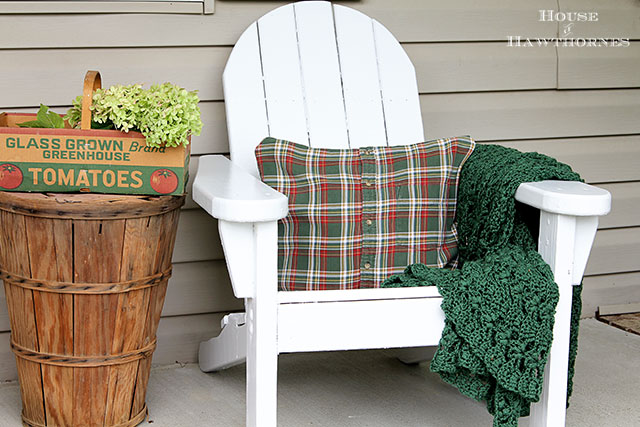 I could tell you a story about these peach baskets and a snake skin, but I don't think I can repeat it again without getting the heebie jeebies.
So if you're interested in snake skins (and you're nuts if you are), you can read about it on Instagram. I shall never speak of it again (and am about ready to crawl out of my own skin as I type this).
Look, pretty flowers!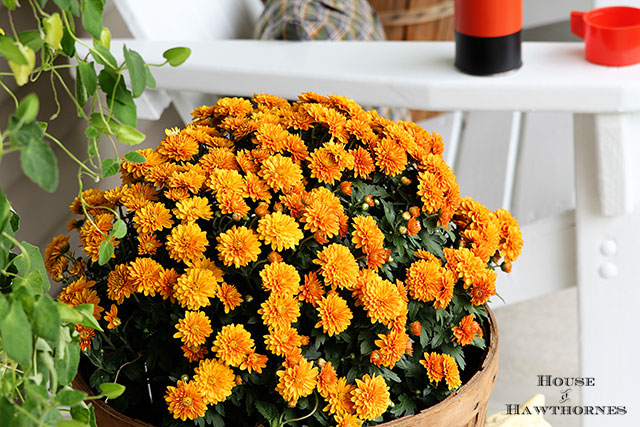 How's that for a palate cleanser for you?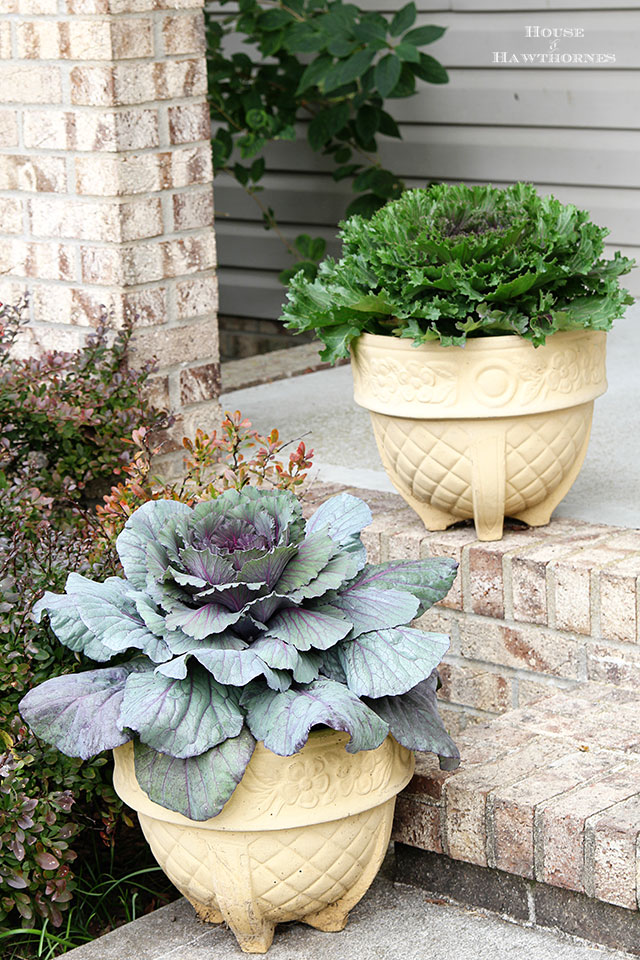 Which brings us to the wheelbarrow.
I made my sister drag it out of the shed when she was here due to the aforementioned "peach basket" incident.
Sounds much better when I call it a "peach basket" incident rather than using the "S" word, now doesn't it?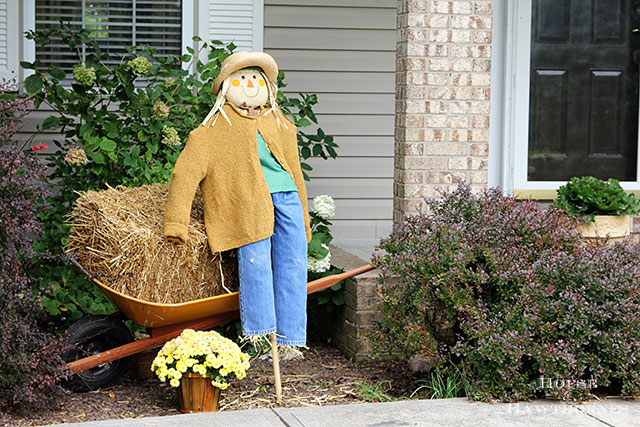 The wheelbarrow makes a nice backdrop for Sally, my scarecrow I showed you how to make in my DIY Scarecrow Tutorial.
She's named after Sally Fields. As in she should be out in the corn fields.
Sally looks like she has a stick up her butt. Because, well, she has a stick up her butt.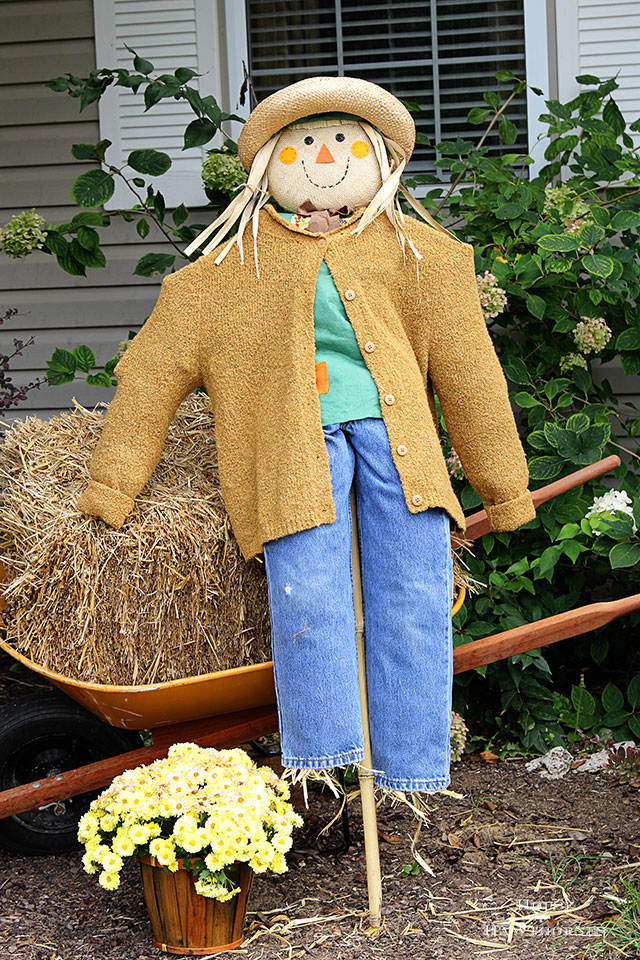 It's the only way I can keep her pants from falling down.
Do you know what did not make it in these photos?
Besides Sally's shoes?
The hay rake that I specifically bought to put on my porch!!!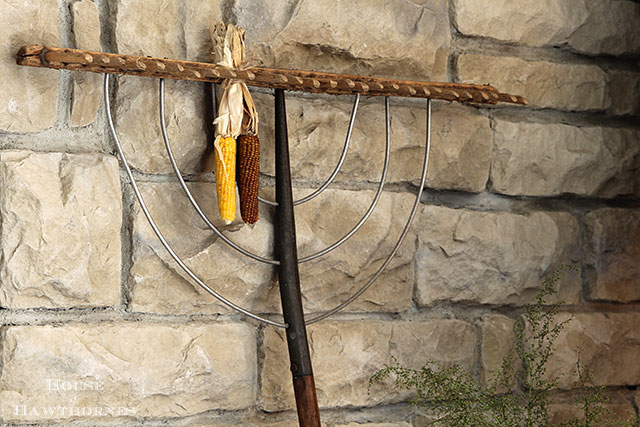 As I'm walking back inside after taking all the photos. Sweating my head off because it was 90 degrees that day. I noticed the stupid rake mocking me from the beside the fireplace.
I was going to hand draw the rake onto Sally's picture, so it would look like she's holding it, but I'm not that good at Photoshop. Or drawing.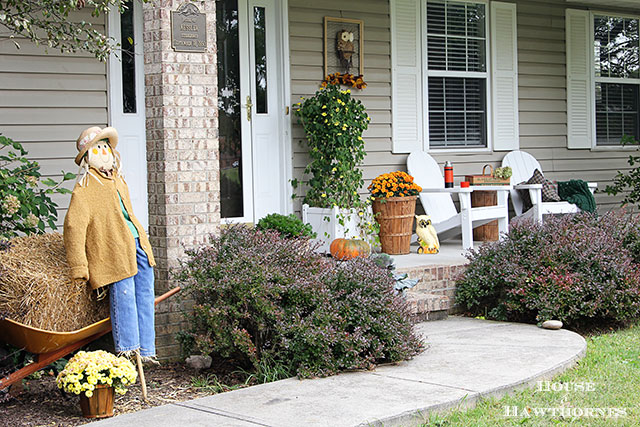 OK, we're officially done with the porch tour du jour. That wasn't that bad, was it? You barely had time to finish your glass of wine.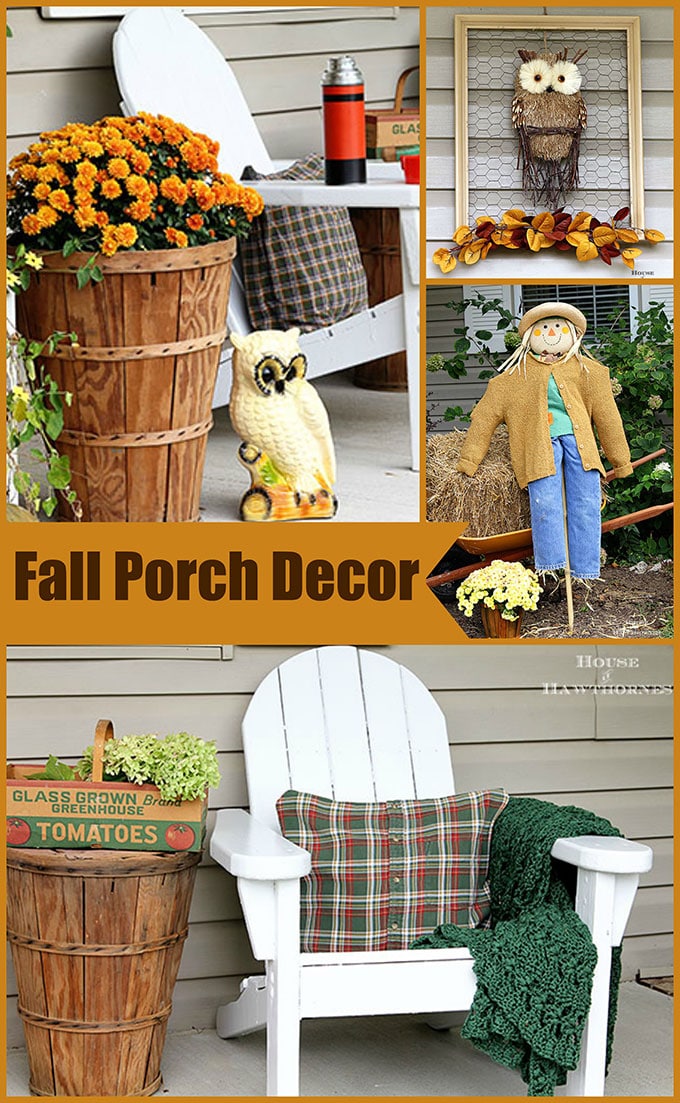 More fall porches you may enjoy:
Simple Fall Porch Decorating On The Cheap
Fall Porch Decor Farmhouse Style