Not sure if you call these candy dishes or planters or cat bowls.
But you can buy one of these milk glass thingies at practically any thrift store in any city on any day.
Oh, did I mention these succulents are rubber?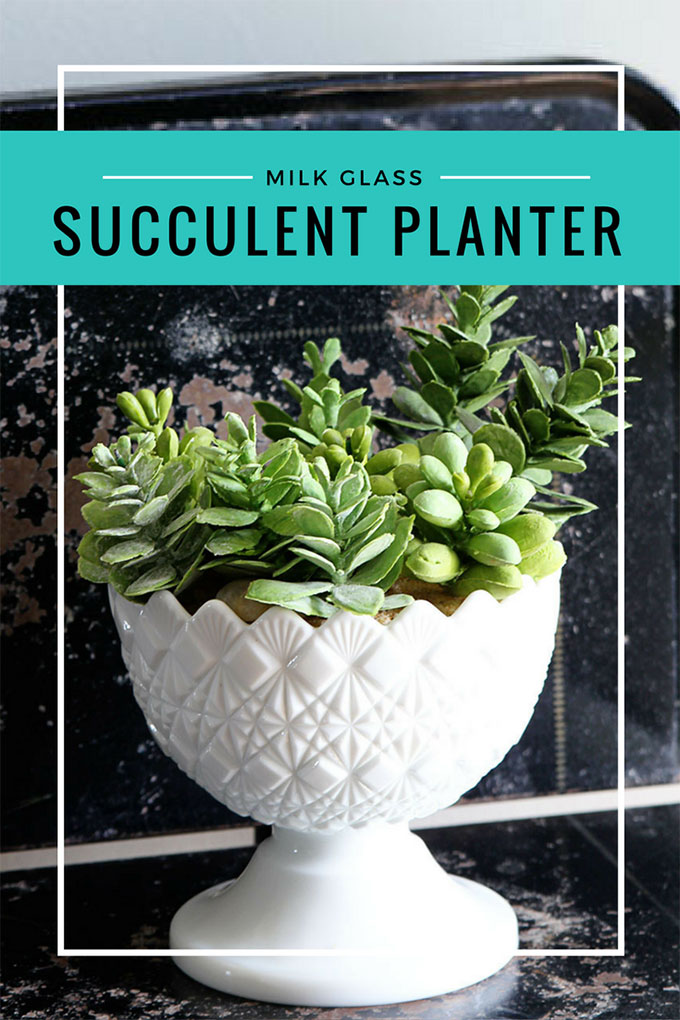 Yeah. I got tired of my real ones dying.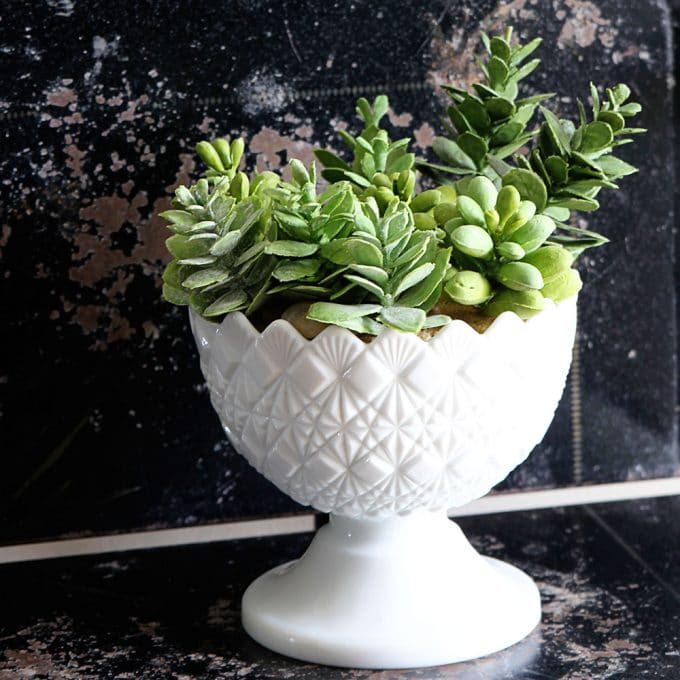 Rubber doesn't get all picky about when you water it.
Or the amount of sunshine it gets.
Plus you can throw it in a closet if you get tired of it.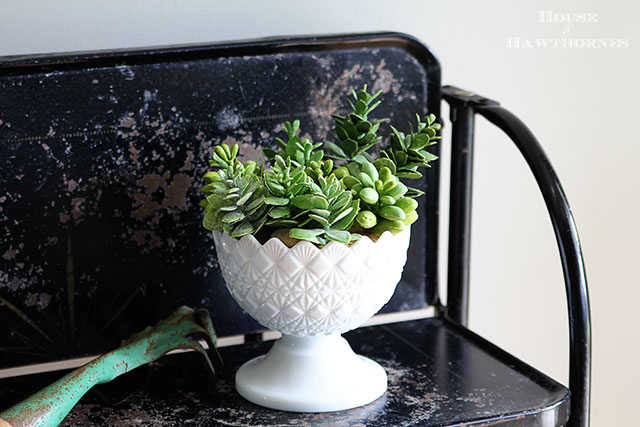 And best of all, they are made amazingly life-like nowadays.
Now, normally I wouldn't do a tutorial on something this simple, but you know what? There's a lot of readers out there that may like the look, but not exactly sure how to pull it off.
So if you're bored already, just scroll on down to see the photo of my red truck 🙂 Otherwise, let's get on with it!
And before I forget these would make a super cute hostess gift!
How To Make A Milk Glass Succulent Planter
Supplies needed:
A milk glass thingie
some rubber succulents
if your container is round, a styrofoam ball - if square, a block of styrofoam
a knife to cut the styrfoam
Spray adhesive (optional)
Sand (optional)
Instructions: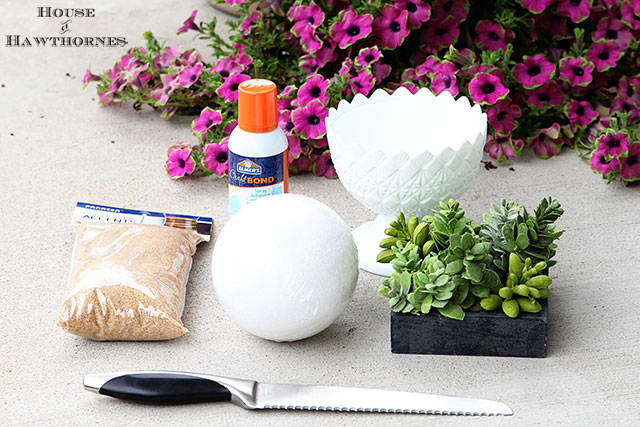 Cut your styrofoam to fit your container. In my case I had a round bowl, so I cut my ball in half.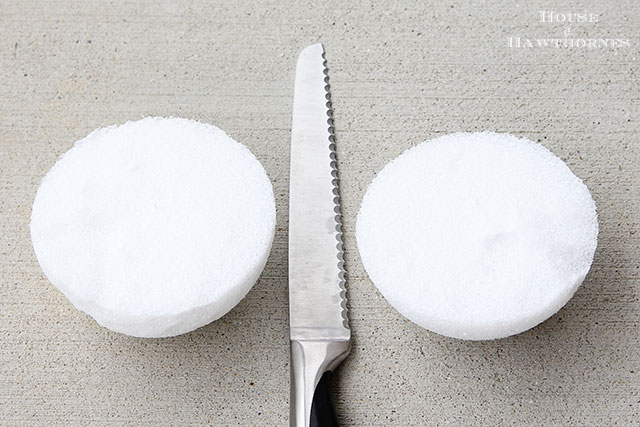 This part is optional, but to give it a more finished look you can spray adhesive on the part of the styrofoam that will face up. And then sprinkle sand over the adhesive.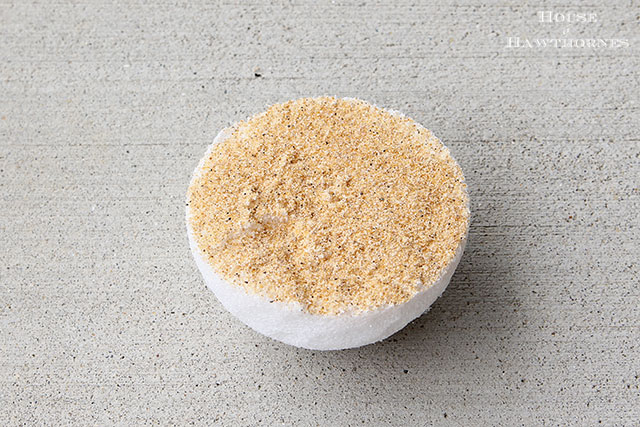 Followed by spending half an hour trying to scrub the adhesive and sand out of your fingernails, because you thought it would be a good idea to just hold the ball in your hand while spraying and sprinkling.
Place the sand covered ball in your thingie and one by one poke your succulents into the styrofoam.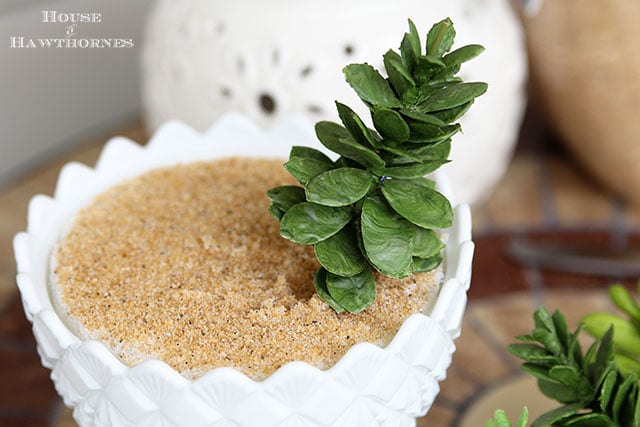 Until you have it covered.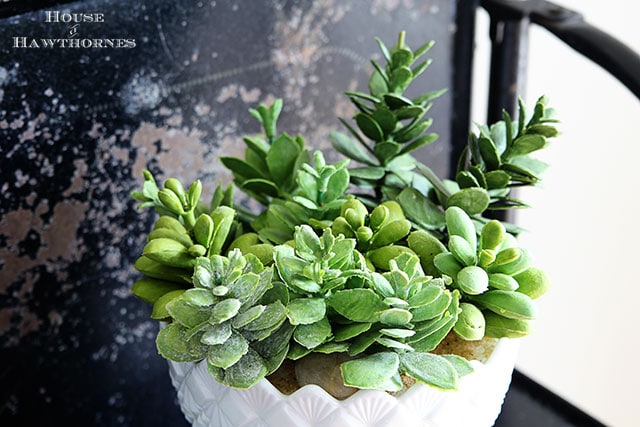 And it looks gorgeous.
And you're patting yourself on the back.
I used all the succulents I had, but you could certainly do it with less.
Where do you find rubber succulents?
I bought mine as part of a pre-done "planter" at the local supermarket and then just took them out of their display and put them in mine.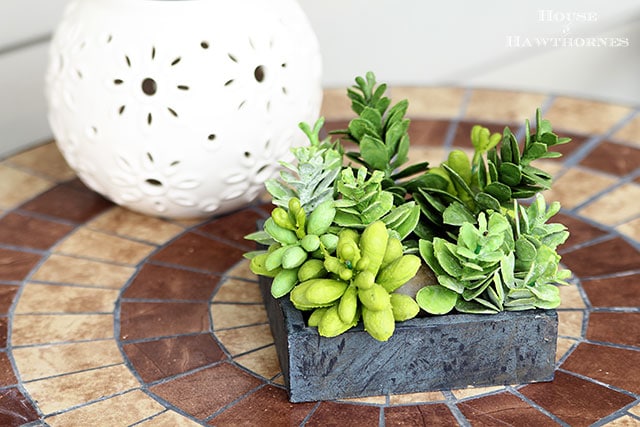 I've also seen these rubber succulents sold in bags at Walmart and sold individually at Hobby Lobby and most of the other craft stores.
These are some rubber succulents "planted" in a teacup in the back of my red toy truck.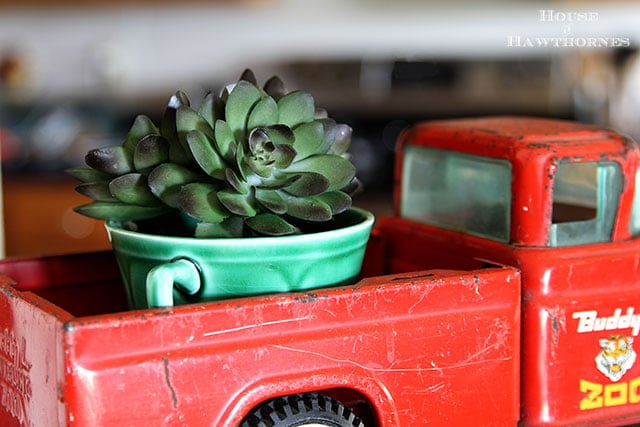 ((waiving Hi to all the people who skipped the tutorial))
So to sum it up. Rubber is your friend. Reuse those milk glass thingies you find in thrift stores. Read my blog often.
Here are the other Yard Sale Makeovers I've completed recently:
Repurposed Yardstick Craft Idea
How To Turn A Thermos Into A Lamp