Have you looked at the calendar? Christmas will be here before you know it, so I thought I'd better take you on a holiday house tour before the big guy has a chance to mess up the place. And by "big guy", I mean Santa.
Not talking LeBron James here.
Warning: I never met a photo I didn't want to post on my blog, so run to the bathroom and then grab a cup of coffee. This is going to be one of those long ones.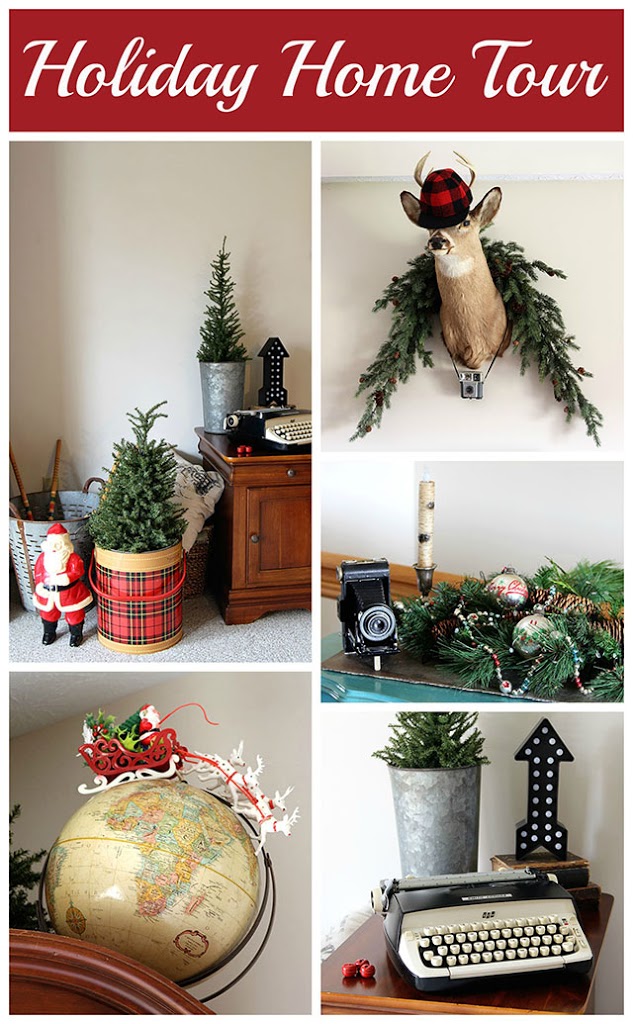 OK, you're back? Let's get this party started!
Our home is an open, great room concept. This is looking from the entry hallway into the living room and out the back door.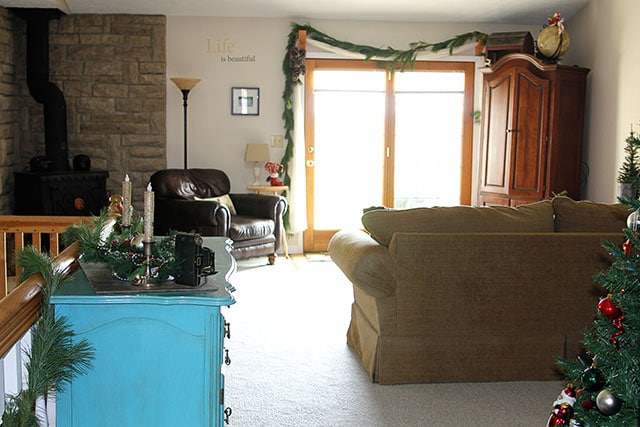 No, there is not an alien spaceship landing in my backyard. This room is so hard to take photos in, so it just looks a tad bit bright out there.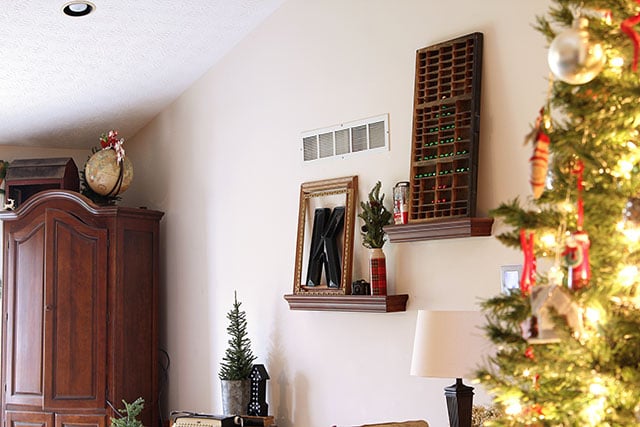 Just in the last few months, I moved the couch away from the wall and have it floating in the middle of the room. I think it makes the room feel more cozy.
This view is from standing in the kitchen/breakfast room area.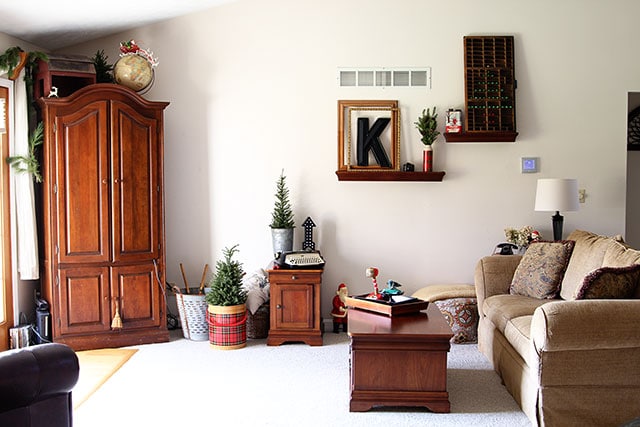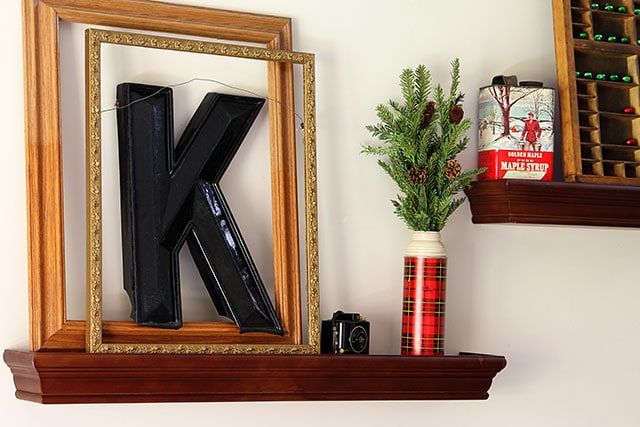 And this should be no surprise to my regular readers, I managed to get a thermos in the Christmas decor! Because really people, a plaid thermos just shouts Christmas.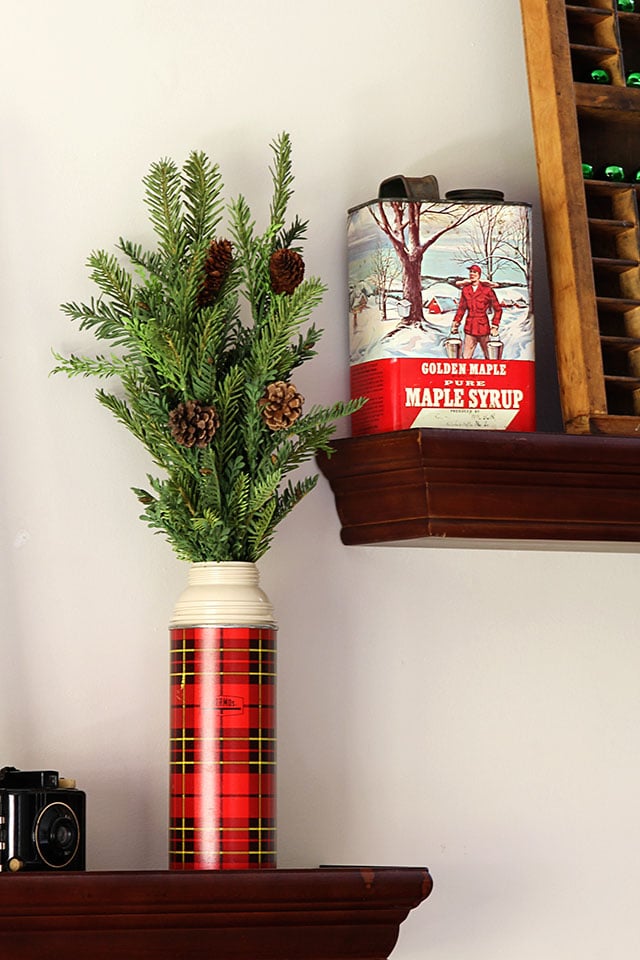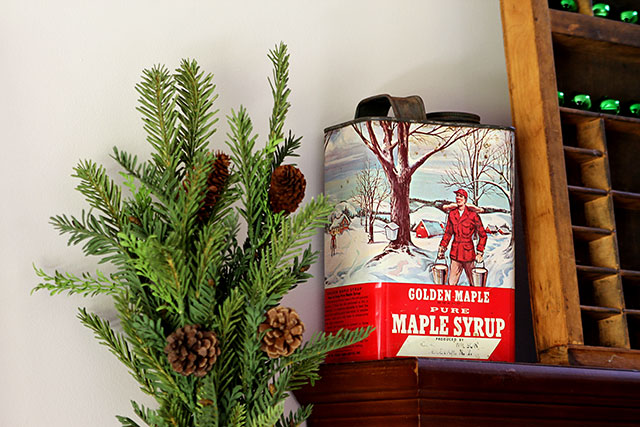 In years past, I always hung a wreath of some sort from this printer's box. In my attempt to create a new look this year, I made a Christmas tree out of bells instead.
You really don't want to know how many trips to Michael's it took to make that thing.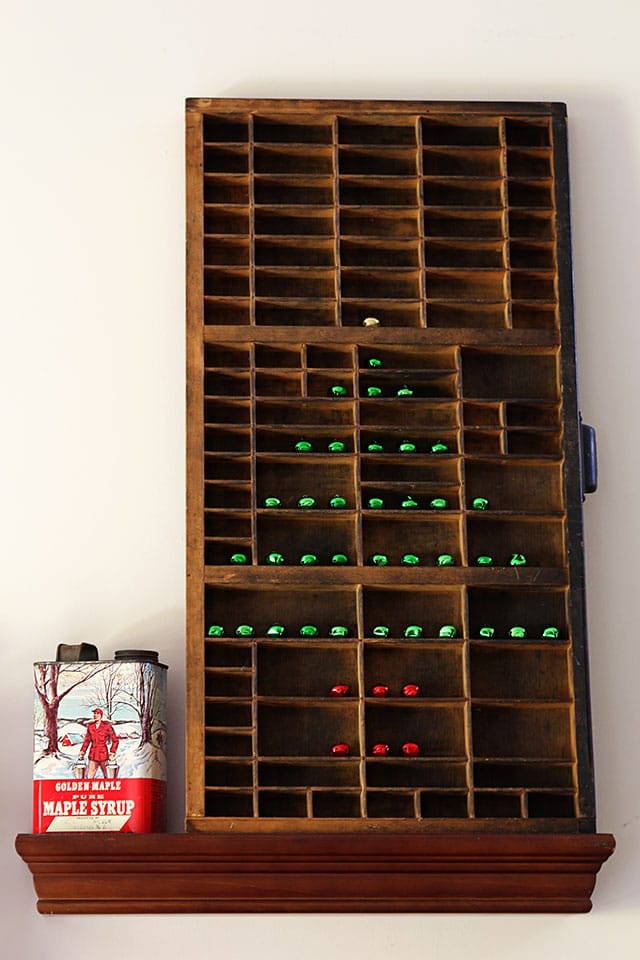 You may have noticed that Santa likes to move around quite a bit in these photos. When I told him he could stand next to the Skotch Kooler I purchased this fall, he thought I meant "scotch" as in the adult beverage and he ran right over there.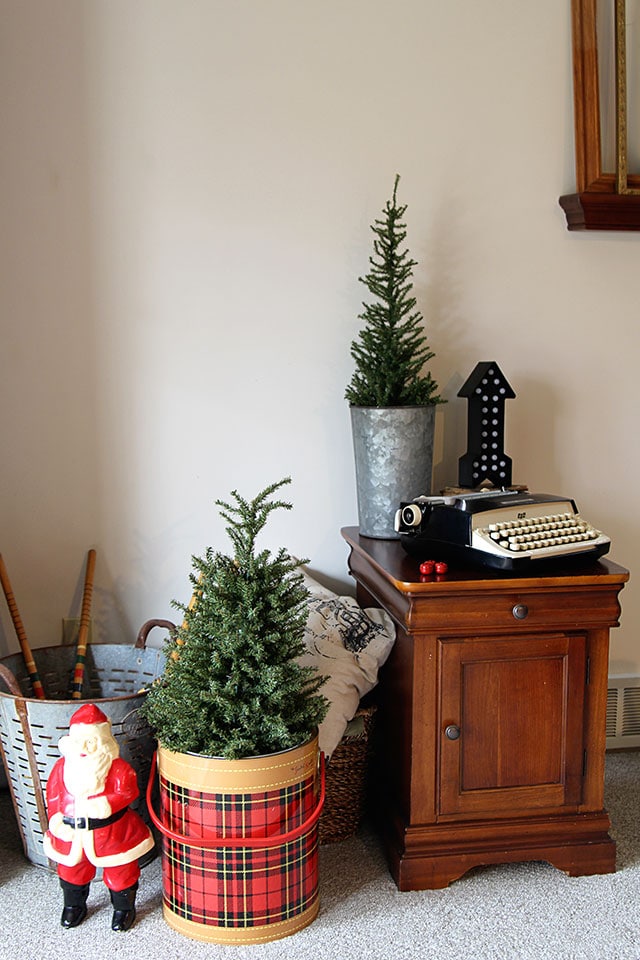 He's made out of a hard plastic and has a hole in his back to put a light in. Apparently he is not that rare, since when I posted him on facebook and instagram quite a few people commented that they had the same one.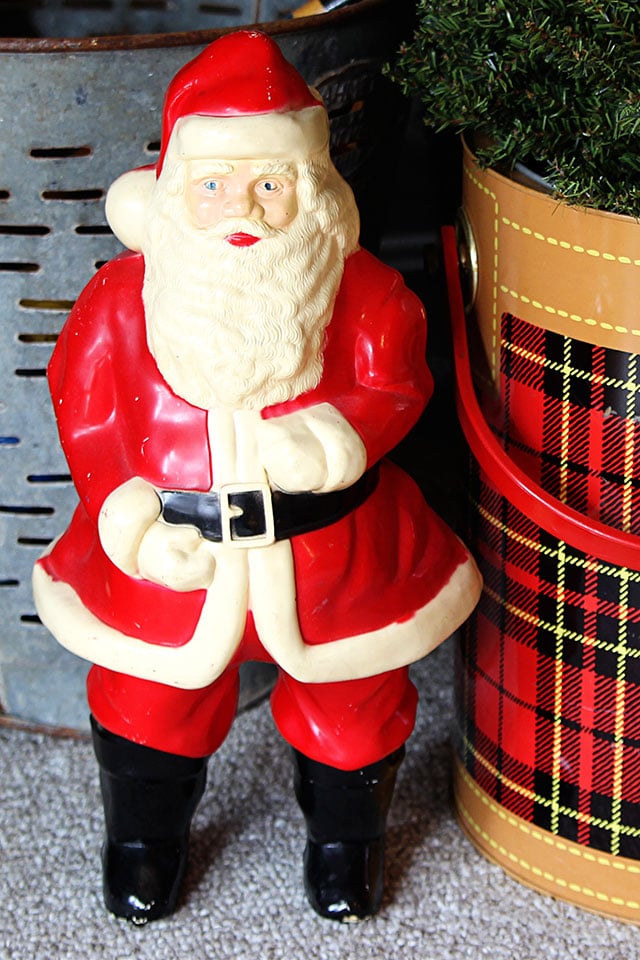 You'll always be special to me, Santa! Even though you can party like it's 1999.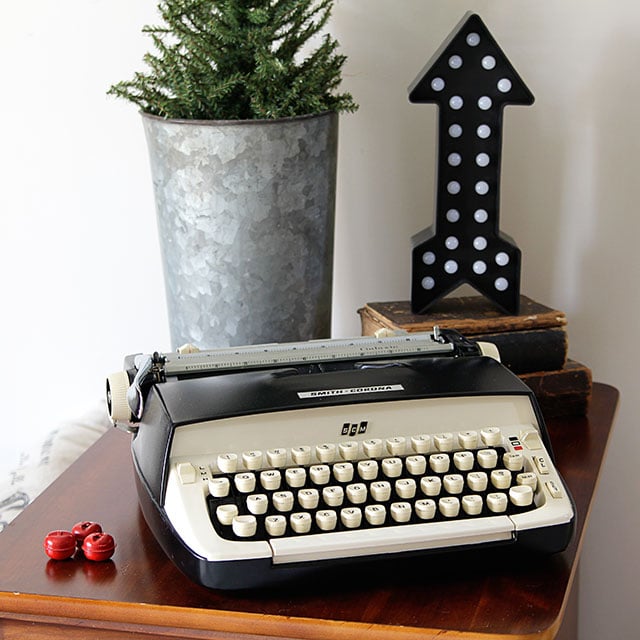 Is this not the cutest microphone to talk to Santa with? My son is sooo past that age of believing, so I got it more for it's cute vintage look. I bought it last year at Hallmark.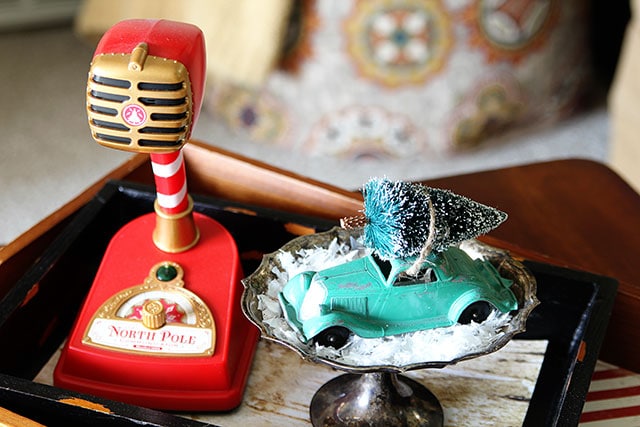 No self-respecting vintage Christmas home tour would be without a bottle brush tree tied to a toy car.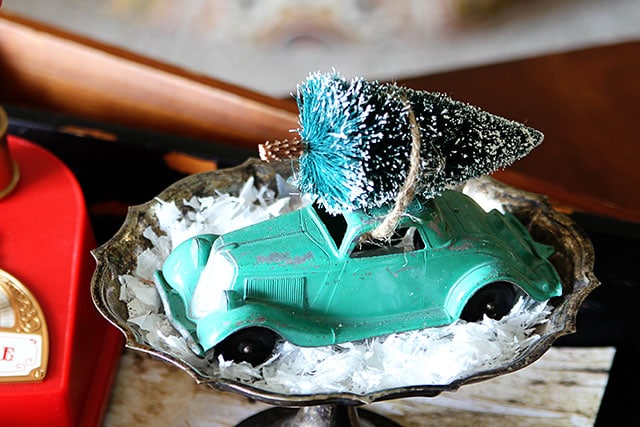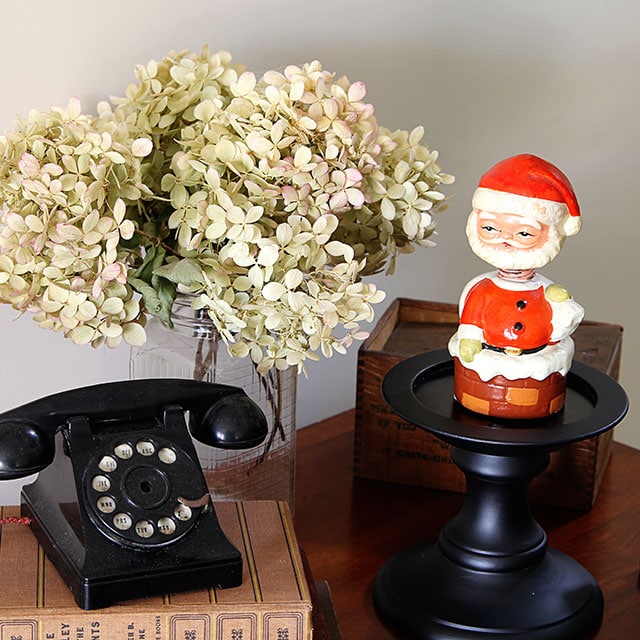 This was my mother's bobble head Santa bank. He comes out every single year and it just wouldn't be Christmas without him 🙂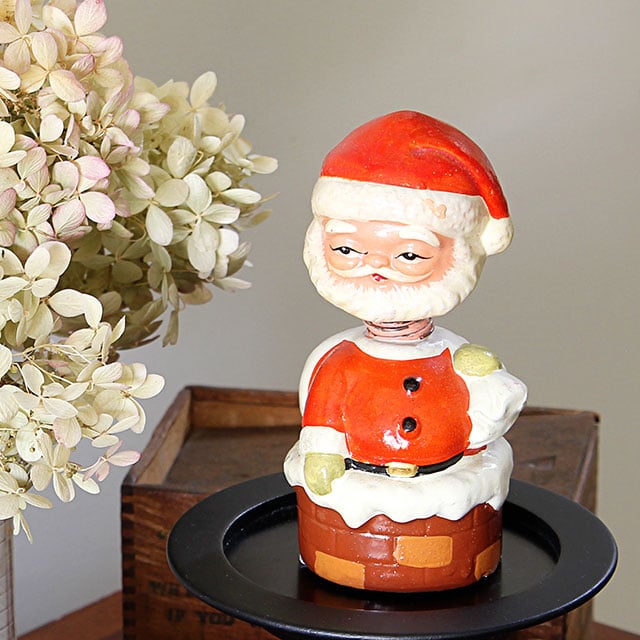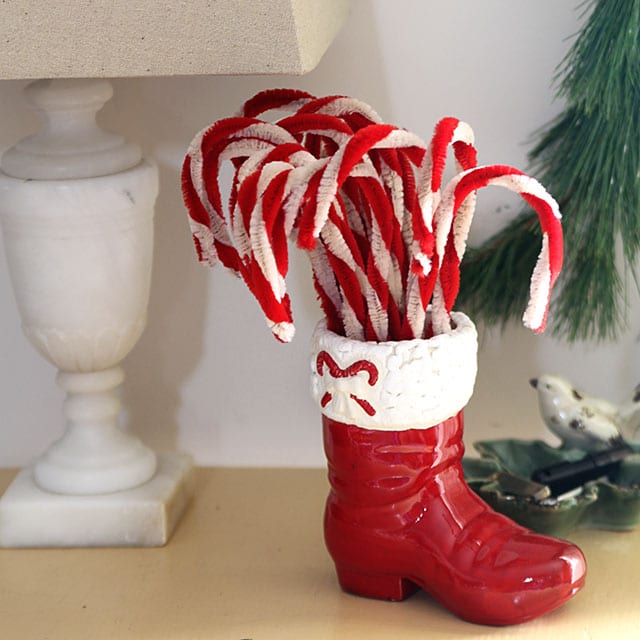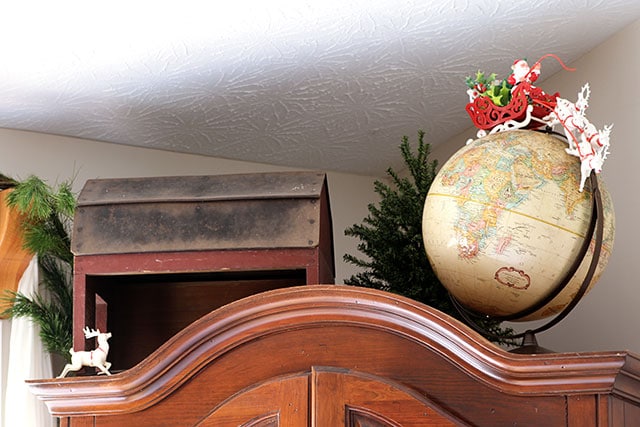 On, Comet! On, Cupid! On, Donder and Blitzen . . .
I really don't see why people question why he can travel the world in only one night?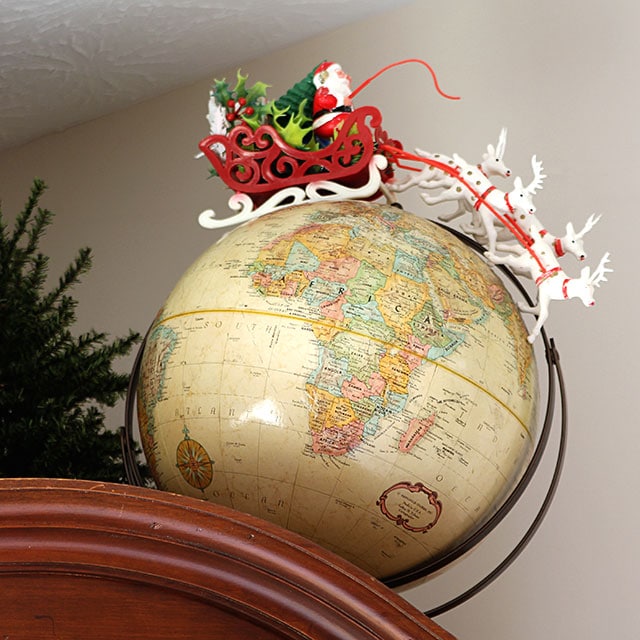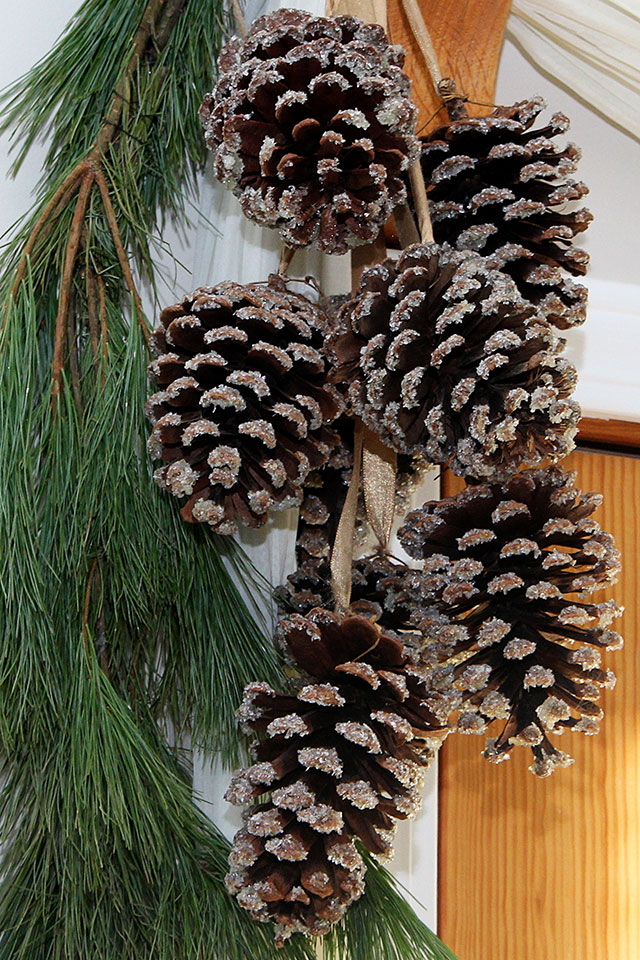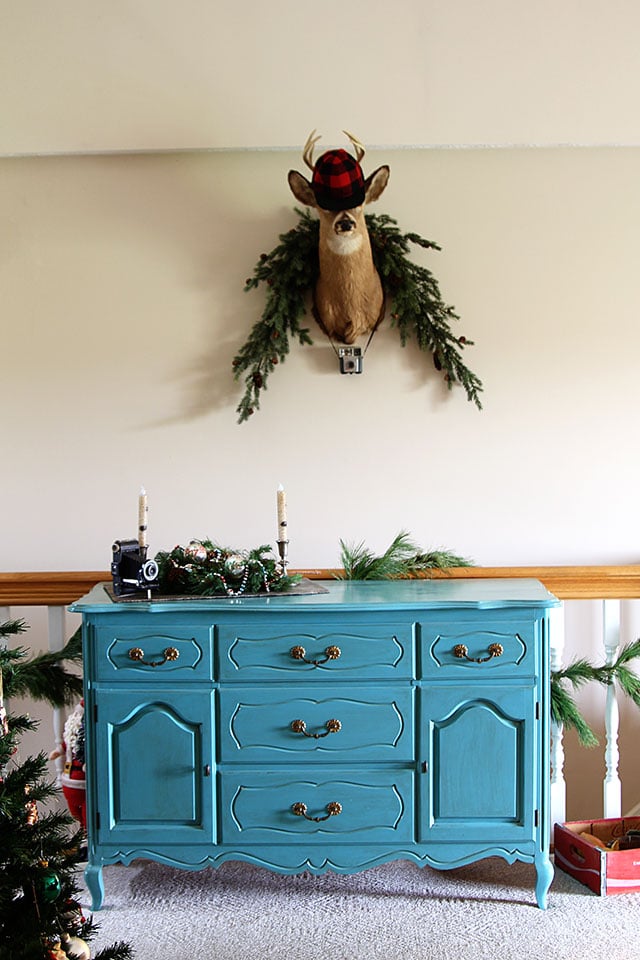 My deer takes his shots with a camera, not a gun 🙂
Although with no hands/feet, I'm not sure how he presses the shutter.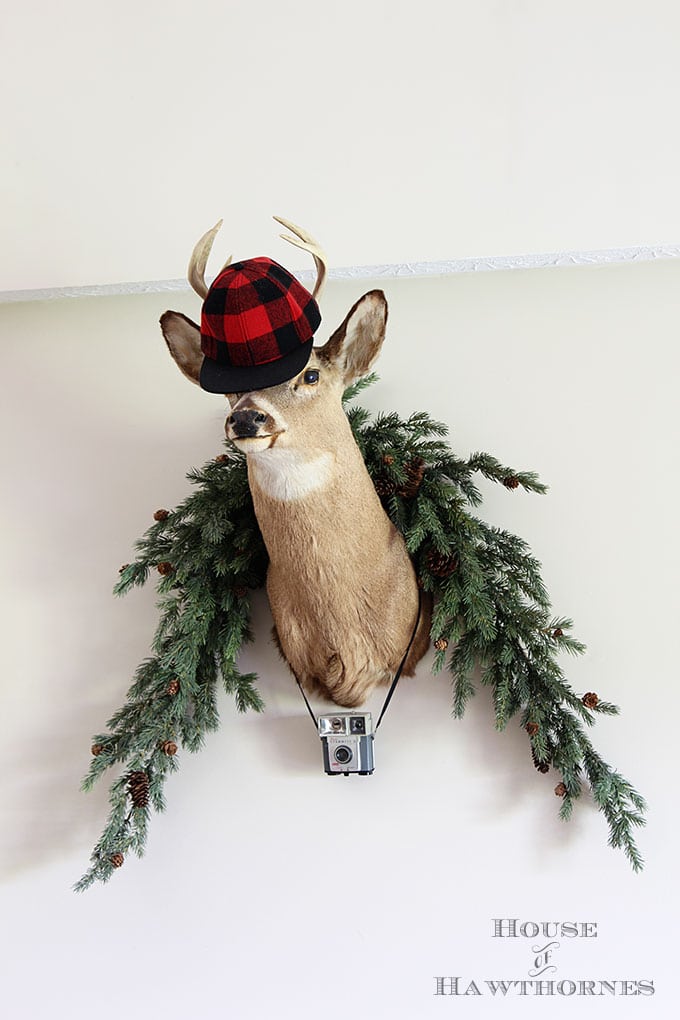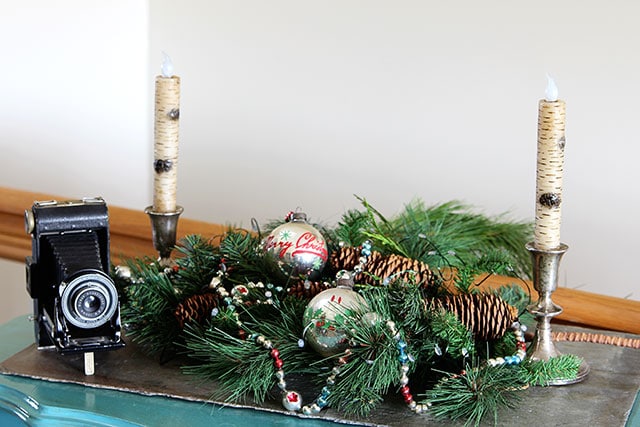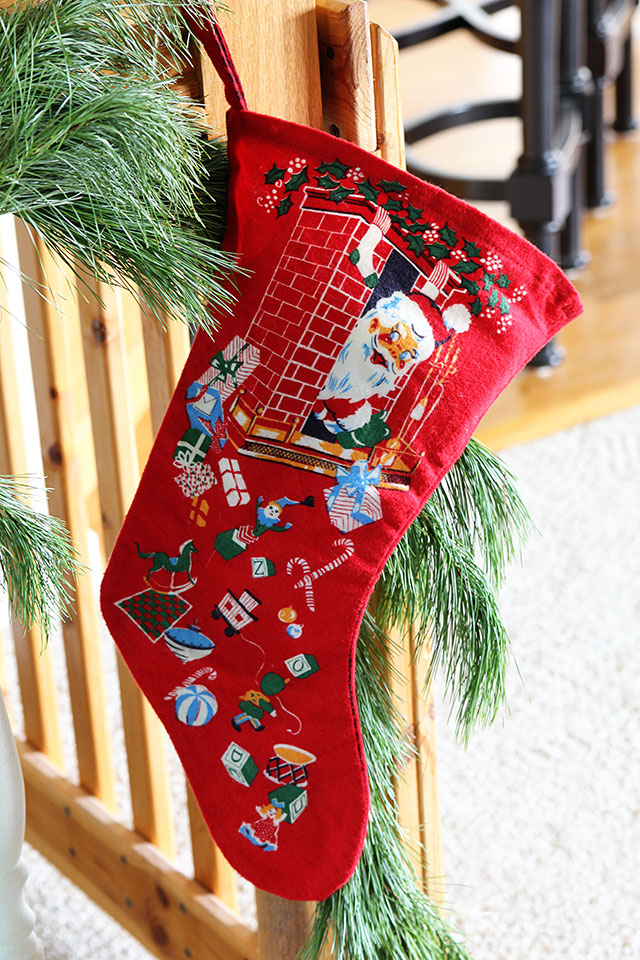 I tried to pretty up the dog toys with a red Coke crate.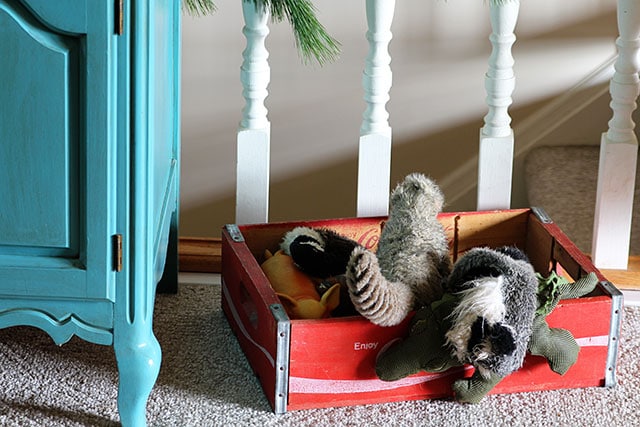 Speaking of dogs, Sheba, the Shiba Inu, is getting a little bored with this whole thing, so maybe we should wrap this up.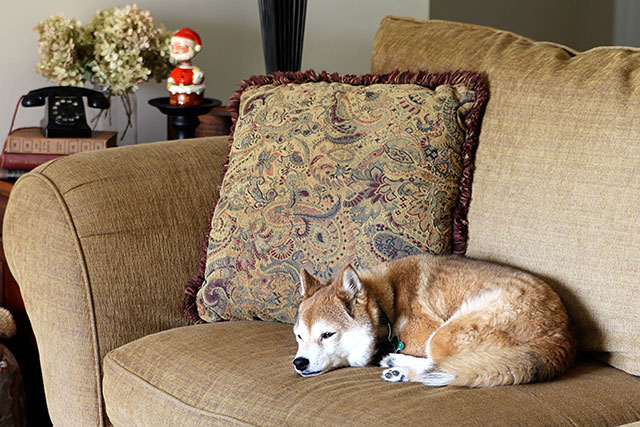 Oh, almost forgot the Christmas tree. A Christmas home tour is not complete without a Christmas tree.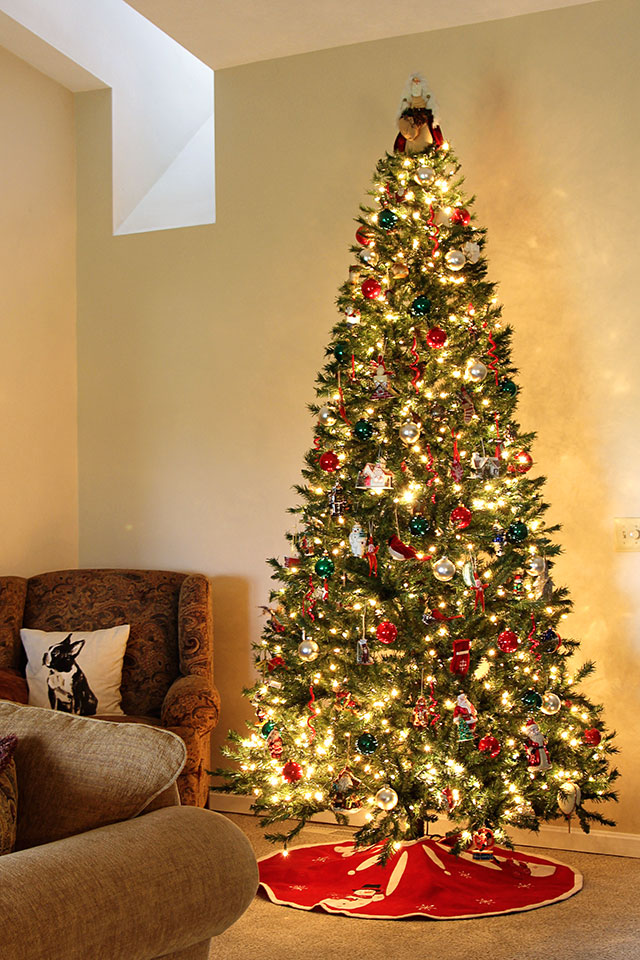 I don't do a "themed" tree. It's red, green and white balls (no blue balls this year) with ornaments we've collected over the years and ones my son has made. Nothing wrong with a themed tree. Just not my thing 🙂
I know you're going to ask "Where are the Shiny Brites, Pam?" "Did you forget about your blow molds?" "What happened to your putz houses and train around the tree?"
Well, I tried to put my whole house in one post, but it took me forever and a day just to whittle down the living room photos to a manageable amount, so come back later in the week and I'll do a separate post on the kitchen and the porch. Who knows, maybe even the dining room if I get energetic.
If you're new here, you may want to check out my Holiday Front Porch For The Picnicking Ski Bums, Christmas In The Kitchen, my chalk painted skis, how to make cloved clementine oranges or my mason jar luminarias.
OK, if you're still with me. And haven't wet your pants (I told you to run to the bathroom first). Stop on over to the other bloggers on the home tour and give them some love.