Doesn't that title make you think of warm cookies fresh out of the oven cooling on the counter and spices simmering on the stove. Maybe a little Christmas cookie decorating center set up with bowls of different colored icing.
Yeah, well get those thoughts right on out of your head, because this post isn't about actually using the kitchen for the holidays as much as it is about decorating the kitchen for the holidays.
You'll have to get your holiday food porn elsewhere 🙂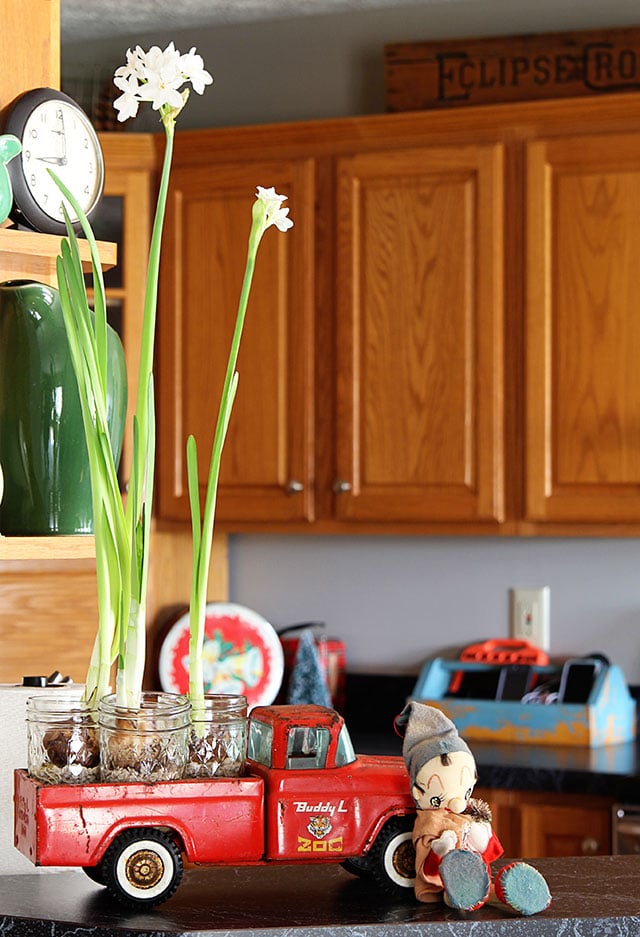 (Look, my paperwhites bloomed!)
I don't know where I ever got the idea that you had to decorate your kitchen for the holidays. God knows my mother never did. But ever since I moved out onto my own, I've always extended the Christmas decor into the kitchen. On a good year even into the bathrooms.
So come on in and see what festivities are happening in the kitchen.
Looking in from the living area that I showed you the other day on another part of my holiday home tour, you would see the kitchen dining area.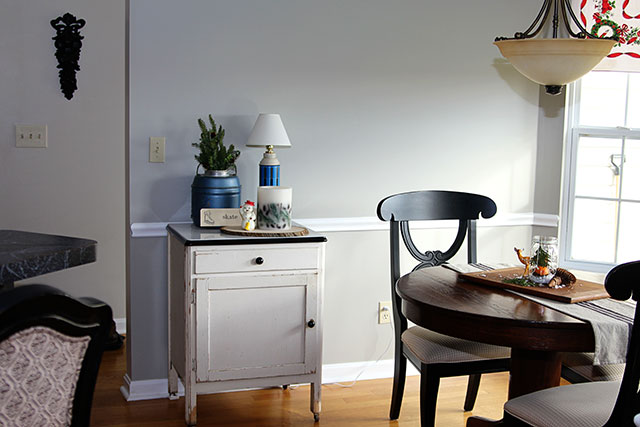 The white cabinet is one of my favorite yard sale finds. EVER.
Hi there, Mr. Snowman!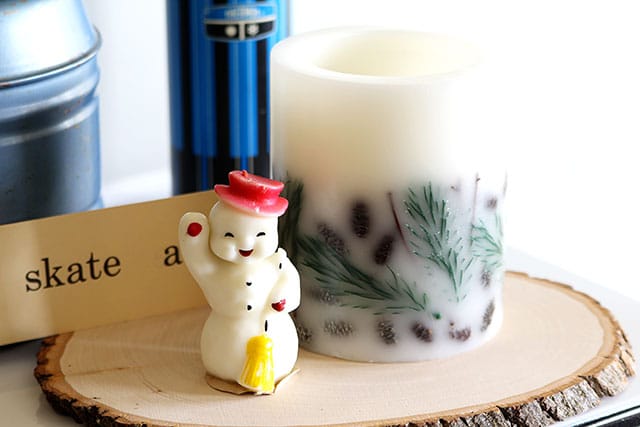 He's a Gurley snowman candle I found at a craft show a few years ago (along with a whole slew of his buddies). He's setting on one of those wood slices you can buy at the craft stores.
Do you remember those hung on the wall back in the 50's with a picture of Jesus decoupaged on them?
Speaking of Jesus . . . This is one of those Christmas village houses, but I never got too deep into that whole thing, so now I just have the church left.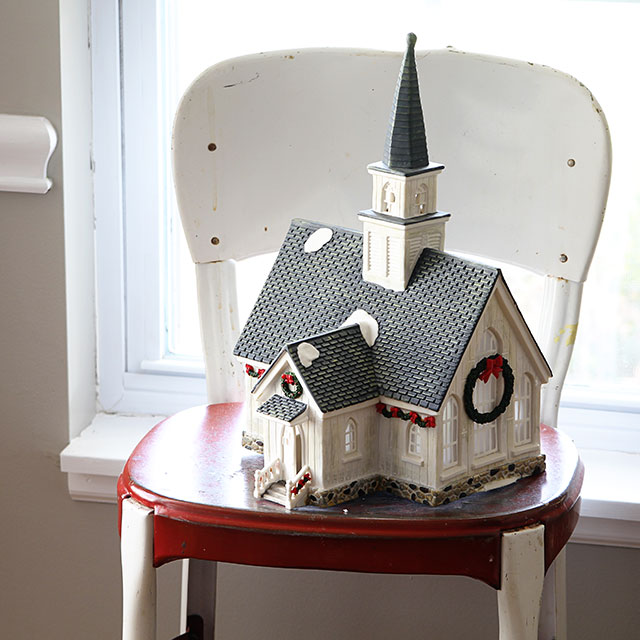 My deer are trying to bust out of here. Last year I did a whole post on how I used these vintage guys in my Christmas decor.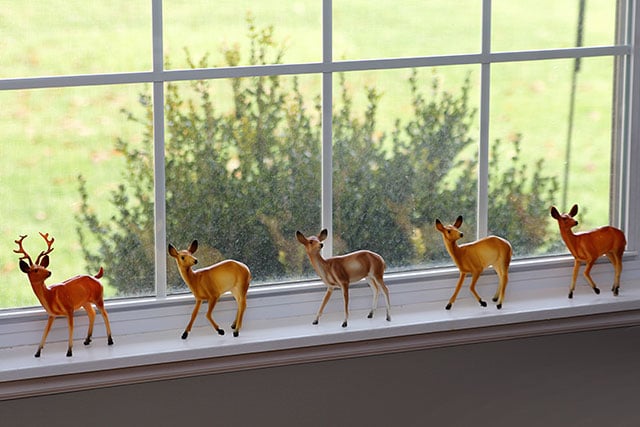 You might remember my cloved clementines on my bread board. It became my centerpiece.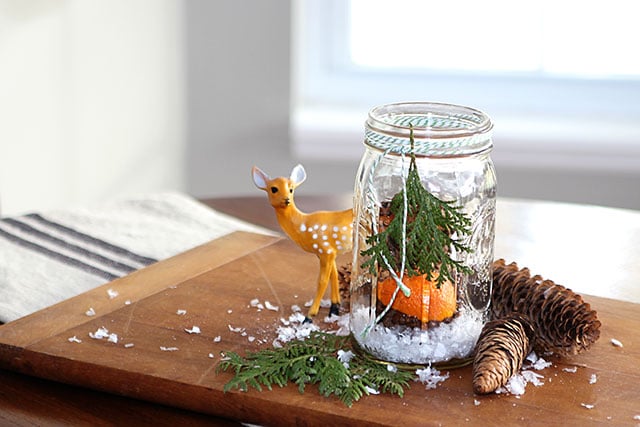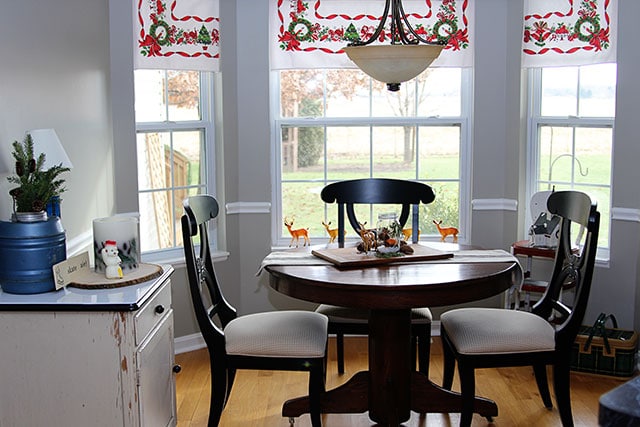 (There's normally four chairs here, I just took one out for photography purposes)
Although this isn't the prettiest photo in the world, I just had to show you my fancy dancy Christmas curtains!
I made these from a "cutter" Christmas tablecloth I bought at the thrift store for $1.99 the other day.
I should have take a photo before I took my scissors to it, but it had HUGE brownish stains in the middles section. I picture Aunt Ethel dropping the gravy boat and the rest of the family starting a food fight over it and next thing you know it's off to the thrift store for the poor tablecloth.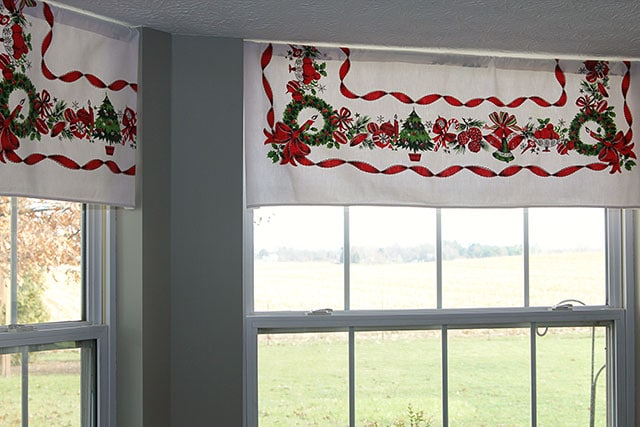 I tried all the tricks to get the stains out, but they didn't work, so I decided to salvage the rest of the tablecloth by making it into curtains. Of course, it's no-sew. I just used the same iron-on tape I used in my thrift store shirts turned into pillows tutorial.
Turn a little to the left and you see the main cooking area and on into the dining room.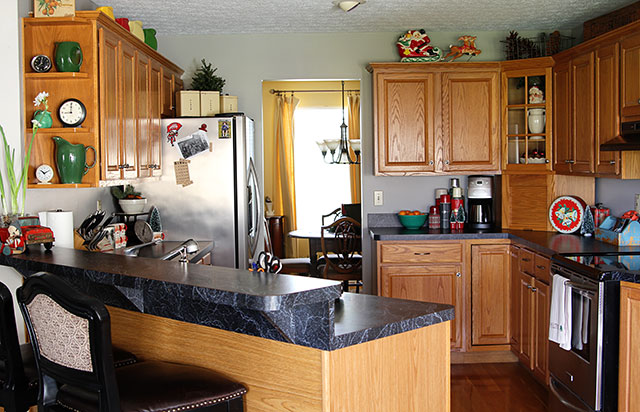 I'll try to keep commentary to a minimum here, because there's lots of photos. Zipping my mouth shut as we speak!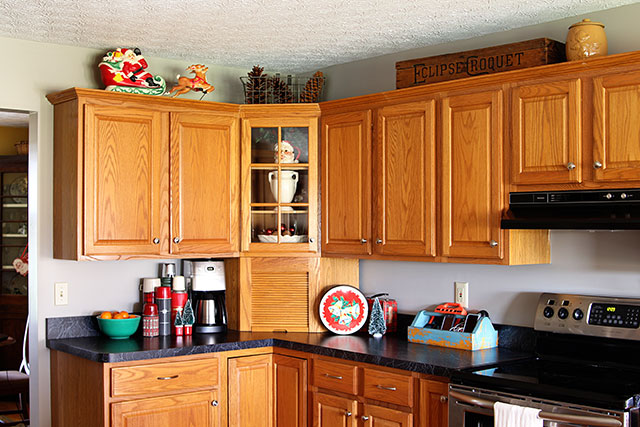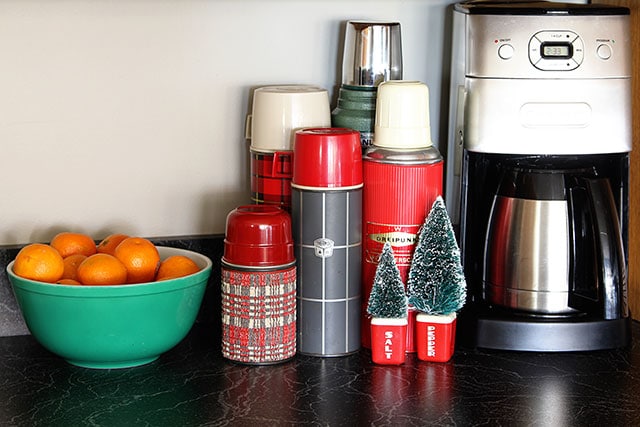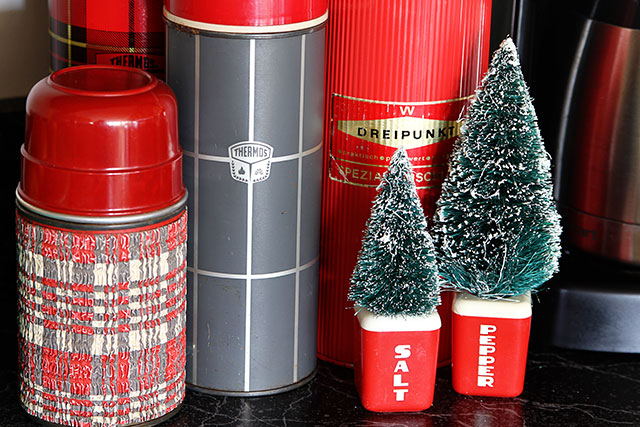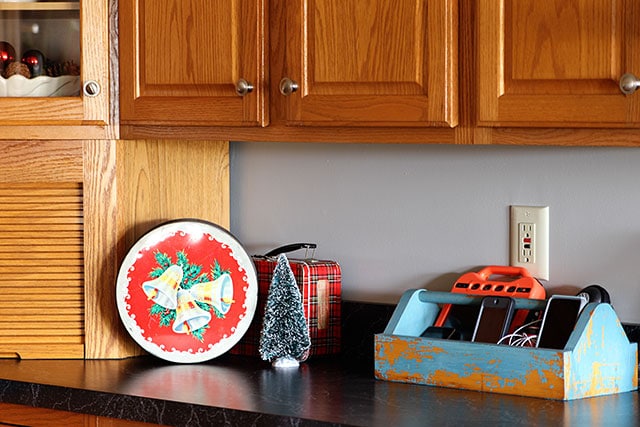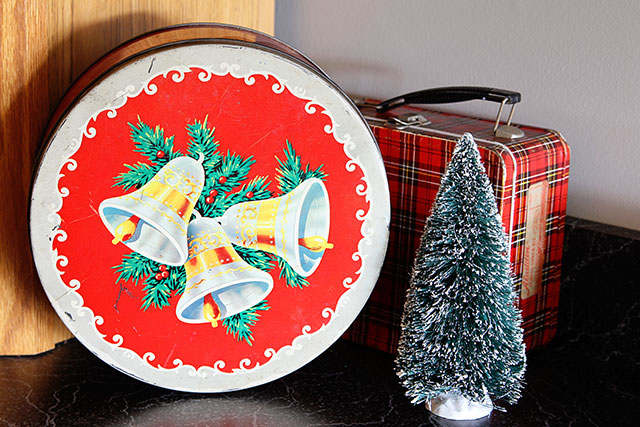 This is my cellphone charger area. It's my attempt to corral the sea of cords and technology! And it's just a thrift store toolbox painted with Miss Mustard Seed's milk paint in Kitchen Scale.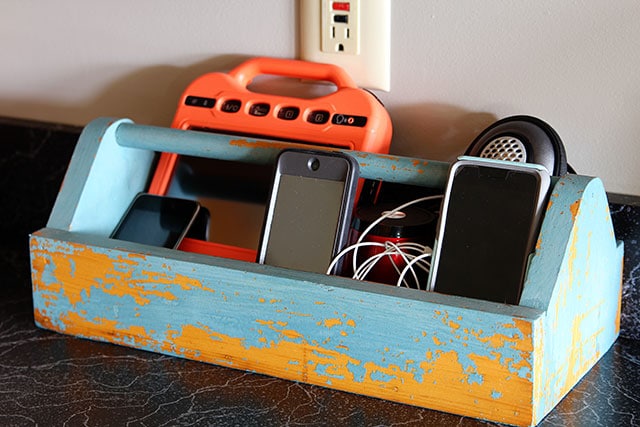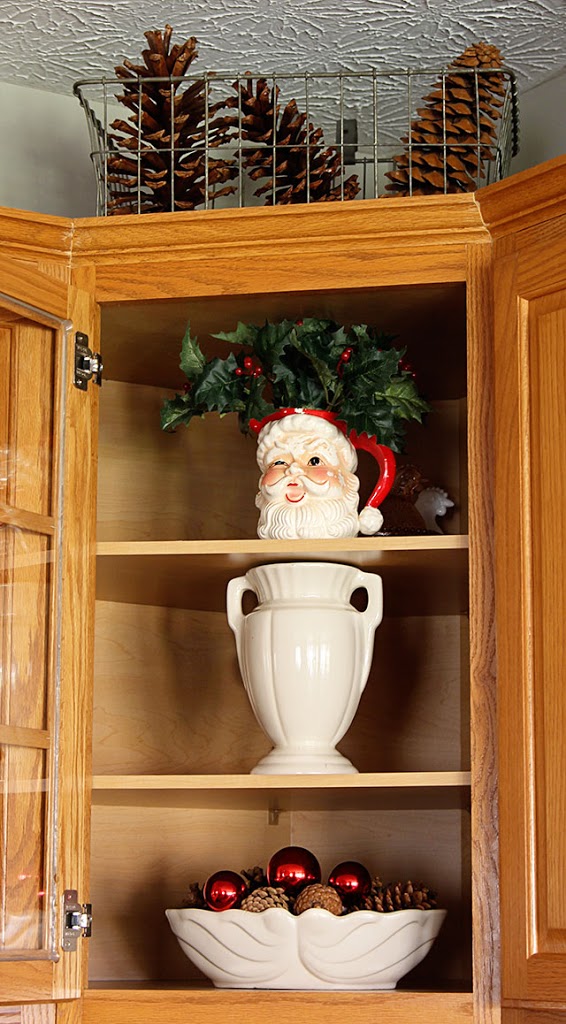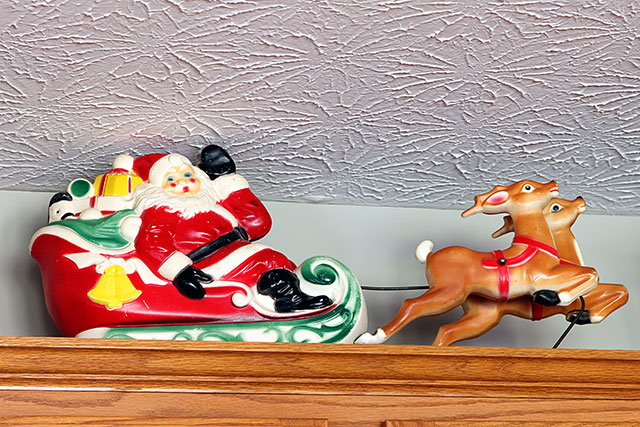 I used to have all sorts of vintage mixing bowls up on the top of this set of cabinets, but after painting I decided I wanted a cleaner, simpler look.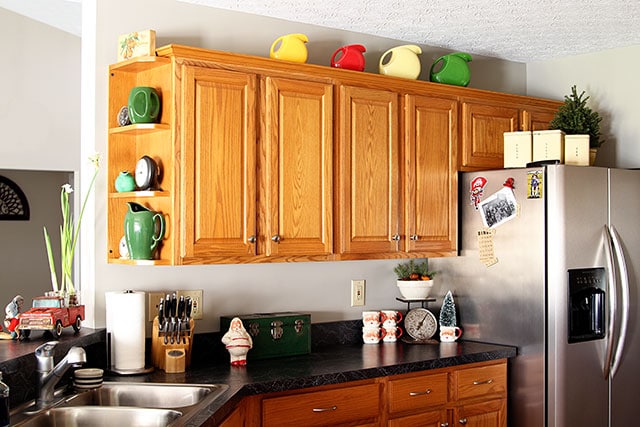 I hide all sorts of stuff in this toolbox 🙂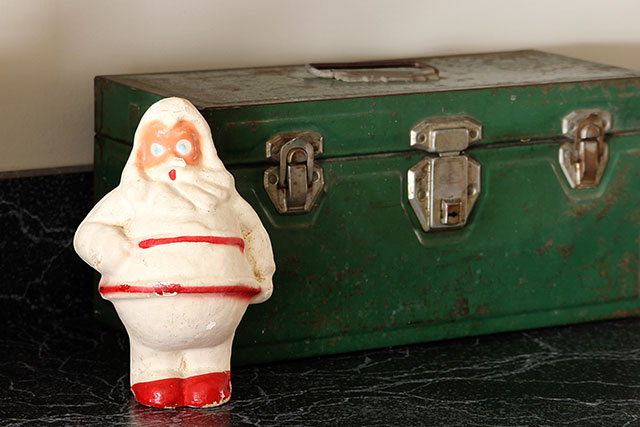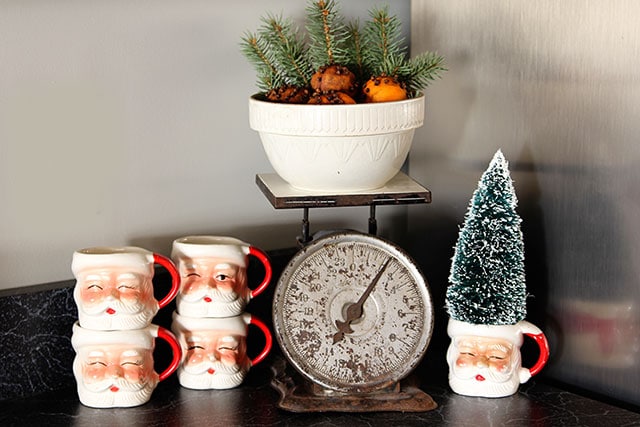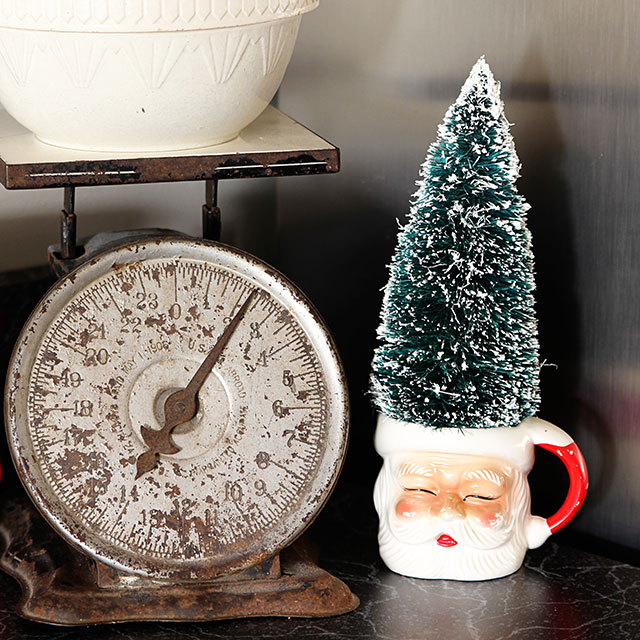 Now before Mr. Snowman kicks us out of here, I have to get serious and discuss something.
Yes, I cleaned my house so I could take these photos. Yes, I own a toaster and mixer and my sink is normally full of dishes. I just wanted to take some photos of what my house would look like if I had time to keep it clean and picked up. And Prince William and Kate were coming to visit.
As for my mixer, it's hiding on the floor in my bedroom. Mighty fun to walk into that honking piece of metal at night, I tell you.
You can gawk at other parts of my Holiday House Tours here:
A Vintage, Rustic, Industrial Holiday House Tour
Holiday Front Porch For The Picnicking Ski Bums