Last week I found a bunch of heart shaped little tin molds at the thrift store. 14 to be exact.
How perfect is that? Finding 14 hearts for Valentine's Day!
At the time, I had no idea what to do with them, so I asked people on Instagram and Facebook and they came up with some great ideas.
Wreaths, wind chimes, using them as molds for chocolate, candles, plaster. Just a plethora of great ideas.
In the end, I decided to make a wall hanging for my front door.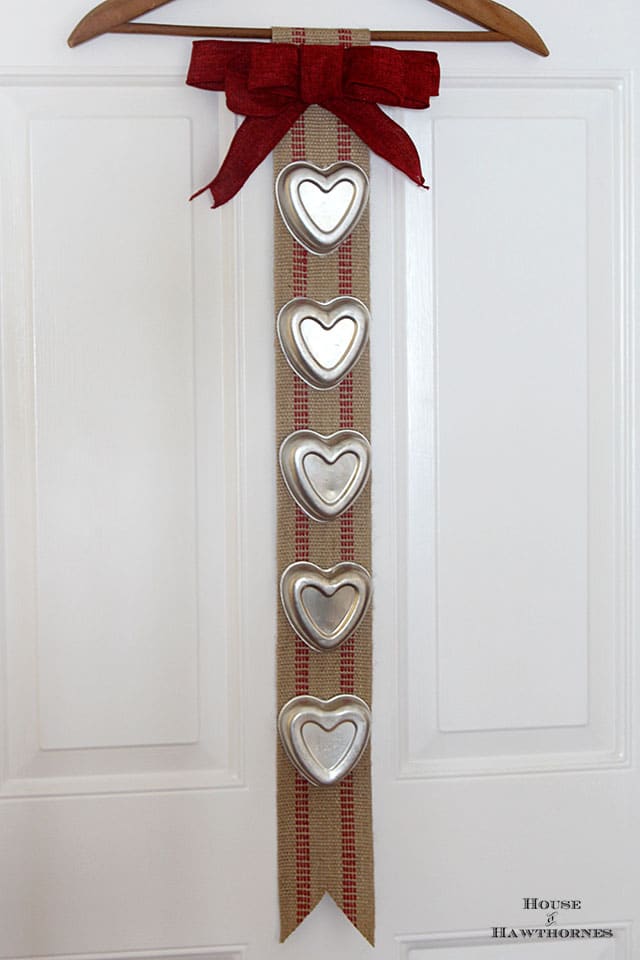 Sort of like a wreath that isn't wreath shaped.

I used upholstery webbing, because a) I already had it sitting here and b) it has red in it. But mainly because of a. Free is a good thing.
The tins are just hot glued there with three little spots of glue per mold. When I want to remove them, I can just peel them off and scrape off the glue.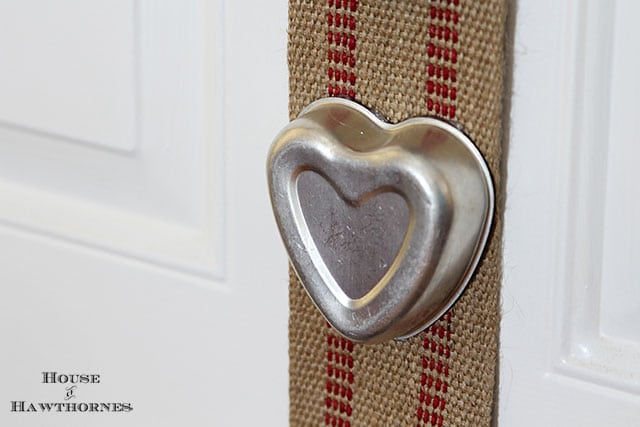 I hung the whole shebang from an old wooden hanger I had bought at a thrift store last year.
The bow was added at the last minute because it was just looking a bit too plain without it.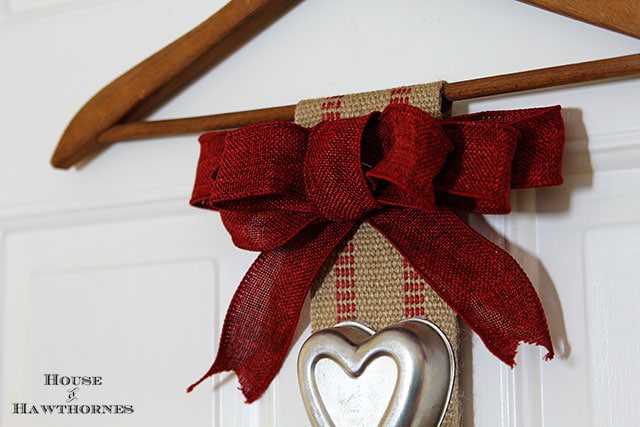 Just a little glimpse into my crafting mind - my bow is mainly put together with staples. Why twist and tie when you can fold and staple?
Voila, my Tin Heart, Chair Webbing, Thrift Store Wooden Hanger, Stapled Bow, Valentine's Day Wall Hanging That's Actually Made For Your Door.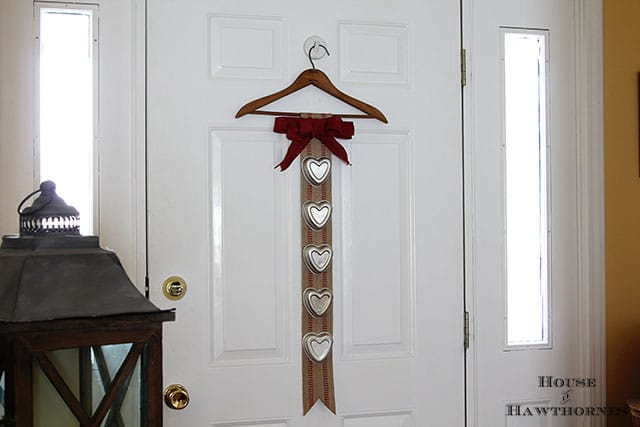 I may need to think of a shorter name for it.
Oh, and now I have 9 heart molds left with no idea in the world what to do with them 🙂 Sort of have the same problem I started with, now don't I!
I'm off to shovel some more %[email protected]# snow. It. Just. Keeps. Falling.
Looking for other Valentine's Day ideas? Check out a few posts from past years:
A romantic Thrifty And Super Easy Valentines Garland made with paper doilies and vintage images
Vintage Valentines which you can print out for crafts or just use for instant Valentine's Day decor
DIY Heart Shaped Birdseed Suet Cakes, because birds need a little love too