Raise your hand if you got a Keurig coffee maker for Christmas.
Raise your hand if your counter looks like this.
Raise your hand if you love vintage and thrift store decor.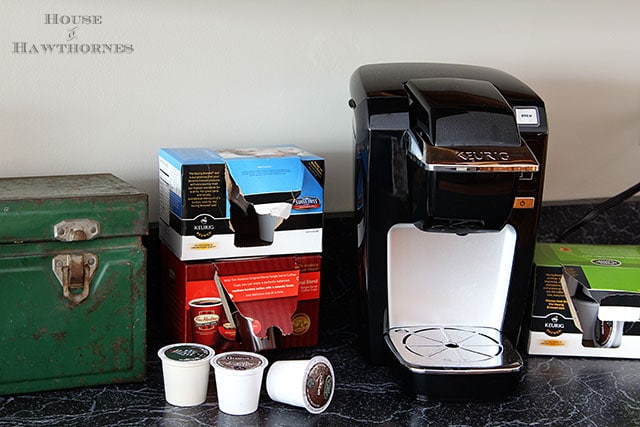 What? You don't have three hands?
Now, what the heck does a vintage loving, coffee drinking girl do with all those little demon pods o'coffee? OK, they're called K-cups, but still, THEY ARE EVERYWHERE!!!
I decided to use some of my vintage items from around the house to demonstrate some great ways to store them. So they would be within easy reach, yet with a look that stays true to our fun loving, vintage, thrift store kind of roots.
You could go with your basic stoneware bowl and just pile them on in there.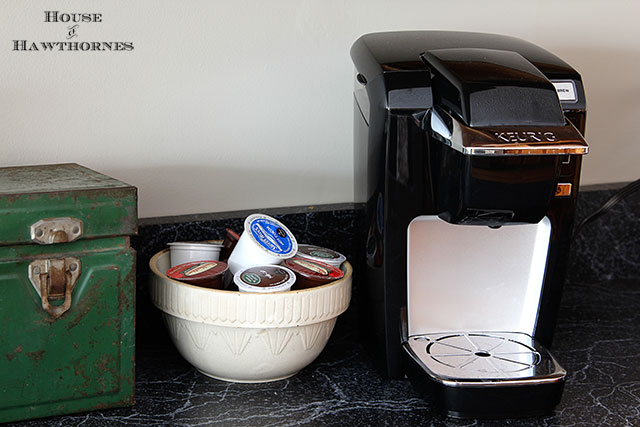 You could go with a vintage coffee tin, because well, the whole idea of coffee stored in a coffee tin was too good to just let it go to waste.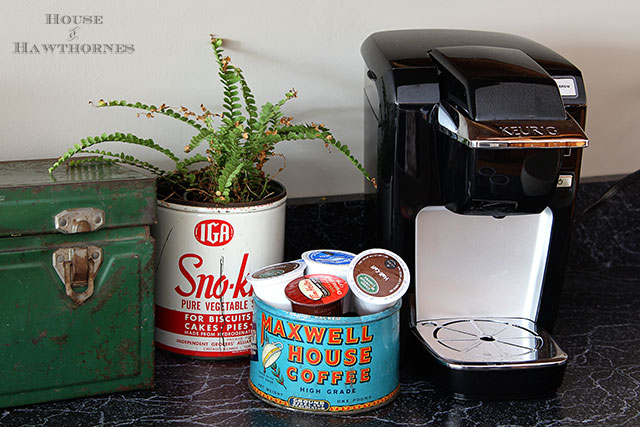 And a barn lunchbox full of coffee was pretty fun too. I sort of liked this idea because you can close the lid up on it when not in coffee making mode.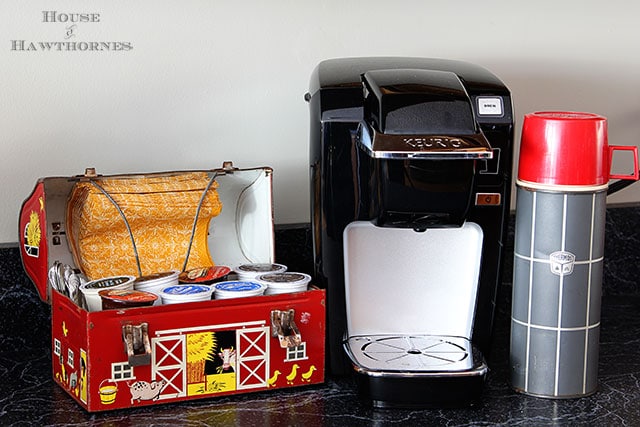 You can also use a sewing machine drawer. I see these all the time at the antique malls for $5-$10.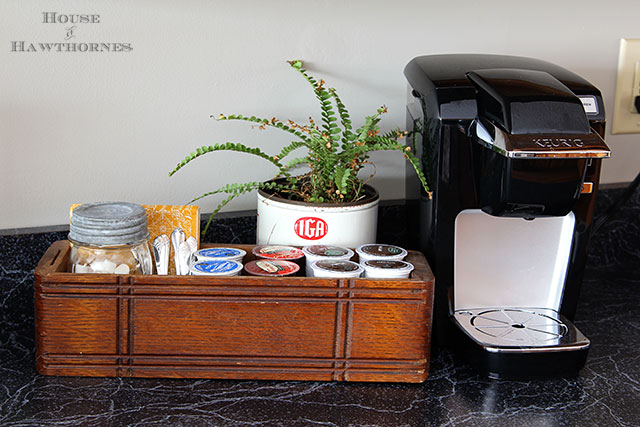 There are so many other vintage and thrift store items you can use for K-cup storage:
Toolbox
Fishing creel or minnow bucket
Cute vintage planters
Vintage kitchen canisters (does that count, because that is sort of what they are for?)
Vintage bread box
Cool cookie jar
Glass cracker jar (like the one I made into a terrarium)
Oh, there are just so many great vintage ideas that suit me better than a sterile looking K-cup rack.
So what won out in my house?
Even though I loved the barn lunchbox and thought it looked cool on the counter, I went with the sewing box because it held more K-cups plus my mason jar full of marshmallows.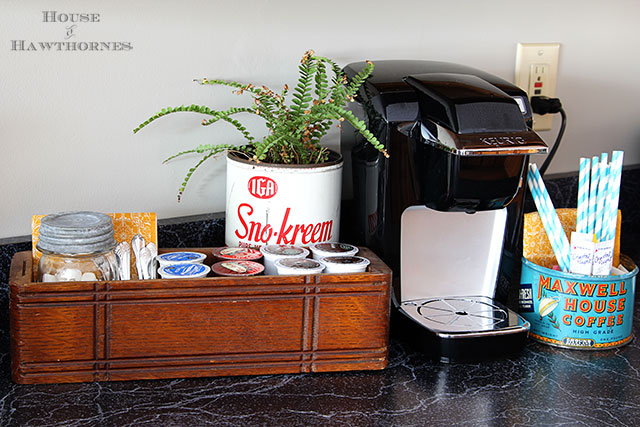 Tip for you: If you are on a diet, try not to stuff marshmallows into a mason jar and set it right next to the Keurig though. It is WAY too easy to plop a few (dozen) into you hot chocolate. Believe me. Your hips will thank me.
Just before I was getting ready to hit POST on this, I saw that Kim at Kim Six Fix had posted How To Make A Marquee Sign With K-Cups. So now, you don't have to just throw those little plastic cups away. You can hoard them and make something cool with them 🙂
For you pinning pleasure 🙂