A traditional Halloween party with orange and black decor including blow molds, vintage inspired Halloween decorations and Halloween party tips.
When you're throwing a traditional Halloween party it has to be orange and black. Period.
Sure, those muted neutral colors might be trendy right now for fall decor, but there's nothing "trendy" about Halloween. It's full of tradition, history and nostalgia.
Stale popcorn balls. Gooey caramel apples that get stuck to your hair.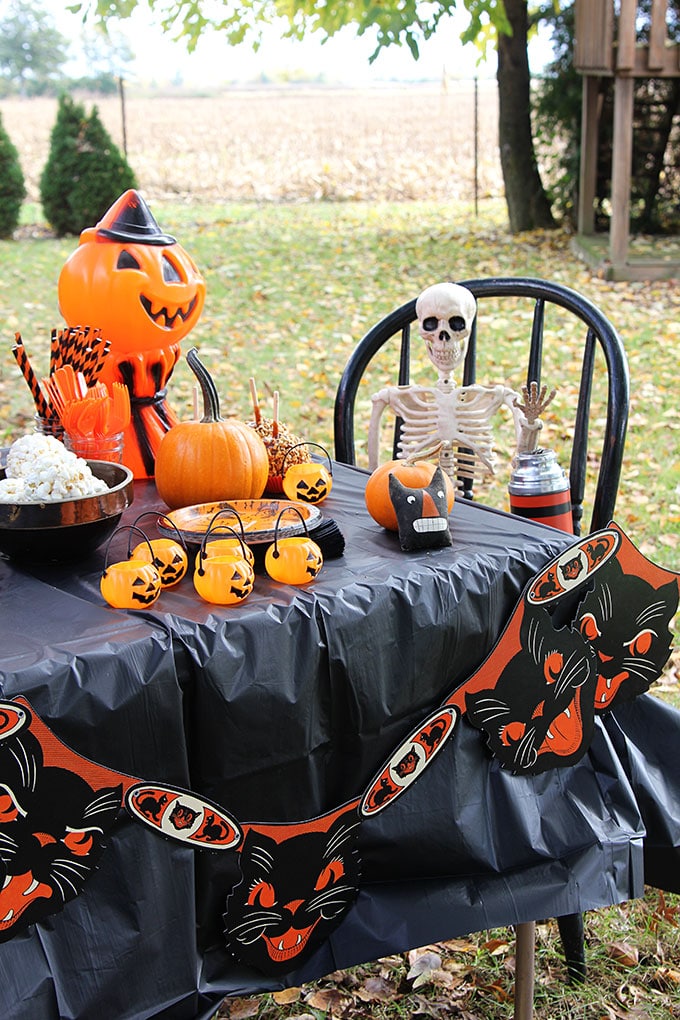 Those plastic masks that make your face sweat.
So when I decided to throw a little party in the back yard for Bones, it was ORANGE and BLACK all the way, baby!
My husband thinks I named him after Bones, the doctor on Star Trek. Yeah, right.
Dammit, Jim! I'm a Doctor, not a party guest!
It was much simpler than that. He's a skeleton. He has bones. Hence his name is Bones.
I'm sort of basic when it comes naming my skeletons.
I just had to include this Jack-O-Lantern on a cornstalk blow mold I found at a thrift store a few years ago.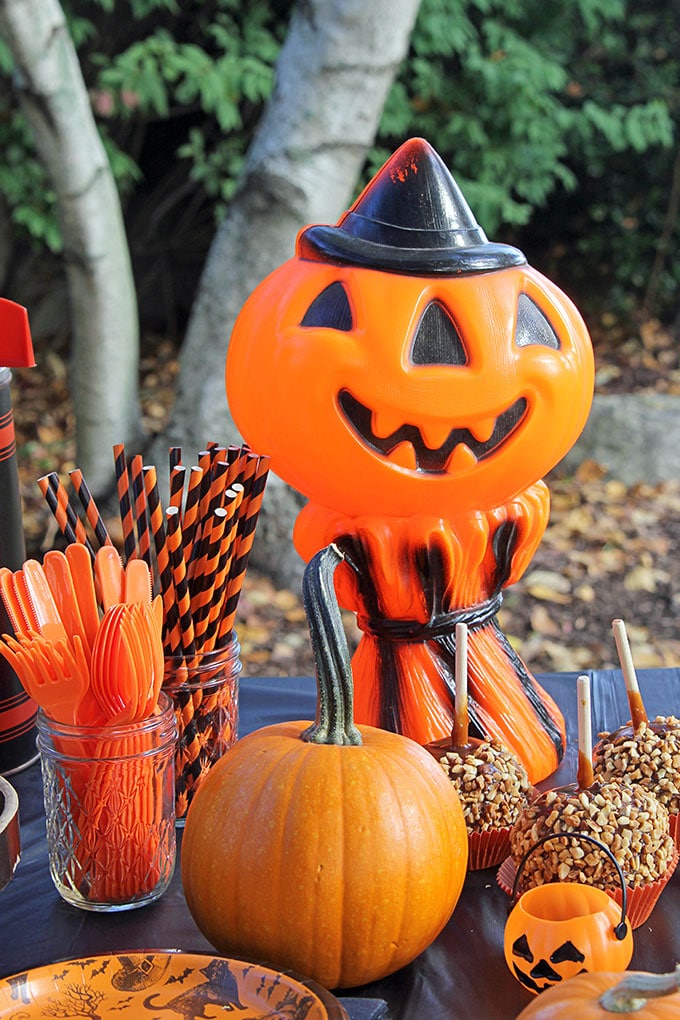 TIP - I never use the old original lights and cords that come with these things, just because I don't want to set my house on fire or anything. So I use those Christmas village house lights you can buy this time of year at the craft stores. They use the same type bulbs and they have clips that hold them in place in the back of the houses or in this case, the back of the blow molds. No small electrical fires, but I still get to light the blow molds up!
While we're talking plastic here, I picked up these tiny little pumpkin candy buckets at the local grocery store. I was going to fill them with candy corn, but someone ate all the candy corn.
LOVE that stuff!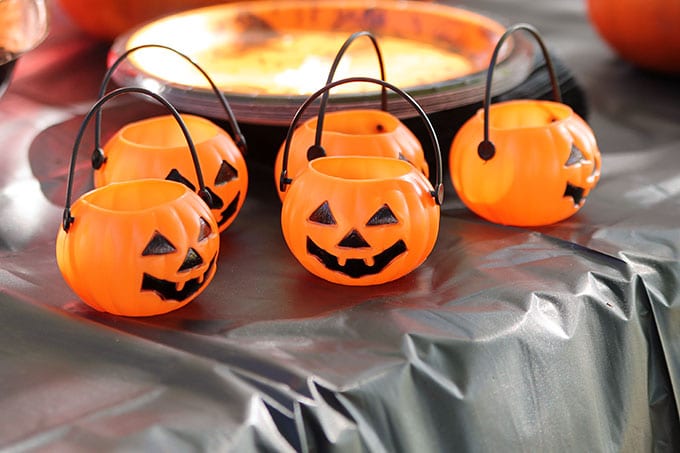 Did you notice Bones is having some cocoa out of one of my thermoses?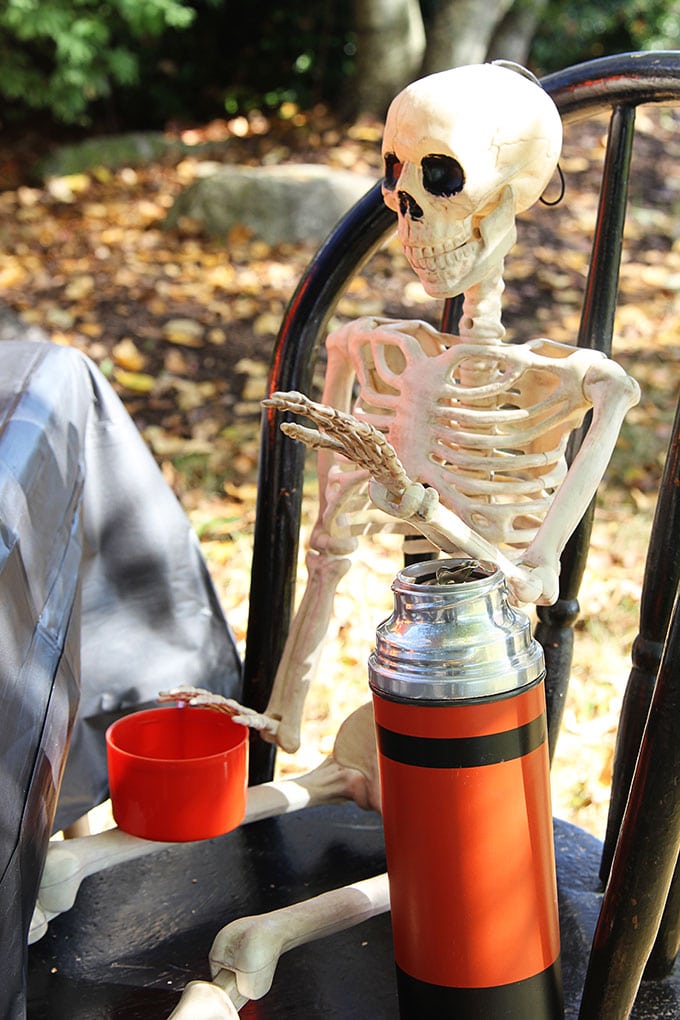 Didn't think you'd get through a post without one of those popping up did you?
Oops, here's another one.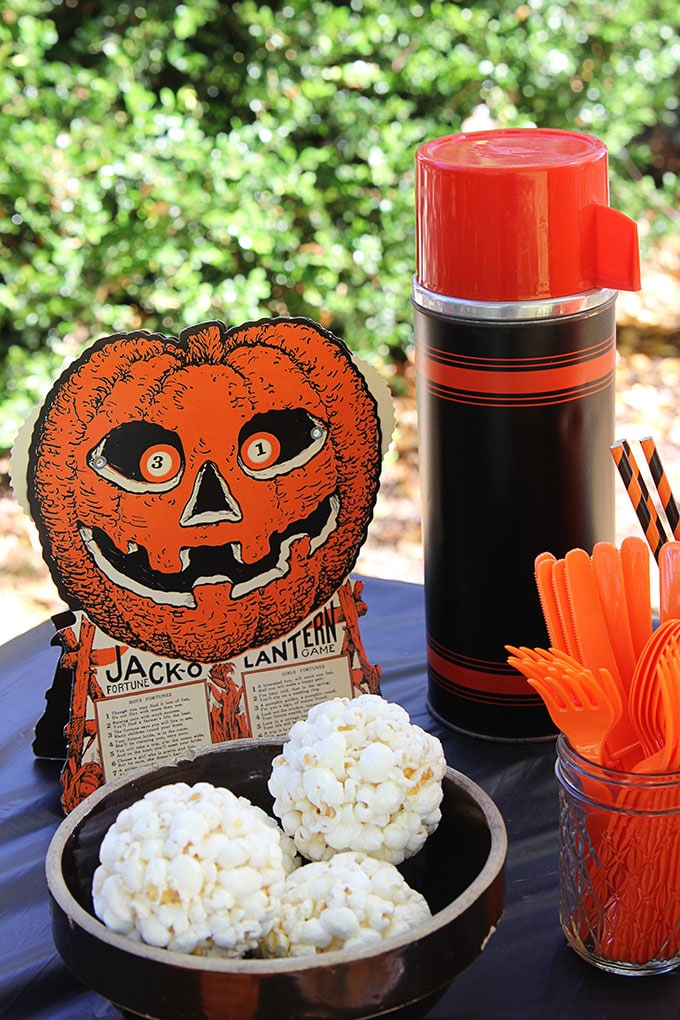 It's next to my Jack-O-Lantern Fortune Game I showed you in my post on where to find vintage looking Beistle Halloween Decorations On Amazon. The reproduction Beistle black cat banner in the first photo is also from Amazon.
Traditional Halloween Party Ideas:
Decorate with anything orange and black and I do mean anything (note orange and black thermoses)
Nothing too matchy-matchy for paper goods. Patterned plates with solid colored napkins work well together. You don't want to look like you just raided the Hallmark store.
Add a few vintage items into the scene, either reproduction or the real deal.
Crepe paper streamers, Jack-0-lantern paper lanterns and hanging paper honeycomb balls are great to hang from ceilings or tree branches. You can find these at dollar stores and craft stores.
Traditional Halloween food is always a hit - popcorn balls, candy apples, powdered donuts, cider, hot chocolate
Play a few traditional Halloween games - bobbing for apples, pin the tail on the scarecrow, fortune telling games
But the big takeaway from this is - it's all orange and black!!!
And vintage looking. And FUN.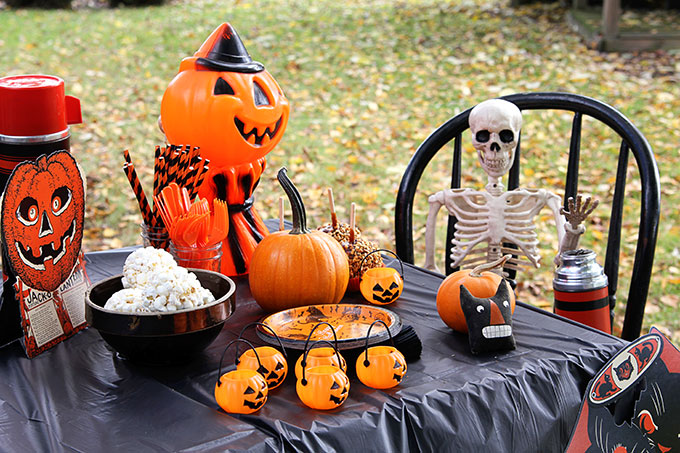 Do you prefer a traditional Halloween party with orange and black that just SCREAMS Halloween?
Or one of those fufu modern parties with muted green and off white decor that playfully gives a slight nod toward Halloween that barely anyone recognizes? Not that I'm biased here.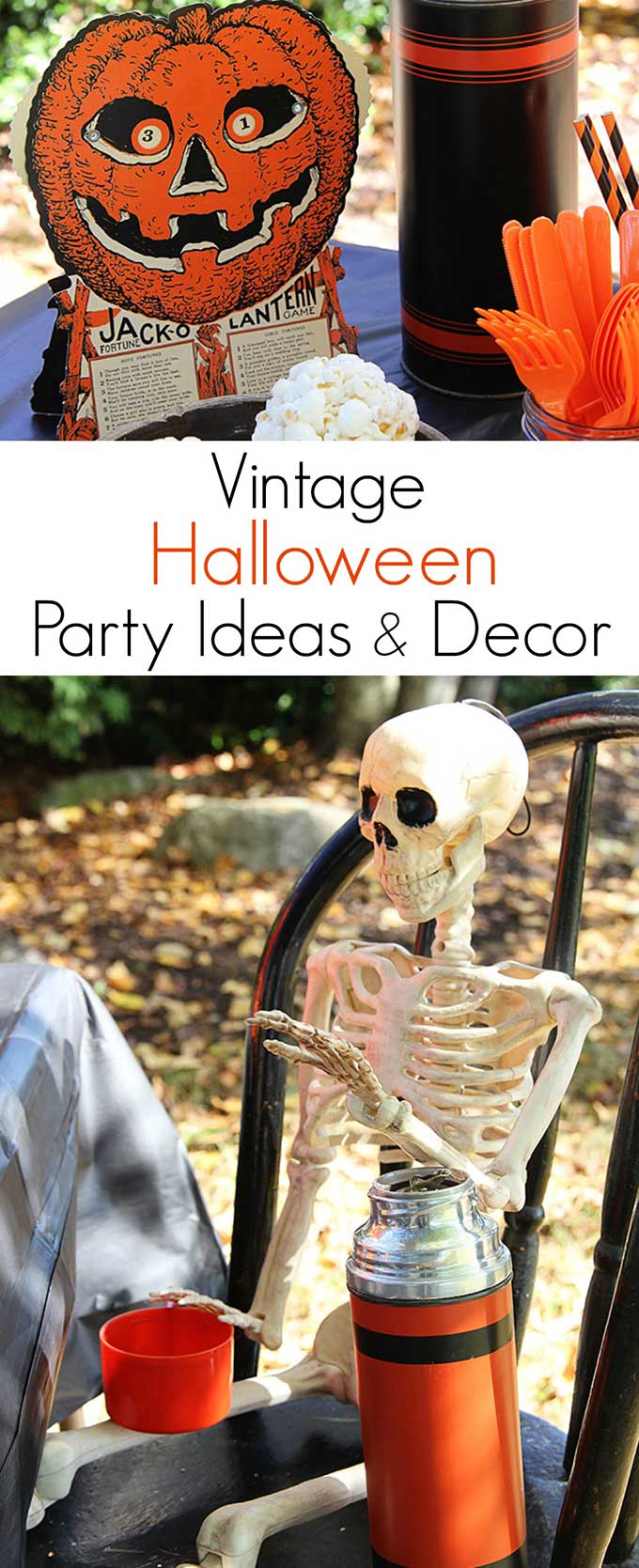 Here's some other Halloween posts you may enjoy: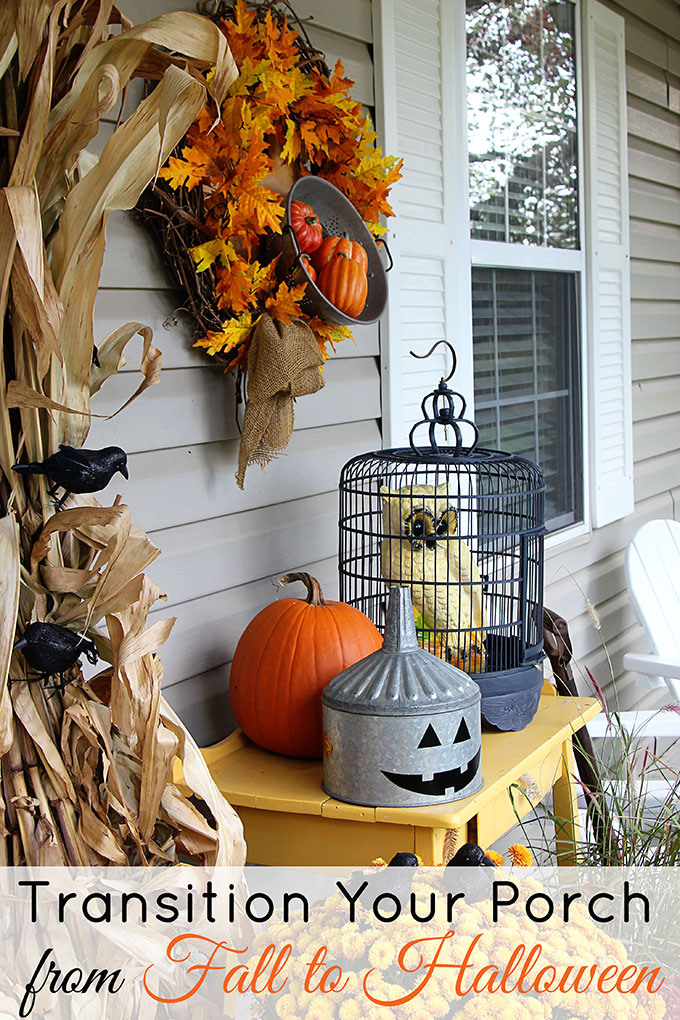 Transitioning Your Porch From Fall To Halloween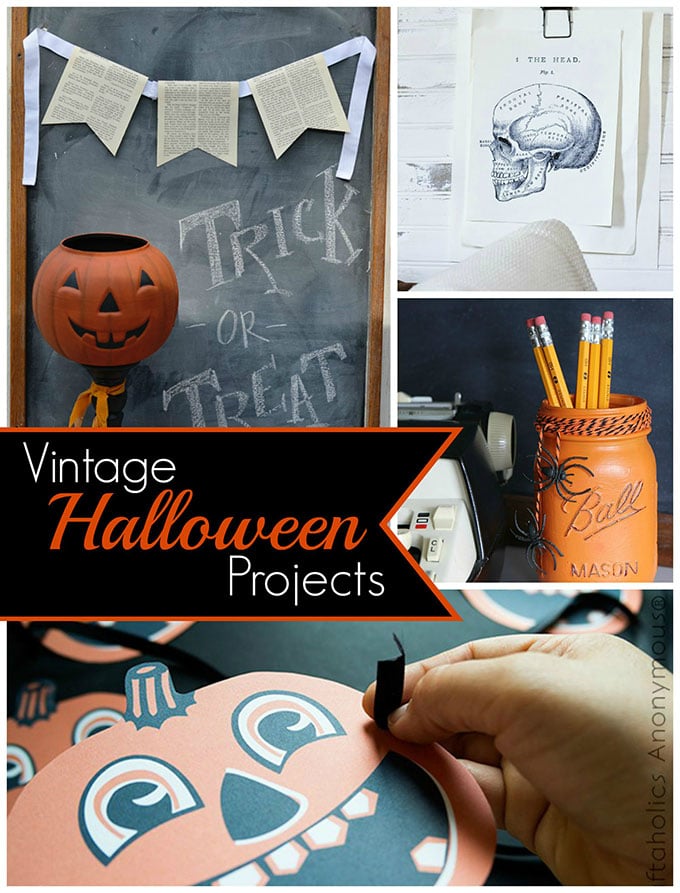 Vintage Inspired Halloween Projects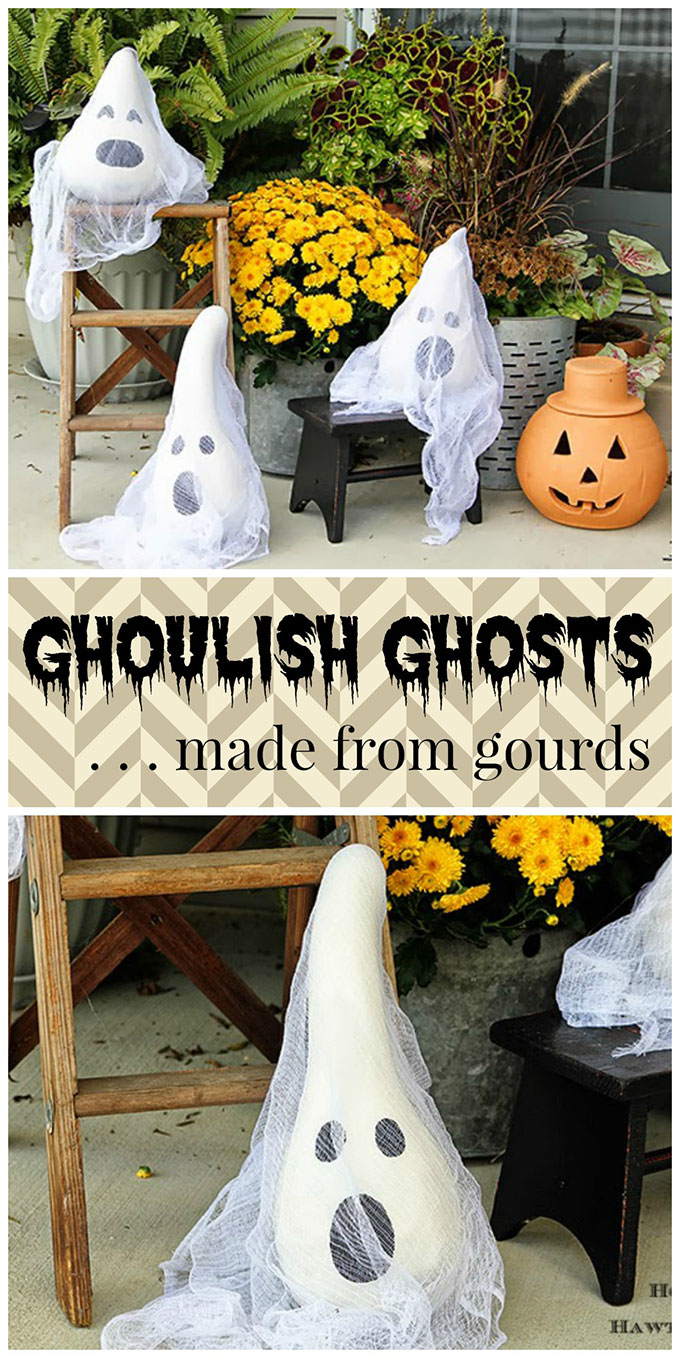 Halloween Ghosts Made From Gourds
(This post contains some affiliate links for your convenience. You can read my full disclosure policy here.)