This is the story of my potting bench and why I'm head over heels in love with it!
A potting bench is one of the most useful things to have if you like to garden. Plus it can do double duty as an outdoor serving station or bar cart.
It all started last year when I was bound and determined to DIY myself a potting bench. I had plans of installing a cute vintage cast iron sink in it, having a hose hookup for running water and even decorating it with some cute vintage garden decor items to gussy it up a bit.
It was going to be my version of a she-shed without the shed part.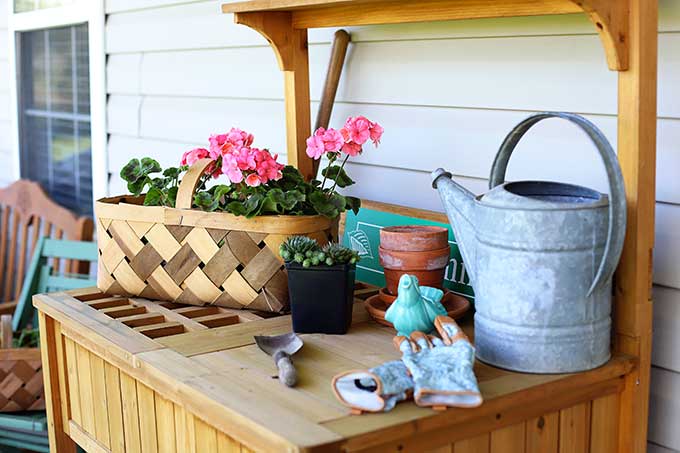 And as inspiration, I showed you a whole slew of DIY garden potting benches in my DIY Potting Bench Ideas post last spring. So many great ideas!!!
So what did I make?
NOTHING. Not a darn thing.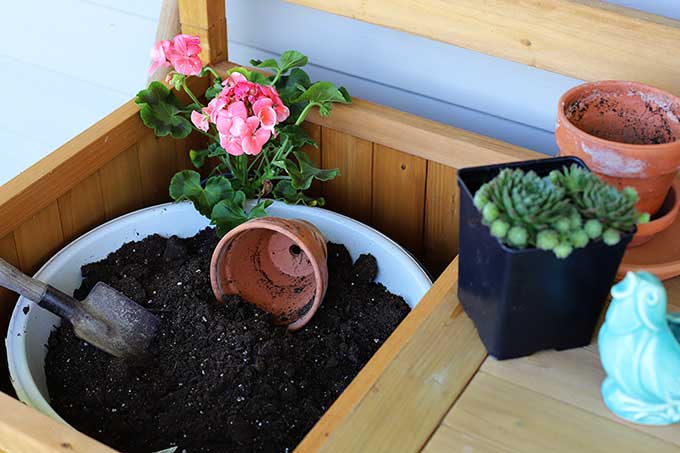 In all honesty, last year was a busy one for us. My son was graduating high school and we were having a party and before I knew it summer was sneaking up on us and I just needed something quickly.
So I ended up buying one online, having it delivered by the UPS man and screwing it all together myself. Does that count as DIYing it?
Probably not.
BTW, the one I have does not seem to be available this year, but there is a similar potting bench from Amazon you can find HERE. Or this slightly more expensive model HERE that has some nice features.
If I bought it last year, why am I just taking you on this tour now, you ask? I wanted to make sure it would make it through the winter without having fallen apart, turned gray or spawned termites.
We're good on all three accounts!
The pros and cons of this piece of gardening eye candy.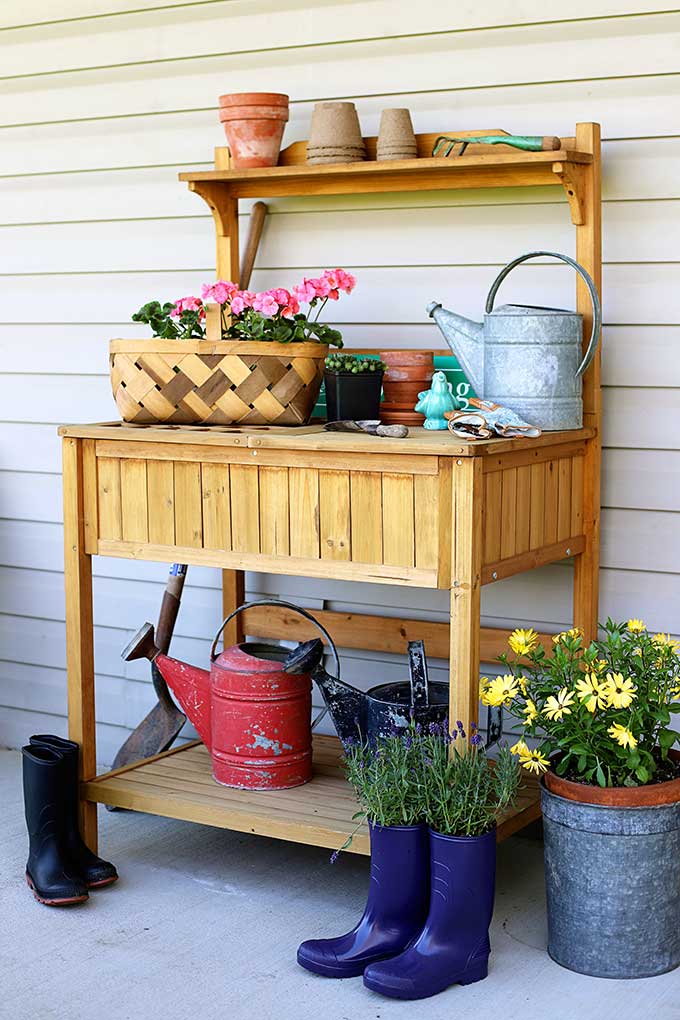 Pros:
It's lightweight. Easy to move over two feet or even move to another area of the porch. It only weighs about 20 pounds when empty.
The built in storage area is amazingly useful.
LOVE that it can do dual duty, handy potting bench one minute - delightful buffet station the next!
The size is perfect for what I wanted. Not taking up so much space that I had to give up a piece of seating, but not so small it is useless.
Everyone who has seen it in person has wanted to buy their own. Everyone.
The price. Seriously, for the price you can't beat it.
Cons:
It's lightweight. It is sturdy, but just not sturdy enough to jump up and down on. Or sit on, I don't think I would trust it to sit on. Who sits on a potting bench anyhow? But I thought I should mention the weight as a Con as well as a Pro
The nuts and bolts or screws or whatever you call them that hold it together tend to loosen themselves up a bit here and there. I've tightened them 3 times in the year we've had it. Not a huge con, just wanted to mention that.
We have it outside under our covered porch. The covered porch is only about 5 feet wide, so it was exposed to snow and rain during this never ending winter and looks as good as the day we put it together. But I would say if you are going to have it outdoors year round with absolutely no overhang in harsh, harsh tundra-like weather you may want to put a wood protector on it.
The wood is a little on the soft side, so you will get nicks and dings, but people it's a potting bench! Potting benches were not meant to be high end designer pieces of furniture!
My Favorite Part Of The Potting Bench:
The top comes in two pieces and is removable!!!
Full Top for maximum work space.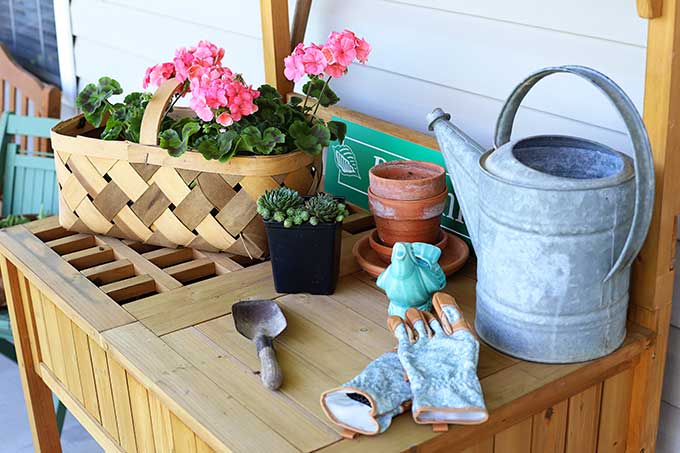 Grated Top Removed to get to the storage below. I have a vintage enamel washtub full of dirt in that side so it's easily accessible. You could also put an empty plastic bin under the grate and use that side to catch dirt and debris as you are potting up stuff.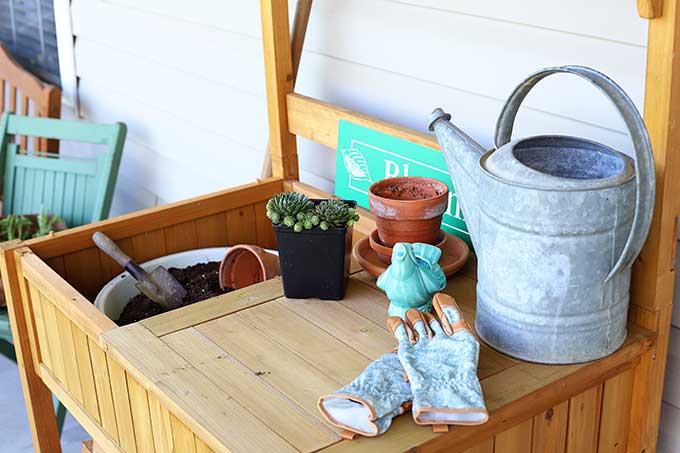 Both Tops Removed to root around for stuff. That's an old picnic tin I have in the right side filled with gardening gloves, peat pots and garden markers.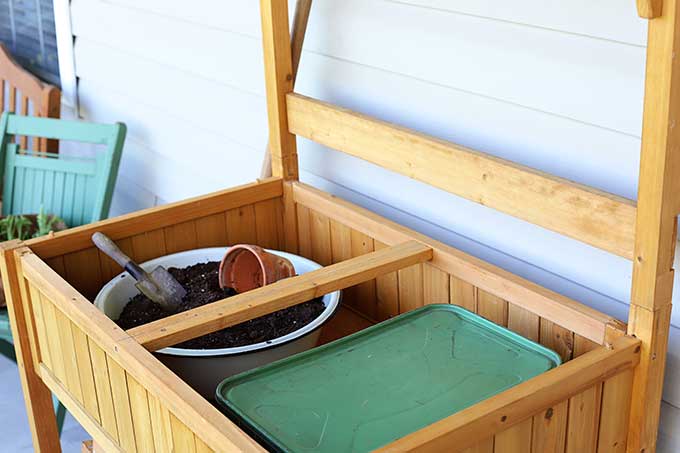 Even though it doesn't have a cute vintage cast iron sink or a hose hookup for running water, I still couldn't resist throwing some old watering cans and some vintage gardening tools on her to bling her up a bit.
I sorta can't stop gazing at her.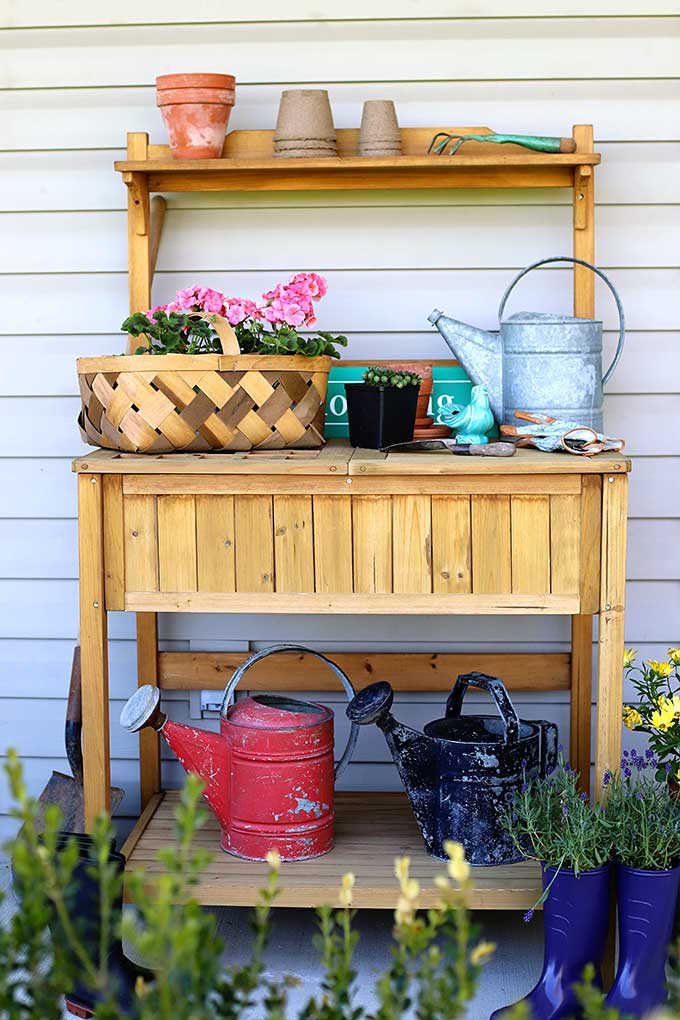 You may have recognized the lavender boots from my These Boots Aren't Made For Walking post, that is really about how to make DIY rubber boot planters (why go with an obvious title, when a confusing one will do?).
The potting bench can also be used as a buffet station
Yes, the potting bench can also double as a buffet station for your porch. It comes in very handy when we're eating outside.
BTW, the same enamel washtub worked as a drink holder for last year's graduation party. I just filled it with ice, inserted some bottled pop and we were good to go.
(This is my re-creation of that look for you, because I was a bad graduation mom and forgot to get actual photos of MY SON'S GRADUATION PARTY!!!)
(This post contains some affiliate links for your convenience. You can read my full disclosure policy here.)
Other posts you may enjoy:
Retro Picnic Supplies For Your 4th Of July Barbecue
Baby Got Back Porch Ideas
5 Easy Steps To Beautiful Garden Planters