Porch that is. Baby got back porch!
And since I'm stuck in the 90's with Sir Mix A Lot . . .
Back when that song came out I was super excited that those of us with ample backsides were finally being appreciated. It's not every day in the world of scrawny little butts that someone writes a song about the real variety of booty.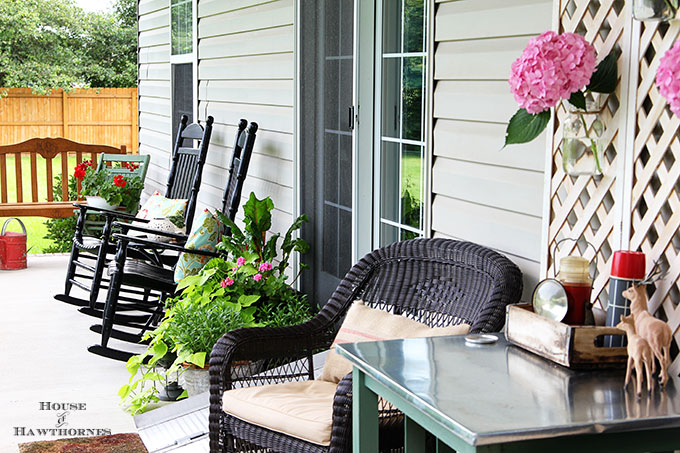 Nowadays, there's Kim Kardashian with her larger than life bum, but back then, not so much.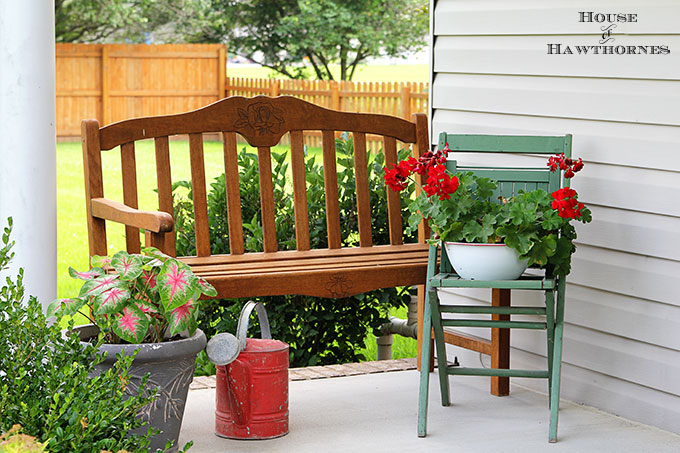 Enough about butts, last week I showed you my front porch. Now it's time to show you my backside.
A porch just isn't a porch unless you have some rocking chairs on it.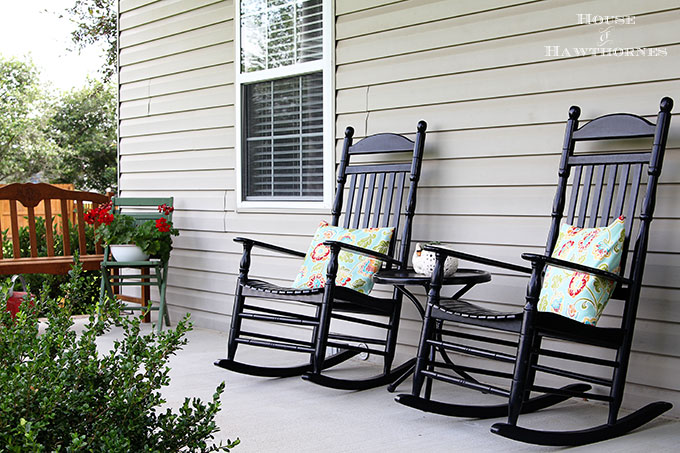 And by typing that last sentence I made myself feel like I'm 94 years old, walking with a cane and getting ready to discuss the gout.
A rocking chair is mighty darn comfortable though!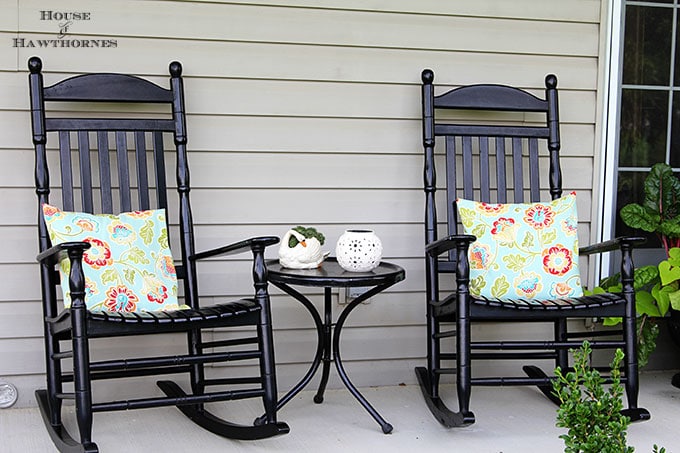 This is one of the planters I showed you in my post about Swiss chard - Containing My Enthusiasm For Swiss Chard.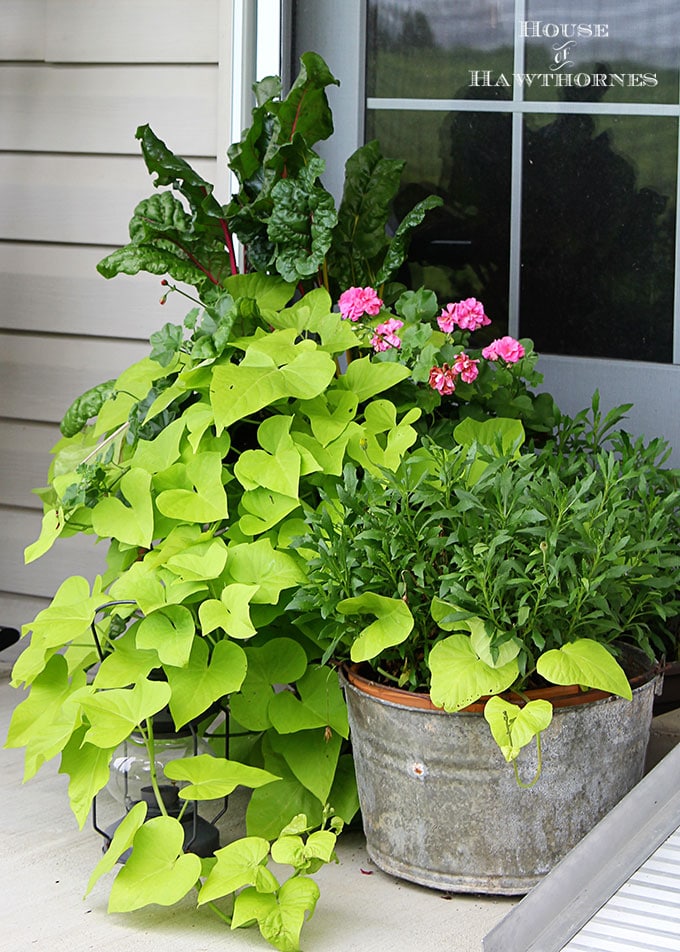 And here is my red geranium I showed you in my Lazy Girl's Guide For 4th of July Decorations.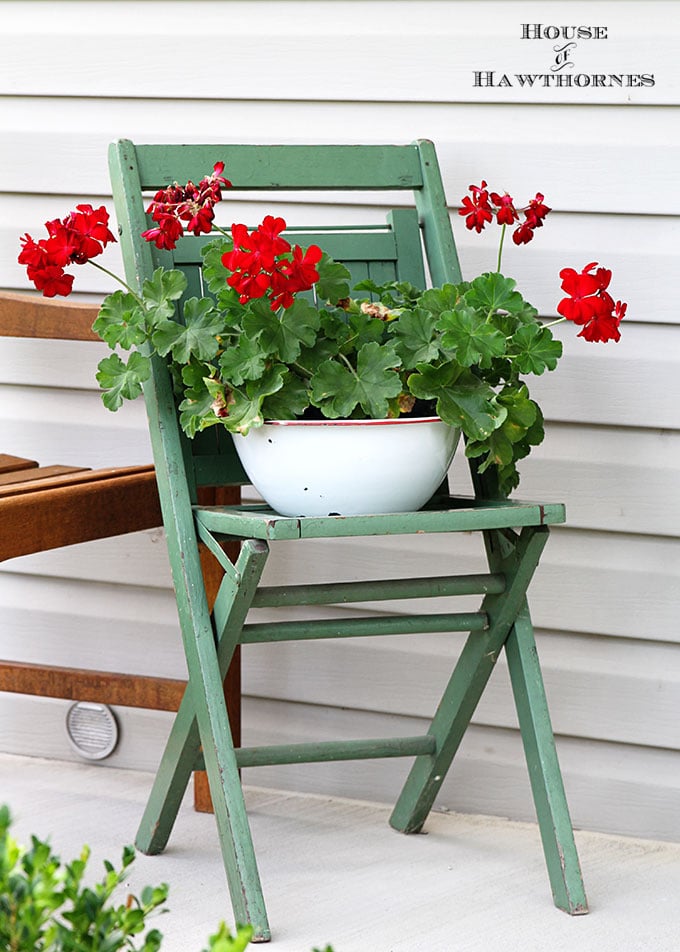 That green chair is one of my favorite thrifting finds EVER. Oddly enough I don't think I've ever sat in it.
My butt may be too big!
That was pretty much the left side of the porch, on the right side of the porch we have my new-to-me table that I covered in "zinc".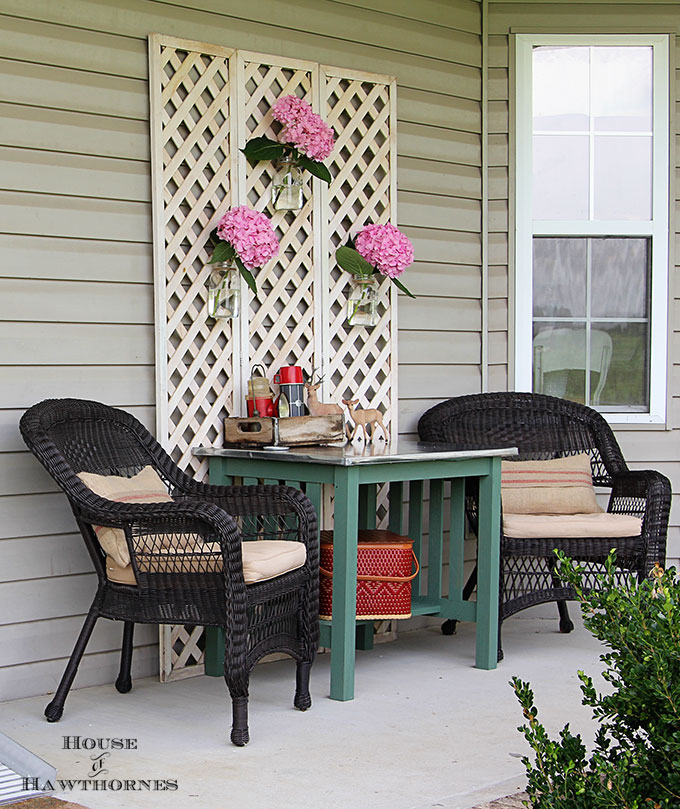 In the next week or so I'll show you a tutorial on how my husband and I refurbished the table.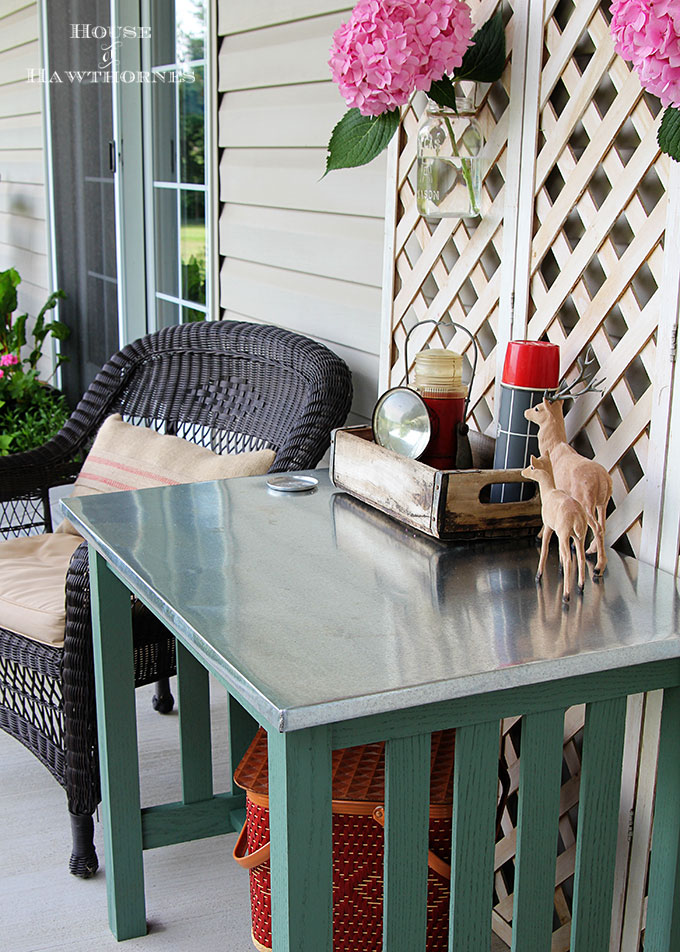 OK, so these are actually Christmas deer that I bought at a yard sale a few weeks ago. I just couldn't bear the thought of throwing them in a storage box for the next few months, so I brought them outside.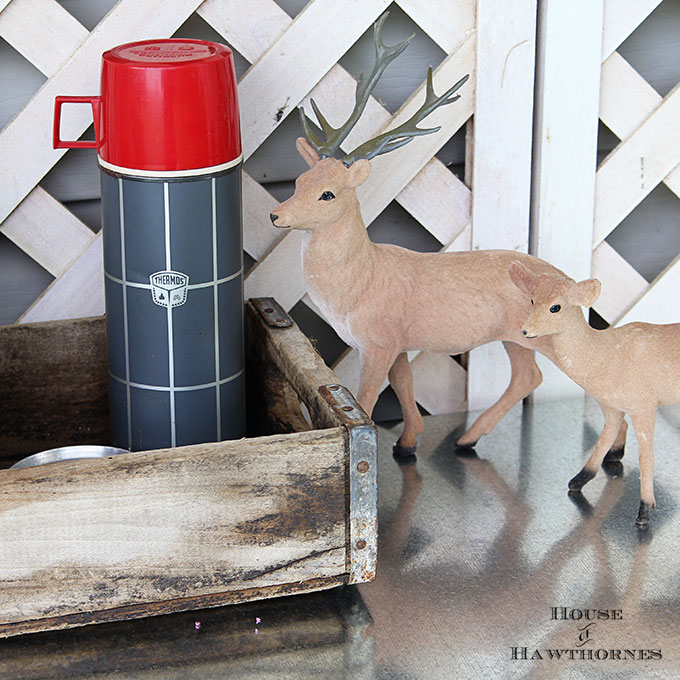 They give the place a rustic feel, I think. Plus they give me someone to talk to when I'm sitting here writing blog posts.
The lattice panels were another yard sale find. I just wrapped jute rope around the top of mason jars and tied them to the lattice and voila, you have vases.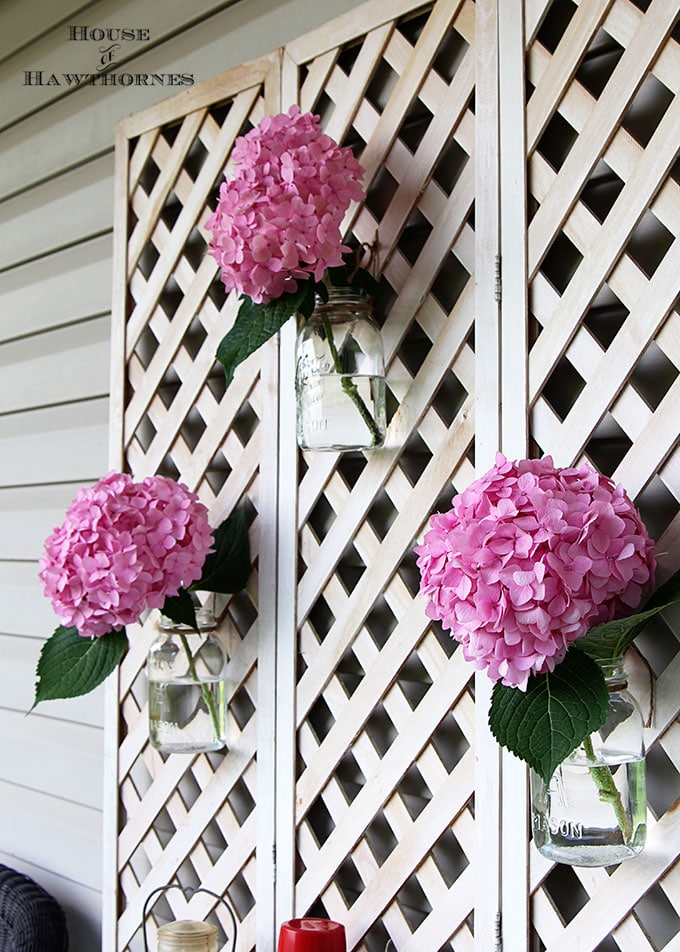 The blooms are off my Endless Summer Hydrangea.
When I don't have fresh hydrangea to cut for them, I can put a little sand and battery operated candles in the jars.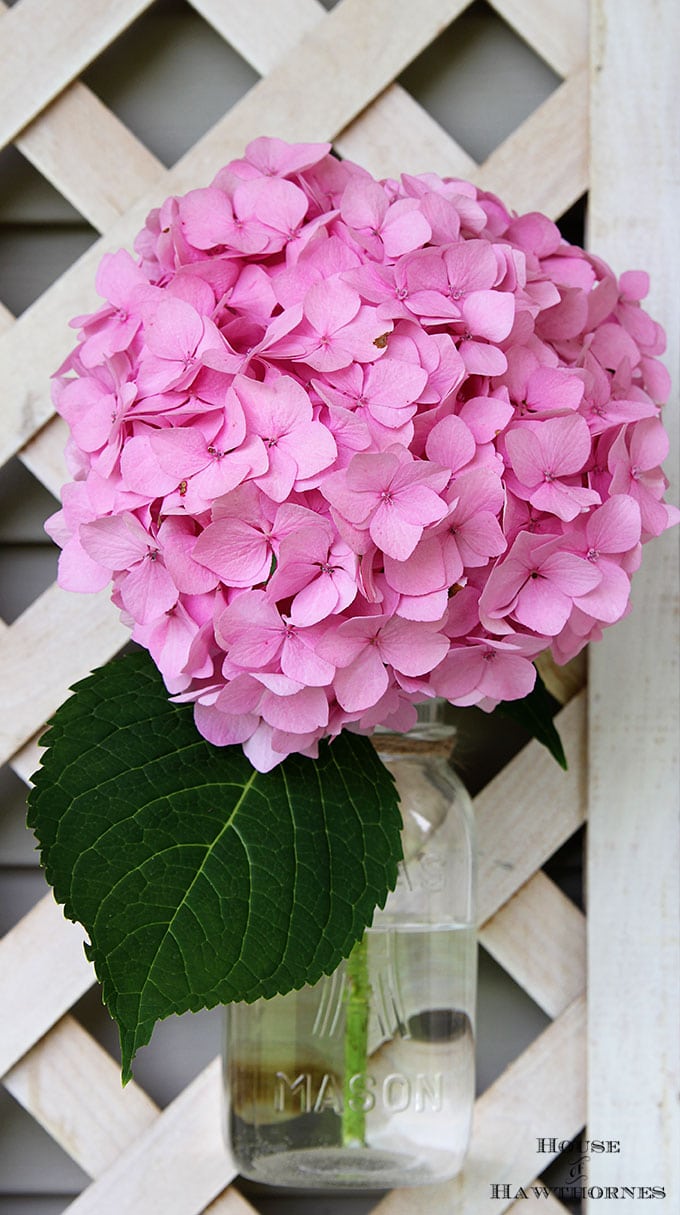 And this is what the whole porch looks like all at once.
If you're concerned about the snake that I mentioned in my last post, he lives on the right hand side of the porch.
I live on the left hand side.
We try not to cross into each others areas.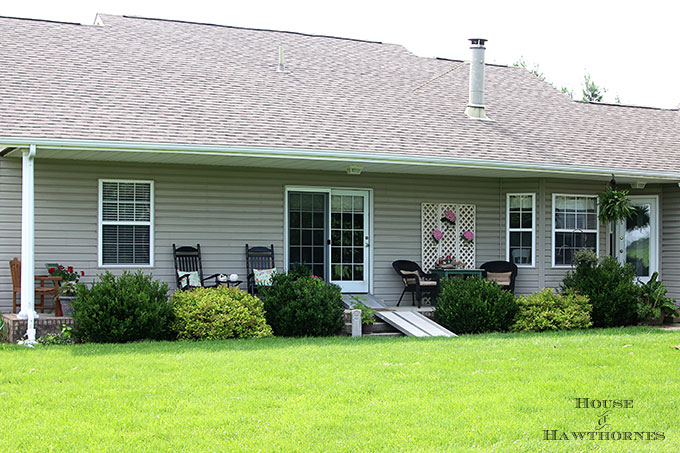 Here are a few of my past porch posts (PPPs for short):
Summer Porch Decorating Ideas
Vintage Eclectic Summer Porch
Patriotic Porch
Vintage Summer Front Porch
All My Porch Posts For All Seasons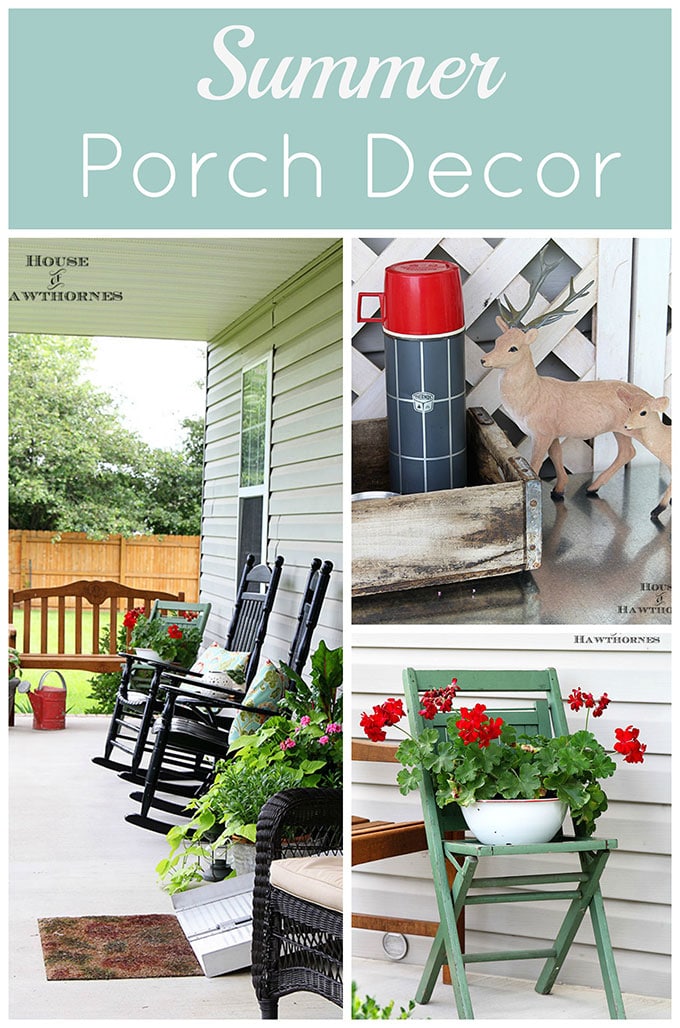 And hey, I'm part of a Summer Porch Tour with a couple other bloggers.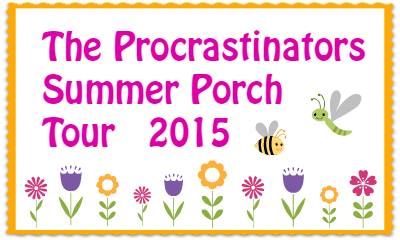 You can check out their fantastic porch posts here:
Now get off my porch and go visit some other bloggers. Skedaddle!