Learn how to make a super quick and easy boxwood wreath. And did I mention it is inexpensive? Perfect for Christmas, yet looks great any time of the year.
It's time people.
Time to start planning what you are going to do for the holidays this year.
Sure, I want to be all about Thanksgiving and talk about vintage turkey salt & pepper shakers and the best recipe for creamed peas and such (BTW, the best recipe for creamed peas is to NOT MAKE THEM), but my mind keeps wandering to Christmas decor.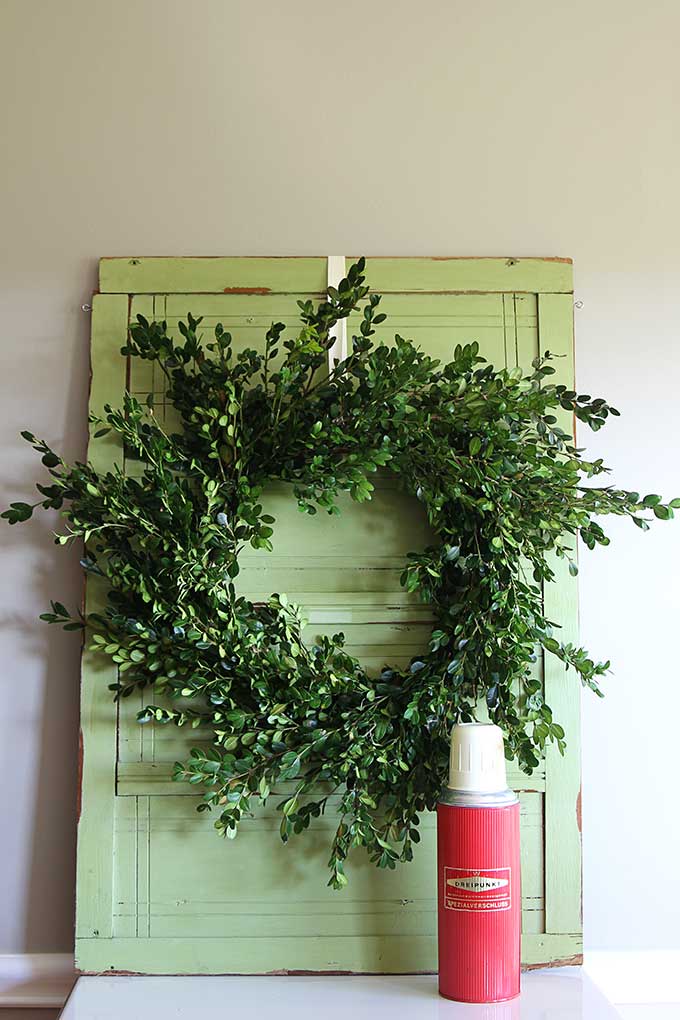 Vintage Christmas ornaments, little twinkly lights, DIY holiday projects. All dancing around in my head, pushing Tom Turkey to the back of the bus.
So even though I don't actually decorate until after Thanksgiving, I have started to plan and scheme and get some stuff together.
Like this quick and easy DIY boxwood wreath.
It is similar to the one I showed a few weeks ago in my Inexpensive Fall Centerpiece post, when you got a glimpse of a boxwood wreath hanging on a barn vent.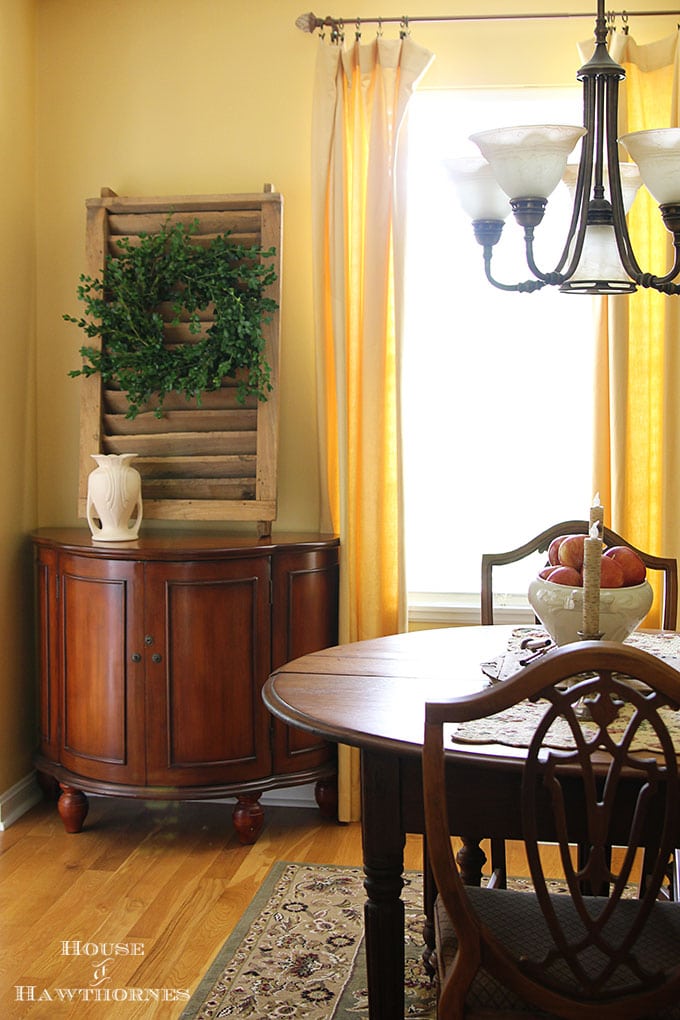 That I made.
In under 20 minutes.
For roughly $4.
With a broken arm.
Now, I don't want you to go out and break your arm in order to make this (that is totally optional), but it is super quick and easy to make and would look cute in your holiday decor.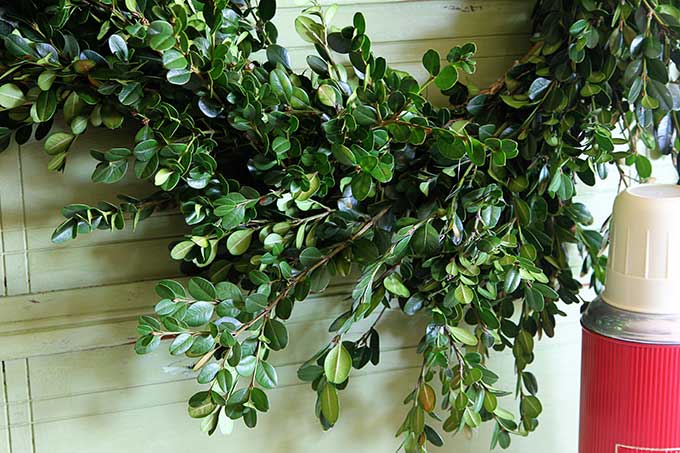 Quick And Easy DIY Boxwood Wreath Tutorial
Supplies Needed:
Boxwood sprigs (roughly 27-30), cut roughly 10-14" long
12" embroidery hoop
Scissors
Florist's wire
Twine or ribbon (for hanging)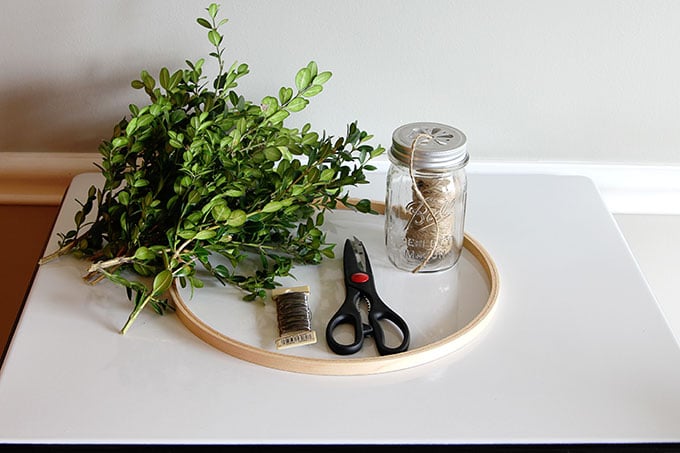 Instructions:
Go grab some boxwood branches from your boxwood bush. A neighbor's boxwood bush would do, as long as you ask permission or do it in the dark.
Just kidding, please ask permission.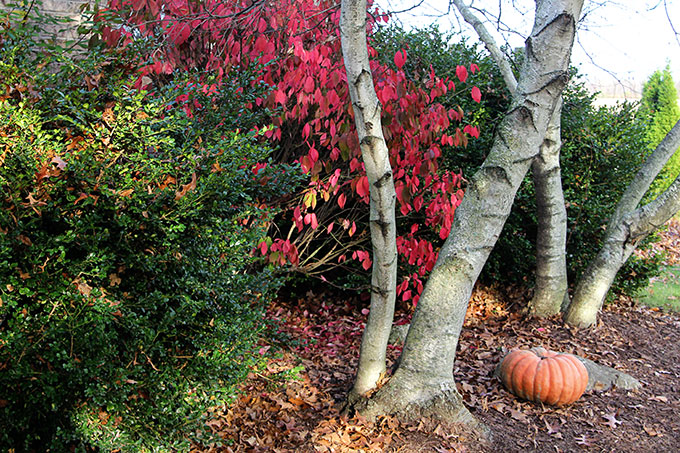 Take 3 boxwood sprigs/branches and tie them together with an 8" section of florist's wire.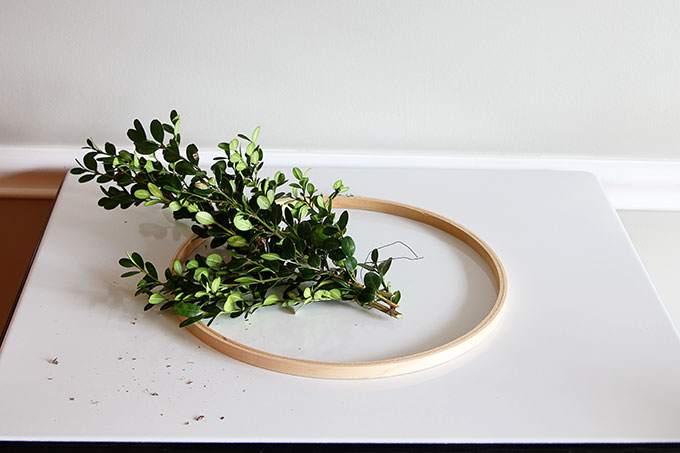 Take the bundle and attach it to the embroidery hoop with the tails of the wire.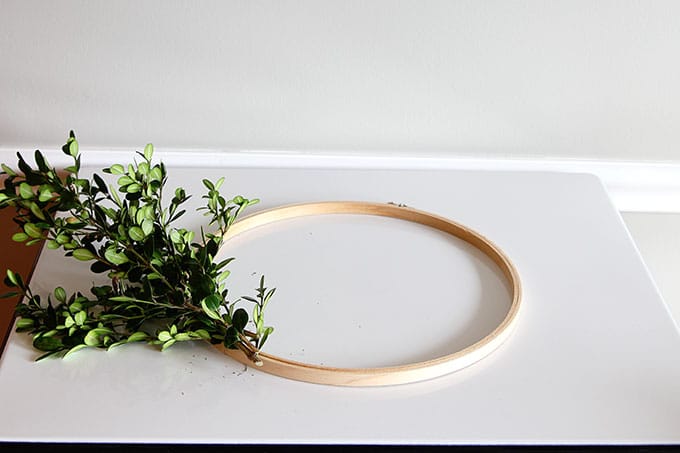 Repeat all the way around the hoop attaching the new bunch about 4" from the last bunch. You will use roughly 9 bunches of boxwood for the project.
All . . .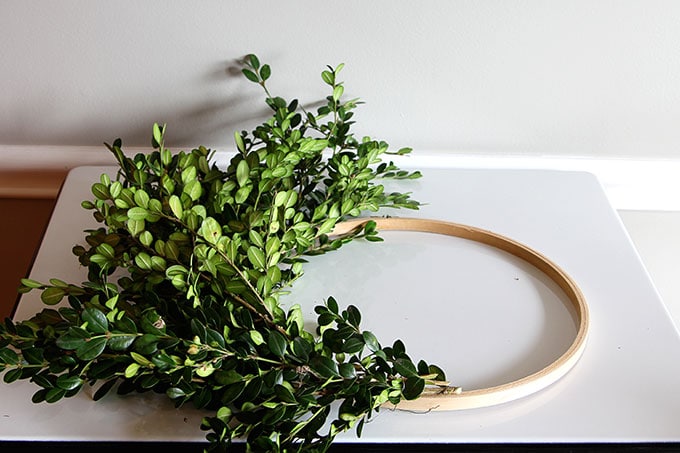 the . . .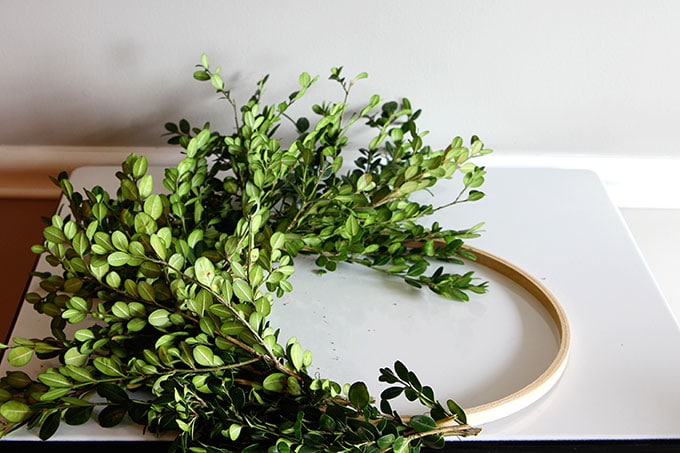 way . . .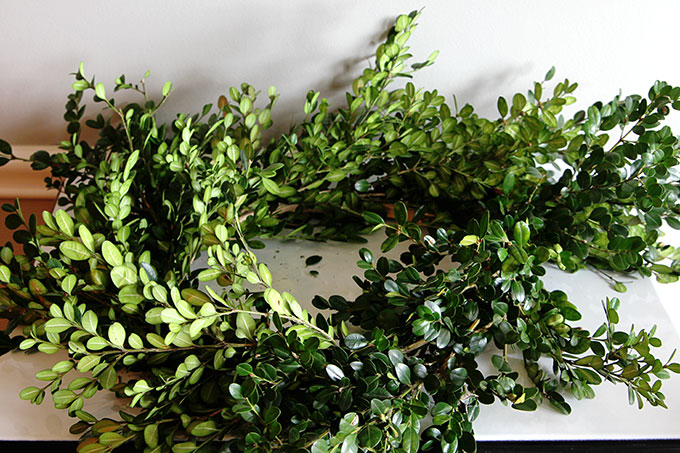 around.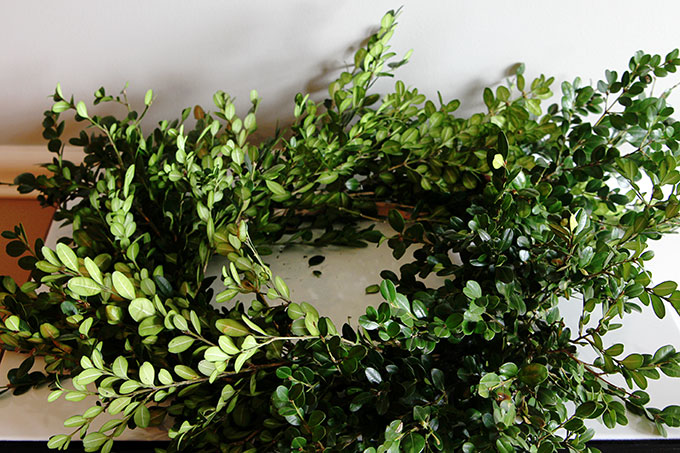 Use a piece of twine or a ribbon to hang your masterpiece of boxwood wreath-i-ness.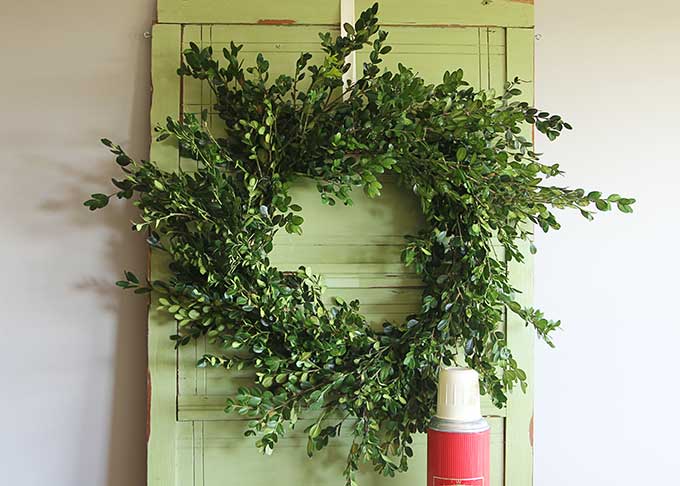 Now I like my boxwood wreaths to be on the natural looking almost shabby side of things. If you prefer a more formal shaped look you can just snip off the ends that hang over and prune it into a neat circle.

How long does a fresh boxwood wreath last?
As with any live wreath, they will last longer outside than if kept inside with the dry heat of the house.
ETA: - I kept this one inside and it was a lively green for about 2 weeks and then started to slowly dry out and turned a softer/grayer shade of green. Eventually it dried up completely, but could still be displayed if you don't mind the crunchiness of the leaves.
How to preserve your fresh wreath?
You can spray it with a sealant if you want to preserve it for even longer. Your wreath will still not last forever, but should be good for a few years.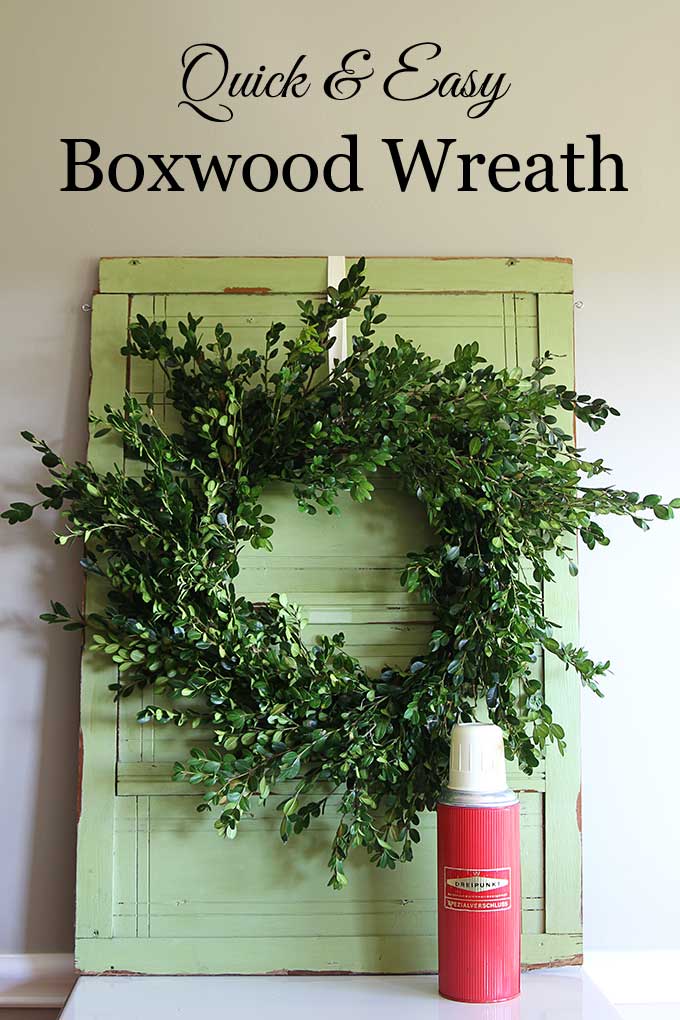 Have you started to plan and scheme and get some stuff together for the holidays yet?
Or are you perfecting your creamed peas recipe?
Other holiday posts you may enjoy:
A Vintage, Rustic, Industrial Holiday House Tour