Today is Thrift Store Decor Team Wednesday (it is Wednesday, right?) and since we're all staying safe at home and the thrift stores are closed I dug into my stash to create a simple project made with craft supplies you just might have on hand.
Except for the bird which I bought at Michaels a few weeks ago.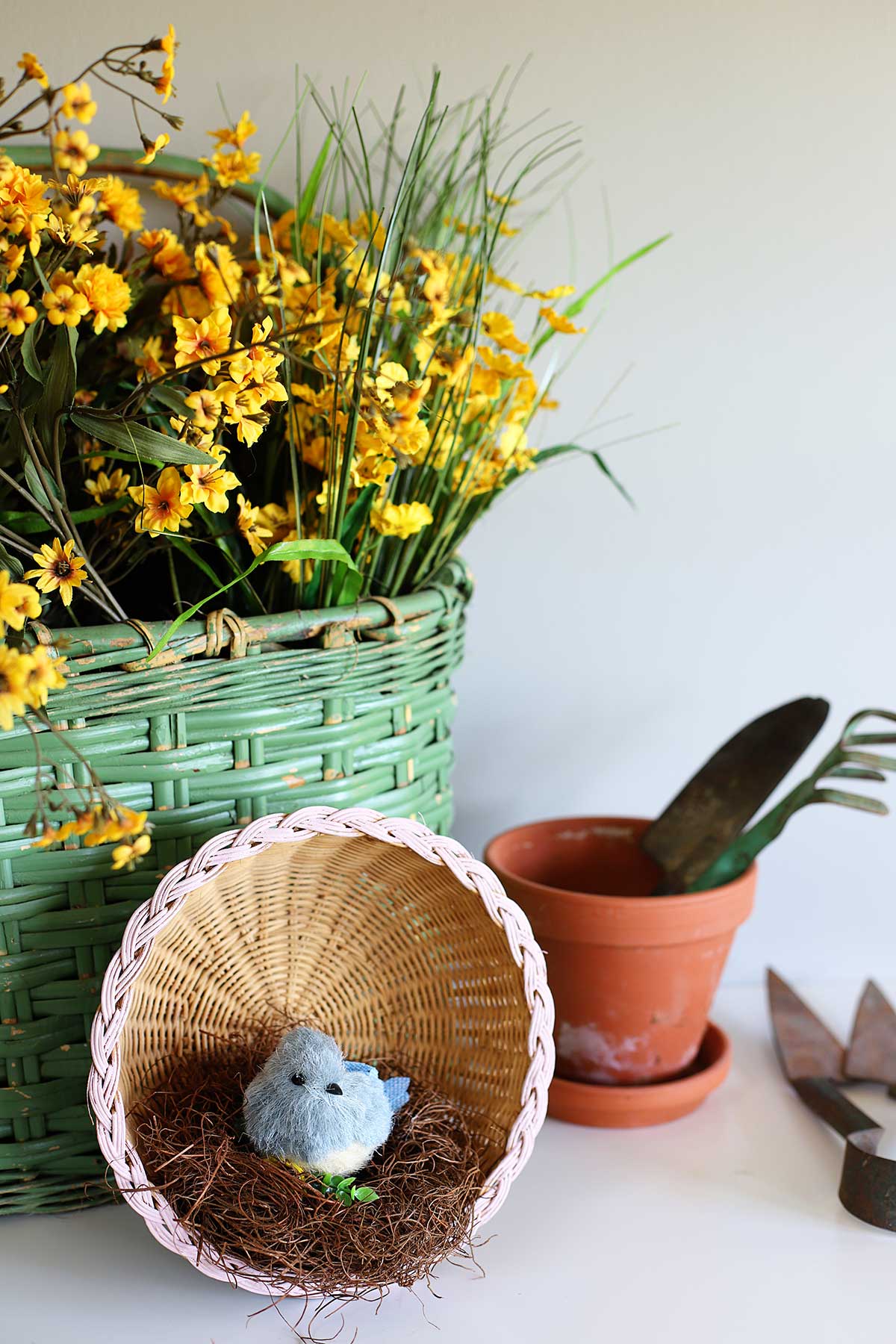 But you can easily substitue any bird or chick you have around the house. Not live ones, that would be weird.
Totally off topic, but I cry a little bit when I think of all the stuff just sitting on the thrift store shelves just waiting for us to come buy it. That little Pyrex dish just cannot understand why no one is coming by to rescue it right now.
But, just think how much stuff is going to be at the thrifts when we get back to normal. All those people organizing and decluttering their houses right about now will be a boom for us thrifters and garage salers. #silverlining
So back to my project, this is what I started off with.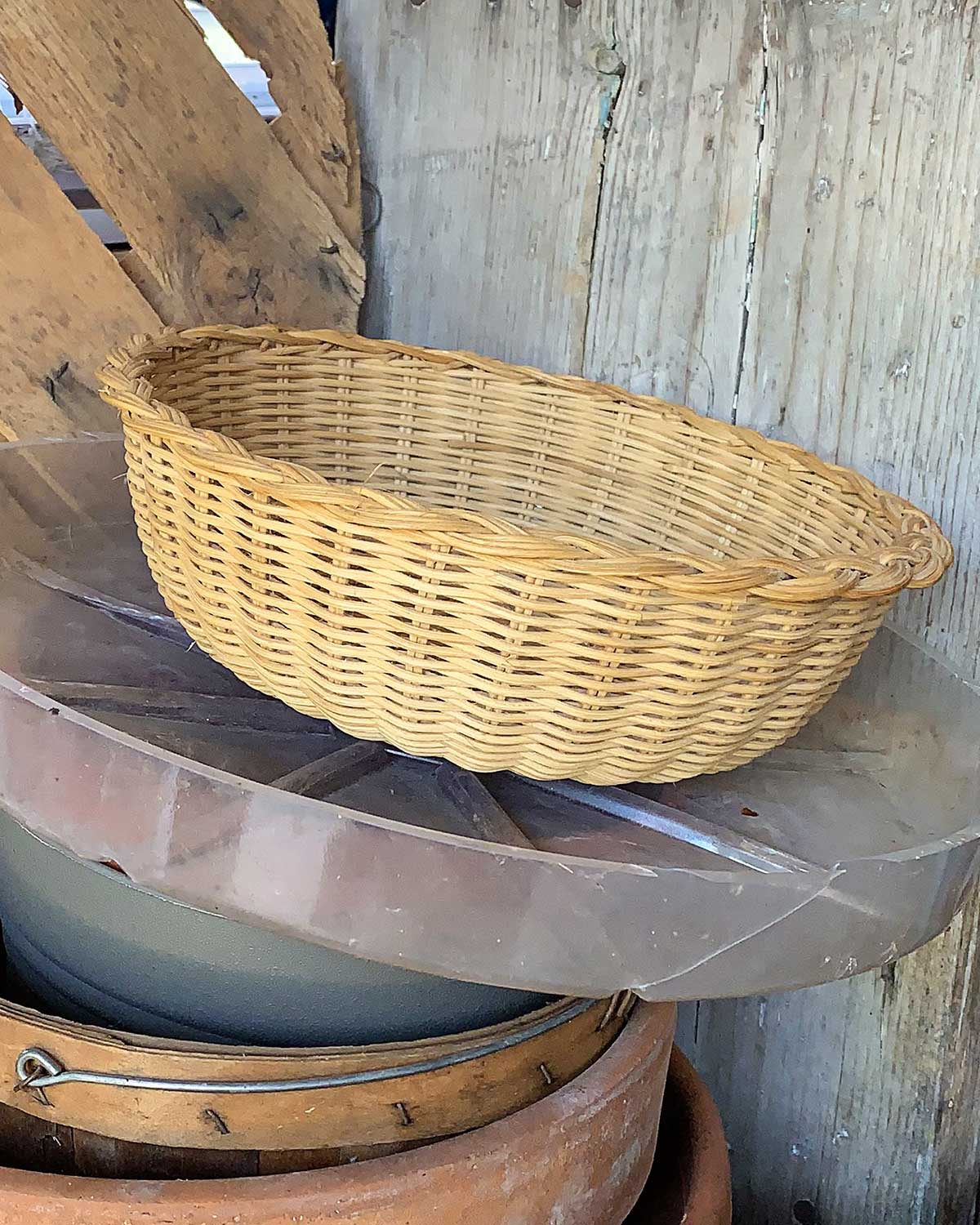 It was sitting in my garage where I had thrown it after coming home from the thrift a few months ago. I had to knock off a few spiders, but then I could get to crafting.
And yes, I buy stuff at the thrift store with no idea what I will do with it.
It's a simple little woven bread basket you'd find at the dollar store for probably a lot less than a dollar. I think it was 10 cents at the thrift store.
(This post contains some affiliate links for your convenience. You can read my full disclosure policy here.)
Upcycle A Thrift Store Bread Basket Into Bird Nest Decor
Supplies: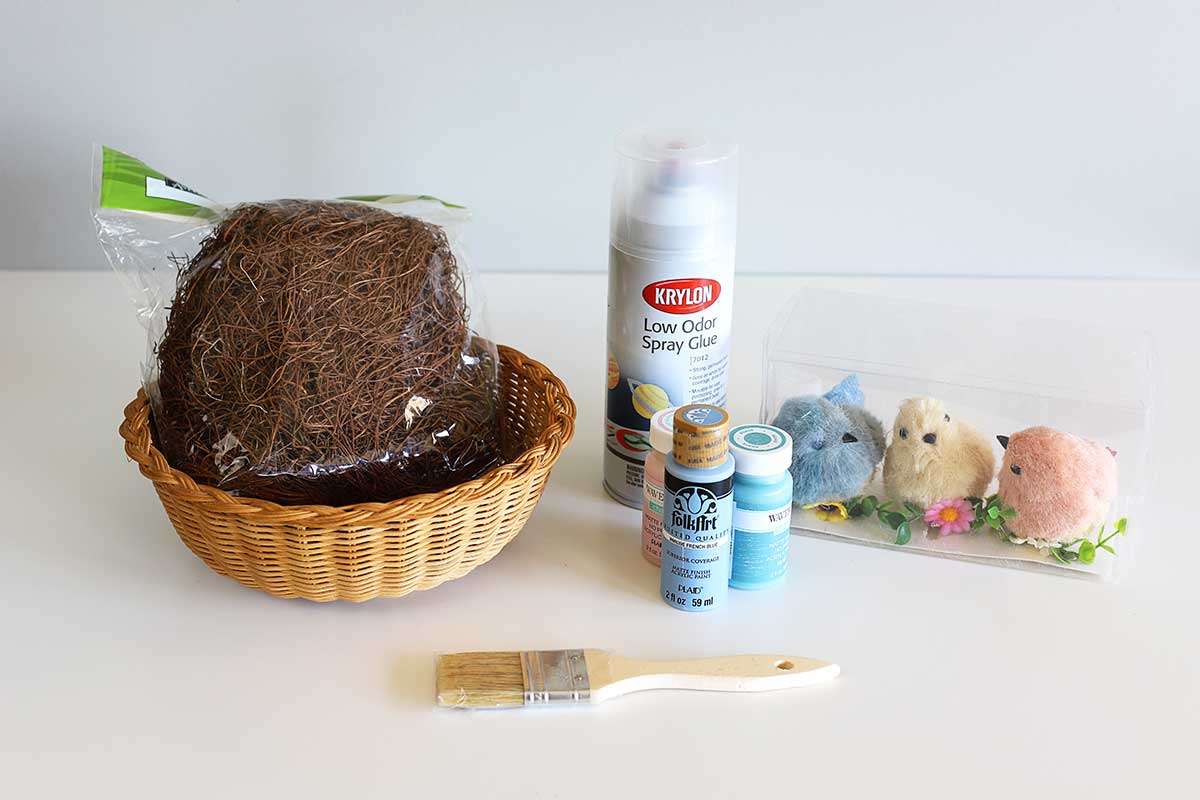 Inexpensive shallow round basket
Brown Excelsior (moss would work equally as well)
Birds (these were from Michael's)
Craft Paint
Small Paintbrush
Spray Adhesive (can also use a hot glue gun or E6000)
Small Bowl (not pictured)
Instructions:
Paint the rim of the basket.
I used Waverly Inspiration Chalk Acrylic Paint by Plaid in Ballet Slipper which is a very light and airy pink. There are other paints in my Supplies photo above, but I only ended up using the one paint.
Theoretically you could paint the entire basket, but I was sort of going for a natural look with just a touch of color.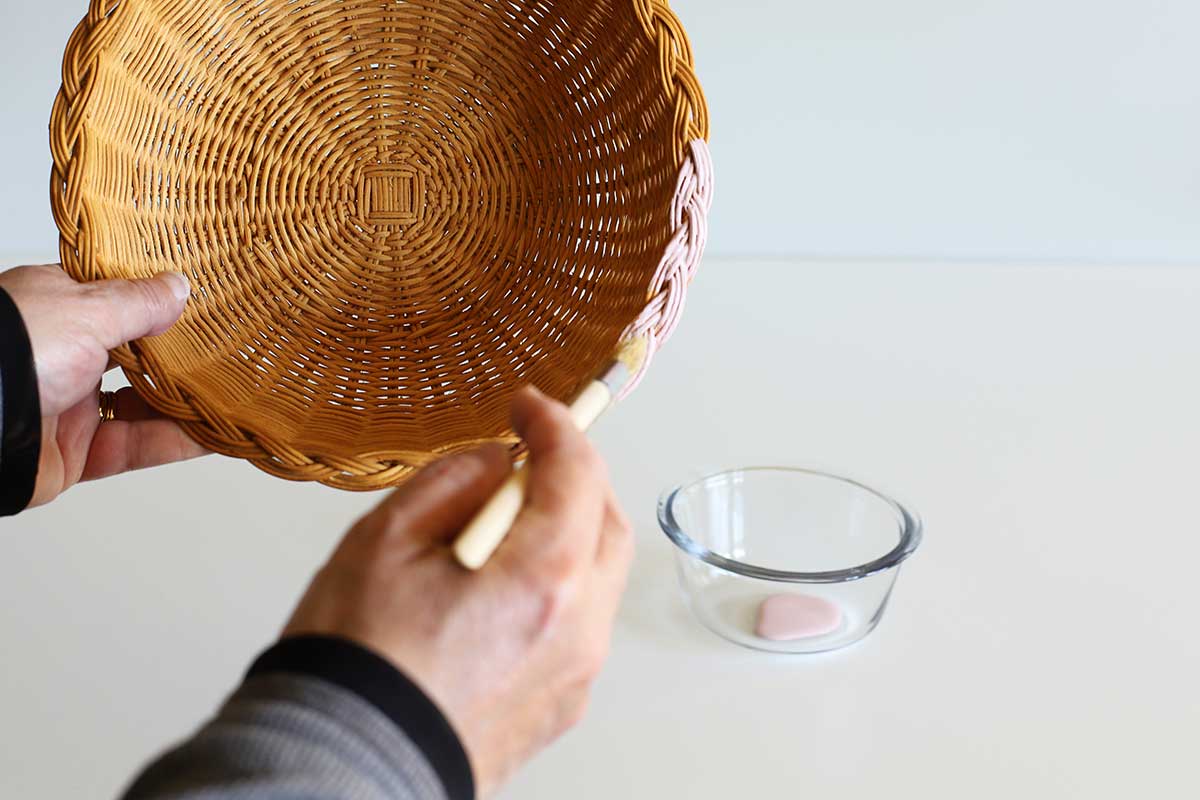 The bowl I chose to form my bird nest was picked because it's roughly the size I wanted my nest to be. Don't worry I'm not using the neon yellow bowl in the end product, it's just a form.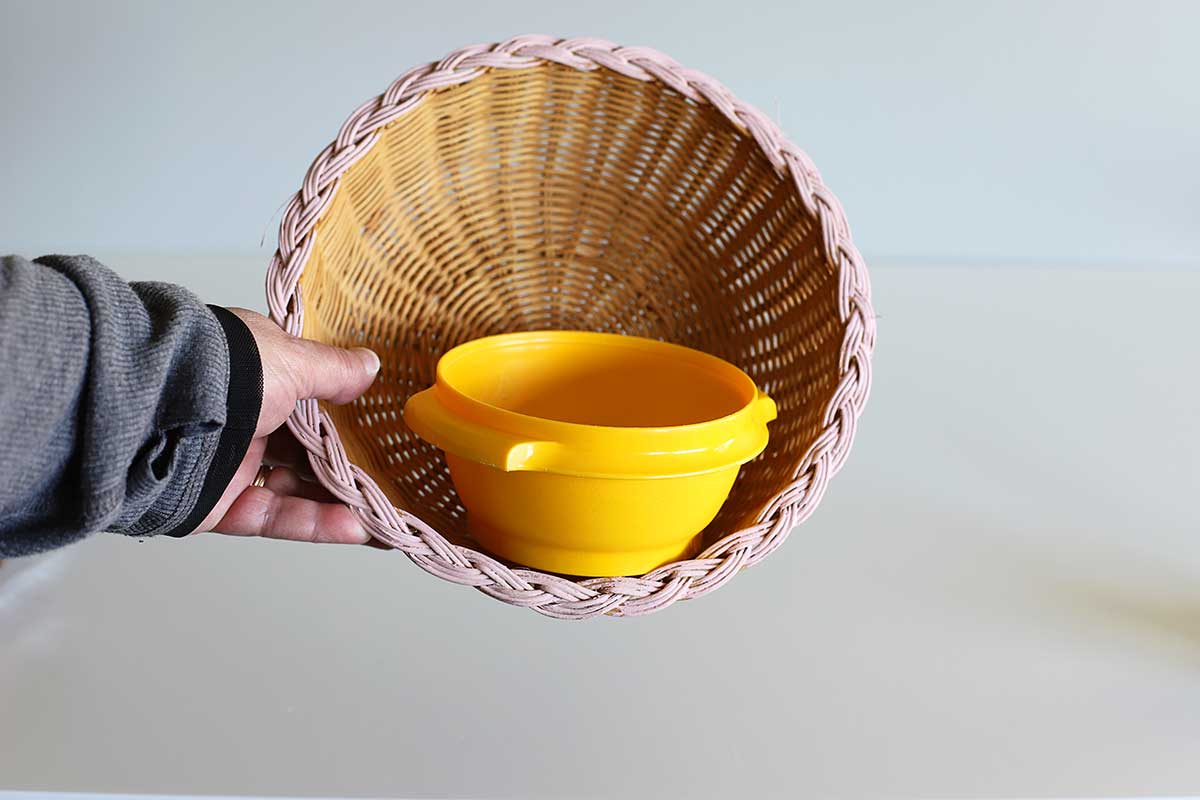 Sheesh, I love me some bright colors, but I'm not that crazy.
I grabbed a handful of excelsior and started created a ball form with it.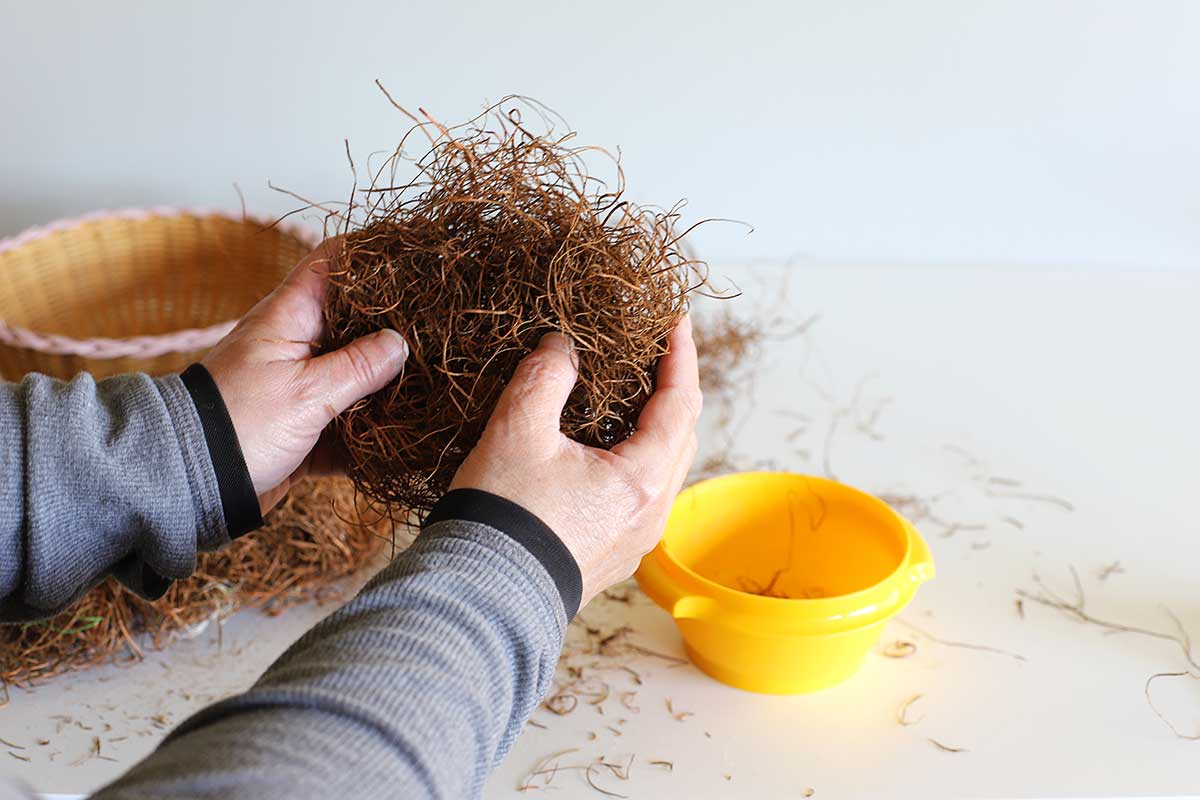 And then I put it into the bowl and used the sides to form the nest, leaving an indent in the middle for the bird to sit.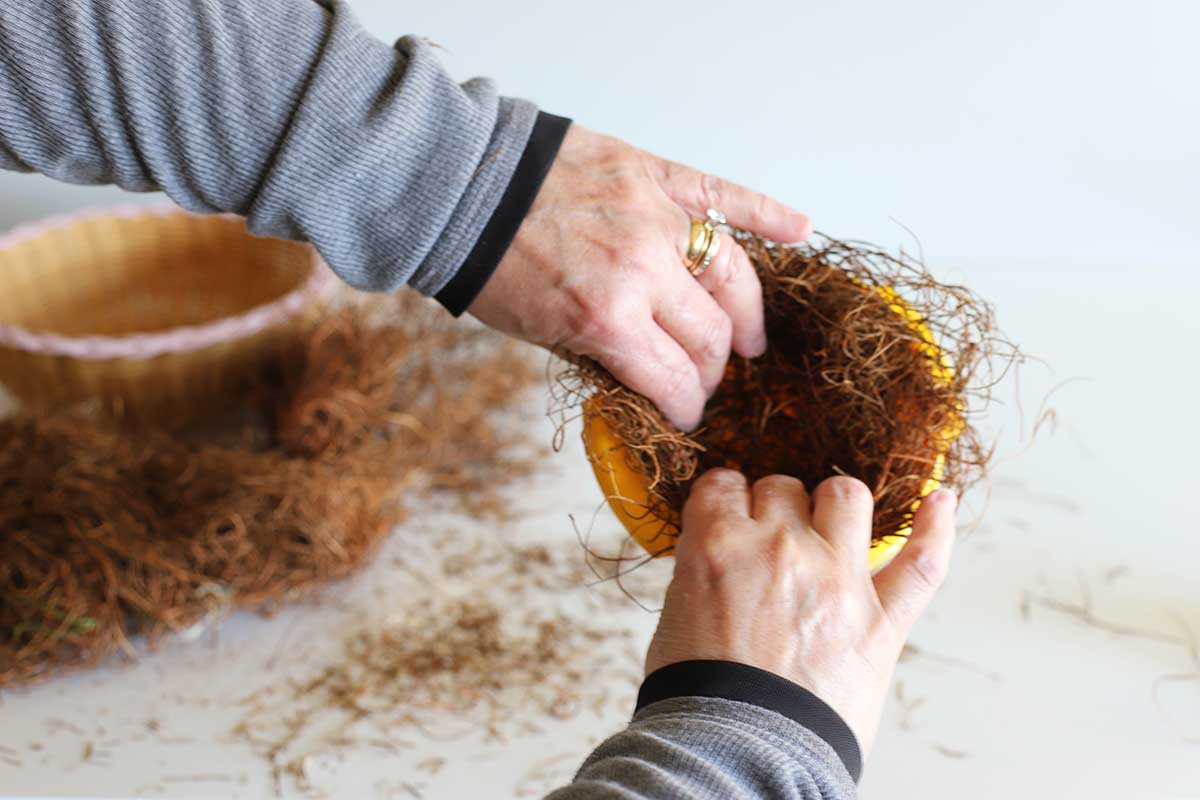 (notice all the mess on the table there, this excelsior stuff is MESSY)
Spay the adhesive on the inside bottom rim of the basket and place your nest firmly in the basket.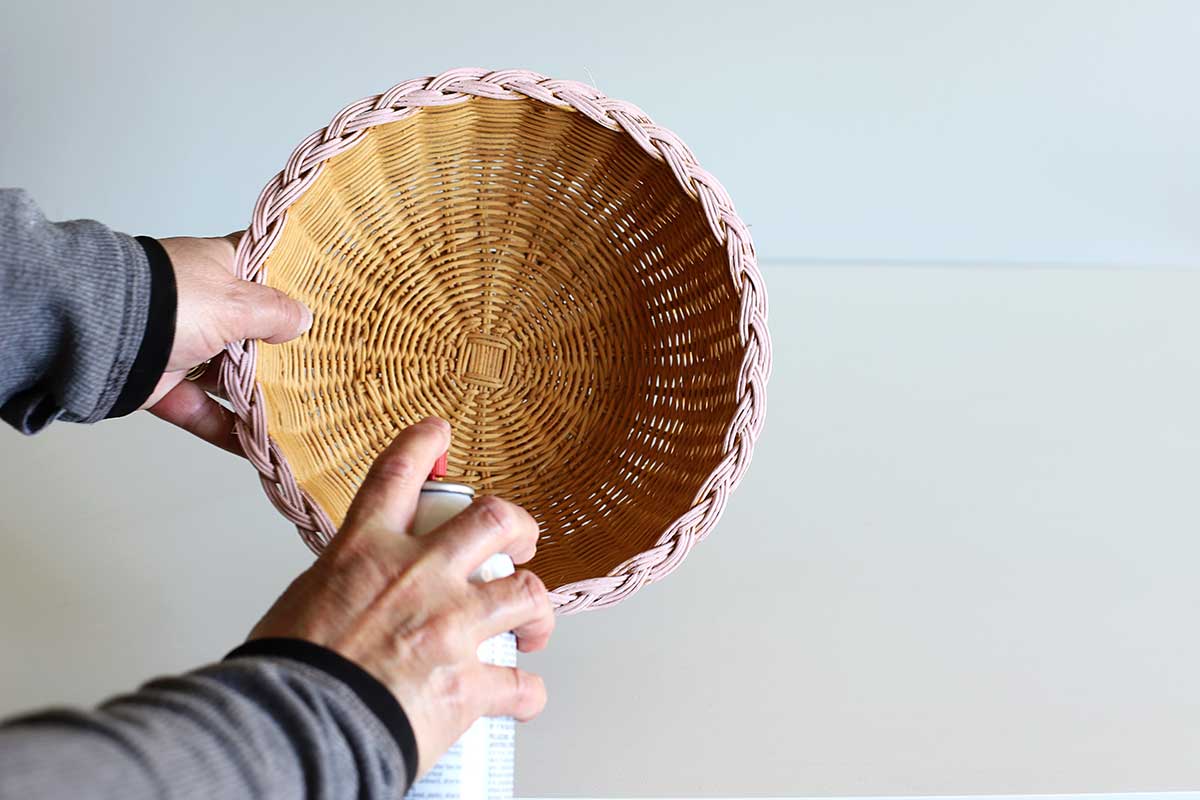 To be 150% transparent, I wasn't super impressed with the Low Odor Spray Glue I bought. Yes it is low odor (yay for not asphyxiating myself indoors), but I didn't think it was as sticky as I would like. If I'd do the project again, I would just use a glue gun.
Glue Tweetie Bird to the nest and you are done!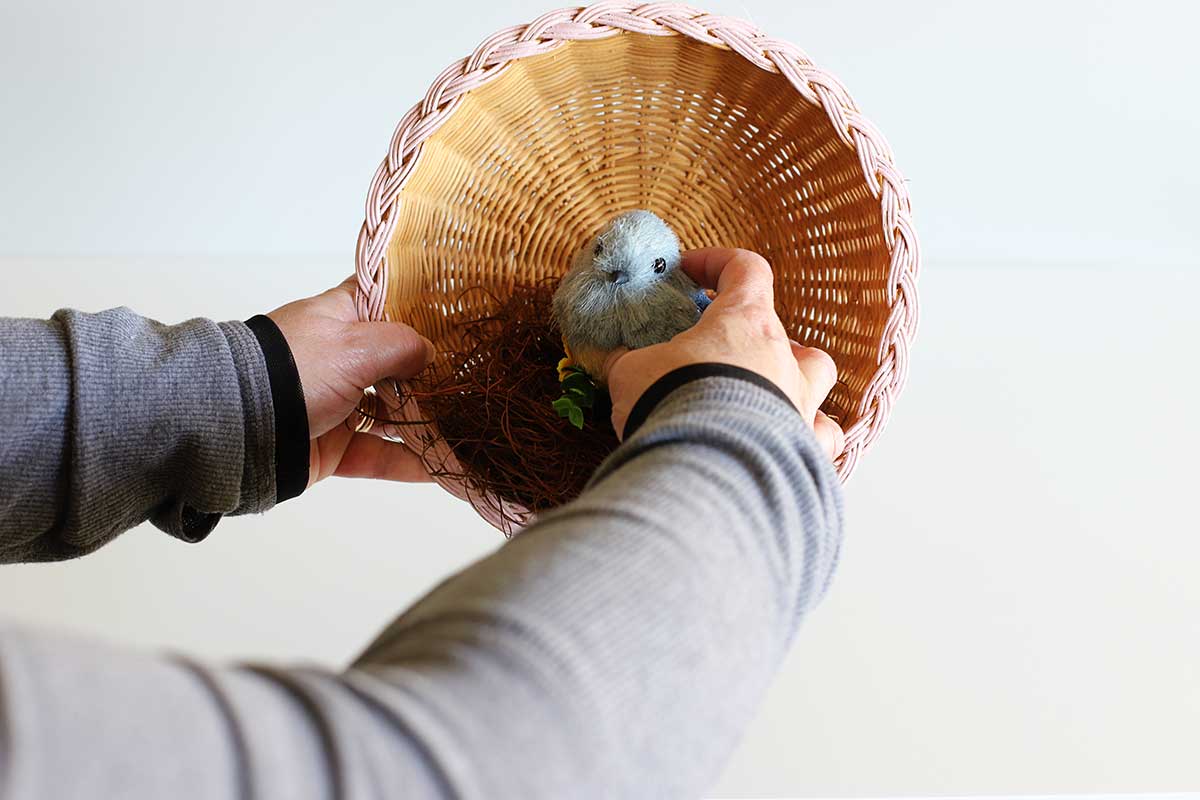 Not bad for ten minutes of your day. Now you can get back to binge watching Netflix.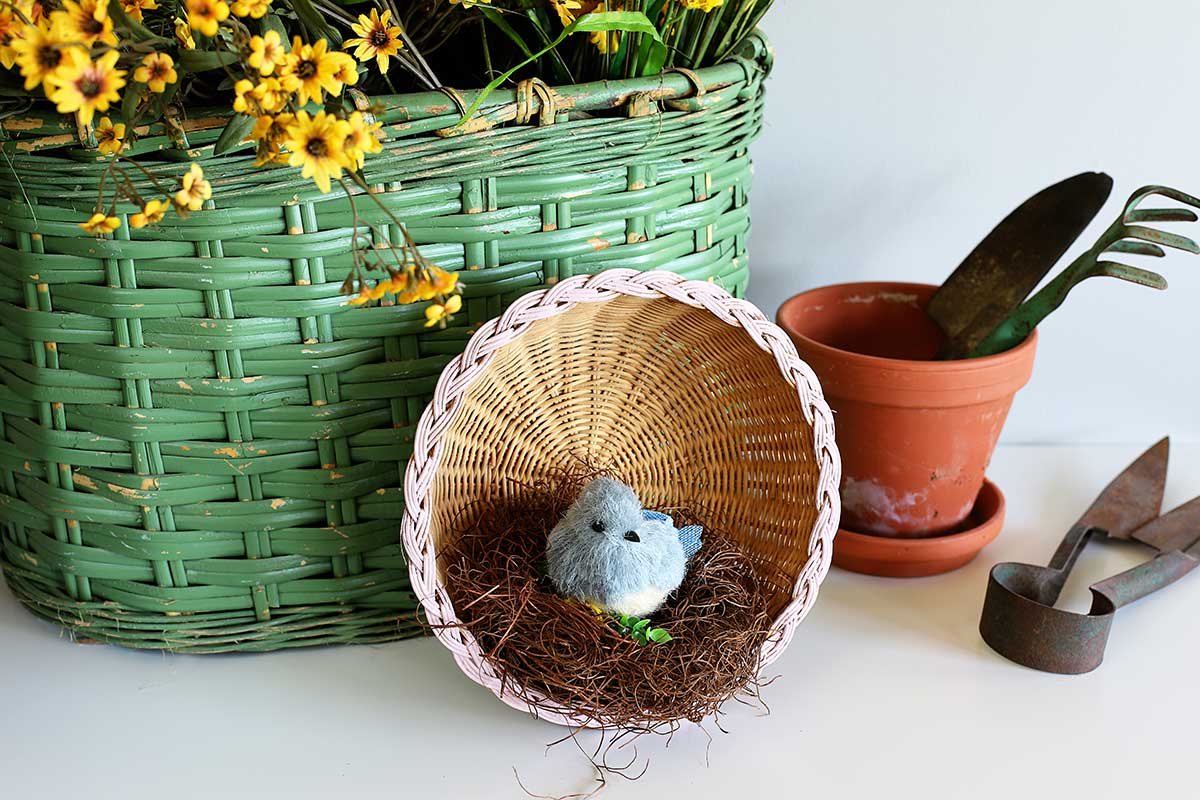 But before you get too involved in Tiger King, don't forget that today is Thrift Store Decor Team Day so pop on over to see what my friends have put together for you!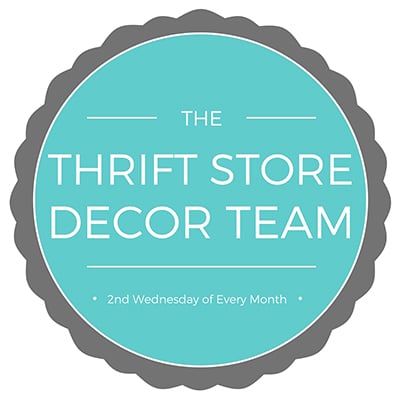 Painted Stripe Basket Makeover - Our Southern Home
Cookbook Organizer - Petticoat Junktion
Herb Saver From Decanter Tantalus- Sadie Seasongoods
Floor Lamp Solar Lamp - My Repurposed Life
Thrift Store Decor Bird Nest DIY - House of Hawthornes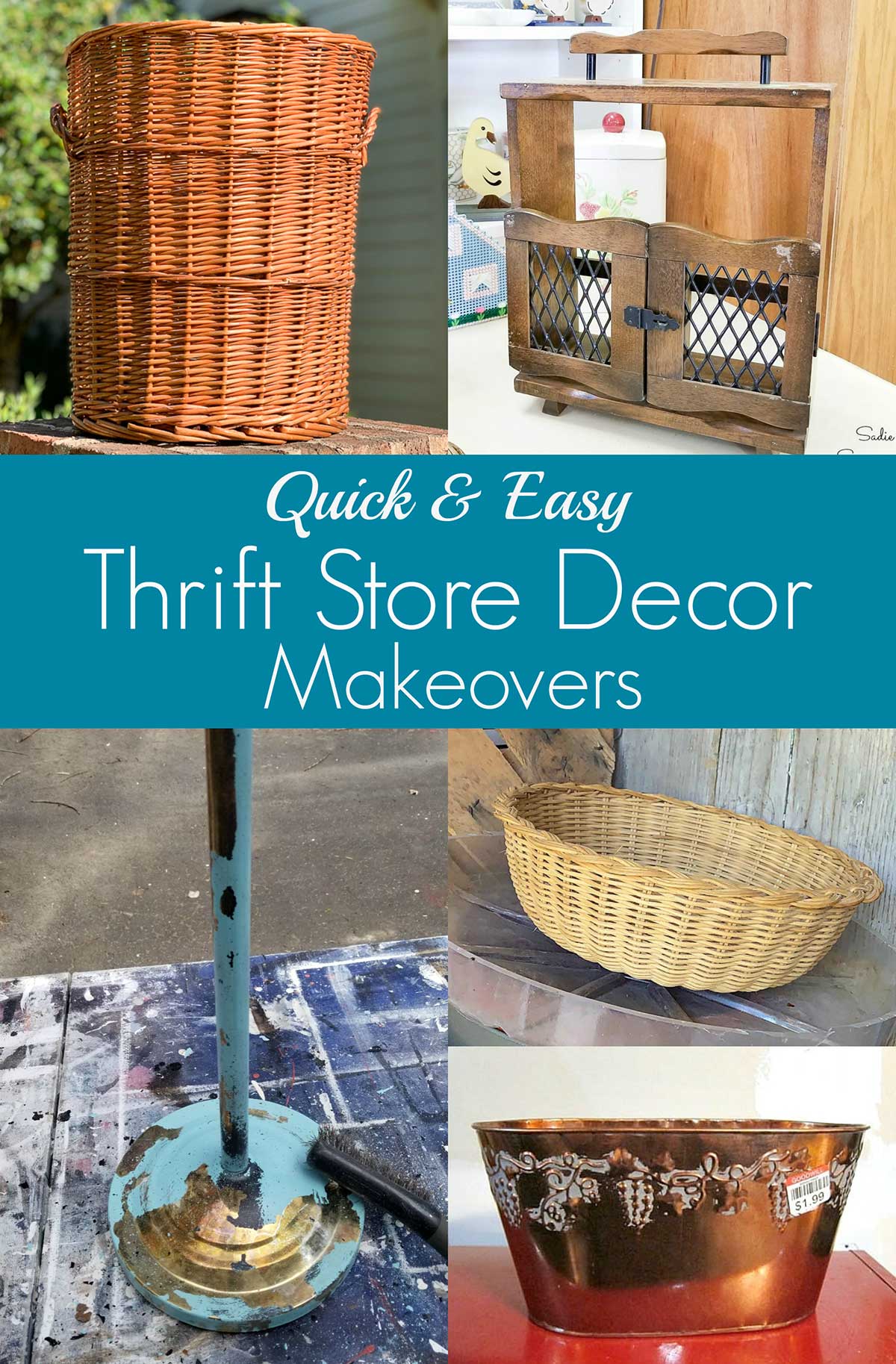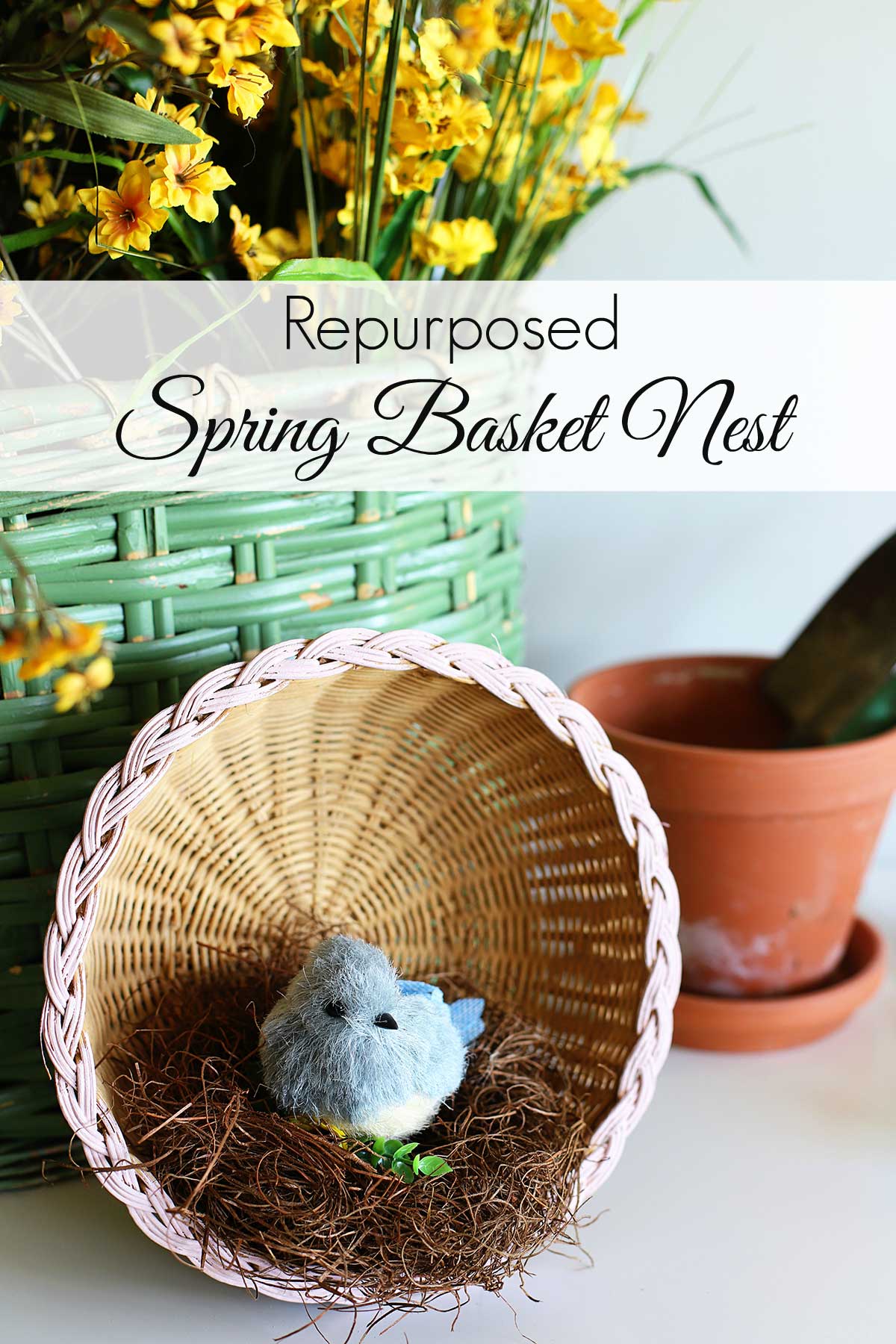 You May Also Like:
Upcycled Spring Home Decor Projects
Boho Succulent Garden From Repurposed Tray