Since I had a number of people email me asking about how I decided what to put on my heftier-than-it-looks bookshelf and how I decided how to arrange it, I thought I'd throw together a quick set of steps I normally do when I decorate a shelf.
And oddly enough, I didn't know I was going to write about this when I was taking the photos for my previous post, so I sort of un-decorated it and decorated it again so I could share some "process" photos.
You are welcome!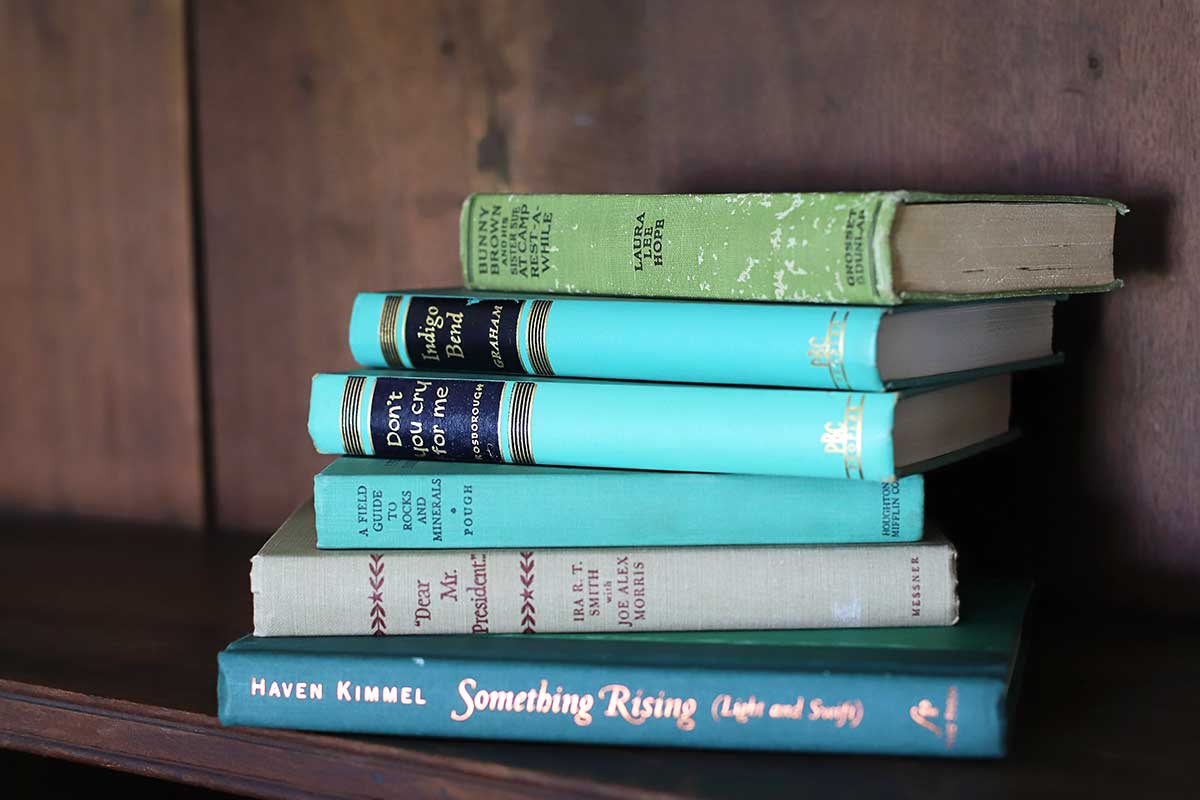 Steps To Style A Bookshelf
Start With A Blank Slate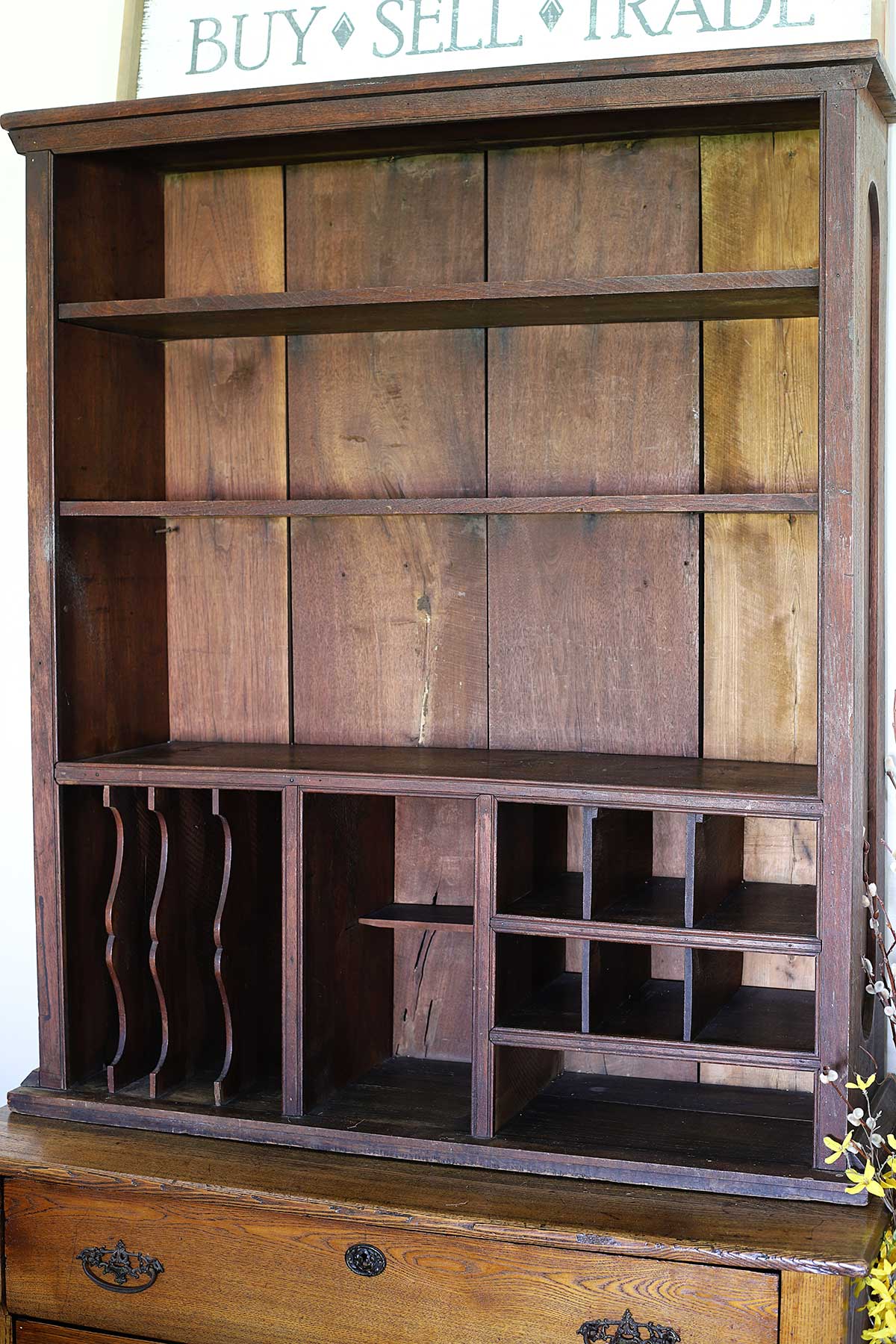 Assuming you have had the bookshelf for a while, go ahead and clear off everything you have on it right now and set the stuff to the side. Yep, just pile it all on your coffee table or floor for right now. Neatness does not count.
While the shelves are empty, give them a good dusting and waxing if needed, so you can start fresh and clean.
And spider-free.
It also gives you a chance to view your shelves without the distraction of the previous clutter.
Decide On A Theme Or Color Scheme
It's easiest if you have a color scheme or theme in mind, just something to start you off with so you can gather some like-minded pieces from around the house.
Do you want to decorate for a holiday? Or a Season?
Do you want to decorate in a style? French Farmhouse? Boho? Mid-century Modern?
Any special color you want to feature?
I wanted something with a vintage decor style with a nod toward spring. And I also wanted to use a few pieces of green as a focal color throughout the shelves.
Place Key Pieces 1st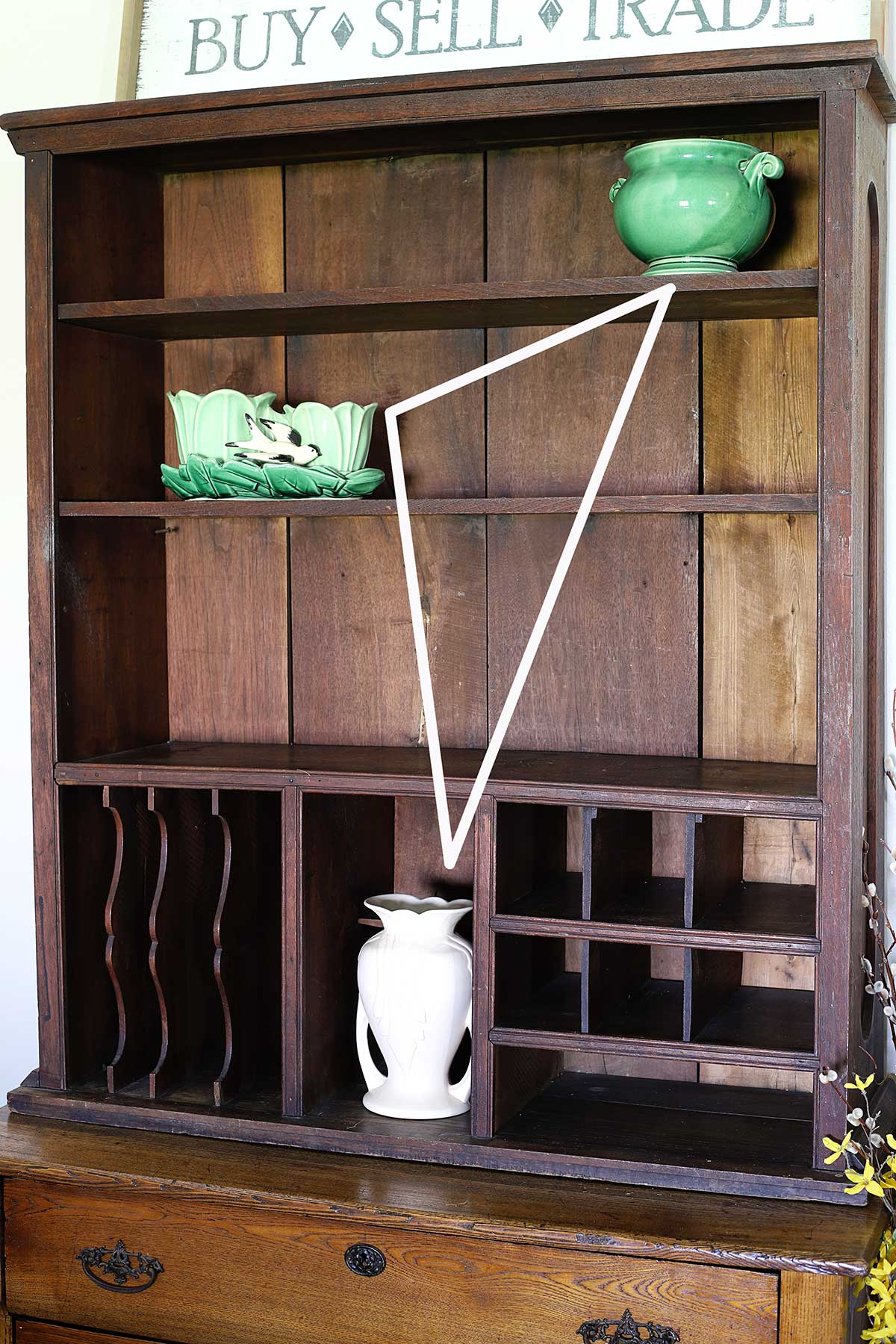 Place a few large, focal pieces on the shelves. I like to have at least 3 substantial pieces to decorate around.
Stagger them by putting them on different shelves and on different sides of the bookcase. I try to go for a loose triangle look (one to the right, one to the left, one to the middle).
If I remember my geometry correctly, the "loose" triangle is a scalene triangle.
Add Some Secondary Filler Pieces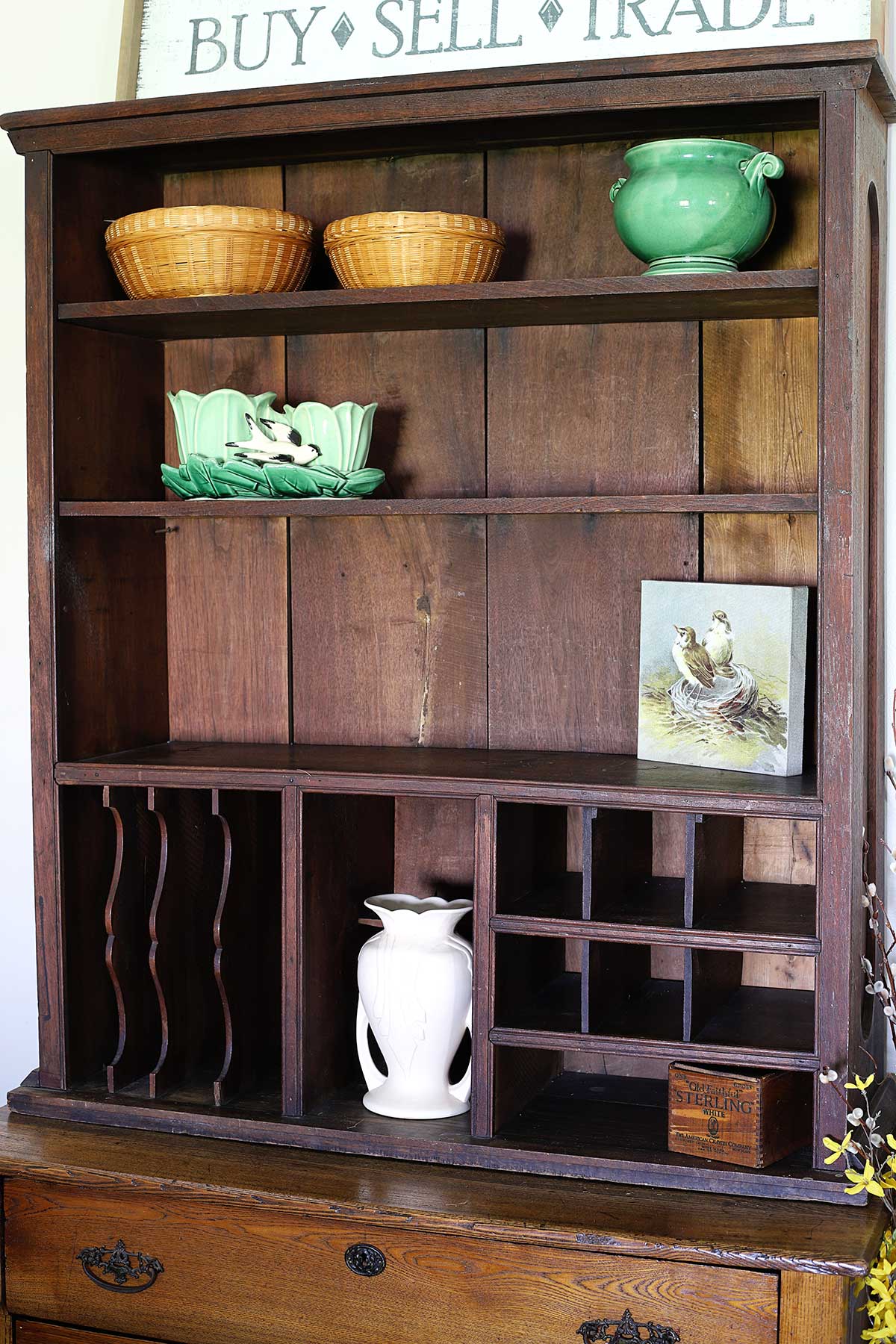 Your secondary filler pieces are not meant to be focal points, but just little bits of interest. To take up space, but also be decorative.
I added a few vintage baskets with a nice texture, a piece of artwork with birds on it and a wooden crayon box.
Books Are So Versatile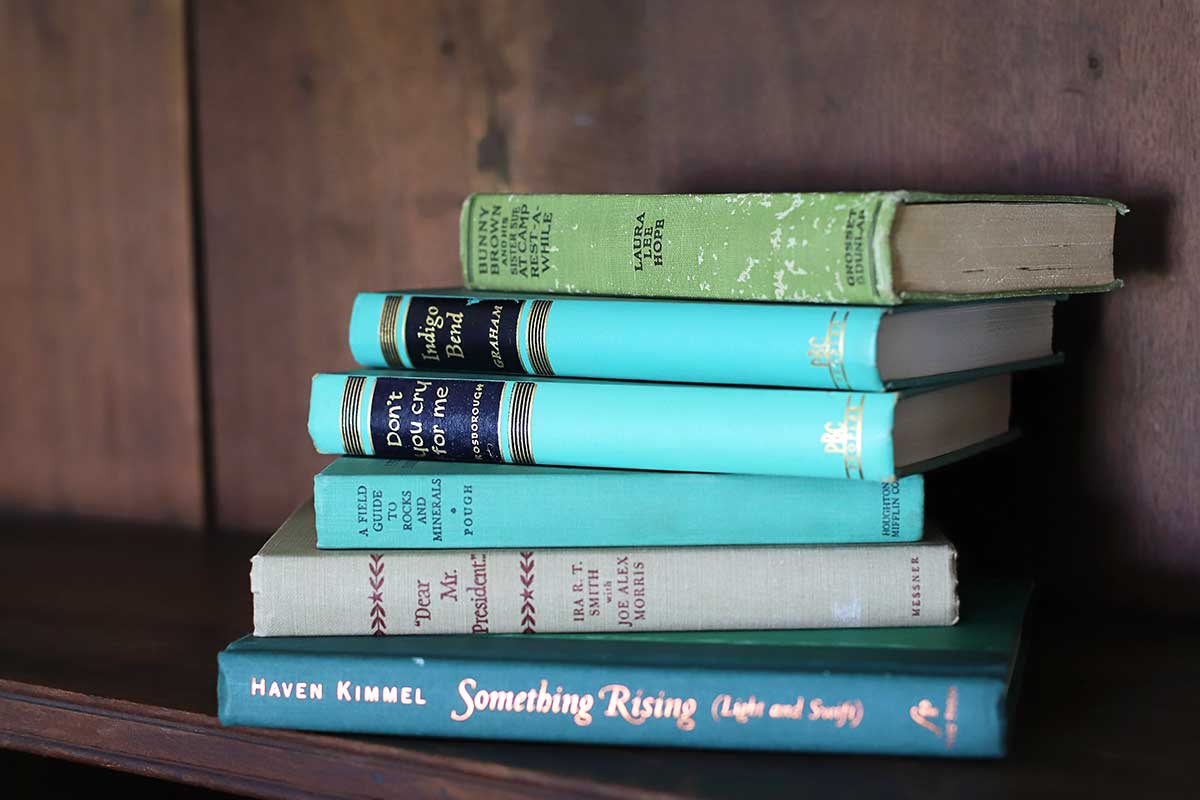 I hate to say you should put books on a bookcase, but yeah . . . put books on a bookcase.
Your books can be either stood up side by side in a traditional fashion or stacked on their sides to create "pedestals" to give height to other items.
I think it's fun to go with a color scheme if you can.
I went with a turquoise and green color scheme for books in varying shades, but you can easily just go with a bunch of books you have regardless of color.
Or with books you enjoyed reading (go figure).
And if you don't like the look of different colored books, you can turn the books around so the pages show and the spines of the books face the back of the bookcase. Boom, color problem solved.
Seasonal Items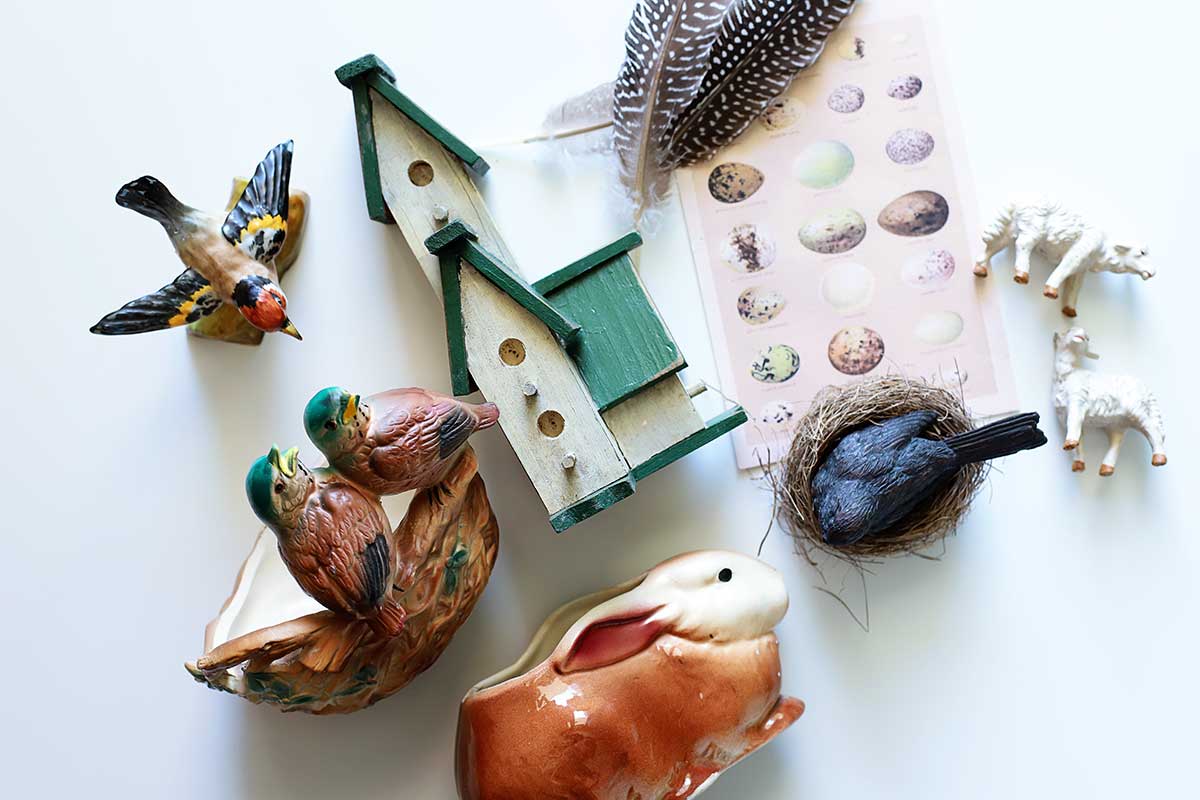 Add in some light seasonal items. I didn't want my bookcase to shout "Hey, it's spring", so much as giving a suggestion of spring-ish-ness.
Bird nests, bunnies, and ducks give the nod to spring I was looking for.
You can certainly be bolder in your seasonal decor. Honestly, this year I just wasn't into being as festive as I normally would.
Heck, I'm not sure what day it is right now.
But if it makes you feel better go all out, girl!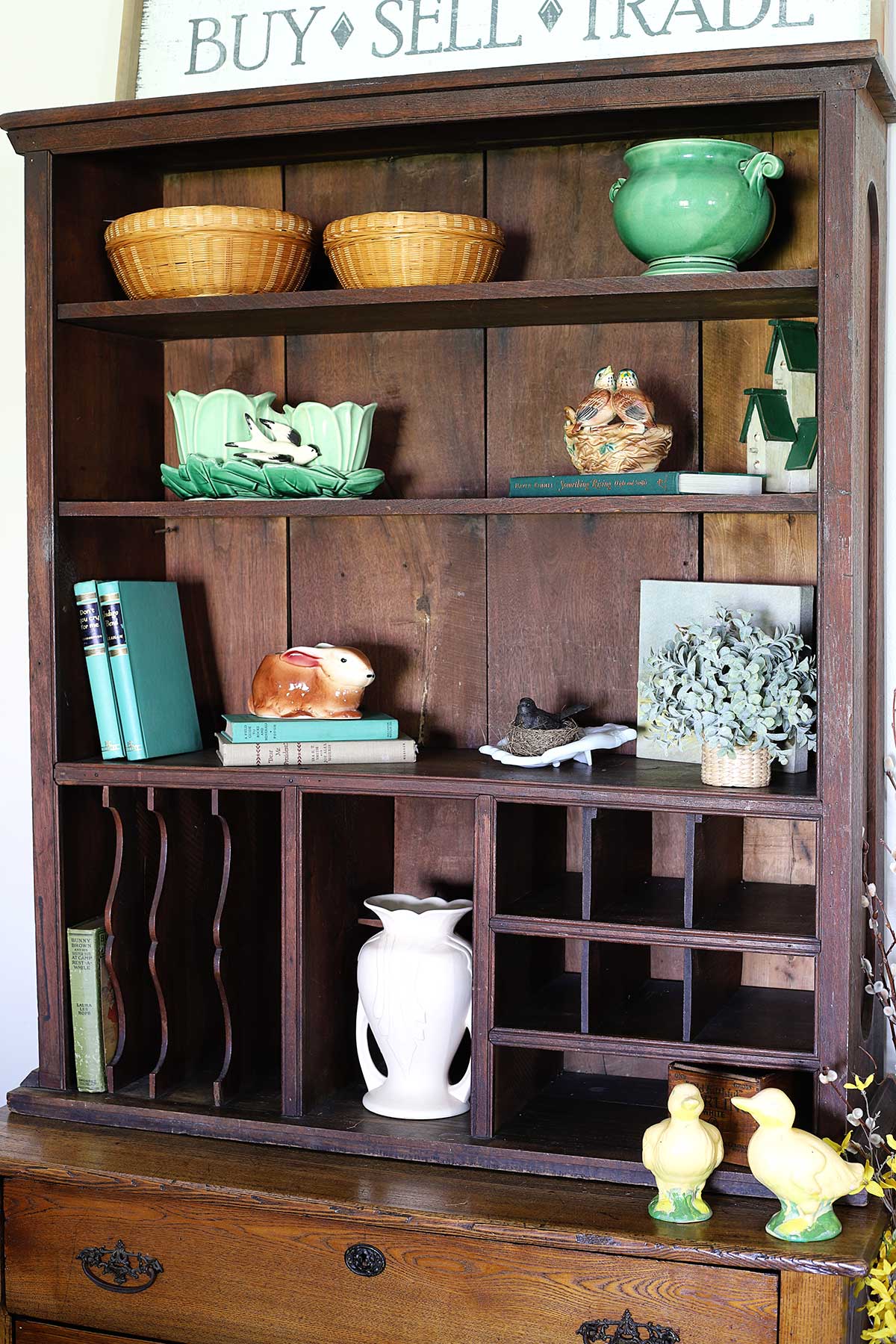 Notice how I used some of the books as pedestals for the bunny planter and birds nest planter.
Finish It Up
At this point, I stood back and scanned the bookcase for empty areas that needed a little more help.
I added in another bird (bottom, left) and some chalkware lambs (bottom, right), and the little print of bird eggs (middle of the middle shelf).
I also added a small green pitcher to the bottom right to give a little more balance to the green color of the shelves. And also added a small round seagrass basket to that area to mimic the look of the baskets on the top shelf.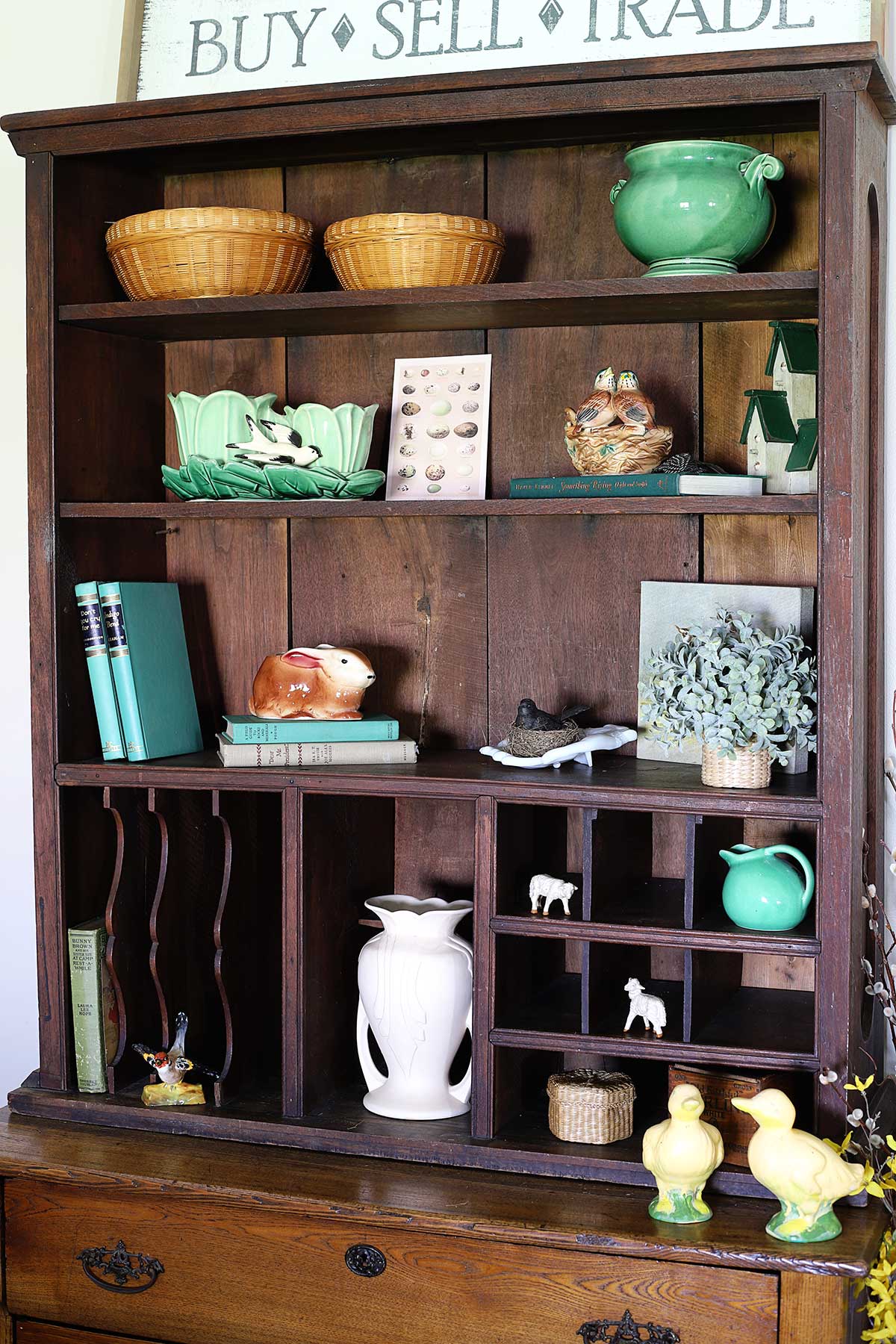 This is not a science, it involves a lot of trial and error.
Stepping back and seeing what doesn't look right.
Rearranging.
Stepping back and rearranging again.
Hopefully, my tips for arranging your bookshelf decor help you out. I am not an interior designer (as you can tell) or an expert, but I do love my vintage junk and love to play around with it!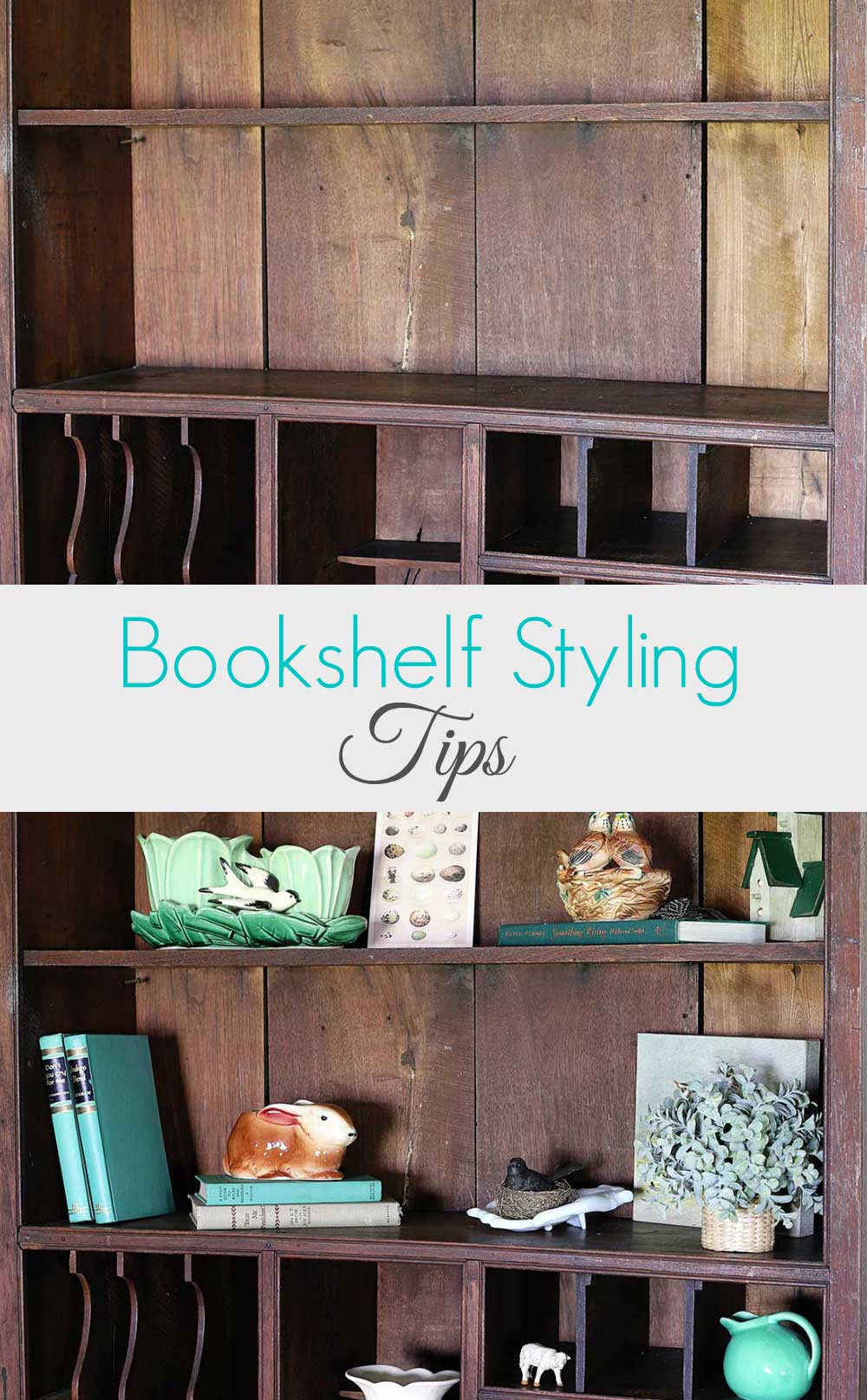 Edited To Add: For Christmas this year I added some fun vintage holiday pieces!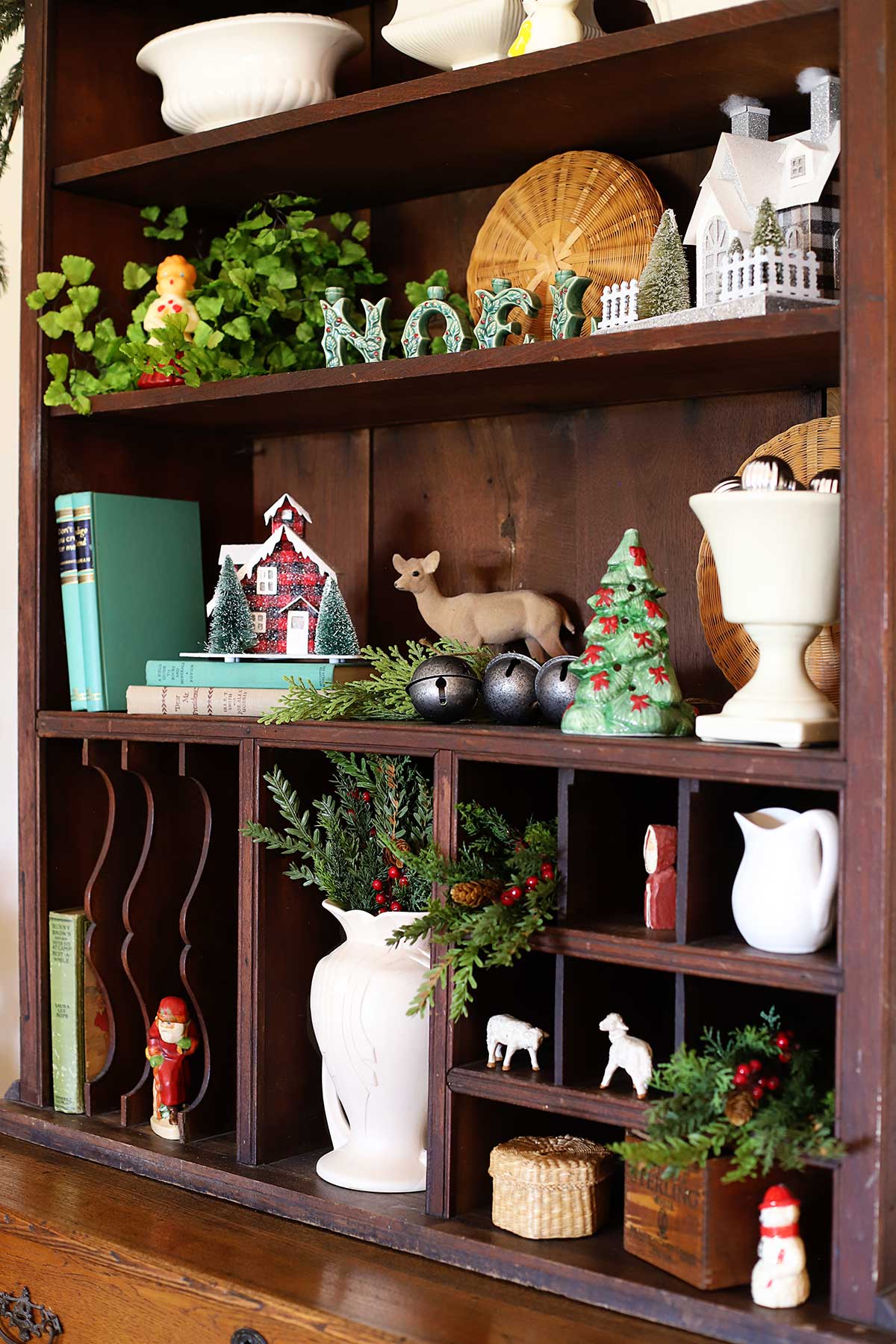 You can see the whole Christmas Home Tour HERE.
Other Posts You May Enjoy:
Upcycled Spring Home Decor Projects
Spring Decorating Farmhouse Style