Fall porch decor tips, tricks and inspiration. Your porch is the first impression people get of your home, so make it a festive one!
You guys, it's here!!! The officially unofficial first day of fall.
Sure, some people wait until after Labor Day to start in with the pumpkins and cornstalks. Or wait until the Equinox to start jumping around in leaf piles (Gasp . . . who can wait that LONG).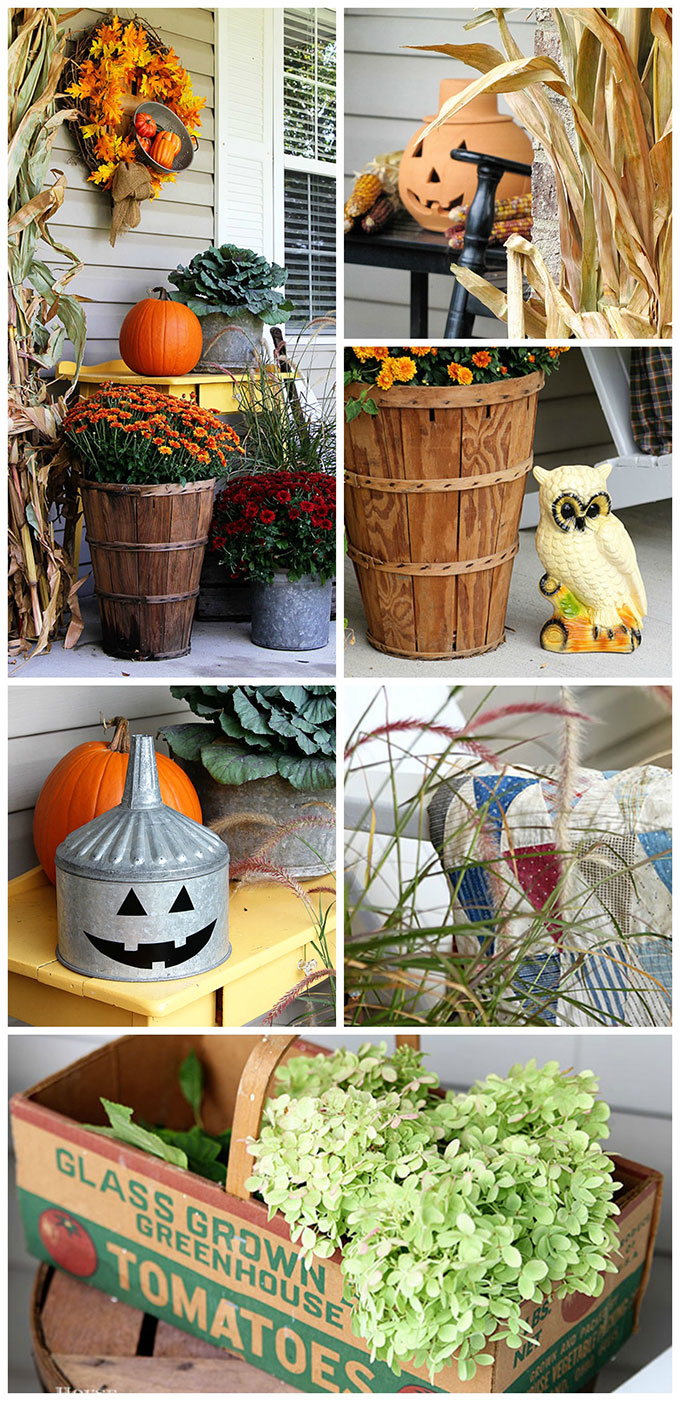 But no, I herald fall's colorful arrival on September 1st!!! I am giddy with autumnal excitement!
And all at once, summer collapsed into fall.

- Oscar Wilde
I have NO IDEA what I'm doing on the porch this year. N. O. N. E. But I do have a few tips for you . . .
Fall Porch Decor Ideas
Traditional is good. You can't go wrong with a hay bales, pumpkins and a festive wreath for your front porch fall decor. The old standbys shout FALL to anyone walking by.
Unexpected is good. As you can tell from my previous fall porch posts, I enjoy a bit of whimsy. Trucks hauling baby pumpkins, a wreath made from a picture frame and a thrift store "tacky' ceramic owl all bring an unexpected flair to a fall porch. Or as the neighbors call it - a bit of nuttiness.
Size does not matter. Contrary to popular belief, no matter the size of your porch, you can still do something pretty cool with it. I've seen some pretty festive porches that are basically just two steps and a door.
Cornstalks are a must. They really are a show stopper. Tie a cornstalk to a porch pillar or railing and it's instant fall gratification.
Orange isn't a requirement. Don't like the oranges and rusts for fall? Fall can be achieved with creams, whites and greens also. There's a pumpkin out there for everyone's decorating style nowadays.
Candy corn is good. Eating a bag of candy corn while decorating your porch makes it all the more enjoyable. Swimsuit season is gone - I say go for the big bag!
To get YOU further in the mood, I dug around my fall archives and put together some fall porch ideas for your viewing pleasure. Sit back poolside, grab a margarita and dream of the cooler weather coming our way!
Any fall decorating plans for the weekend? Or are you planning on squeezing out the very last drop of summer before it's "officially" out of here?

View the web story version of this article HERE.
---