How to make super cute vintage camper Christmas ornaments. Perfect for a camping, beach or travel themed Christmas tree.
When Treetopia asked me to decorate a tree for their Treetopia Summer Spree with my favorite summer destination in mind, I immediately knew where I was going to "go"!
Florida.
But not any old Florida.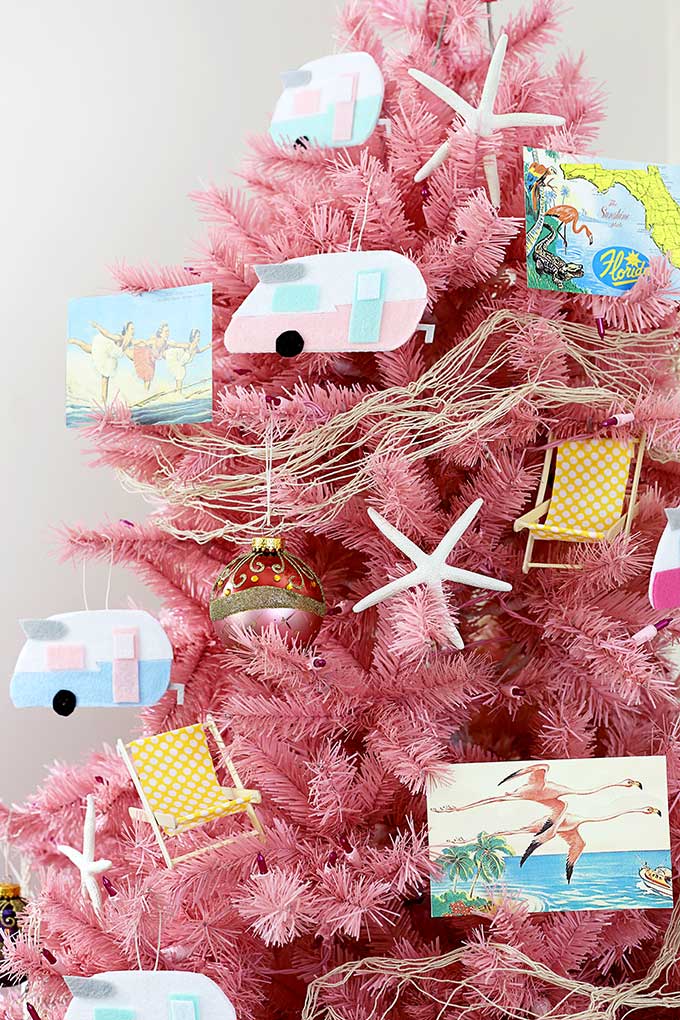 Vintage Florida, circa 1960's, baby!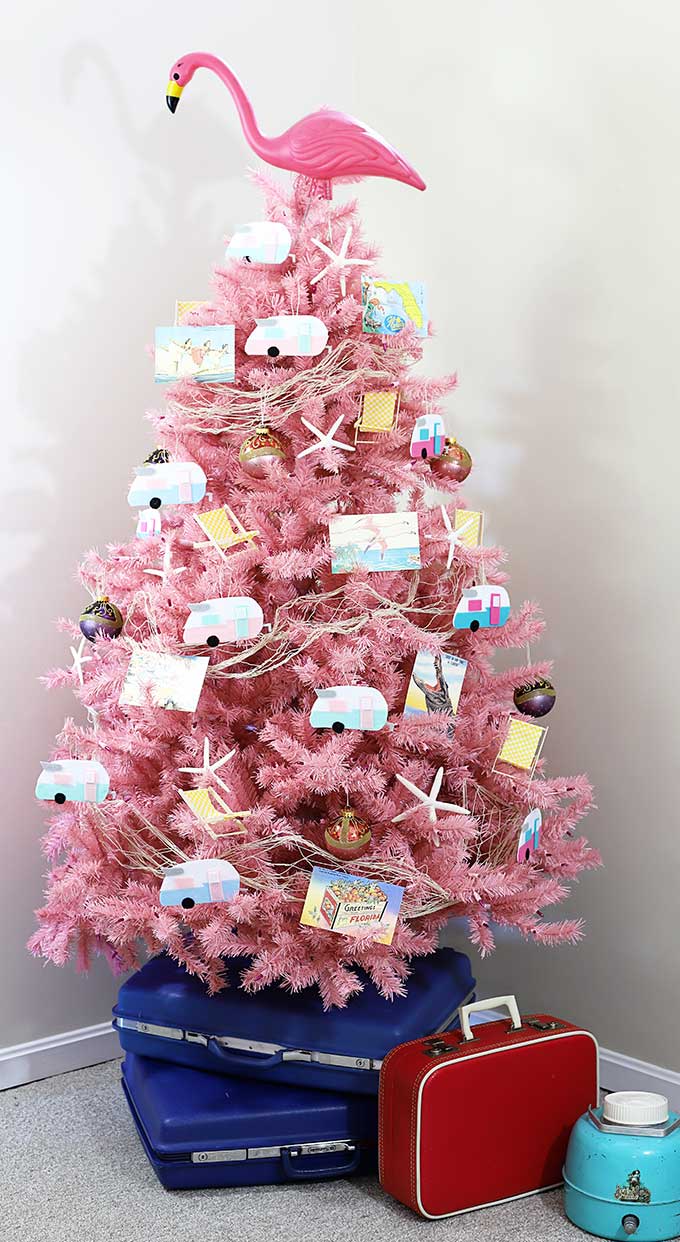 Land of kitschy trailer parks, flamingos and days full of sitting in a beach chair wiggling toes in the sand. There's nothing more relaxing than THAT!
And when I think of Florida in the 60's, it's full of corals and pinks and minty greens. So this pink tree from Treetopia was PERFECT.
BTW, this post is sponsored by Treetopia who provided me with this Pretty In Pink 6' Christmas Tree that I just adore and can't stop staring at!
All oohing and aahing are my own opinions. This post also contains some affiliate links for your convenience. You can read my full disclosure policy here.
I decorated my tree of lusciousness with vintage campers, beach chairs, star fish, vintage Florida post cards, decorative fish nets and the above mentioned pink and plum ornaments. Oh, and did I mention a big old flamingo?
This guy (or girl?) was setting in my yard last year and now he's setting atop my Christmas In July tree! Talk about job promotions!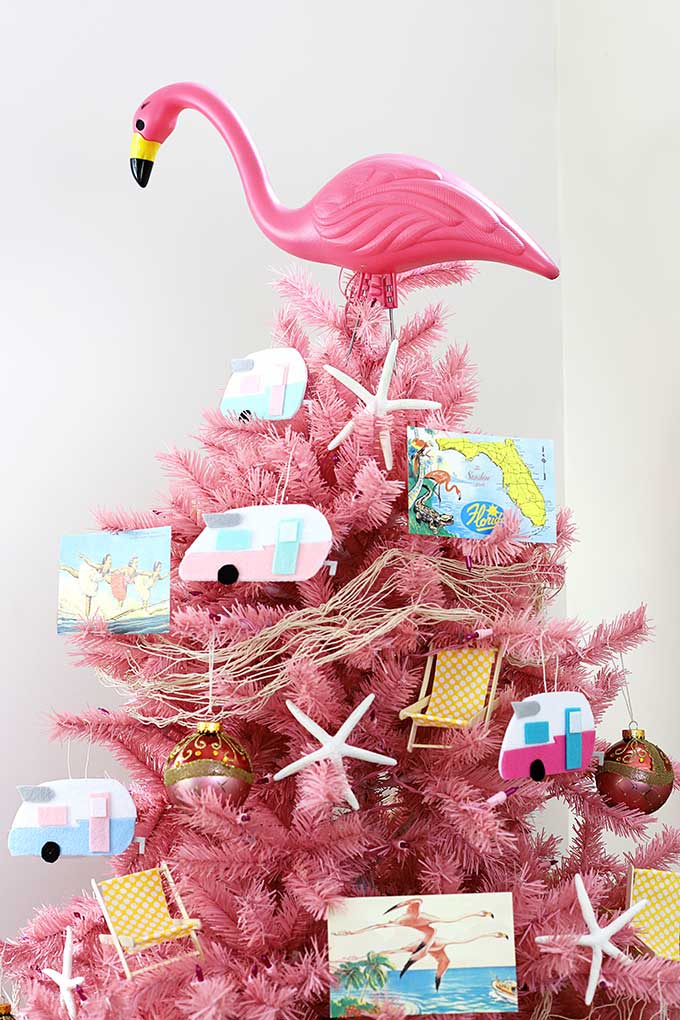 But what says summer travel more than vintage suitcases!
I found these 2 blue Samsonites at the local thrift store and thought they would be perfect for a tree stand.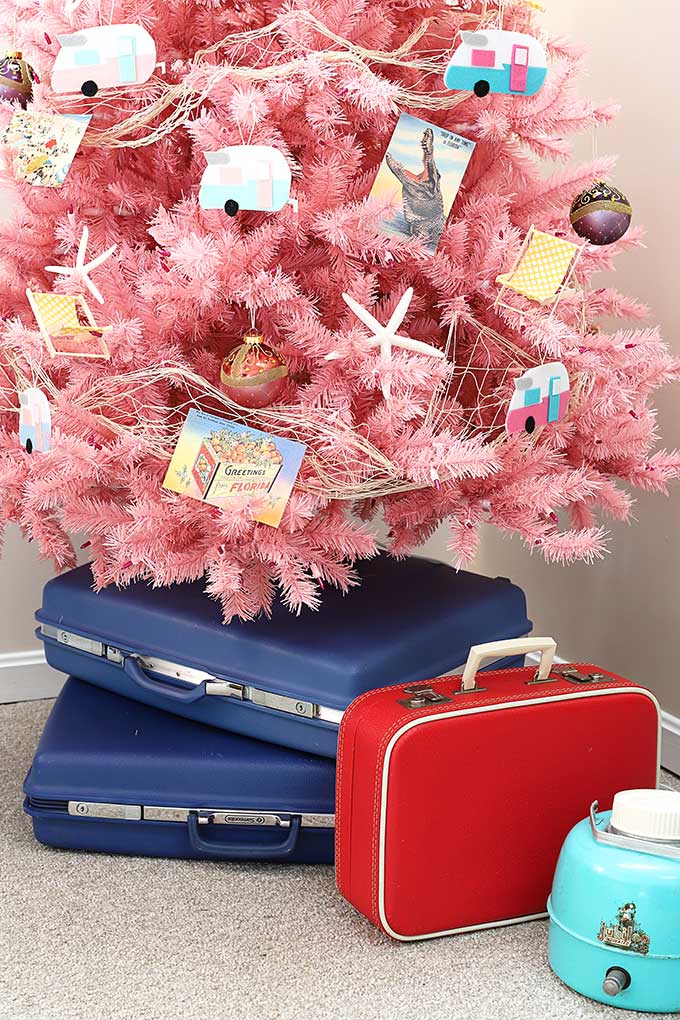 The extra special cute red one with the Bakelite handle was bought on Etsy. (I told you I was buying a lot off Etsy recently!)
Here's a few tutorials on some of the items I created for this tree!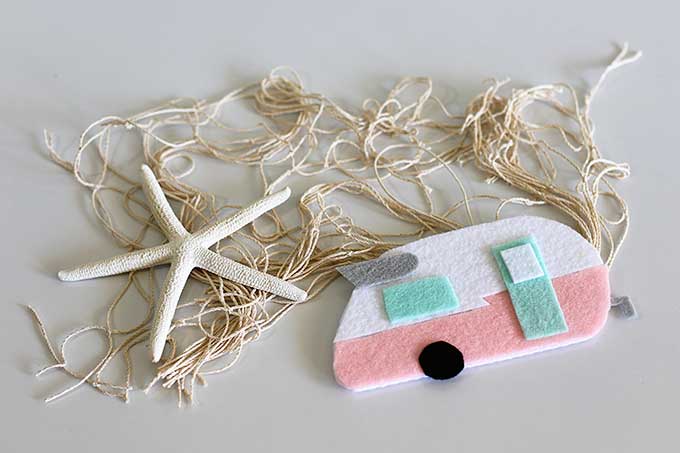 Vintage Camper Ornament Tutorial
Supplies:
8x12 felt sheets in gray, black, and festive colors
8x12 felt sheets in white (the stiffer, thicker felt is best since this will be the backing to the camper)
Scissors
Aleene's Fabric Fusion or Quick Dry Tacky Glue
Cording or string to be used as hangers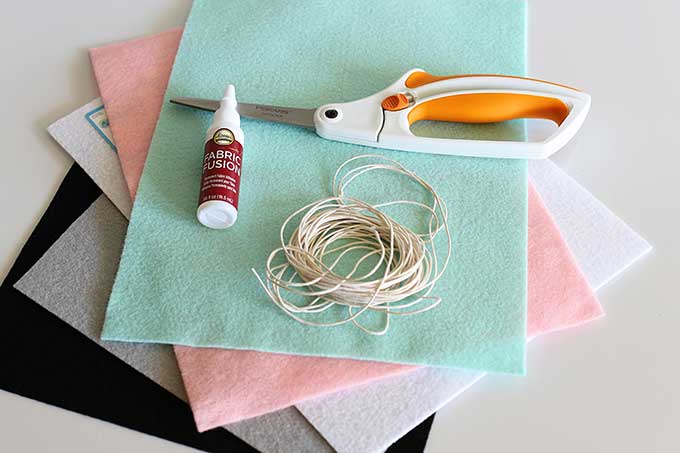 Instructions:
Get my printable pattern for the campers and cut apart your template pieces.
The part that says "Base" is the backing for your camper and the other items will be glued on top. The "Base" it what gives your camper some stability.
Place your template piece on your felt and use it as a guide to cut out your felt camper parts.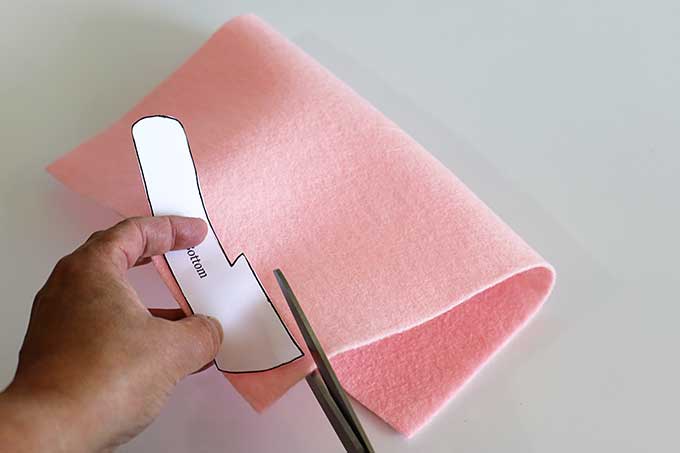 Glue your hanger string onto the front of the full camper body.
And then glue your colored bottom to the bottom of the camper, followed by gluing your white top to the top of the camper. Make sure you align your thunderbolt correctly.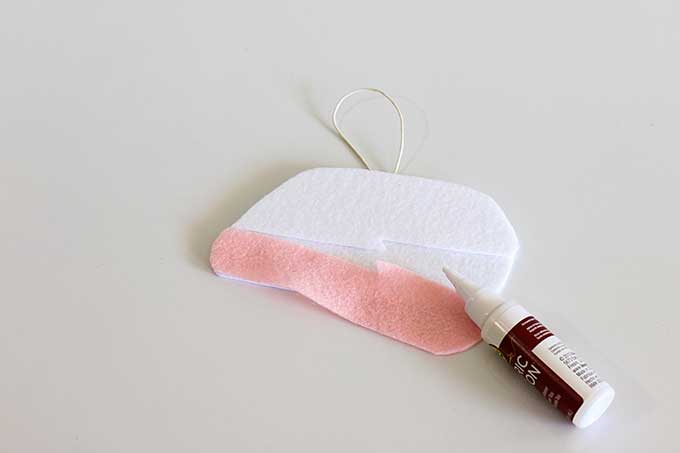 Glue your door, windows, wing and then trailer hitch. I found it easier to glue the hitch AFTER the body was mostly dried since it's the only piece glued to the back.
Now you're ready to hang your retro trailer on your tree!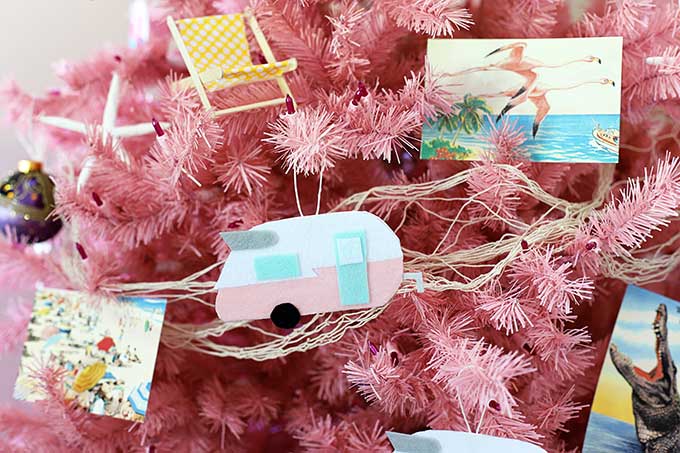 NOTE ON THE GLUE: The fabric fusion creates a really STRONG bond, but at first glance you may think it isn't holding! It takes a little bit of time for the two pieces of felt to "fuse" together, you just need to be a little patient!
Vintage Florida Travel Postcards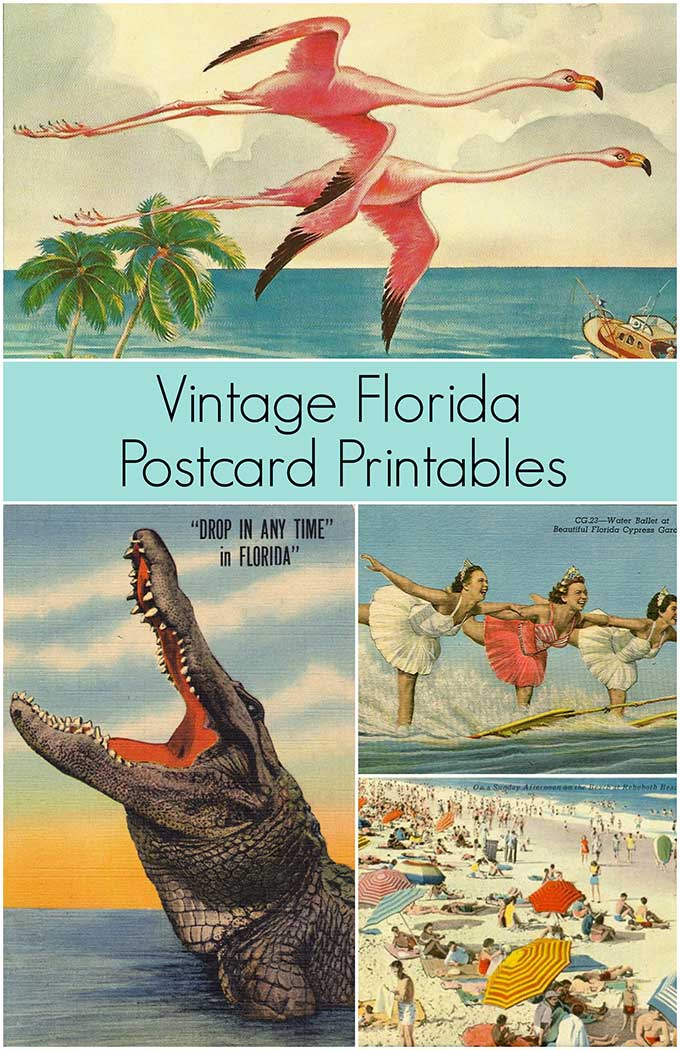 I never use real vintage postcards in my projects, because I don't want to mess them up (they've lasted 50 years out in the wild, I'd hate to be the one to destroy them now). But I did scan my own personal Florida postcards for you so you could print them out on card stock (much thicker than regular copy paper) and use them for your own Florida tree. Or to just tuck around your house for some instant tropical charm.
Miniature Beach Chair Tutorial
Here's a video on how to make those cute little polka dot beach chairs, so dust the sand out from between your toes and get your glue gun ready.
If you prefer, you can watch an
ad-free version of this tutorial on my YouTube Channel HERE
.
Making The Suitcase Tree Stand
To make the tree stand, I drilled a hole (blasphemy) into the side of the top suitcase, opening up the suitcase and setting the tree stand in the suitcase. I then closed the suitcase with the Christmas tree stand "pole" poking out the top.
And then that suitcase is just setting on top of the other one. Since the Samsonites are sort of slick, I stuck a sheet of drawer liner between them so the tree wouldn't slide off. Of course you could use construction adhesive to permanently glue them together, but I thought that the drawer liner would be a better choice if I want to use the suitcases for other purposes later. Like actually travel to Florida in style!
Now, Treetopia has plenty of traditional green trees. But they also have tons of colored ones!!!
I'm sort of partial to this pink one, but there are tons of other choices if you want to spice it up for the upcoming holidays! Blue, Red, Orange. Even a candy cane striped tree and a rainbow one!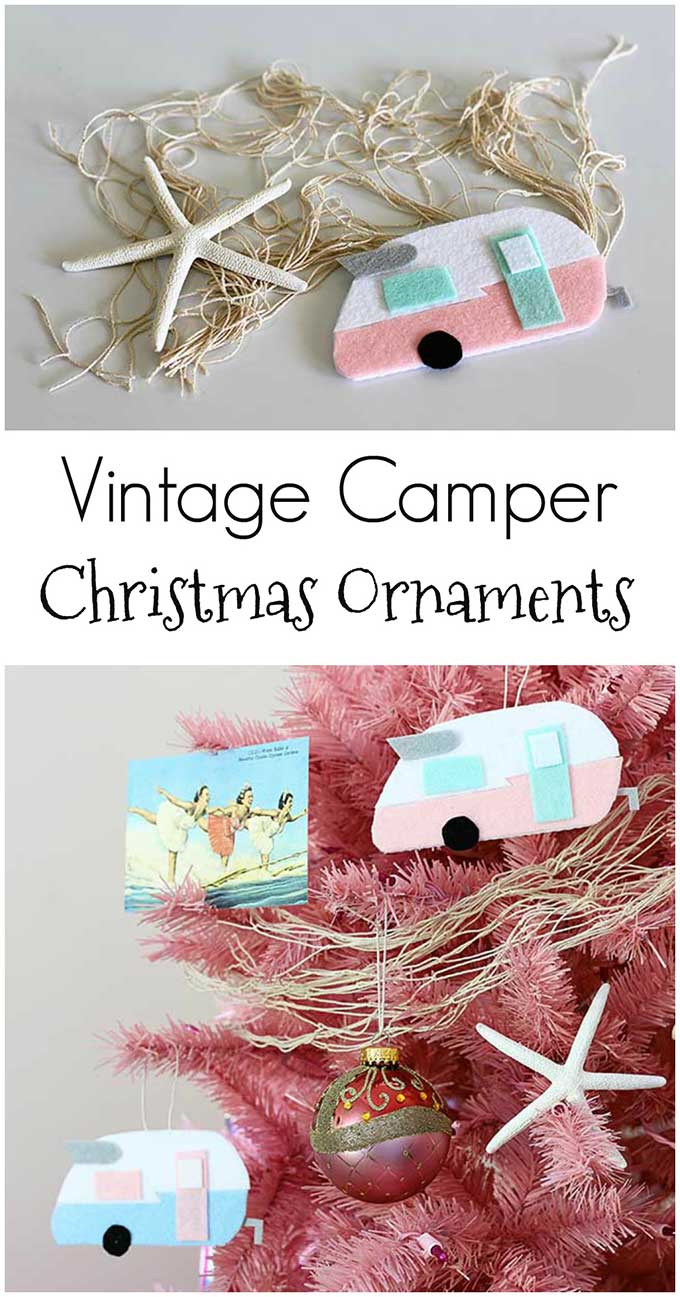 Other posts you may enjoy:
Pink Flamingo Home Decor Ideas
Retro Christmas Decor Around The House
Retro Handmade Christmas Diorama Ornaments