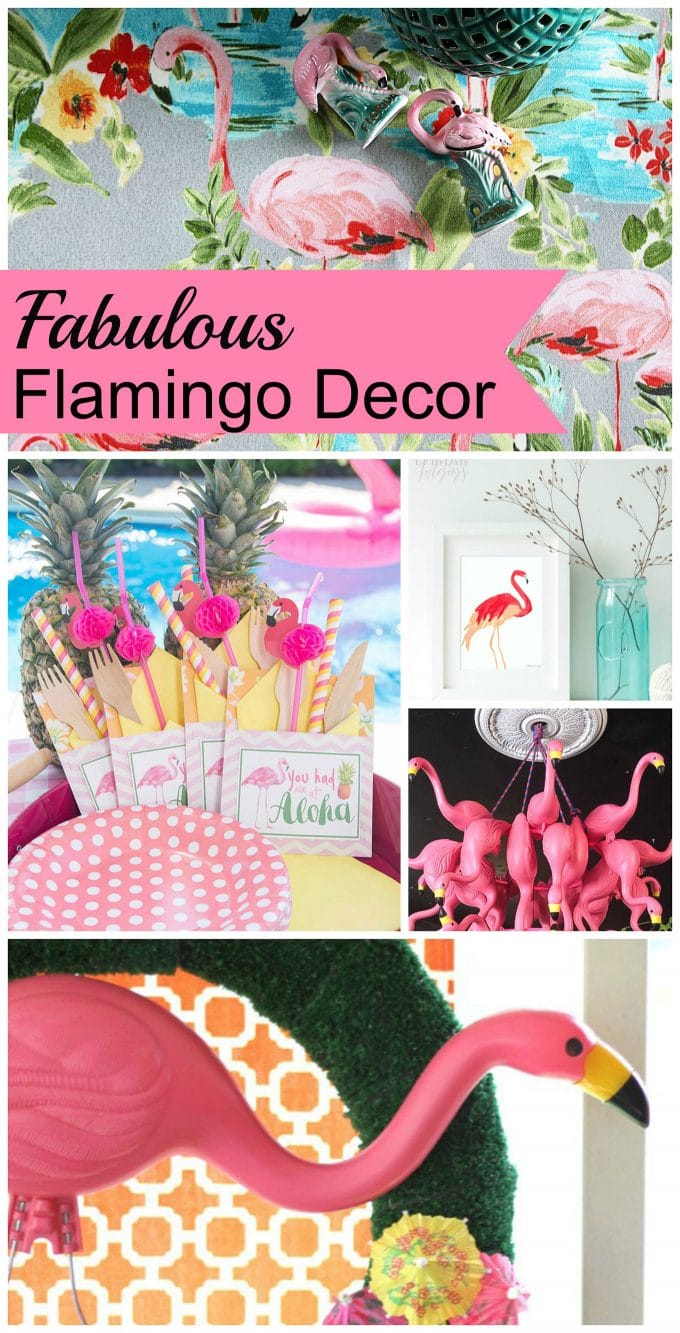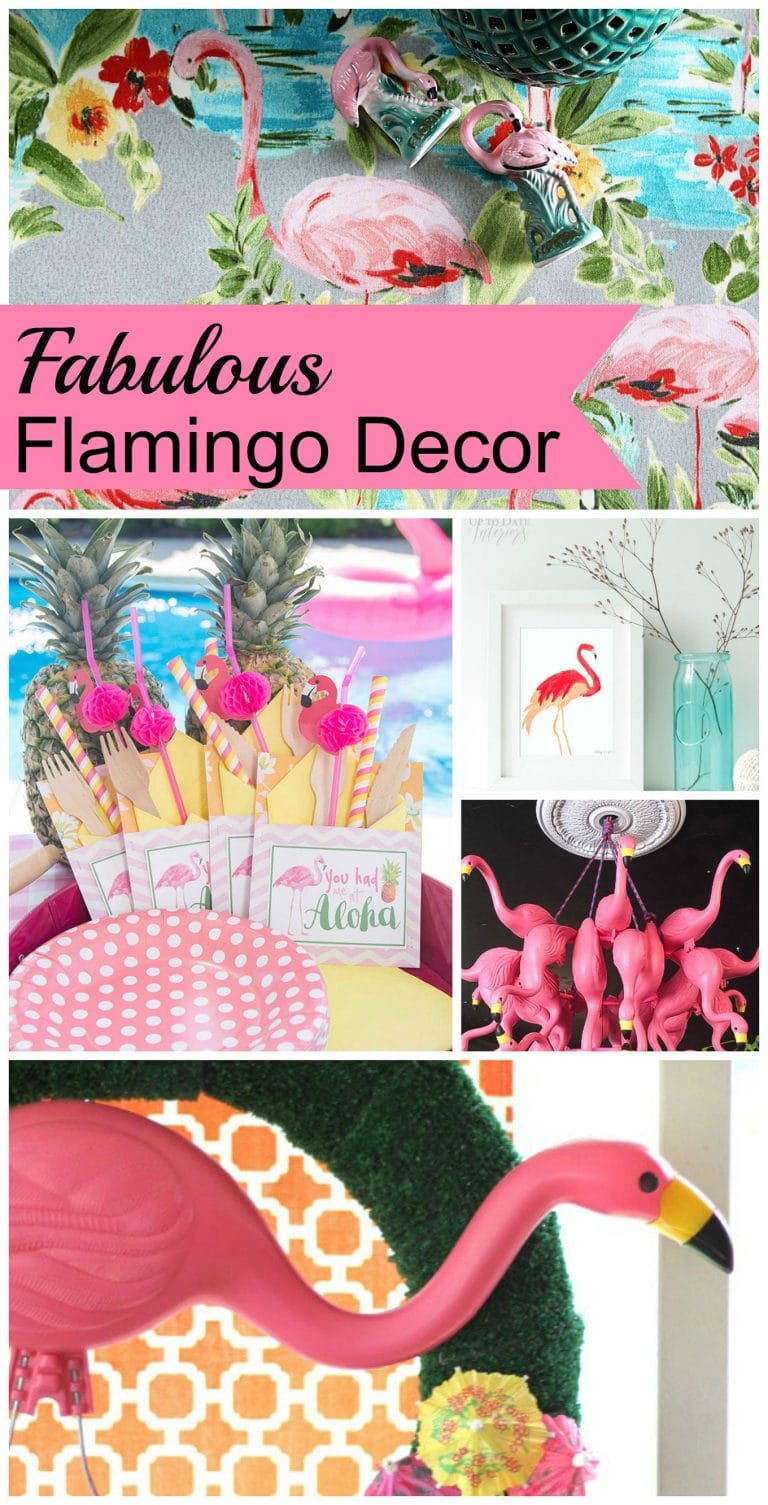 Look. There's one thing you need to know about me. I like pink flamingos!
Sure, some people think they are gaudy. Or tacky. Or just plain ugly.
But in my opinion, the world would be a little less fabulous and a lot less colorful without a heaping dose of pink flamingo decor.

The other day I was at JoAnn Fabrics and got all gaga over this fantastic flamingo fabric they have this year in the outdoor fabric section.
I mean REALLY!
How cute is this fabric?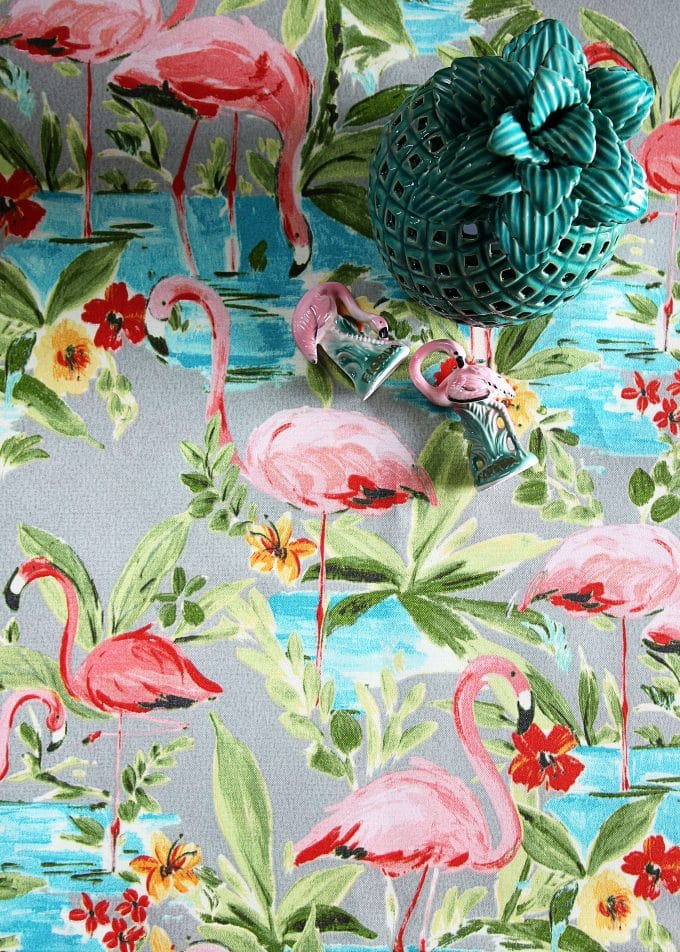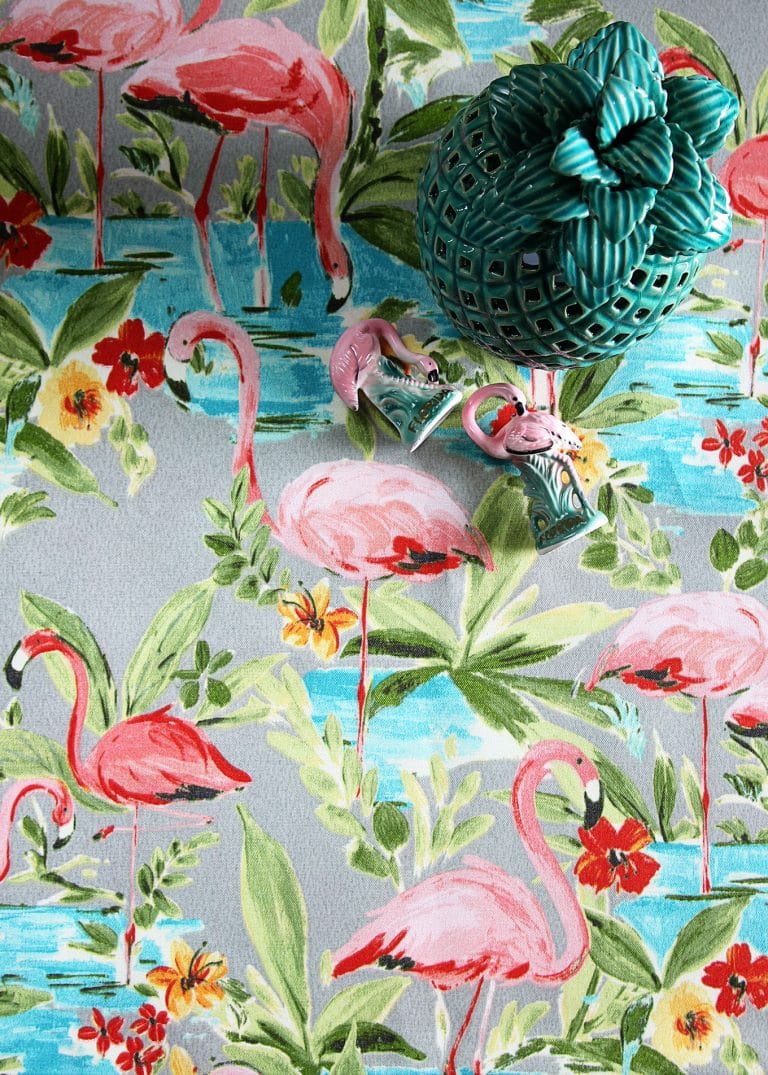 It sort of reminds me of barkcloth fabric from the 50's.  Except it's not really as textural as barkcloth normally is, but it definitely has the look!
I had actually seen Stacy from SheLovesVintage67 on instagram show some curtains she made for her bathroom out of this fabric.  If you're on instagram you can see her curtains HERE.   So I ran right down to JoAnn's and scarfed up enough flamingo fabric for some pillows for my porch before EVERYONE ELSE IN THE WORLD FOUND OUT ABOUT THIS STUFF!
While there, I found a cool blue-green pineapple lantern that lights up (they call it turquoise, but I beg to differ JoAnn's, it's a blue-green).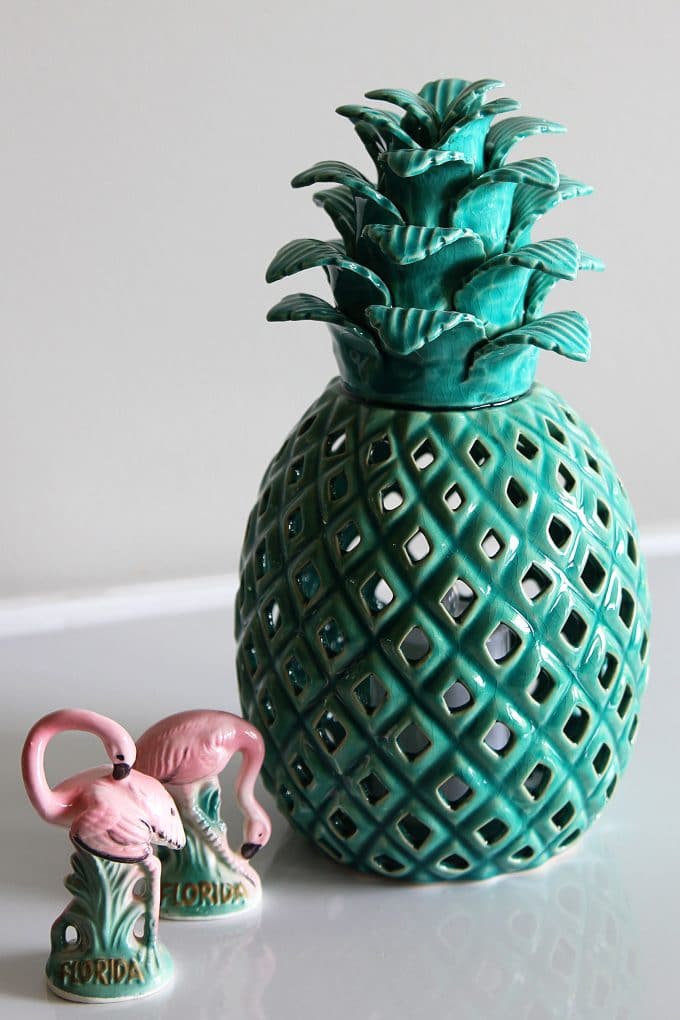 Am I the only one who can't just run into JoAnn's to get 1 stinking thing without buying 4 other things I really don't need?  I swear it's worse than Target for me.
Now all I need is a tiki bar and a bottle of rum and I'm all set for summer!!!
Oh, and the salt and pepper flamingos are vintage from the 50's I think.  I'm going to go out on a limb and say they were bought on a trip to Florida.
Just a hunch.
(This post contains some affiliate links for your convenience. You can read my full disclosure policy here.)
If you want to get your own flamingo fabric you can find it here – – – – > fabulously funky flamingo fabric (or your local JoAnn store most likely – don't forget, it's in the OUTDOOR fabric section)
And you can find the pineapple here – – – – > pineapple outdoor candle (it comes in white and yellow too) or at your local JoAnn store.
I got to thinking that I cannot be the only person who loves pink flamingos, so I scoured around on Pinterest and found some other neat flamingo projects and ideas.
Pink Flamingo Decor & Projects
Melissa at Polkadot Chair has some very cute summer pink flamingo party ideas.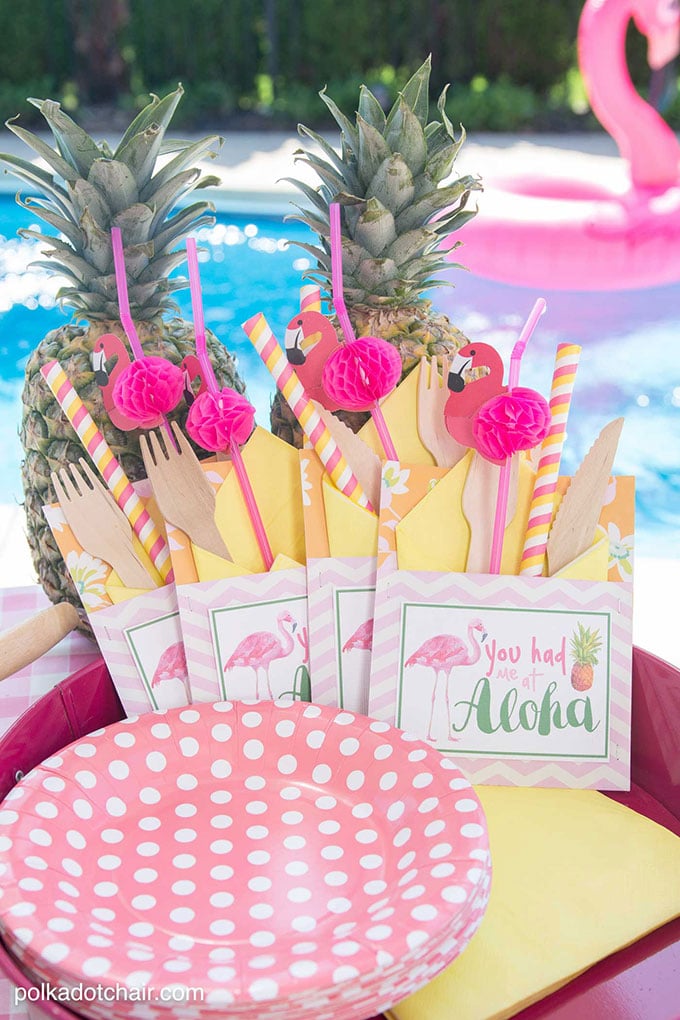 Kathy from Up To Date Interiors has a free printable of a pink flamingo.  I believe his name is Fred.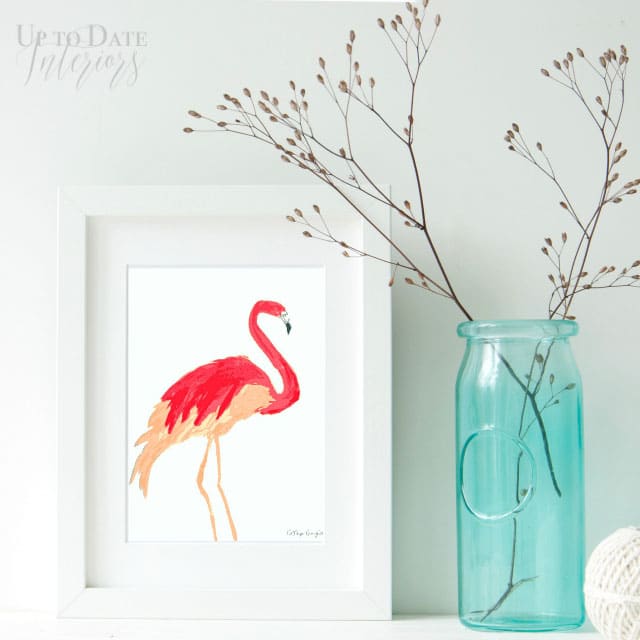 Jenna at Rain On A Tin Roof made this adorable pink flamingo wreath!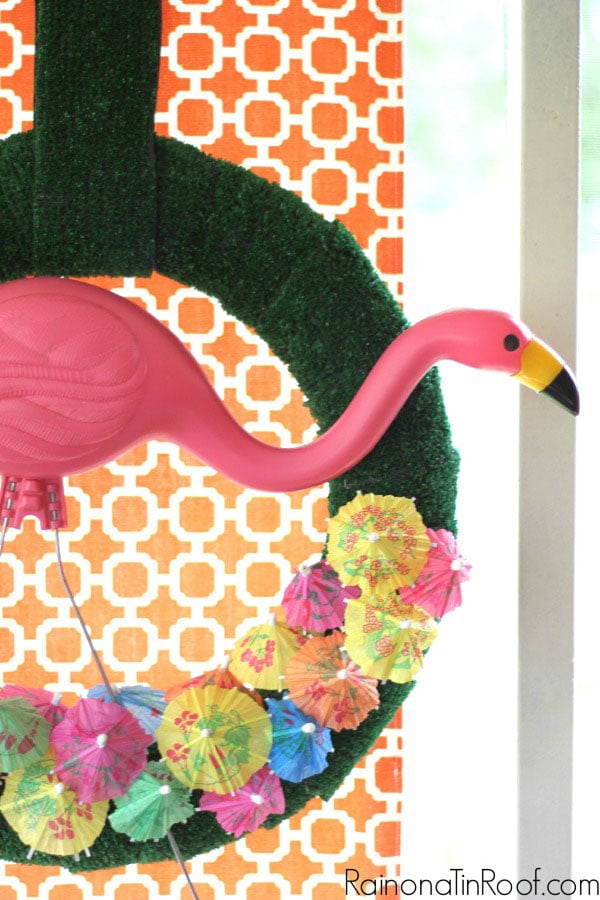 Leigh Anne at Houseologie stenciled her bathroom with flamingos, but not the typical pink ones!!!!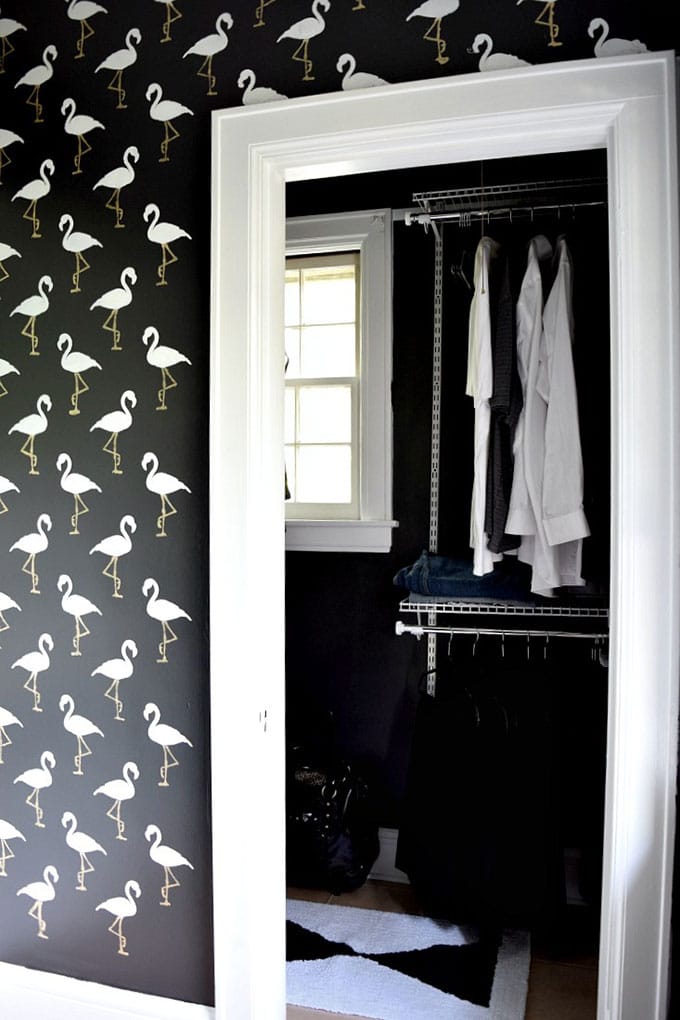 Bev at Flamingo Toes made a super funky trophy head out of a flamingo.  It may have involved sawing the neck off the little guy.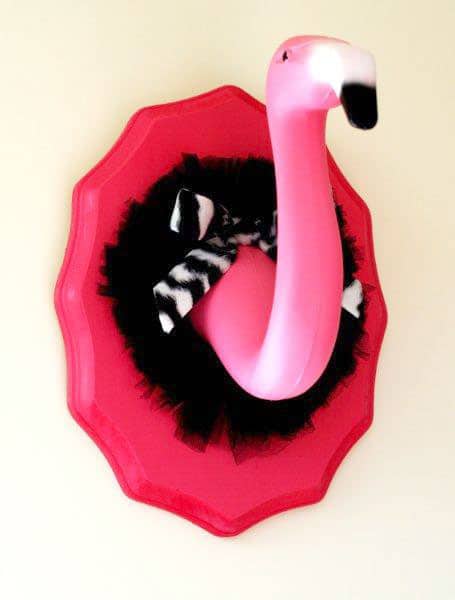 Handmade Charlotte shows us how to make a pink flamingo chandelier.  Because, why not?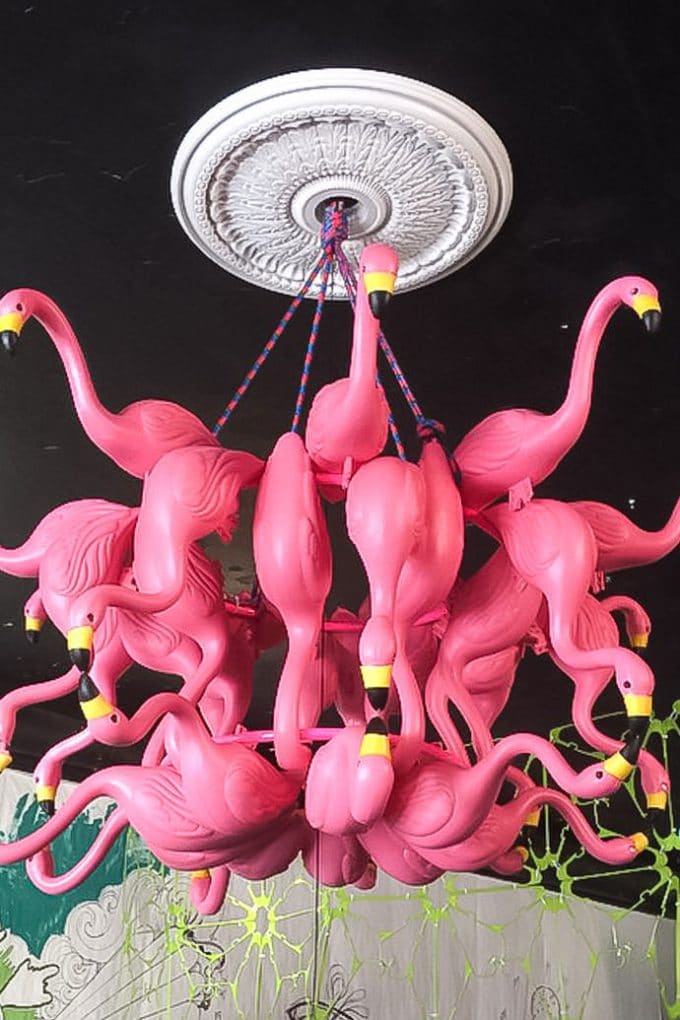 And last but not least, DIY Studio has some fantastic photos of a flamingo themed wedding. No photos to show you here, but you need to check it out.  And please get any idea that flamingos cannot be elegant out of your head right here and now!
That's it for me, unless you want to hear about the Milk Duds I bought last night.  Are you a flamingo fan?  Or a certifiable flamingo hater?
Shop The Look