I'm so excited to share my Christmas breakfast room with you today and in the process give you some ideas to help you create a nostalgic Christmas.
Now, before we go any further you must know that I adore vintage, red and green, Santa's in the house sort of Christmas decor in my home and my Christmas breakfast room is no exception.
Subtle is not my middle name when it comes to Christmas decor.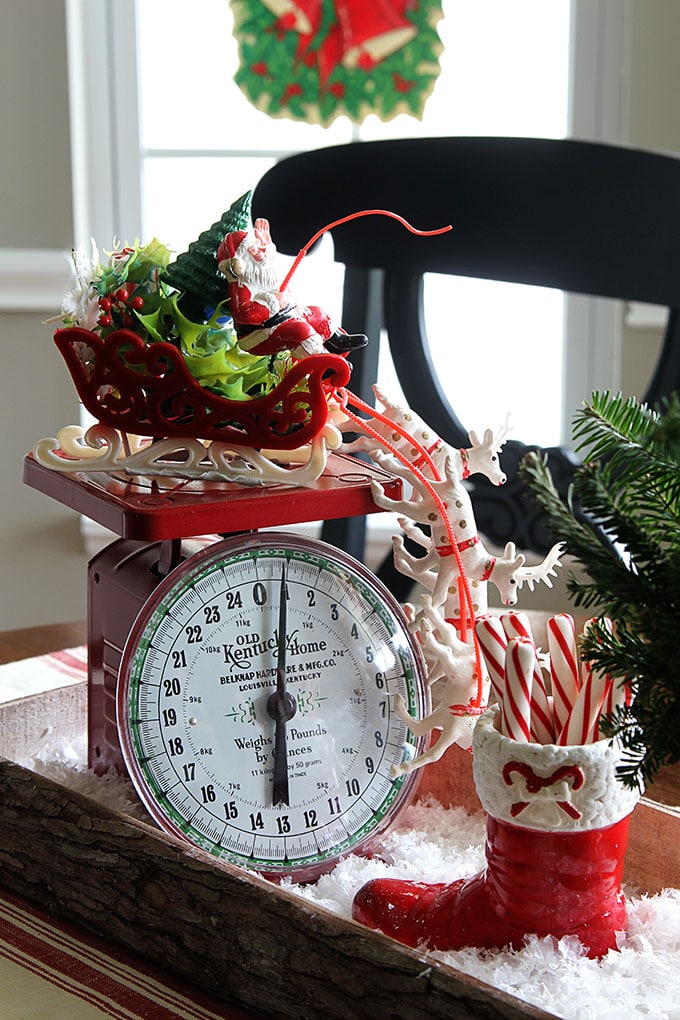 Now, for me, Christmas is a time for nostalgia, for reminiscing, for honoring the past. And what better way to do that than pulling out family heirloom pieces.
Or vintage pieces you have recently acquired.
Just because it didn't originally come from your family, doesn't mean it doesn't deserve a place of honor at Christmastime. And thrift stores, estate sales and yard sales are GREAT places to find new-to-you family heirlooms.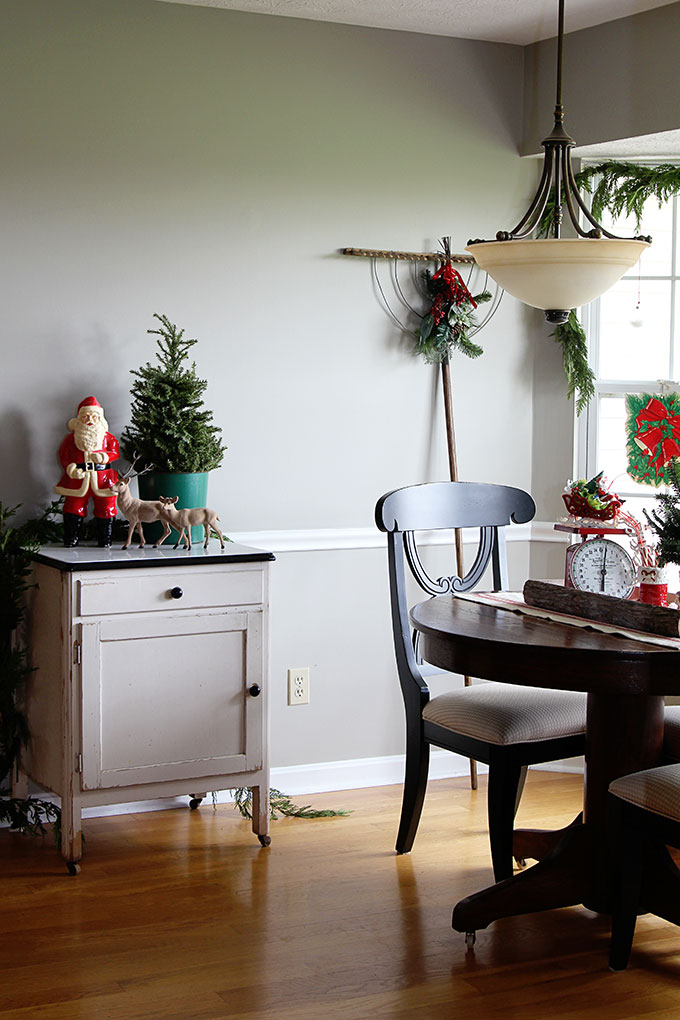 For instance, this vintage plastic Santa and sleigh was bought at a local thrift shop for a song.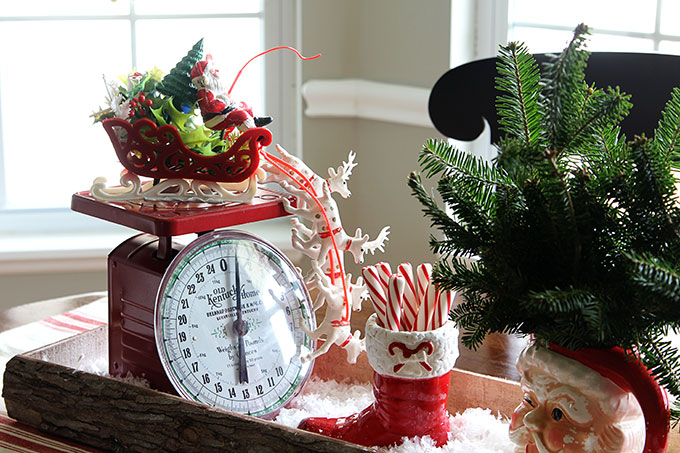 Last year I had it on top of my globe (traveling the world in one night) and this year he's weighing himself after having eaten too many cookies.
Love the body you're in Santa!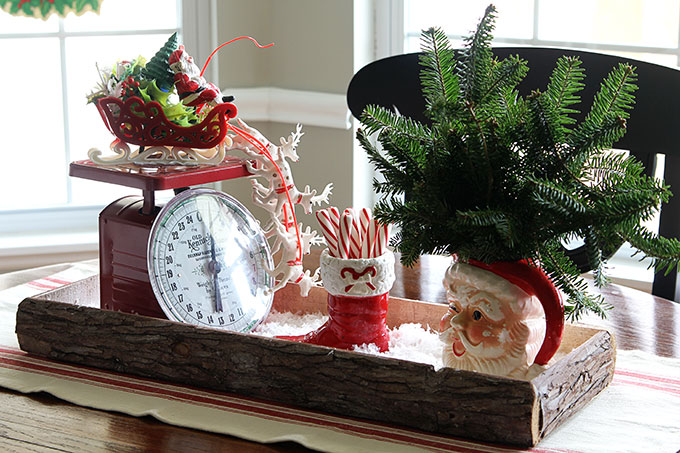 The Santa pitcher was also a thrift store find. The paint is a little chippy on it, but that just gives it character.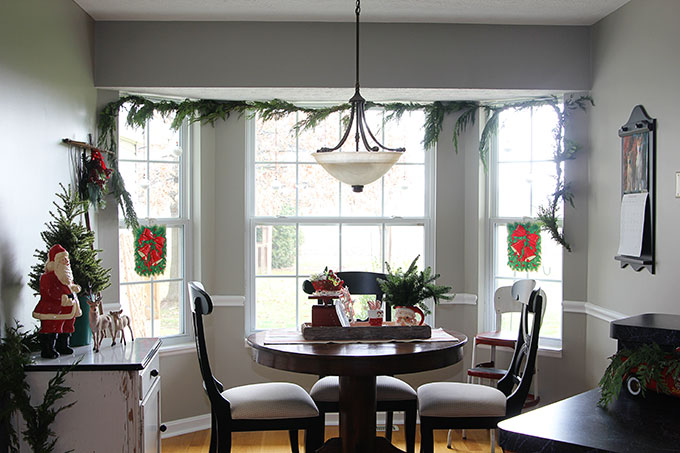 I found two of these plastic hanging things at the antique mall a few weeks ago and I had to buy them. I think they were a dollar each, so no reason not to.
Let's overlook the fact that I took at least 7 boxes of old Christmas decor to the thrift store this week.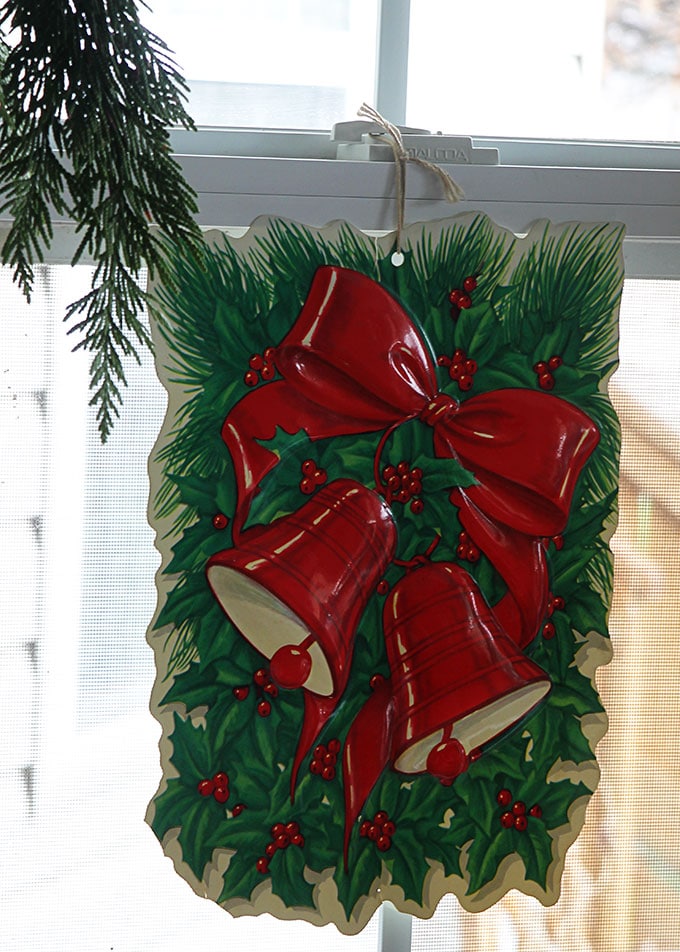 This Santa made his first appearance this year in my Vintage Farmhouse Christmas Decor post.
He's quite the ham and insisted on being featured again this time.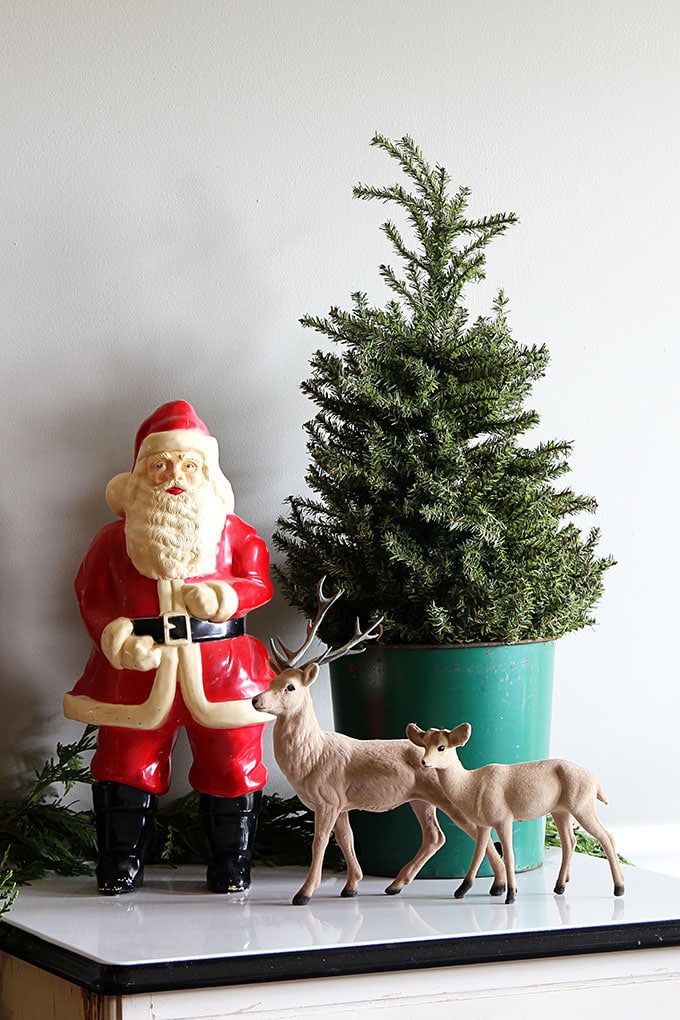 The deer are also thrift store finds.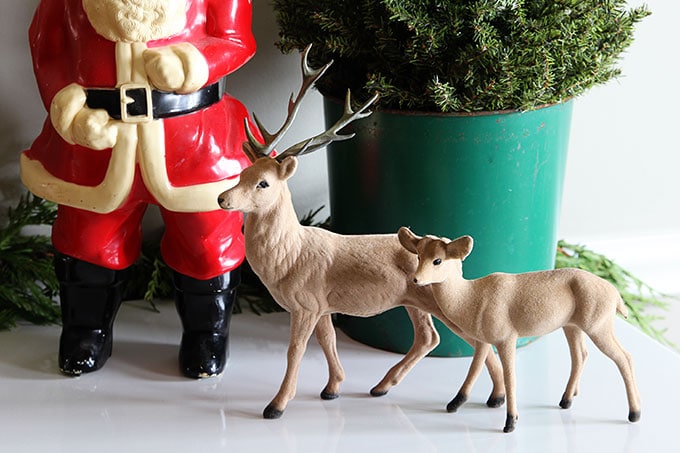 The baker's cabinet is one of my all-time favorite yard sale finds. Ever.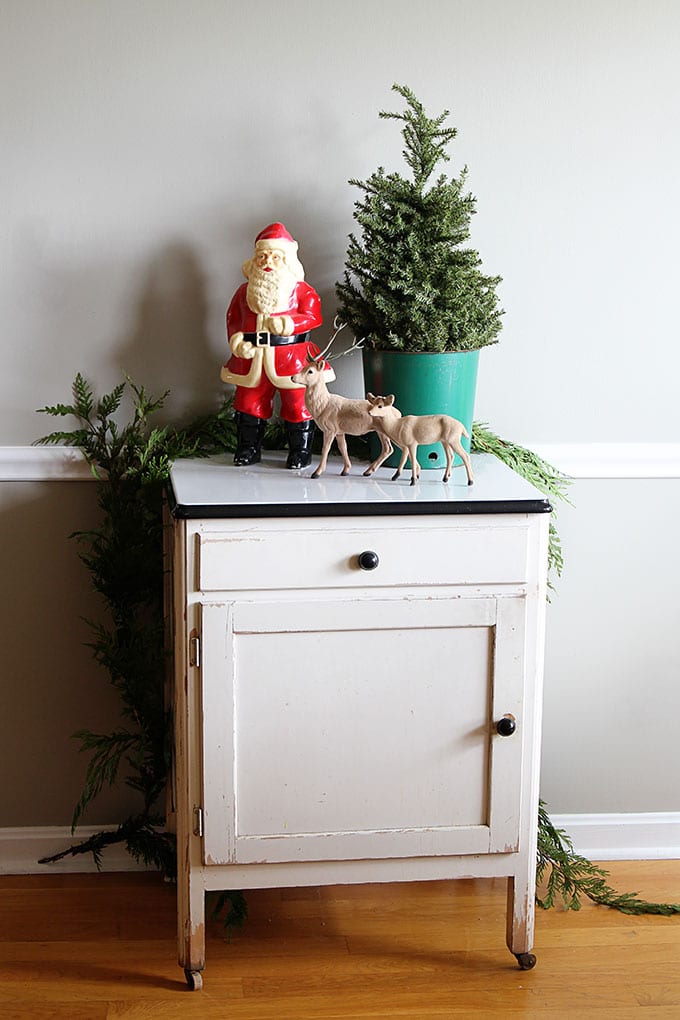 Do I have to keep saying that? Pretty much anything you see here comes from an estate sale, thrift store or yard sale.
On the other side of thrifting, I was just getting ready to take this vintage wooden hay rake to the consignment store when I made the mistake of hanging Christmas greenery on it.
And now I'm in love with it all over again.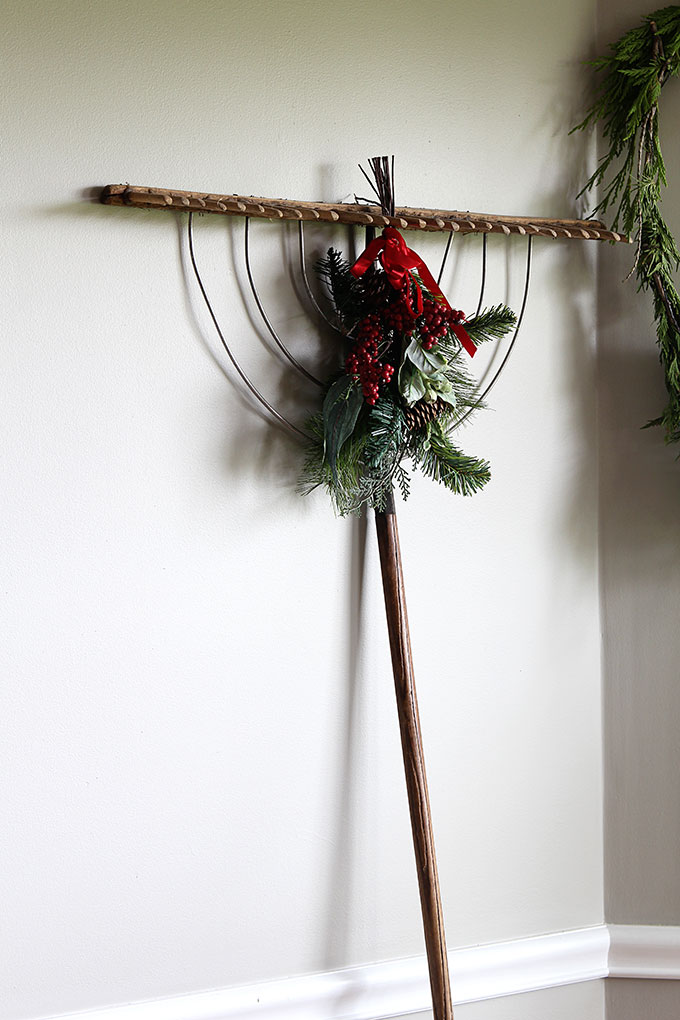 I have a feeling it isn't going anywhere soon.
Last year I had curtains in here that I had made from an old vintage Christmas tablecloth that had seen better days.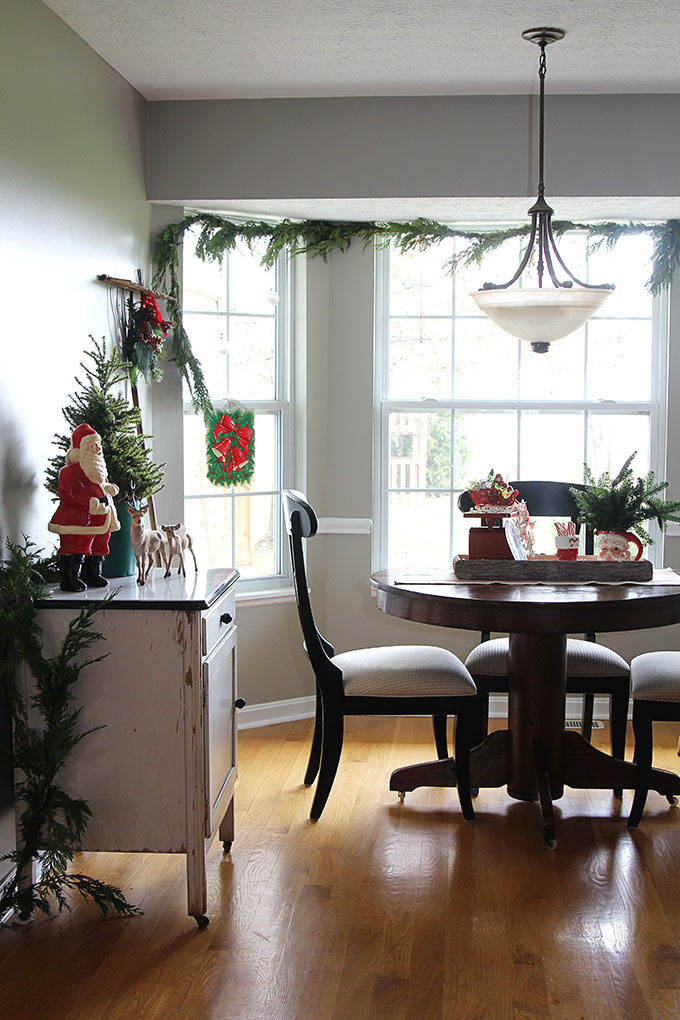 This year I wanted something different, so I went with hanging greenery as my "curtains" (it's just wired onto the tension rods) with glass ornaments filled with fake snow hanging down.
I love how the sunlight hits the snow in the morning.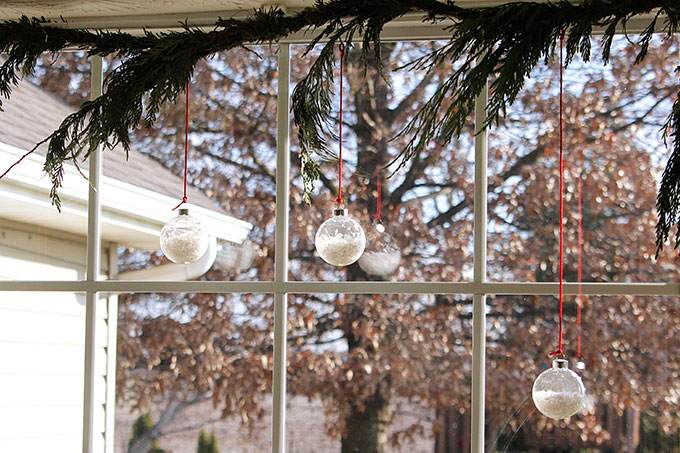 I hope that gives you some ideas for using nostalgic Christmas decor in your home. Whether family heirlooms or vintage pieces recently acquired, it's all good!
Some other thrifting posts you may be interested in are Top Thrift Store Shopping Tips and A Little Christmas Thrifting
For other Christmas home decor: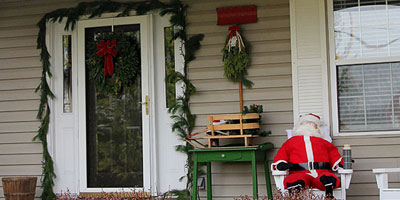 Traditional Christmas Porch Decor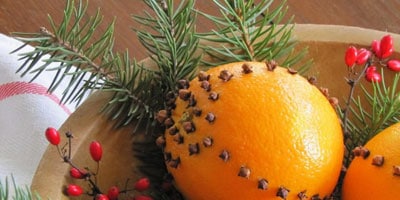 How To Make Cloved Oranges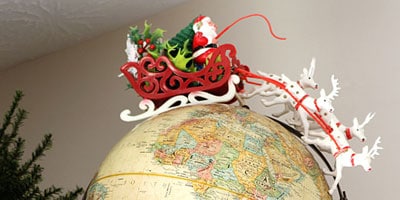 A Vintage, Rustic, Industrial Holiday House Tour