I am so excited to show you my fall home tour this year! I mean, me and fall are best buddies.
We go together like apple cider and hay rides.
Indian corn and cornstalks.
Pumpkins and mums.
Well, come on in. Don't be shy. No need to take your shoes off, we're pretty casual around here.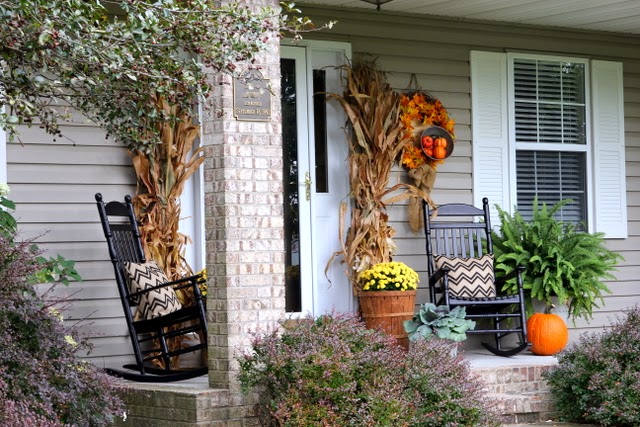 (More fall porch decor can be found on my Fall On The Porch post
This entryway table is a fun place to put seasonal decor.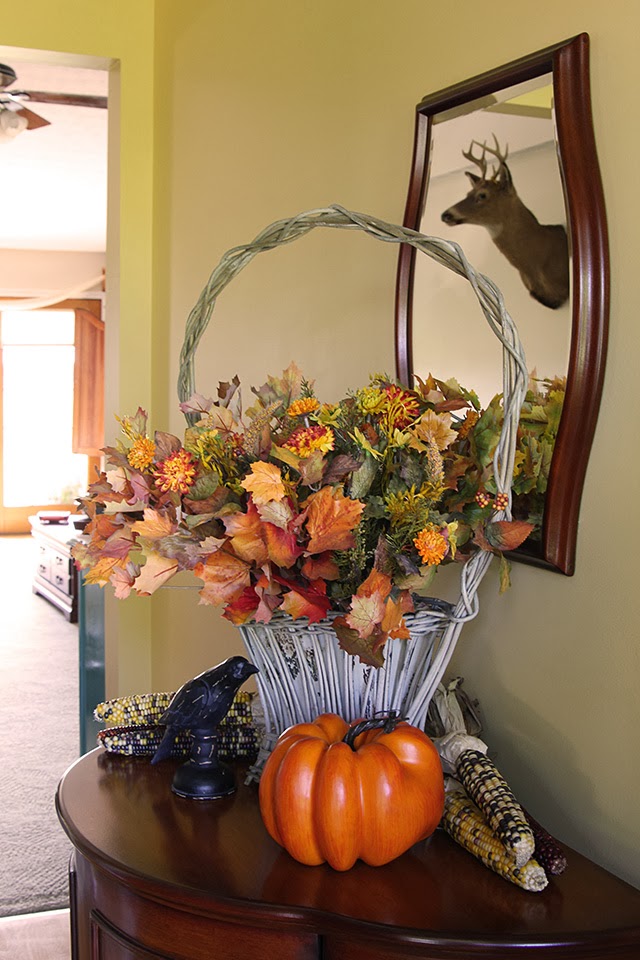 Today it holds a vintage funeral basket filled with faux fall flowers. Some people call it a "florist basket" and if it makes you feel better, go right ahead. But to me they are funeral baskets!
One corner of the entryway holds part of my picnic basket collection. Yogie Bear loves my house!
I topped the baskets with my wooden toy barn that I showed you in my Dead People's Stuff post. (Are you getting the idea that I like fun titles?)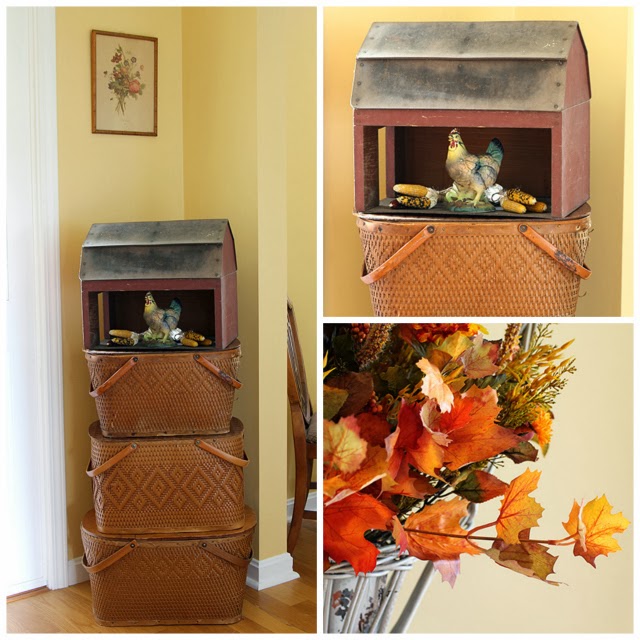 Going straight through the entryway is the living room.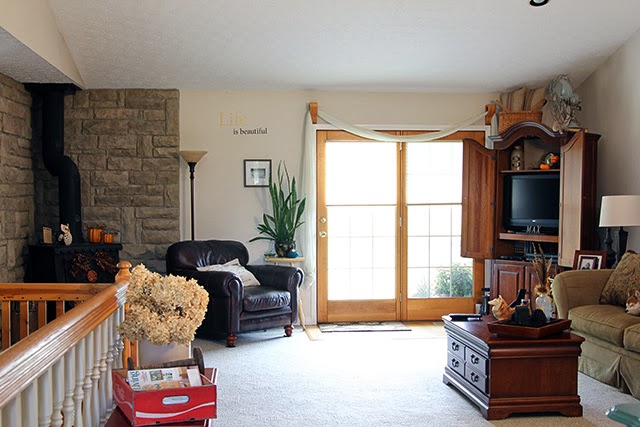 If you look closely on the right hand side of the photo, you can see Sheba sleeping on the couch. With two dogs, it was practically impossible for me to take photos without someone's nose or butt in the shot.
The yellow spindly legged table beside the well loved leather chair is one of my favorite auction finds.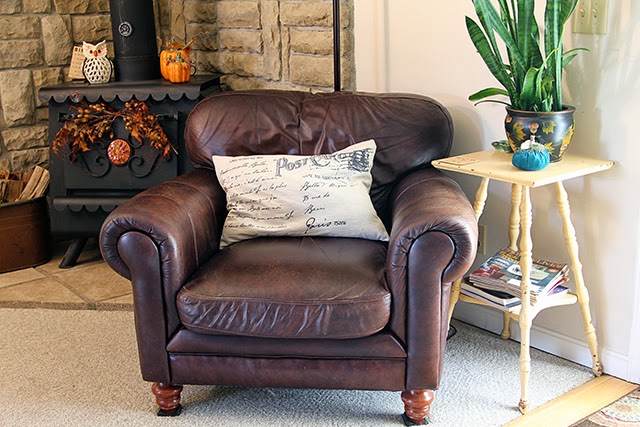 As a matter of fact, if you are new here, you must know that the majority of the stuff in my house was found at thrift stores, estate sales and yard sales. I love a vintage vibe to my house and a cheap vintage vibe is even better.
I would love, love, love to have a real mantel to decorate, but, alas, we have a wood stove.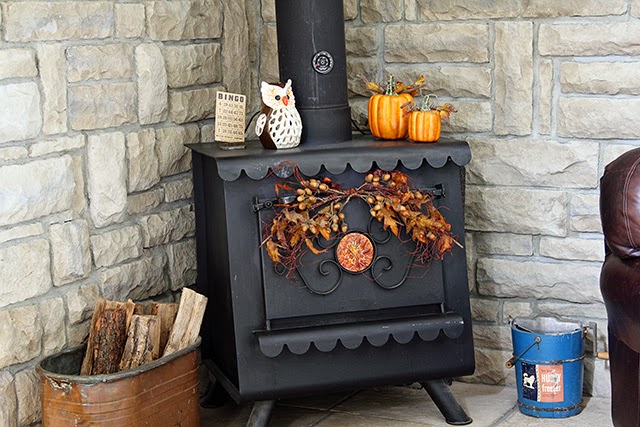 So when it's not in use, I pretend that it is a 200 year old mantel with ornate carvings.
All the stuff on top will have to go somewhere else in the next few weeks when we start firing this baby up.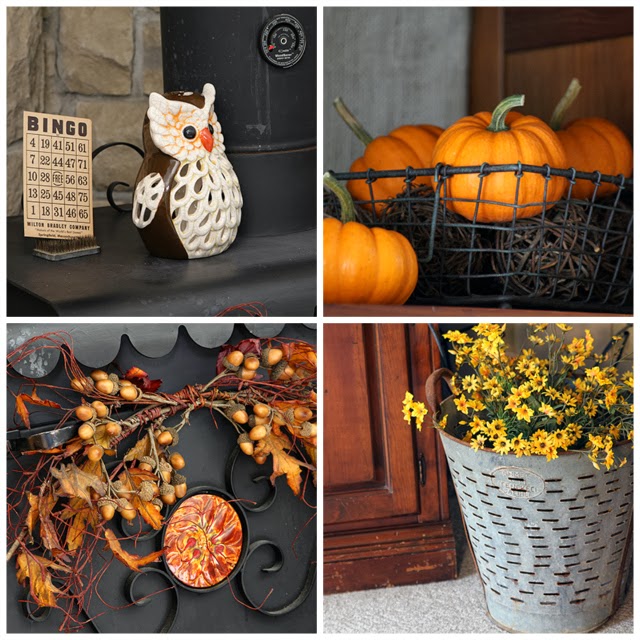 Over my sofa you will find this lovely return air vent located so strategically above the sofa.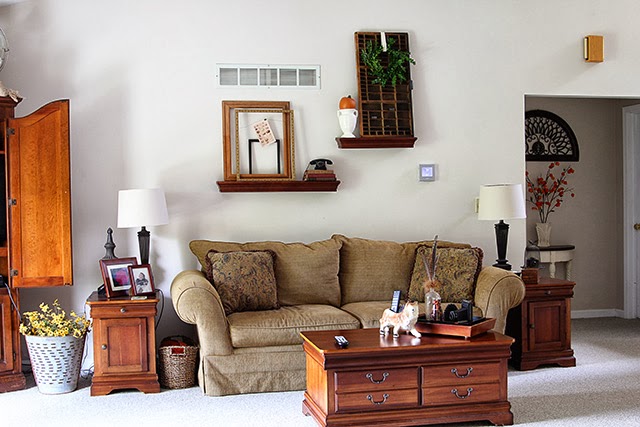 For years, I did nothing to this wall at all. That darn vent was stealing my mojo.
And then one day I had just had enough and decided to show the vent who was boss. If you are just going to sit there all ugly like that, then I'll just make you blend in. Hah!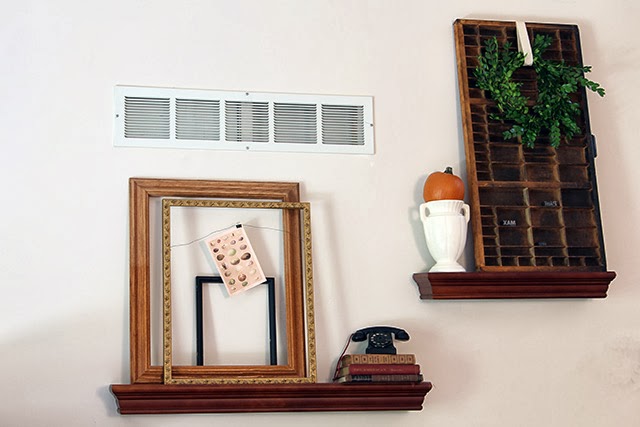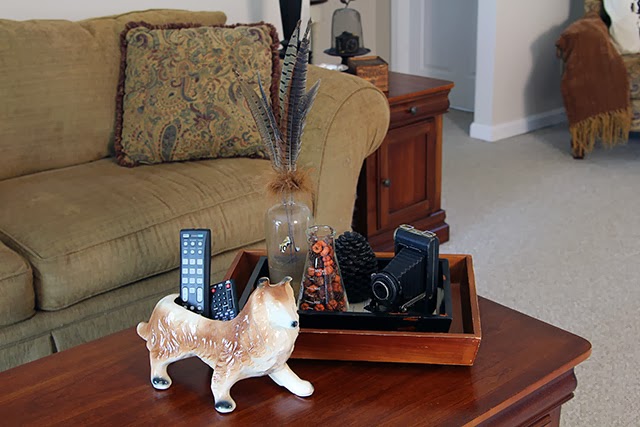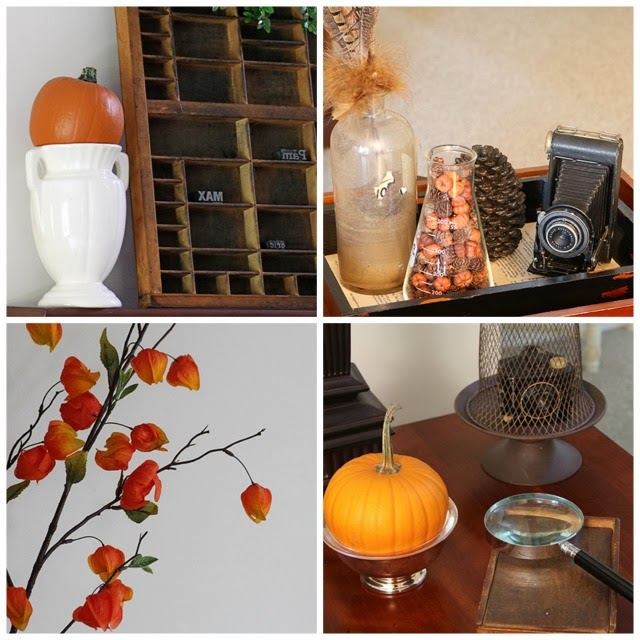 Another view of the room shows you the wall that leads back in to the entryway.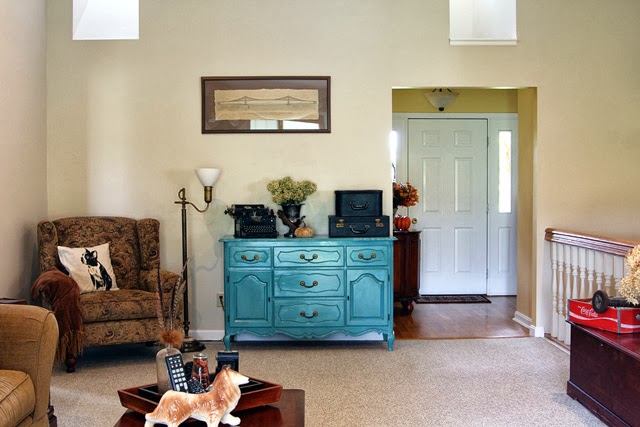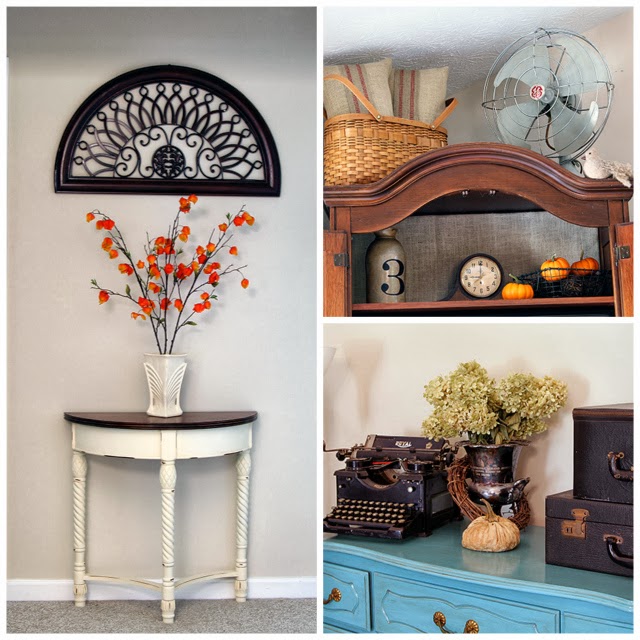 Wow, my voice is getting hoarse from all this talking, so I think I'll let the kitchen photos speak for themselves, while I go get some OJ.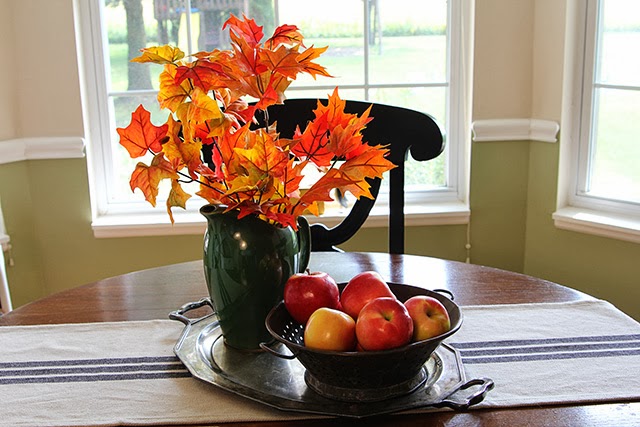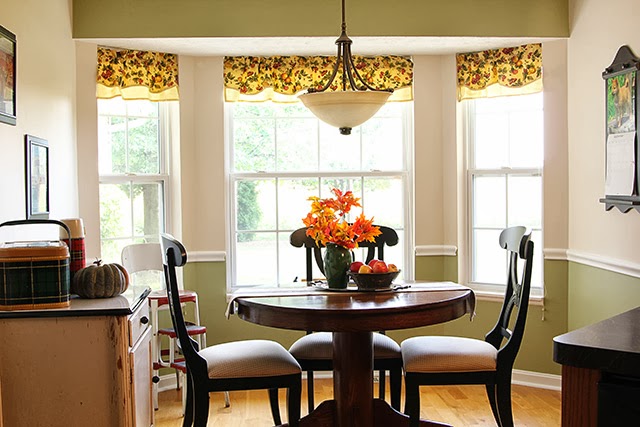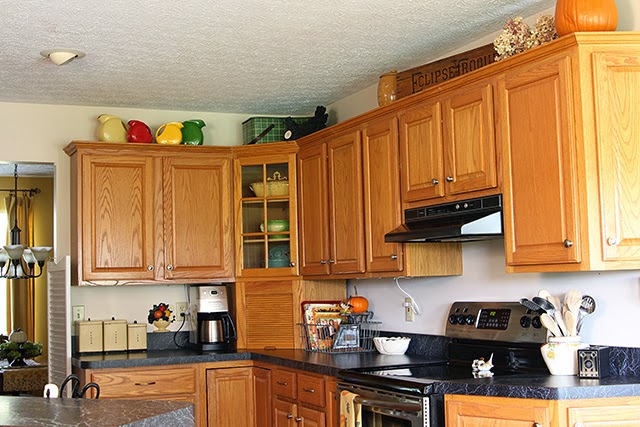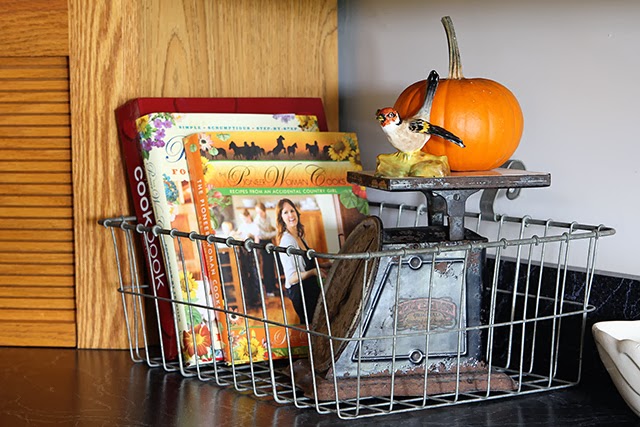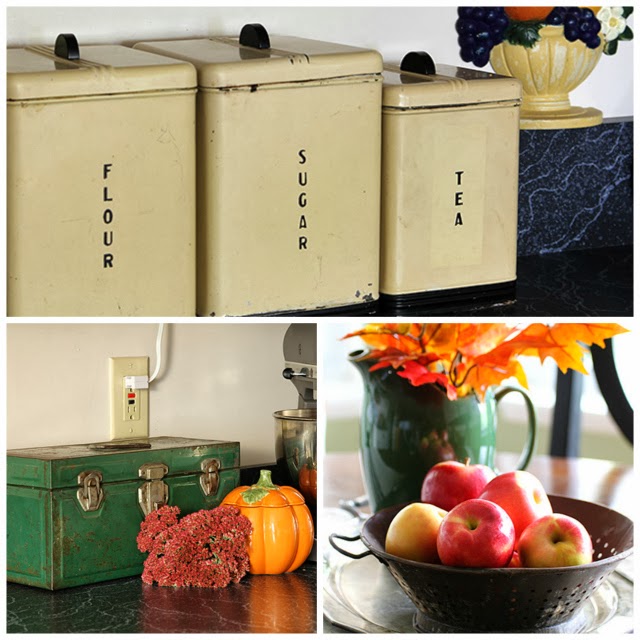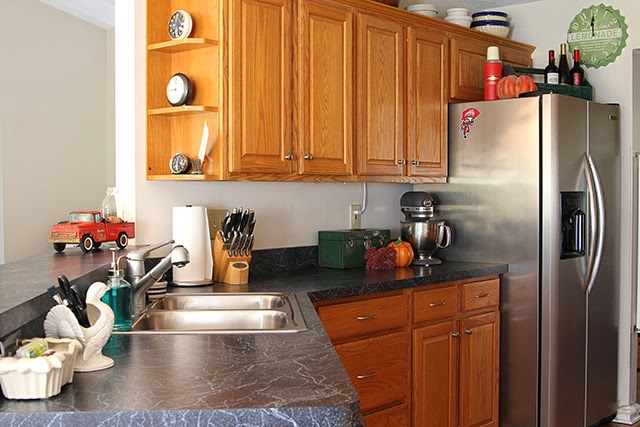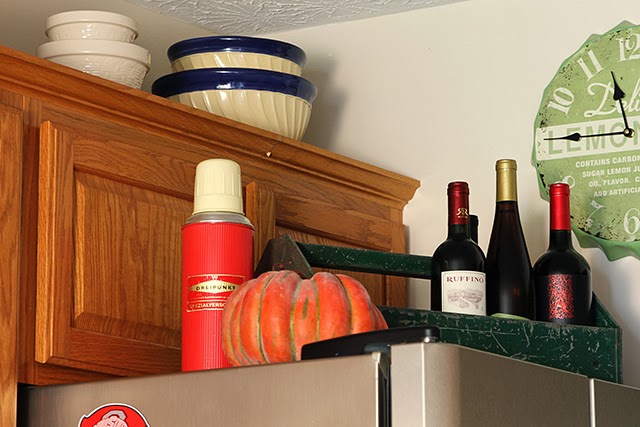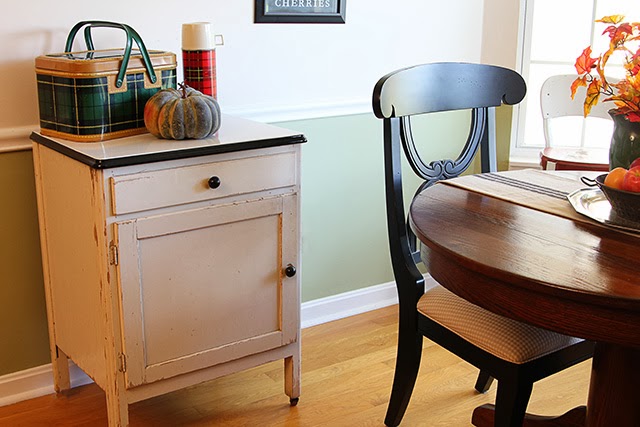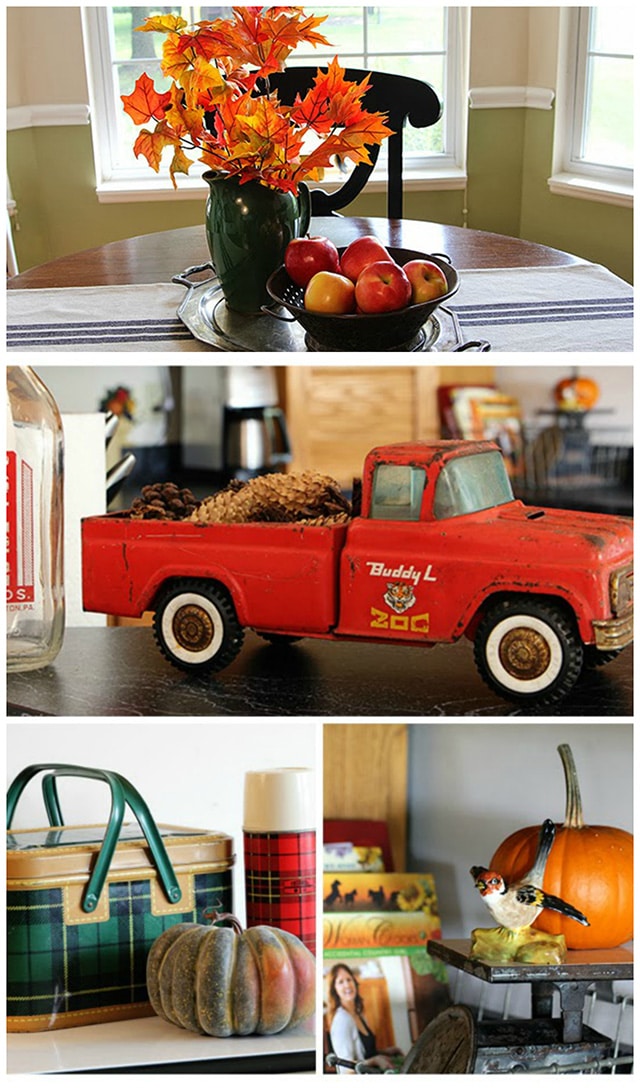 The orange juice did the trick, now on to the dining room. AKA the room that gets used twice a year.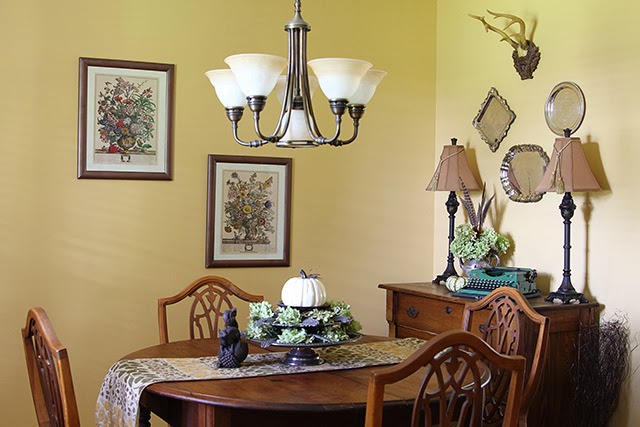 I wanted to do something other than orange and brown fall decor in here, since the rest of the house is filled with those colors. So I went with hydrangea, feathers and light neutral colors.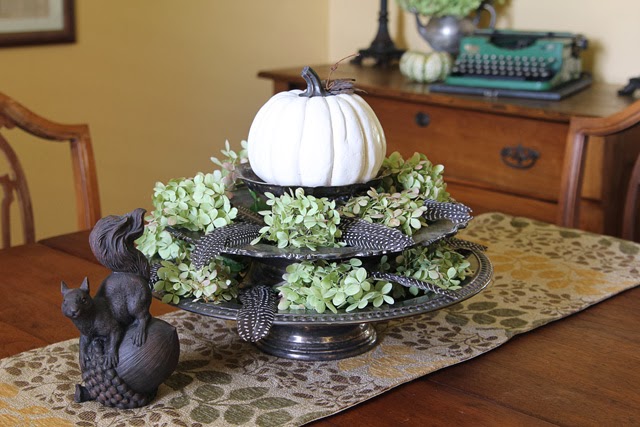 The centerpiece was made by taking three thrift store footed silver platters and stacking them on top of each other and then just wedging some fresh-off-the-bush Limelight hydrangea between the platters.
Some feathers from Hobby Lobby were thrown in for good measure.
The cabinet is my grandmother's and probably my most cherished possession. Of course, after my son. And my husband.
But they're not actually "possessions", so yes, it's my most cherished possession!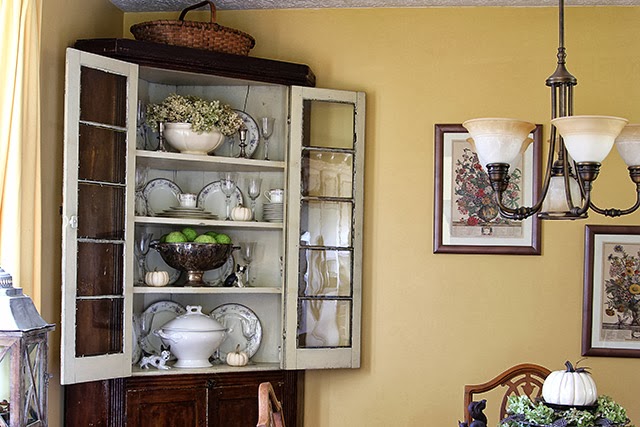 Thrifted soup tureens, hedge apples and baby boo pumpkins make for an understated fall decor theme.
I could make up something fallish about the china dogs, but they are always there. I have a weird fascination/love affair with china dogs.
The top shelf has another tureen, this time with dried hydrangea in it.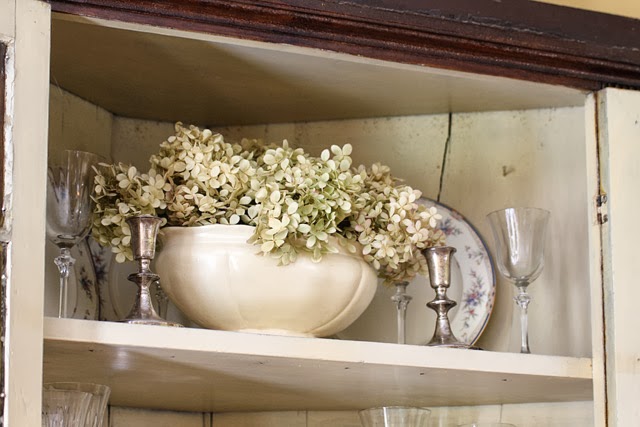 Oh, I almost forgot about my new baby. How cool is my green portable Royal typewriter.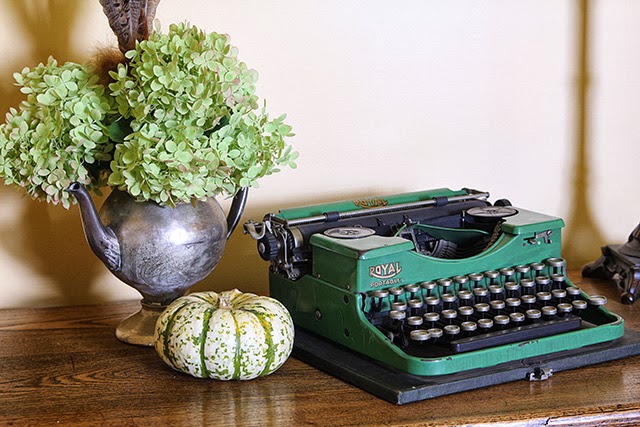 I bought that for myself for my birthday and it was an absolute steal at a antique mall. In my A New Royal In The House post she had her own photo shoot and I went on and on about her.
I set her up in the dining room, because she goes so well with the green of the Limelight hydrangea.



Fall Porch Decor Farmhouse Style
Transitioning The Porch From Fall To Halloween
Cute Fall Decorations For Outside