LOTS of fun fall home decor inspiration, including quick and easy ideas for fall decor in the entryway using hydrangeas, pumpkins and thrift store finds.
It's the most wonderful time of the year. With the kids jingle belling . . .
OK, so maybe a tad bit early for THAT time of the year, but FALL truly is the most wonderful time of the year in my eyes. So when Brenda at Cozy Little House asked if I wanted to be in her Bloggers Seasonal Harvest Tour I was all like "I'll bring the candy corn jello shots!"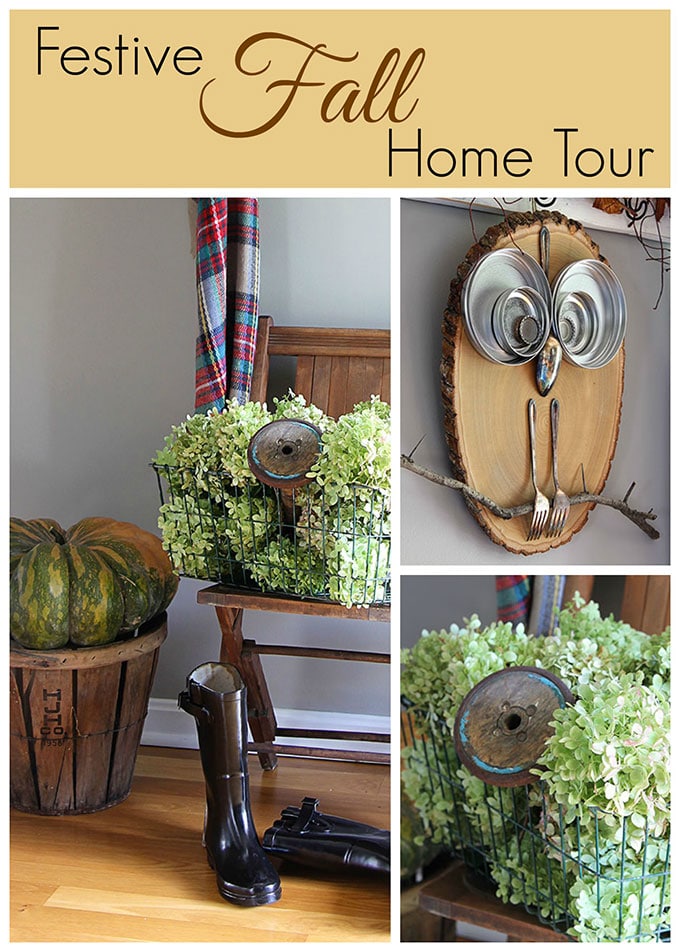 Now I really don't have the whole house fallified this year (new word). Not from lack of enthusiasm, but from lack of time. But I did want to show you a few vignettes I have here and there through the house.
This is the entryway coming in through the front door. In the past I've done formal, I've done informal, I've done junky, I've done funky.
And now I'm doing "throw down some wooden folding chairs and call it a bench".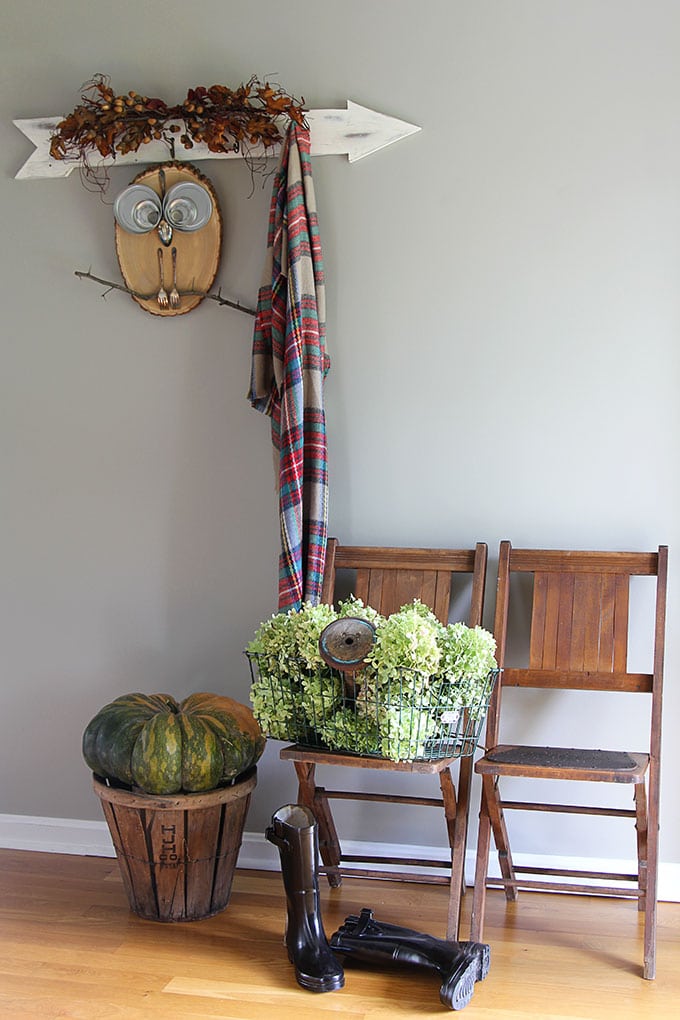 Of course, I had to use the blogger's obligatory tool for mudrooms and entryways - black boots thrown casually on the floor.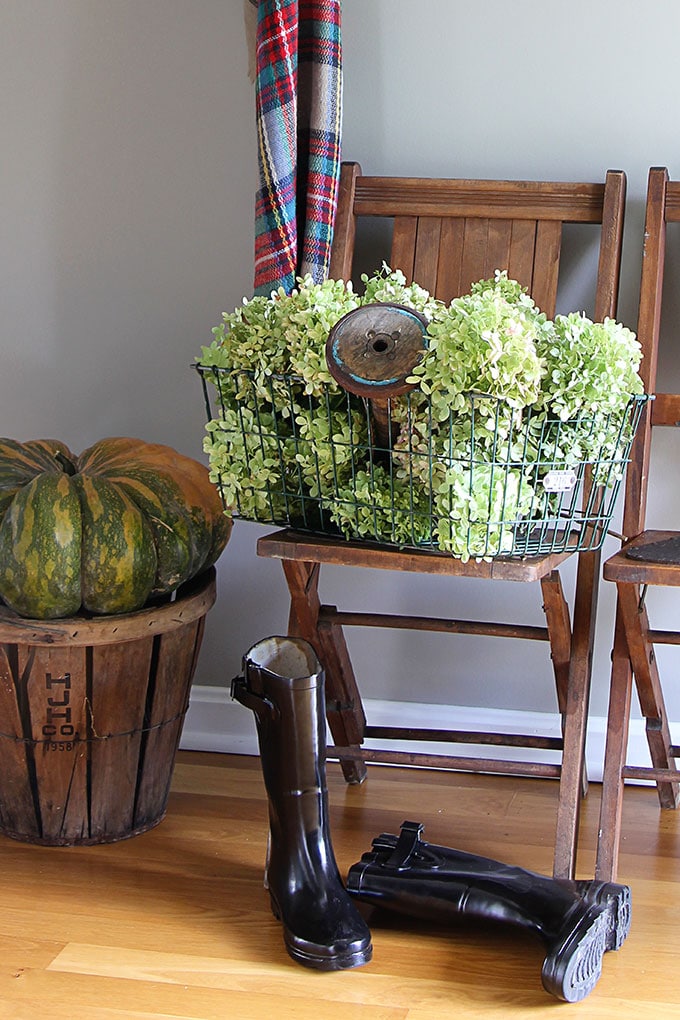 As if I just came in from outside with my basket of freshly cut hydrangea blooms, threw my scarf on the coat hook and peeled off my boots.
Before heading to the kitchen to grab a cold brewski and some pork rinds.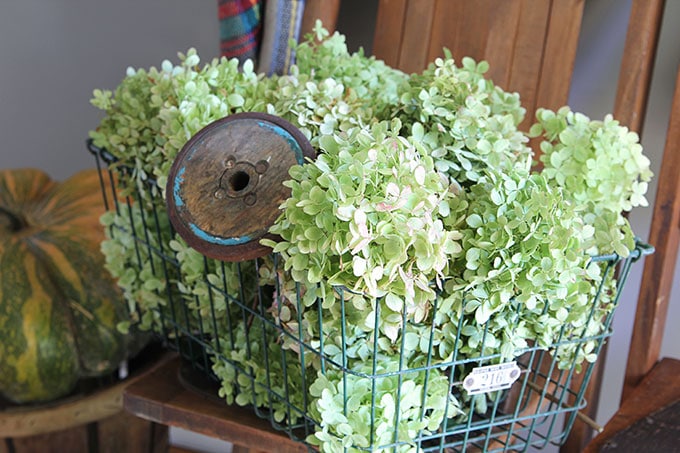 Deal alert!!!
I bought that HUGE gourd/pumpkin/piece of fall wonderfulness at Walmart. It was $6.98 in the produce section. And they had ones that were even larger than that. I don't know if they have them in all the Walmarts, but Holy pumpkin spice latte that was a good deal.
Charlie my DIY Wood Slice Owl decided to make an appearance again this year.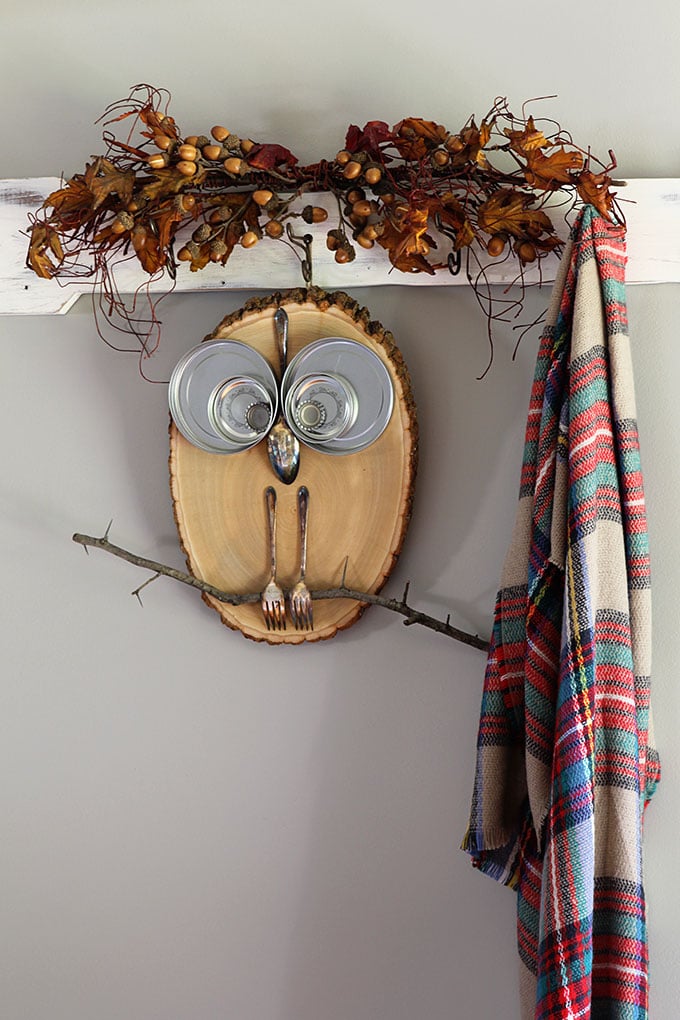 He was featured in Country Woman magazine this month. As you can tell, he is so excited!
Around the corner from Charlie is another fall display featuring one of his owl friends.
I made the boxwood wreath last year out of an embroidery hoop and some boxwood I cut in the yard. The owl is from my fall front porch a few years ago. Oh, and that wooden thing is my barn vent.
It's called making do with what you have on hand.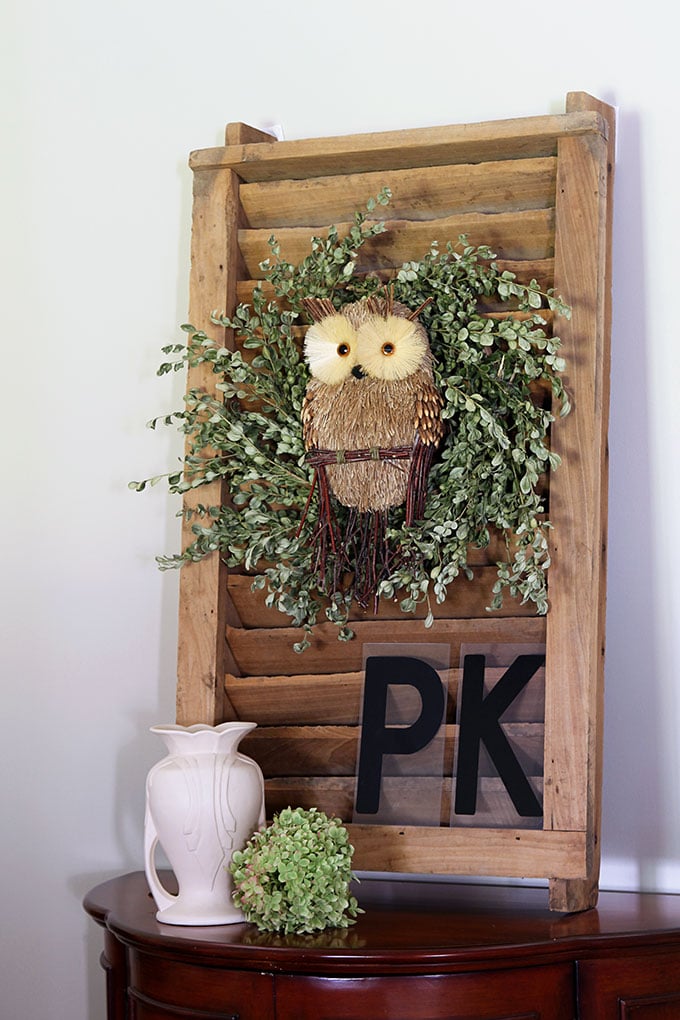 Right about now you're probably thinking, "Oh, this girl loves neutral fall decor". You couldn't be further from the truth!
I'm squarely in the you need a little orange in your life camp.
So in the eat-in area of the kitchen I have a more colorful display set up on the table.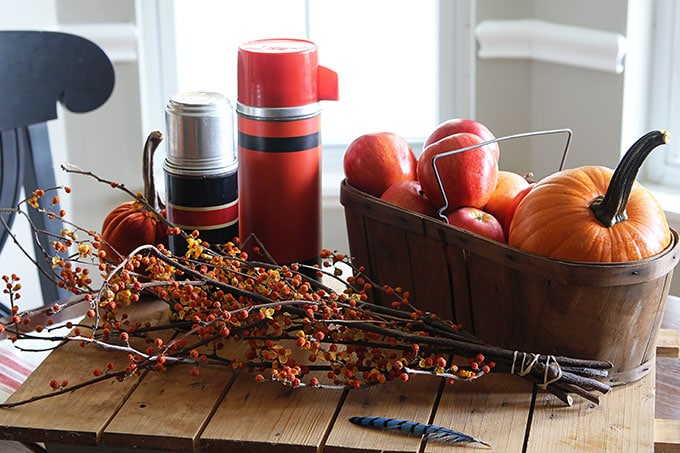 Including a few fall colored thermoses. If you're new here, thermoses are sort of my thang.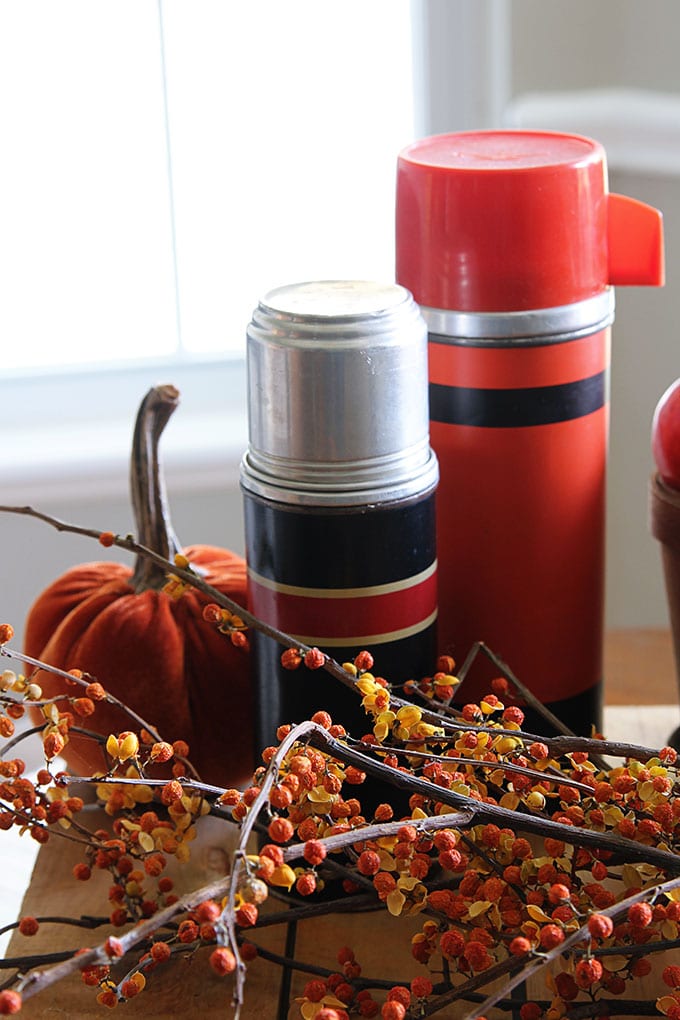 The wooden piece is actually the top to a wine crate that I found in the garage. I've been using it as a photo backdrop for a few weeks and decided it would work well for my centerpiece.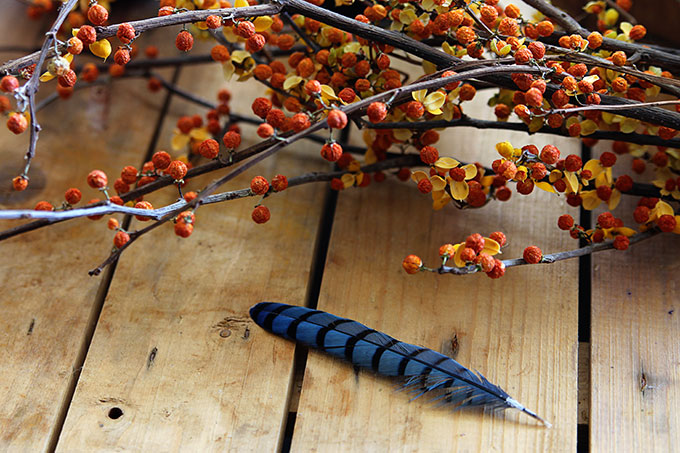 And the blue feather is from a blue jay that hangs out in my back yard. No idea why he's losing feathers, but hope it's not bird flu related since it's setting on my kitchen table.
BTW, I bought that little rounded basket at a local shop for a few bucks this summer and it's turned out to be one of my favorite fall pieces.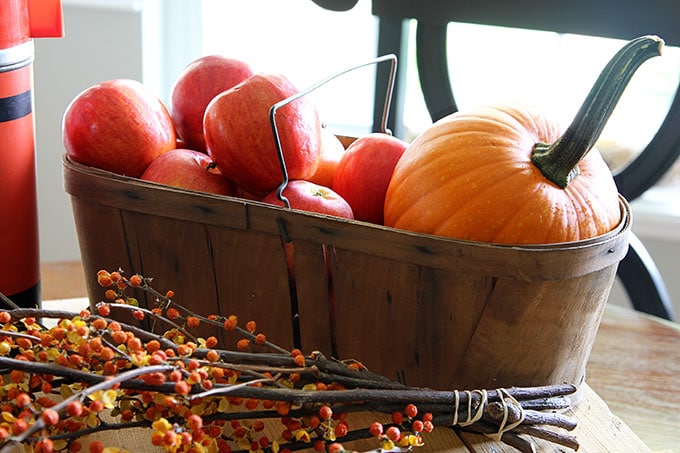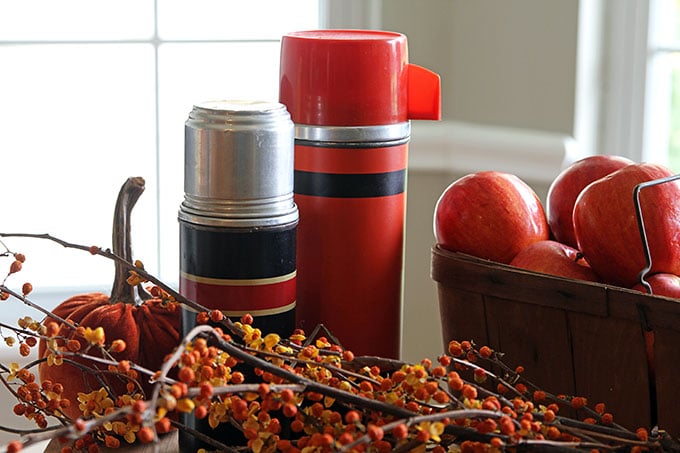 And to round it out, I have this little vignette set up on the baking cabinet in my kitchen.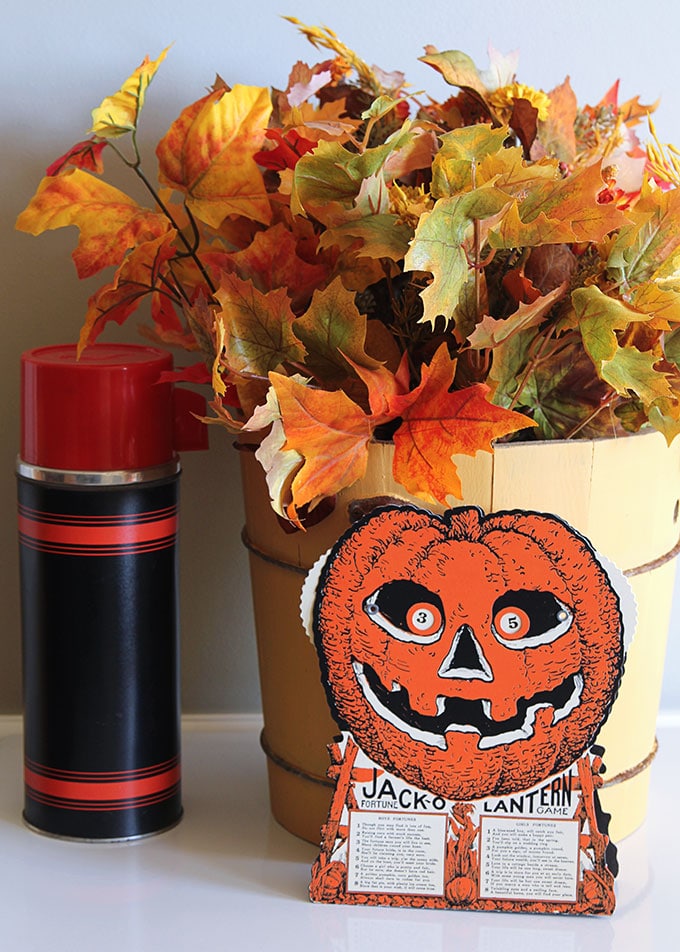 The yellow wooden bucket holding the "leaves" is the one I made out of an old grody ice cream maker a few weeks ago. And the Jack-O'-Lantern Game is one of the Beistle items I bought from Amazon.
I wrote a whole post about how you can buy new old looking Halloween decor on Amazon (and it's affordable too, most of the time for way under $10).
OK, I think that's all she wrote.
(Wow, I've been blogging for five years and I think that's the first time I've ever used that expression. What was I thinking!!!)
Please visit my blogger friends who have opened their homes to you today at . . .
Ashtree Cottage
Exquisitely Unremarkable
Sarah Sarna
And to see the rest of the wonderful bloggers on the Seasonal Harvest Home Tour you can visit them here . . .
Monday
Chatfield Court
Refresh Restyle
Remodelando la Casa
Savvy Southern Style
Love Of Home
Tuesday
DebbieDoos
Duke Manor Farm
Common Ground
Twelve On Main
Mountain Mama
Wednesday
Shabby Fufu
Itsy Bits & Pieces
Little Farmstead
DD's Cottage
Knick Of Time
Thursday
House Of Hawthornes (yo, that's me)
Ashtree Cottage
Exquisitely Unremarkable
My Kentucky Living
Friday
So Much Better With Age
Cassie Bustamante
Summer Daisy Cottage
Cozy Little House