I'm so excited to be part of a fabulous group of bloggers who are starting a monthly series discussing farmhouse style. Farmhouse styling is hot, hot, hot right now! And like my friend Snoop Dogg says, you gotta drop it like it's hot!
What, not expecting a quote from Mr. Dogg in a farmhouse decorating post?
Every 4th Friday of each month we'll be yammering on about all sorts of farmhouse style funkiness and hopefully give you a little inspiration on how to bring a bit of farmhouse to your neck of the woods.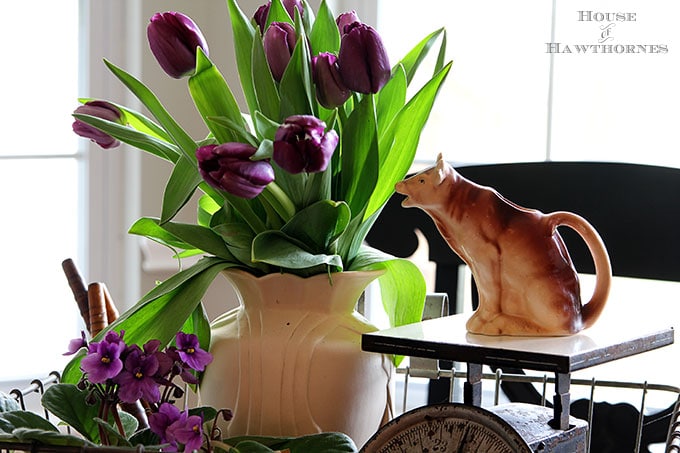 In fact, I bet you have bits and pieces of it in your house right now and didn't even know it!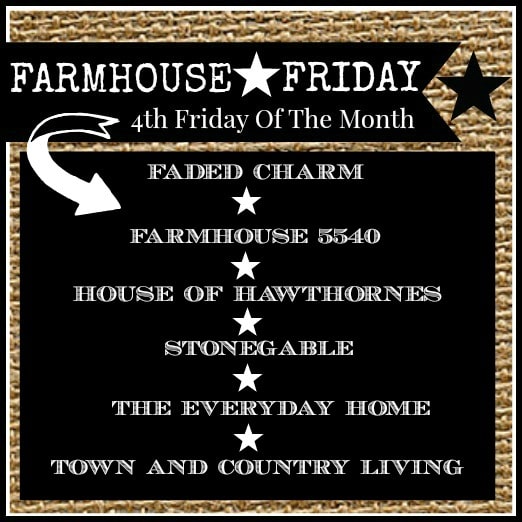 So to start off the series, I wanted to discuss what farmhouse style decorating means to me.
To me, farmhouse style is as much of a feeling as it is a look. It's feeling comfortable in your home. Nothing stuffy, nothing perfect. Nothing too serious.
It's feeling at ease in your surroundings. Plop down on the sofa or put your feet up on the coffee table if you want. Nothing to be afraid of here.
It's feeling like you are at home. In your home.
Some elements that shout farmhouse style are:
Eclectic Elements Collected Over Time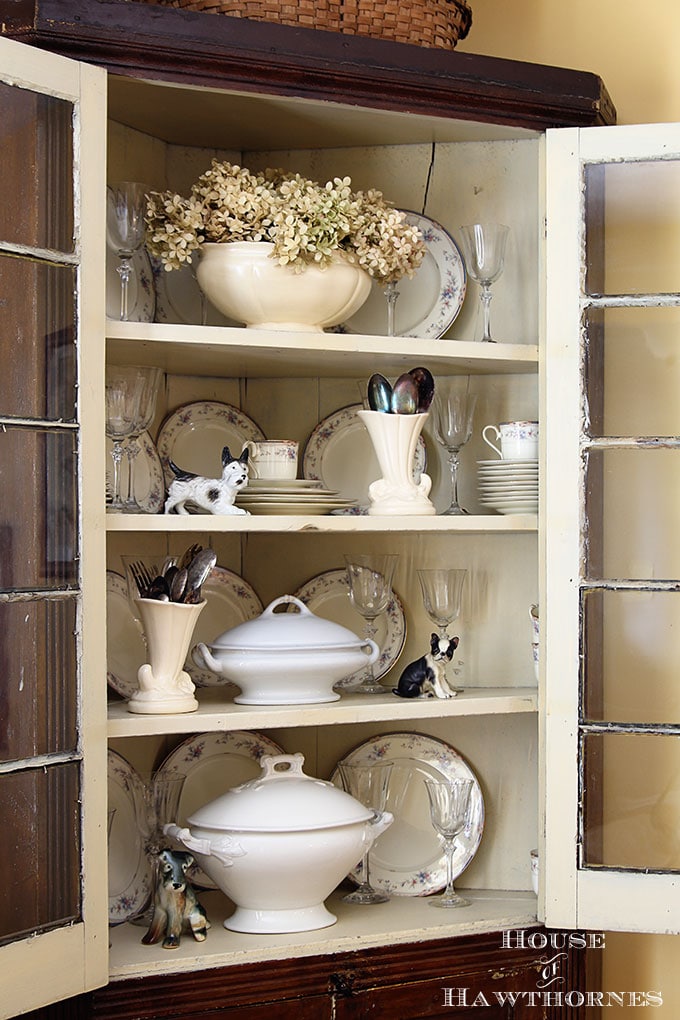 Sure, I've been known to run to HomeGoods on occasion, but in all honesty, I much prefer the thrill of the hunt for that one of a kind item. And my favorite hunting grounds are estate sales, thrift stores and yard sales.
And whether old, new, found at an estate sale or found in your basement, collections of seemingly unrelated items grouped together to create a vignette can make a powerful statement. Let's call it the quirky factor.
If you don't think it "goes together", you're right on track.
Worn And Battered Pieces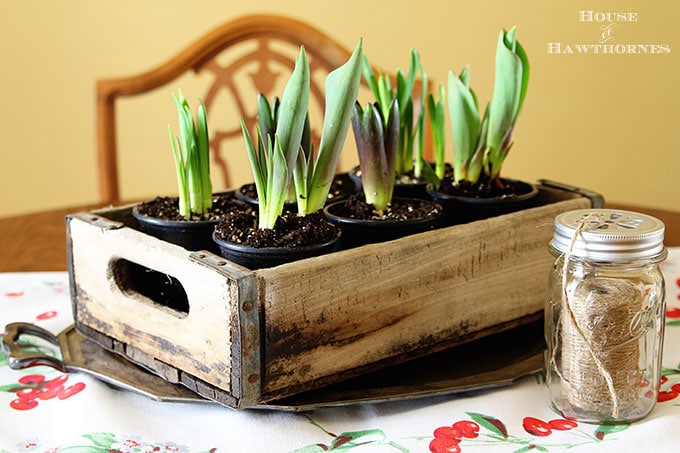 The more worn and battered, the better.
A good patina just means the items have had a previous life before they came into yours. It makes me wonder about who owned them before. Who cherished them. Who took them for granted.
Don't overlook something because it's not perfect.
Tools And Equipment Used As Decor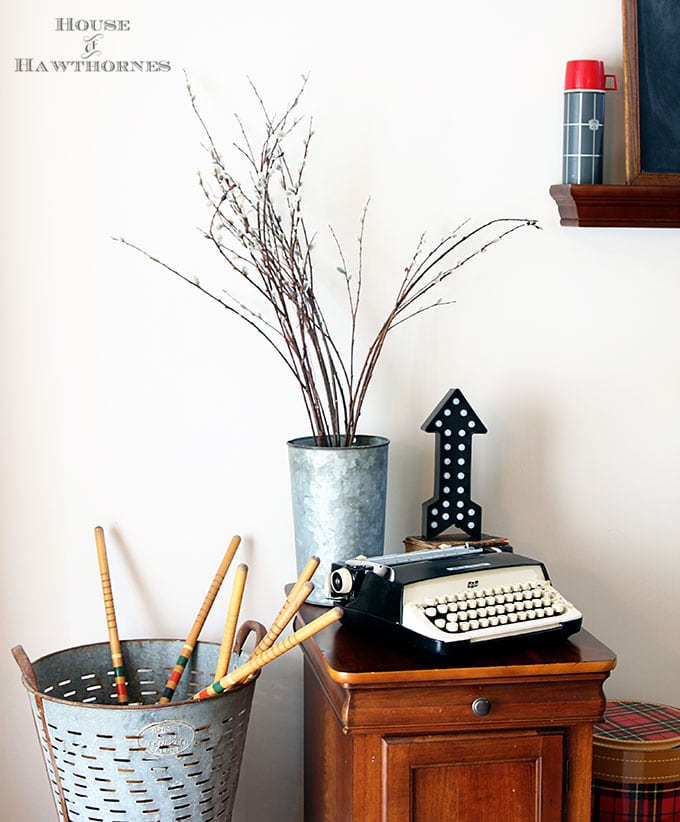 What was once meant to be used purely for utility and work, now used as decor!
wire baskets
galvanized buckets
scales
mason jars
tool carriers
chicken feeders
ironstone pieces
Our ancestors would probably think we're nuts to be so excited about a simple mason jar!
Don't be afraid to think outside of the box. Or toolbox 🙂
Mismatched pieces
In a rough and tumble farmhouse setting you wouldn't have the means or inclination to buy matching dining sets from fancy catalogs. You would have inherited a table from your grandmother, been given a few chairs from the neighbor down the road and maybe found a few more chairs in the barn.
Nothing matchy matchy here.
Just because you didn't buy it together doesn't mean it doesn't look good together.
Natural And Earthy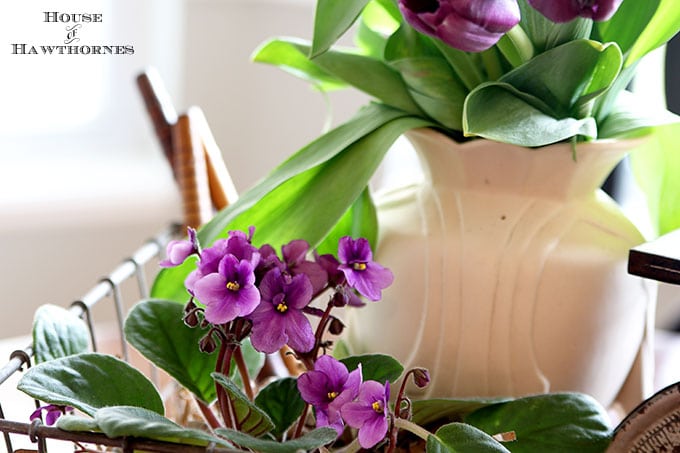 Don't overlook the natural elements in your farmhouse decor.
Twigs, plants, bird nests and even wasp nests are fun and quirky additions to your farmhouse decor. Just make sure the wasps have left the nest for good or you might have a problem.
If you found it in the yard, shake it off and bring it inside.
So to recap my ramblings, Eclectic Elements, Worn And Battered, Tools And Equipment, Mismatched Pieces, Natural And Earthy. They all go into creating a farmhouse style in your home.
So yes, farmhouse style feels like home.
Like walking into your grandmother's kitchen, grabbing a cookie from her cookie jar and getting a big old hug and a cold glass of milk.
That's what farmhouse style means to me. So what does farmhouse style means to you?
Now run on over to check out the other Farmhouse Friday posts.
FADED CHARM
FARMHOUSE 5540
STONEGABLE
TOWN AND COUNTRY LIVING
And if that's not enough farmhouse style in your life, check out my Farmhouse Decor Pinterest board.
And some previous reader favorites on farmhouse style:
Vintage Farmhouse Animal Printables
Eclectic Vintage Farmhouse Porch Decor
DIY No-Sew Pillow Tutorial
Industrial Farmhouse Rotating Hardware Bins For Less