It's Farmhouse Friday today on the blog and Farmhouse Friday just got a little bit more exciting!
First of all, it's the Spring Home Decor edition of Farmhouse Friday, so we're all showing what we did to decorate for spring this year.
And second of all, CountryLiving.com is hosting the party today. At the end of this post you will be invited to check out the other Farmhouse Friday blogger's Spring Home Decor and then pop on over to Country Living to check out the slideshow they set up for us.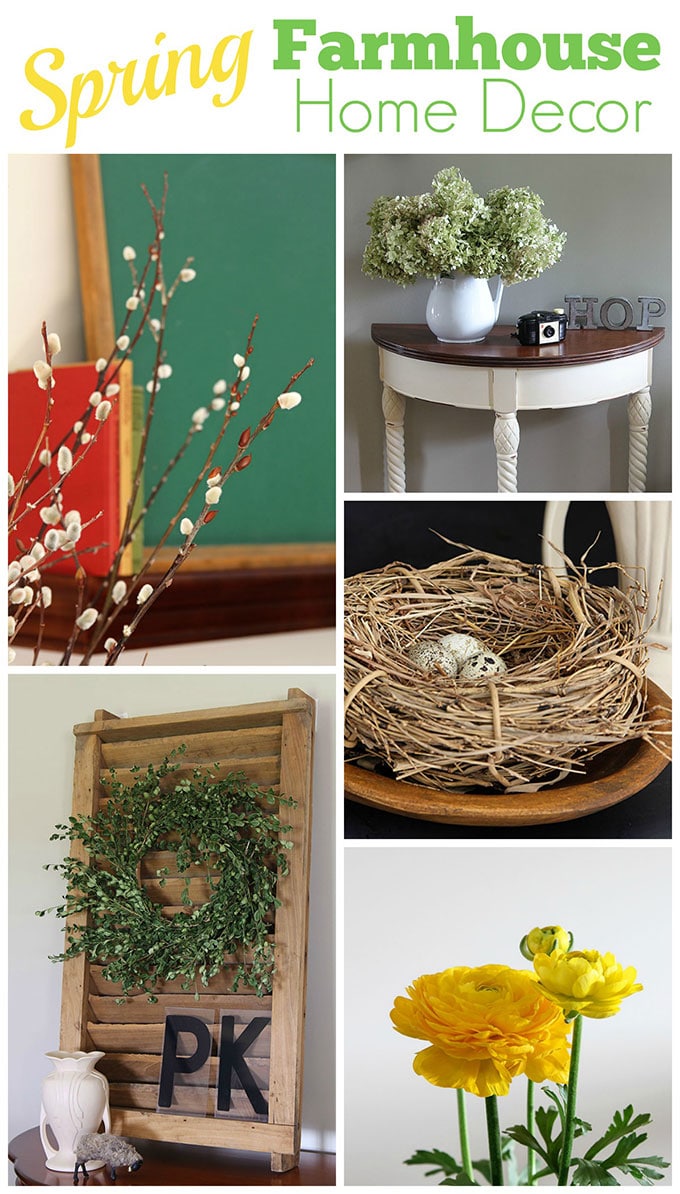 Guys, I'm on Country Living Dot Com!!! Breathe, Pam. Just breathe!
OK, we have a lot of photos today, so hang onto your Easter bonnets. I'll try to keep my commentary to a minimum so we don't break the internet here.
Spring Decorating Farmhouse Style
Walking in the front door you'll run into my arrow coatrack and entryway table.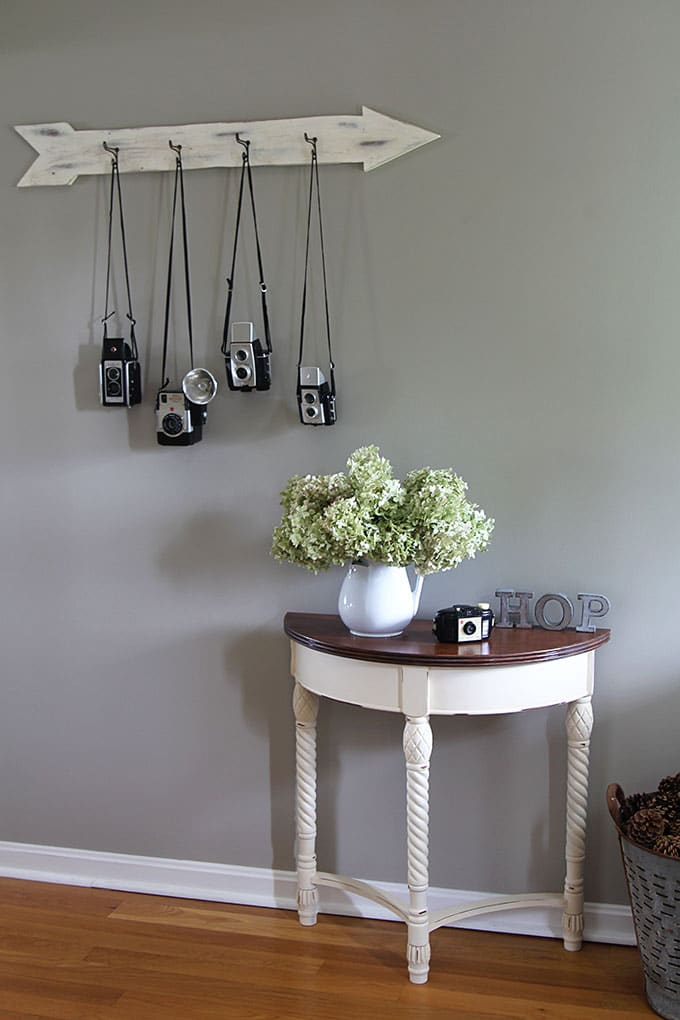 Don't even try to hang up your coat, because it's not THAT kind of coatrack.
Believe it or not, that is a white ironstone pitcher being engulfed by my dried Limelight hydrangea (I just love that cheery green color). You can learn all about Growing Limelight Hydrangea and how to dry them in my Lazy Girl's Guide To Drying Hydrangea.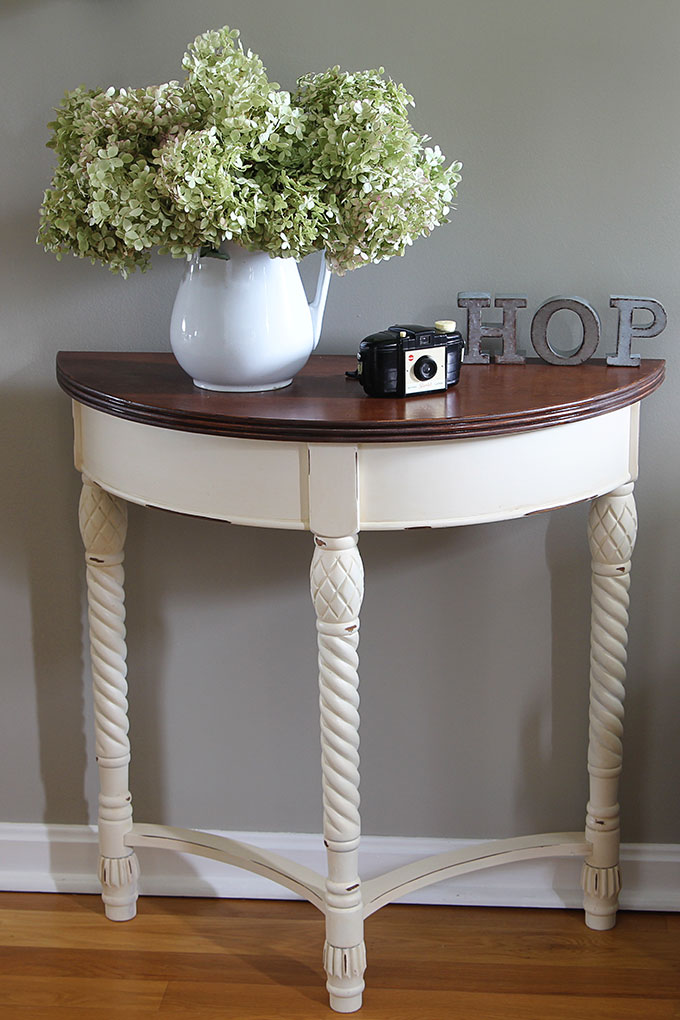 Oh, and that H-O-P sign is just some galvanized letters I picked up at JoAnn Fabrics one day. I think they were around $2 each by the time I used a coupon.
It is one of the few "Easter-ish" items I put out this year.
These four cameras are part of my ever-growing vintage camera collection. Anytime there's a vintage camera at a yard sale or thrift store for $5 or under, I buy it up in a snap.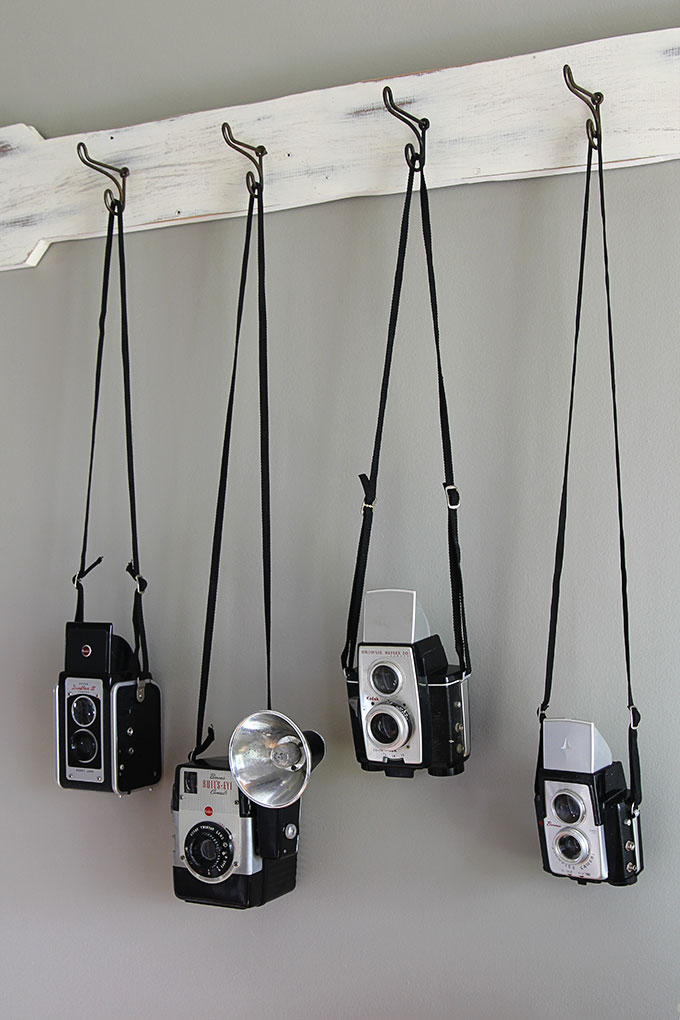 Now if I could only figure out how to display them without having to dust them, I'd be all set.
From the entryway you can look into the living room or great room or whatever you call it in your neck of the woods.
FYI, we do not have a UFO landing in our backyard. This room is practically impossible to photograph with all the light coming in the doors, but I wanted to give you some perspective of the room.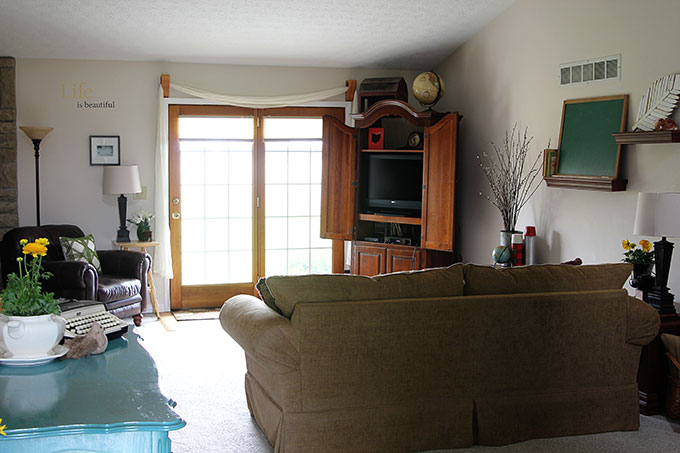 This turquoise buffet is one of my favorite thrift store finds. EVER.
And actually, everything in the photo besides the flowers are from a thrift store or estate sale, I believe. Including the plaid Skotch Koolers to the right.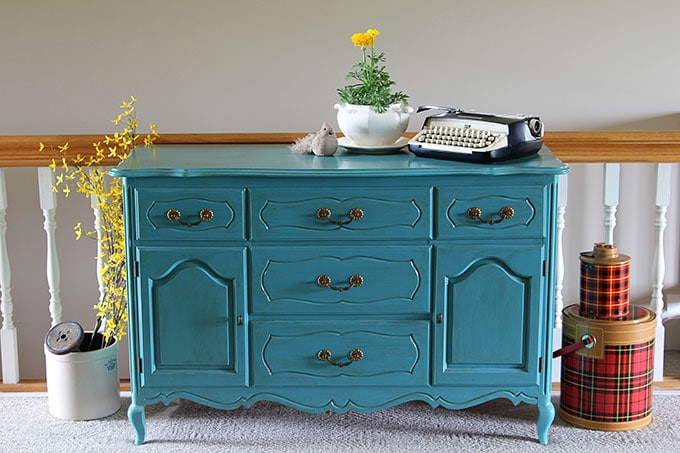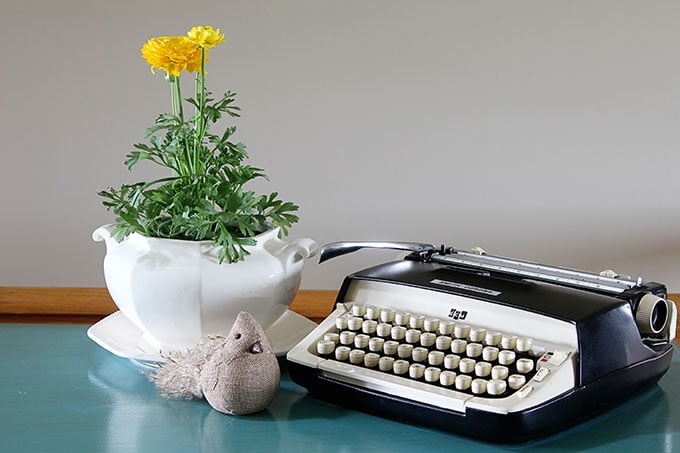 I also have a thing for typewriters. I'd say "vintage" typewriters, but that's sort or redundant these days.
This is a early 1960's Smith-Corona Galaxie typewriter.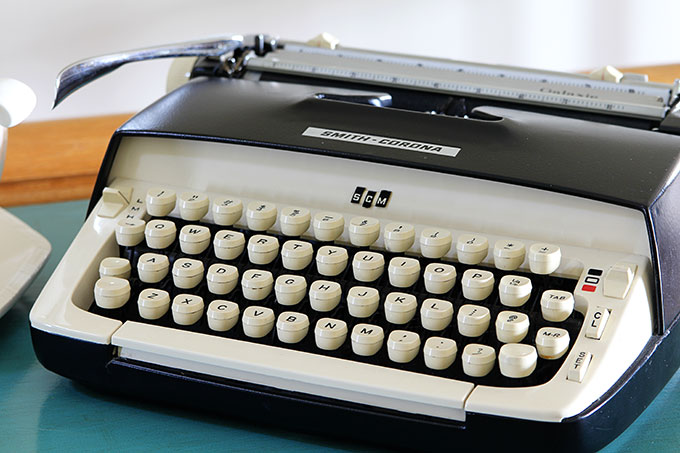 And it actually works in case you want to come over and type something out.
BTW, I have a link to a site that can tell you how to date your typewriter in my Resources For Vintage And Thrift Store Lovers. There's lots of reference material there for people who like to collect old stuff and then want to know more about it.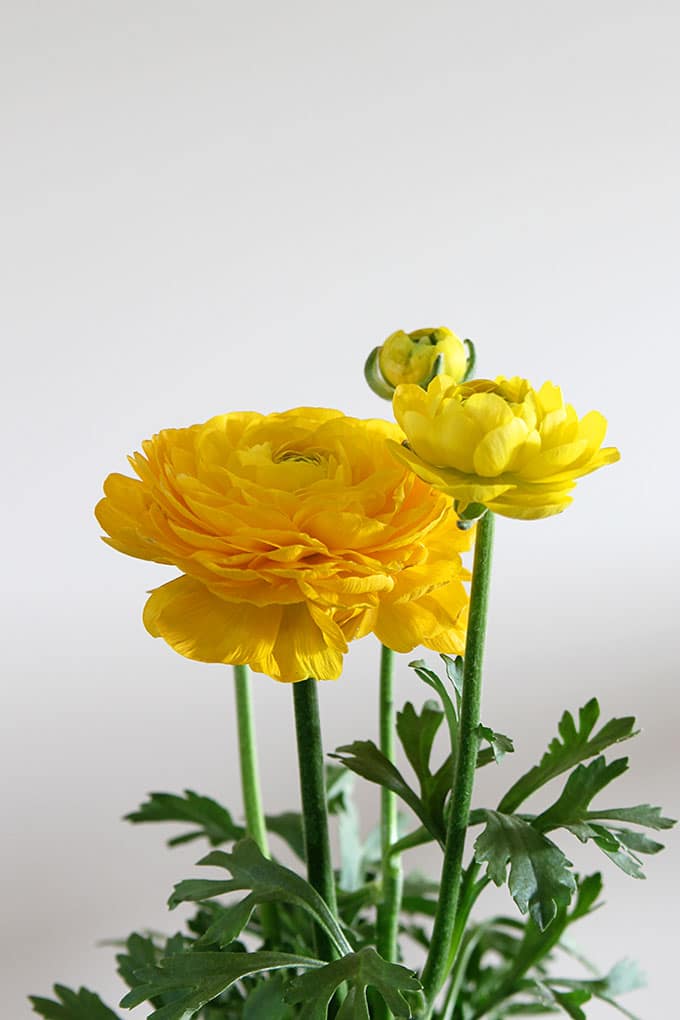 I moved my barn vent from the dining room into the living room recently, so I could stare at it more often. The best $5 I ever spent.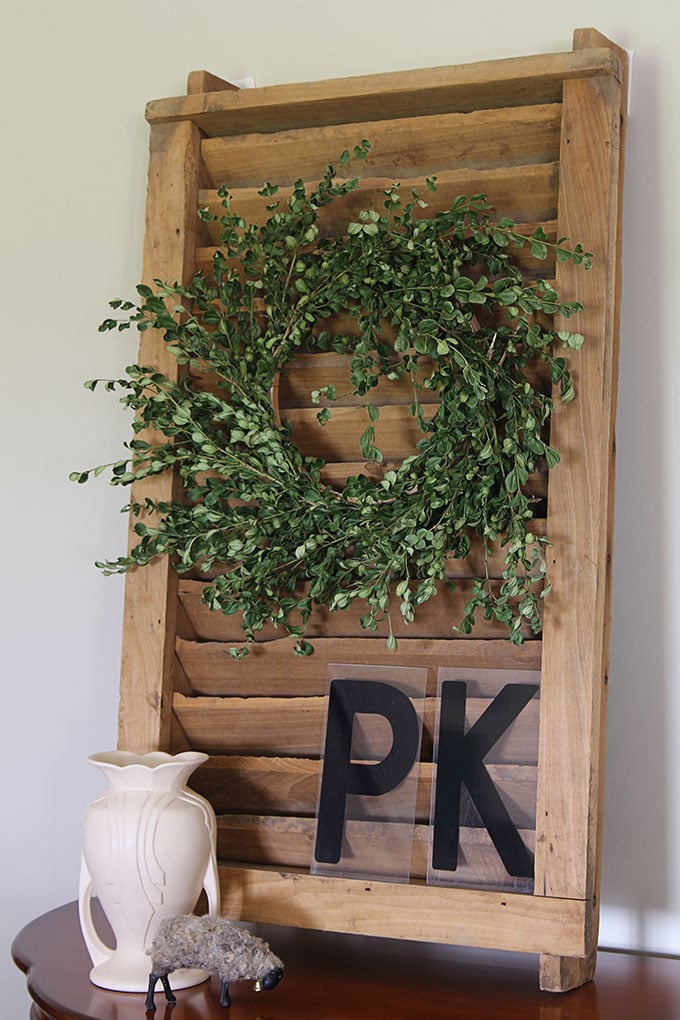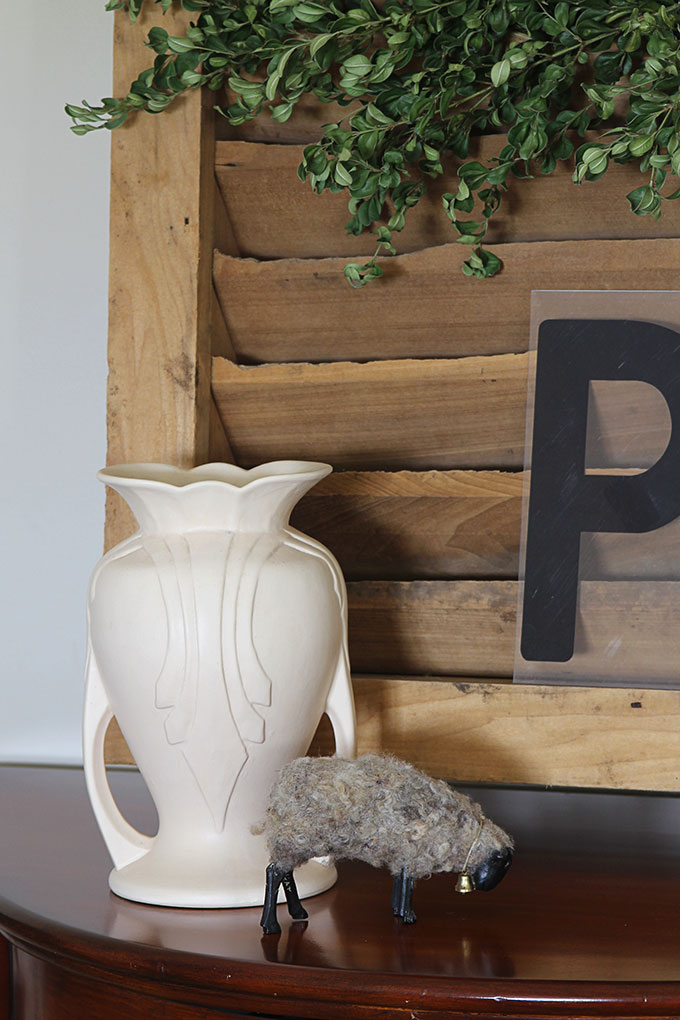 This is one of the boxwood wreaths I made myself, although it's a little more dried now than when you saw it last.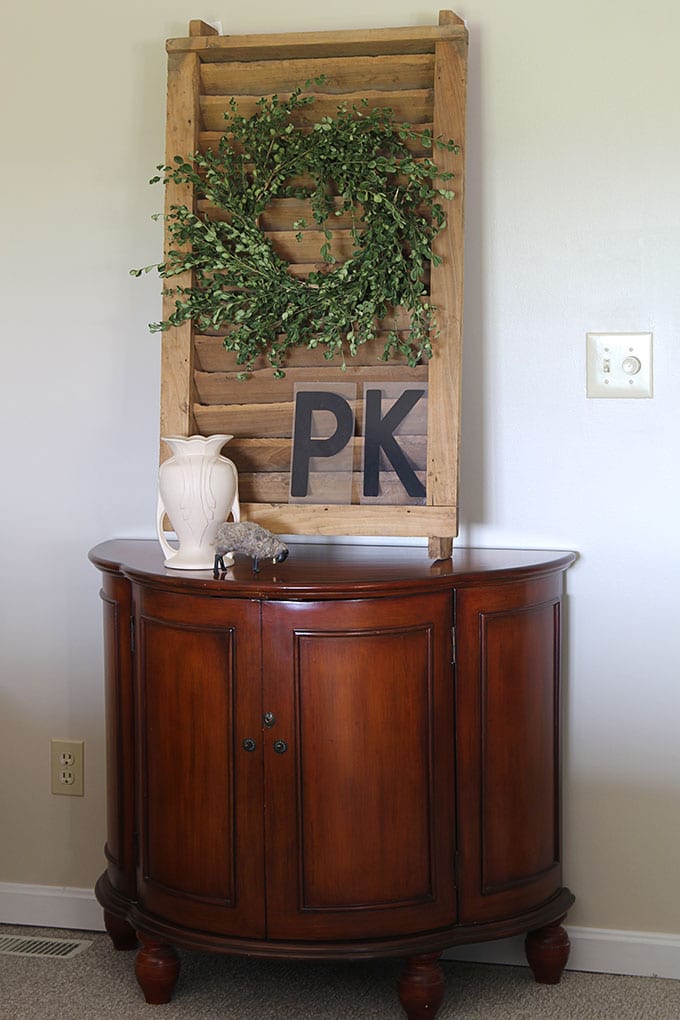 And then we have my chalkboard wall, which is really just my green chalkboard (green is the new black in case you haven't heard).
I've had the chalkboard since I was a kid and I used to practice my alphabet on it. This is pre i-Pad days.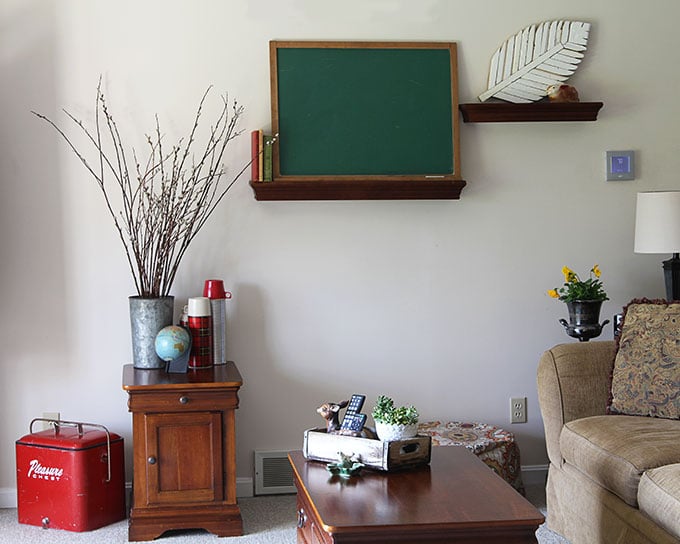 I had plans of making a fancy chalkboard creation on here for spring, but haven't gotten around too it yet.
Just imagine something with lots of flowers and doodles and some witty spring saying that makes you giggle and say "Oh, that Pam is a hoot!".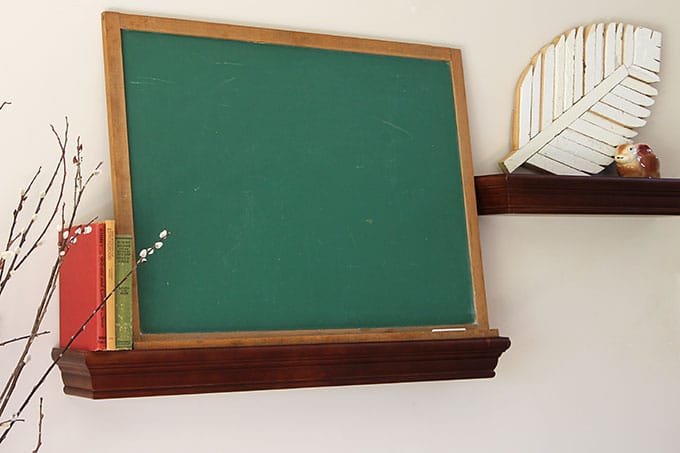 And this is one of the coolest things I have bought recently and I was so excited to show it to you, but it really loses something in the photos.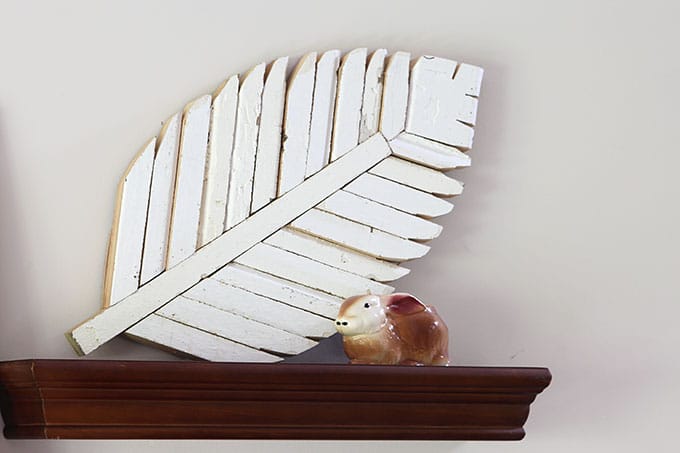 It's made from cut up old door molding from a house all pieced together to form a leaf. It has the greatest texture to it from all the layers of old paint.
Really.
Believe me when I tell you this is very cool in person!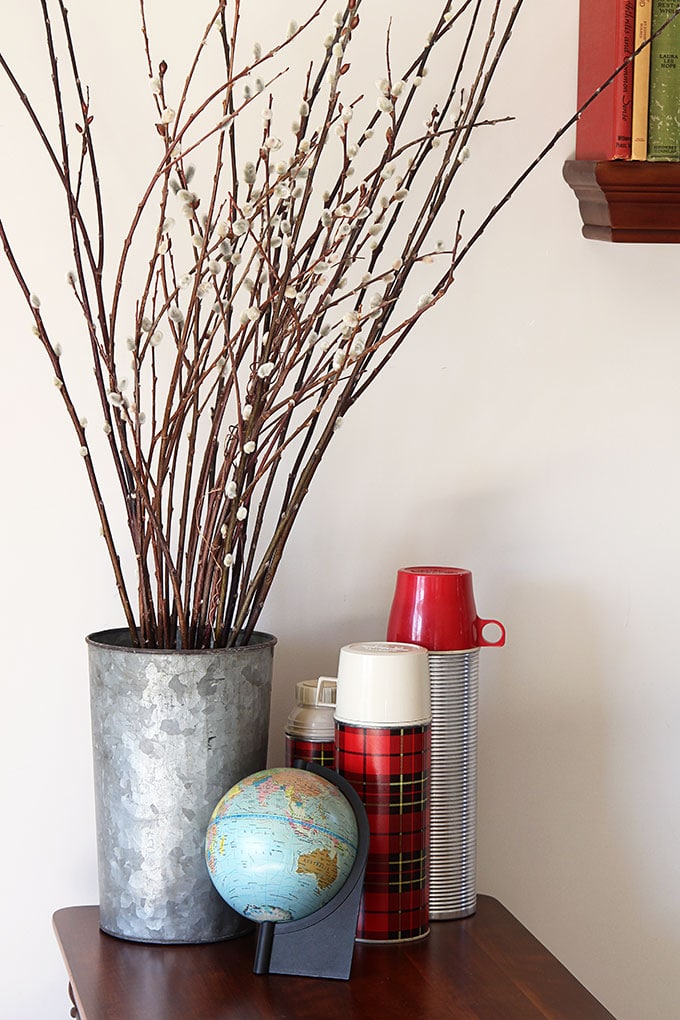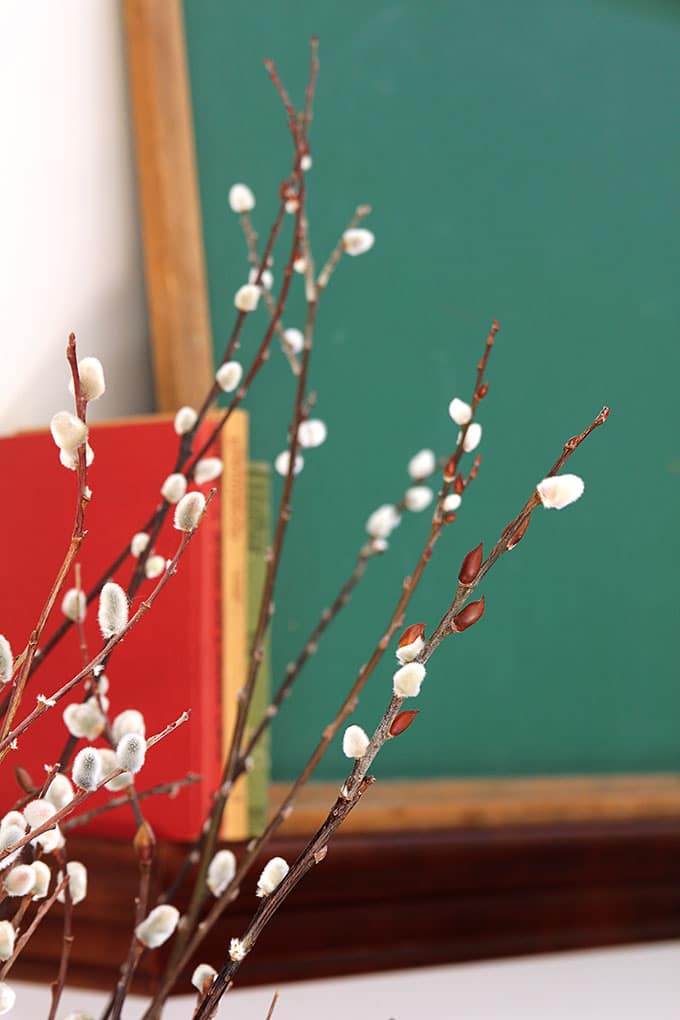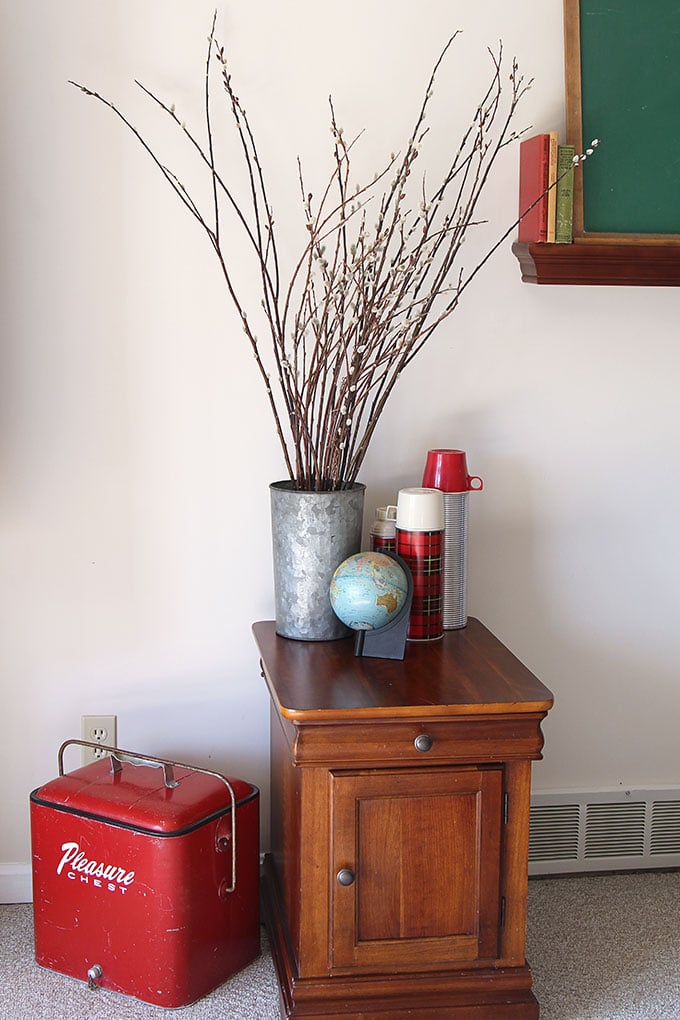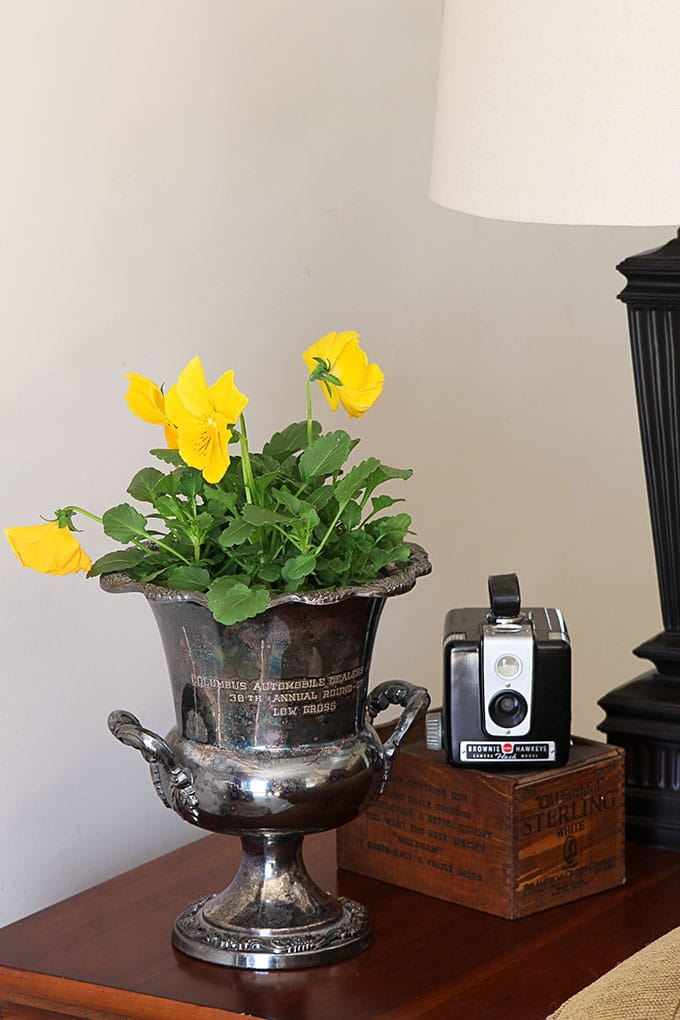 I fell in love with this odd green pillow at Meijer's the other day and just had to have it. The grass green stitching is actually raised and it reminds me of the old chenille bedspread I used to have as a kid.
Of course, I won't be picking the "bumps" off this one. Mom just loved when I did that!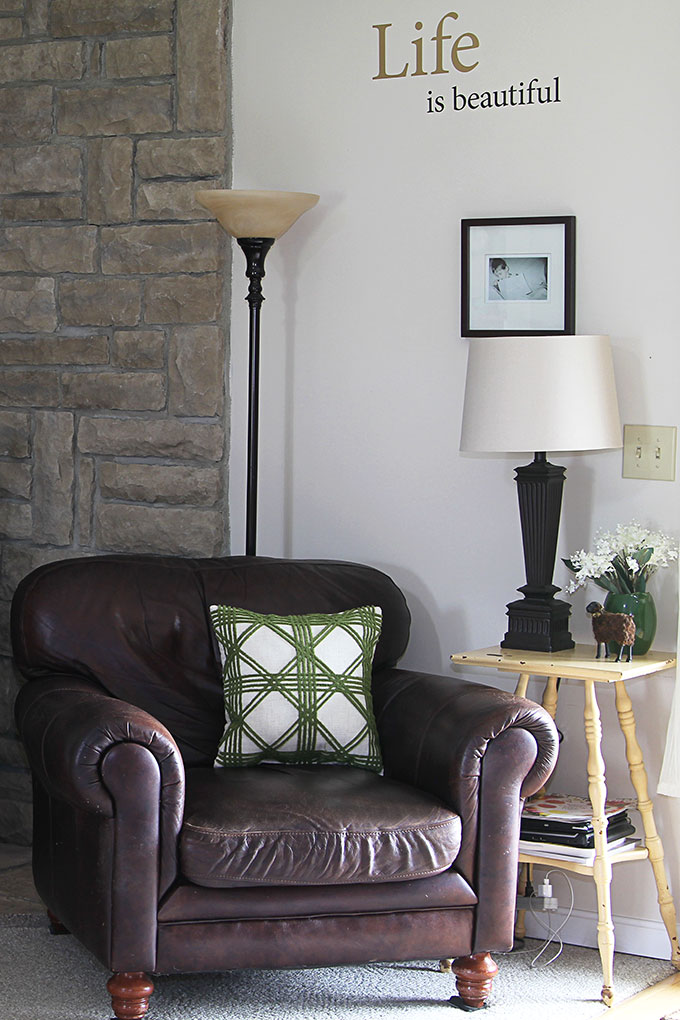 The yellow table is another great estate sale find. It's in the same chippy well-worn goodness as the day I bought it.
The chair and bumpy pillow set in the corner of the living room next to our wood stove which I have a true love/hate relationship with.
OK, I only love it when it's throwing off the blazing heat in the winter. Other than that, it's just setting there taking up space the rest of the year.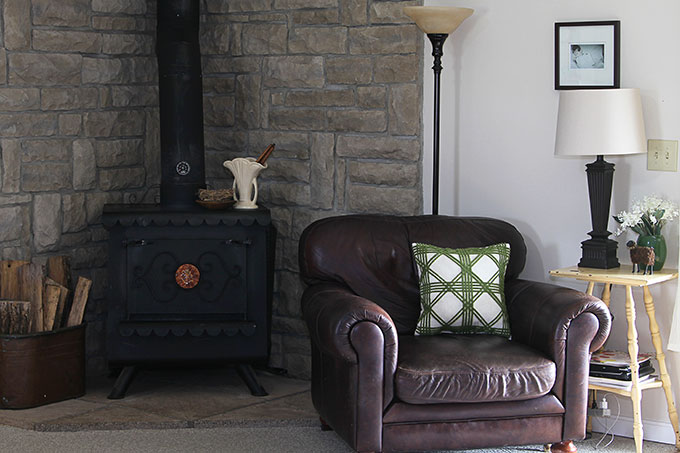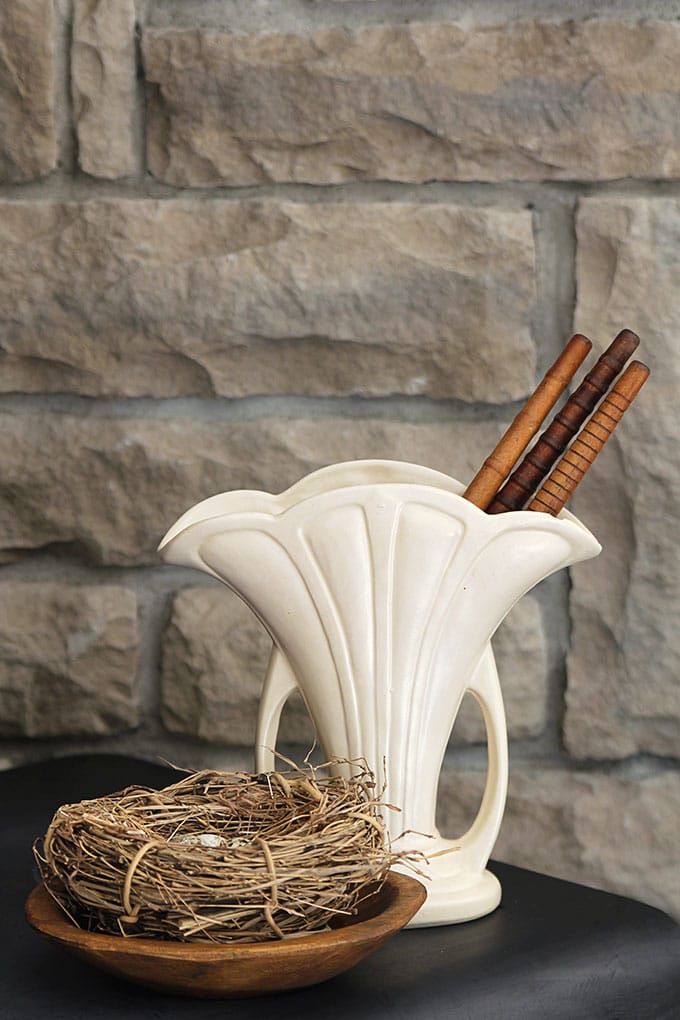 Well, that's all she wrote when it comes to spring decor, besides the primrose vignette in the kitchen that I showed you in last month's Decorating With Flowers Farmhouse Style post.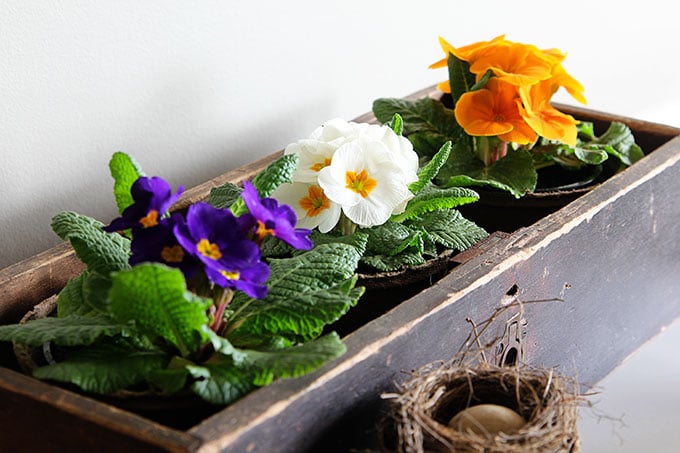 Here is the link to the slide show that I promised to show you (you know, the one that I AM IN)
Spring Blogger Tour at CountryLiving.com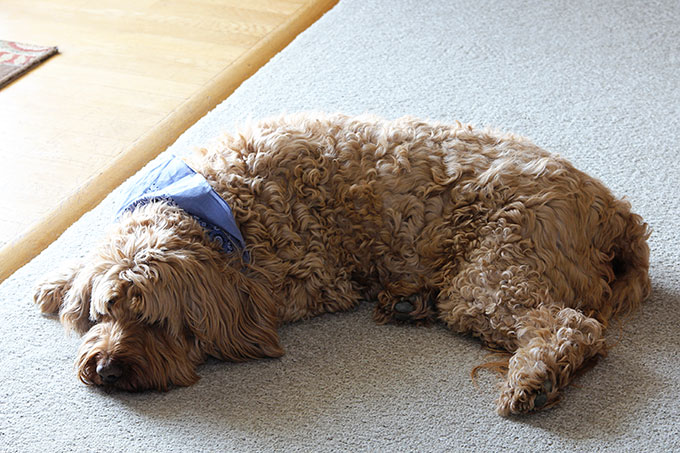 Lacey says it's time to get out of here so she can take another nap, so please run over to visit the other Farmhouse Friday bloggers' spring home tours:
Some other farmhouse and spring posts you may enjoy:
Farmhouse Decorating Style Ideas