There are many, many, many things I love about our house, but the albatross around my neck has been this living room wall. Now, the wall is really a nice wall since the peak of the cathedral ceiling meets there and it is the main focal wall that can be seen from the kitchen and dining areas. But, what could have been a really nice asset to the house has been hindered by the builders choice to put the return air duct smack dab in the middle of the wall and then while we're at it let's throw the thermostat on that wall also! Then there is also the doorbell ringer thing to top it off.
So in short, decorating this wall has always been a challenge for me. It intimidated me. I did not want to draw attention to the vent, so I just chose to not do anything to it.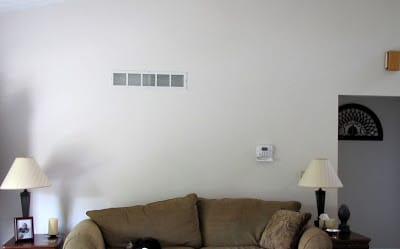 Until now.....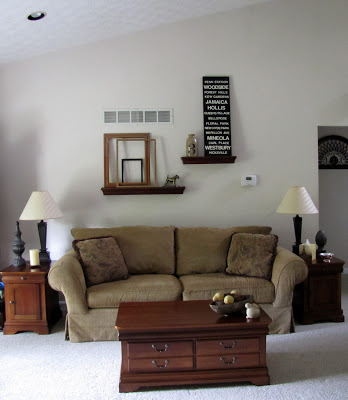 This gives you a better idea of the height of the wall. You can also see the dormer windows on the right.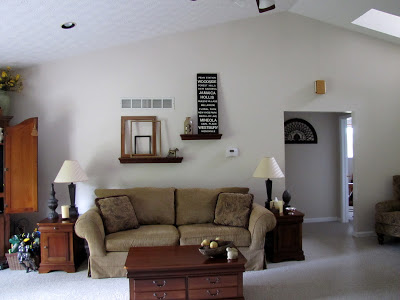 My whole theory of this wall was to just totally go for broke and ignore the ugly vent and maybe it would not be so noticeable.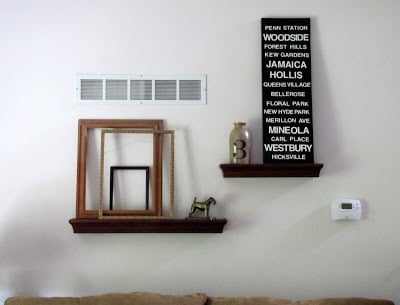 I bought these shelves at Hobby Lobby at one of their ½ price sales.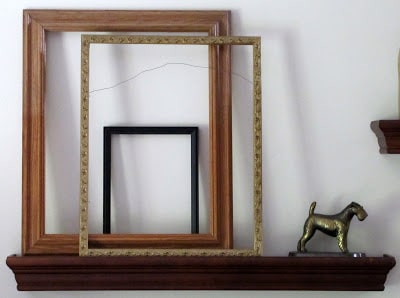 I stacked these picture frames for a little architectural interest, copying a look I saw in a French Country decorating book.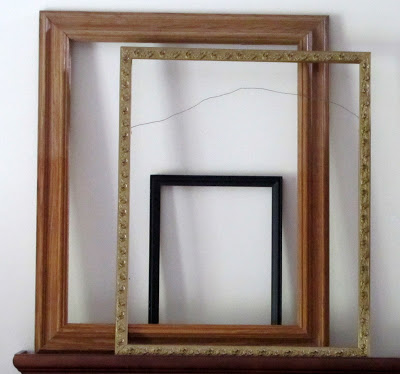 This bronze dog is a bookend that was from my MIL's house. I have a couple items that I have been playing with in that spot and the dog is the chatzky of the day.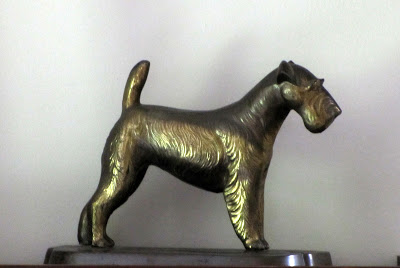 I wanted something tall on this shelf to bring the eye up toward the ceiling so I chose this subway sign art.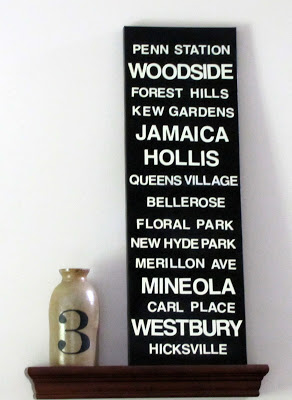 These signs are very expensive if they are original vintage ones, but I made this one myself. It shows a train schedule for the Long Island Railroad. Train, subway, same difference right? They both run on tracks.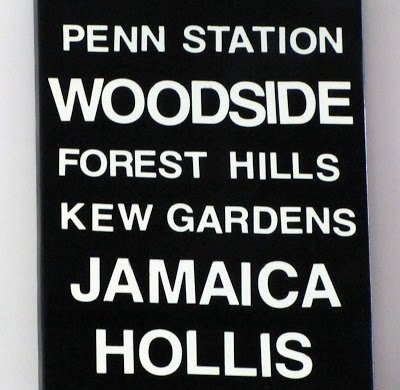 I put this crock that I bought at a garage sale a few weeks ago beside it. I painted the number 3 on it with acrylic craft paint in case I get tired of it and want to wash it off later. The font is called Engravers MT if anyone is interested in font styles. And while I'm at it, the font for the subway sign was Helvetica.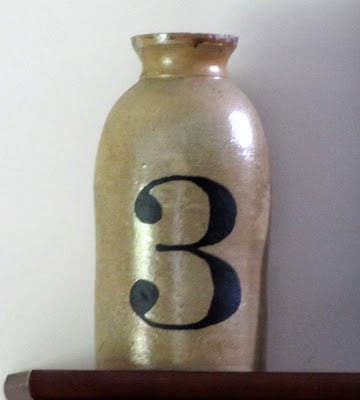 OK, here is my dilemma. These are the pillows that I bought with the couch. They match an armchair that is in the room.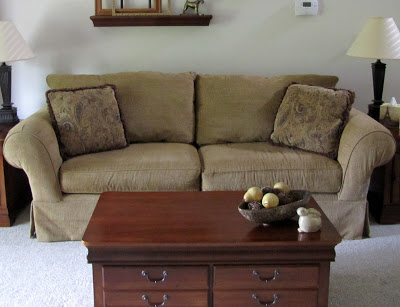 I've always been fond of paisley.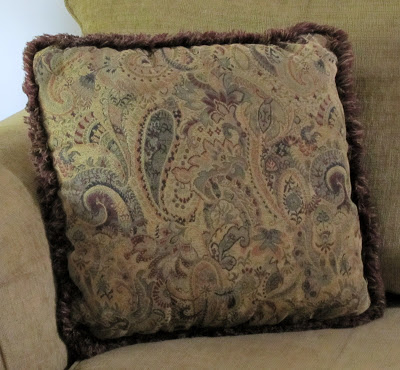 I found these pillows at Kohl's and thought they would be a nice change. I sort of like the geometric pattern and thought even though they are modern, they look vintage also.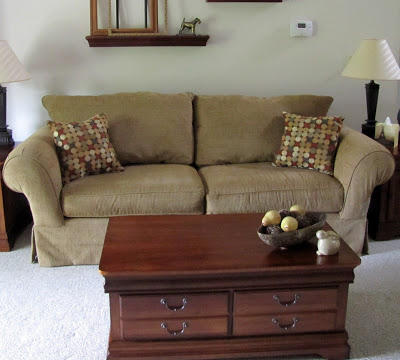 Sort of modern/industrial/vintage?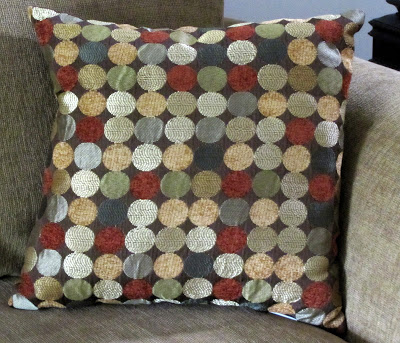 Or do I use both at the same time?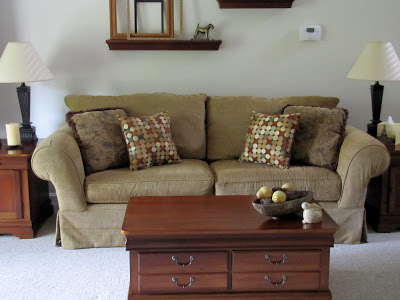 Too much pattern confusion?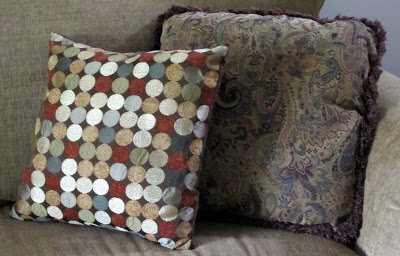 So paisley, circles, both? You decide because my brain is fried from the wall.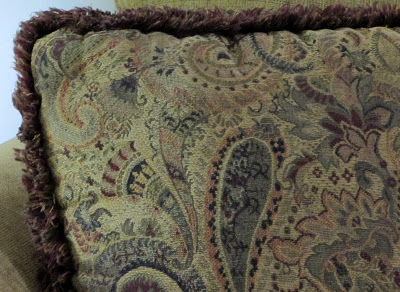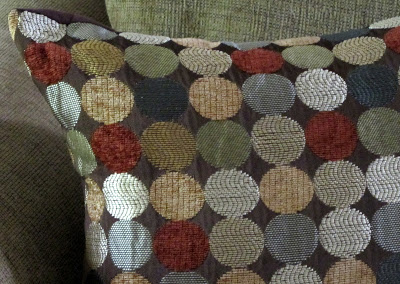 Now, I have to admit that I hyperventilate when thinking of the blog world looking at my living room. It seems so personal, you know. But I enjoy so much looking at other people's houses that I thought I would show you this little area. Tomorrow I will show you the rest of the room so you can get a better idea of my decorating style (if I have one) . . .
I'm linking with Between Naps On The Porch's Metamorphosis Monday.