OK, I survived Living Room Decor – Part 1, so here goes Part 2.
I apologize in advance for this photo. We have bright sunlight coming in the living room at all times and it makes it hard to take photos at this angle. So I took the best photo I could and adjusted it on Picasa.
Anywho, this is the view from the entryway into the Living Room.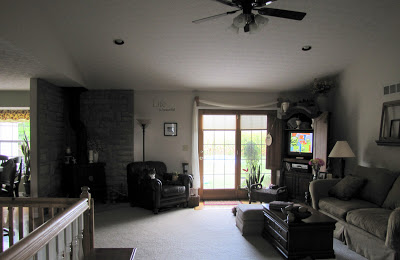 Starting in the far right hand corner and going counter-clockwise, this is my television armoire vignette. I change it up with the seasons. Lately I've been trying to incorporate some of the white ironstone pieces that I have found at garage sales into my decor.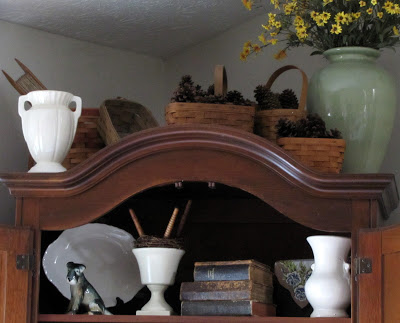 This is the area to the left of the french doors.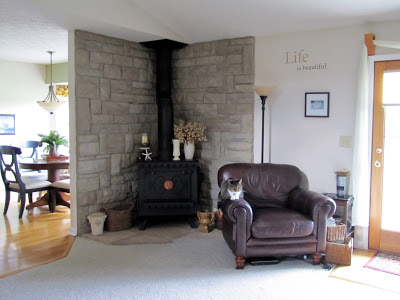 If the return air vent from Part 1 was the albatross around my neck, then this is the thorn in my side (that also makes me giggle).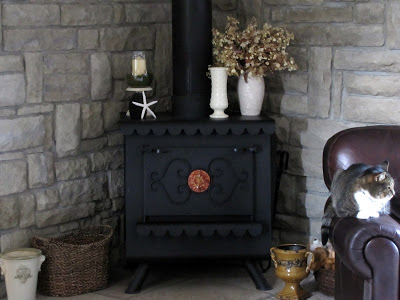 I love the stone look on the walls and the top of the wood stove is a good place to put some seasonal decor, but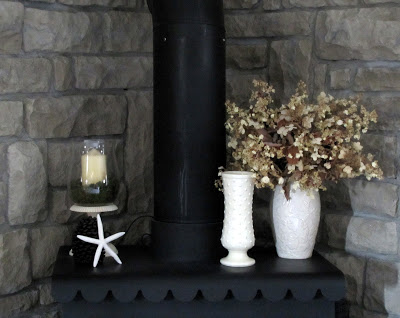 what's with the decoration on the wood stove's door?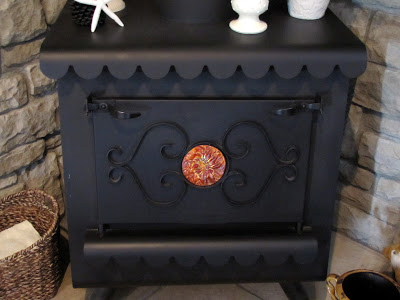 Scalloped edges and that orange-sunburst-swirly-ceramic-thing. It's not that I absolutely hate it, because I don't, but I would have thought they would have put in a stove with less of a "distinct" style to it. Is it Norwegian? Pennsylvania Dutch?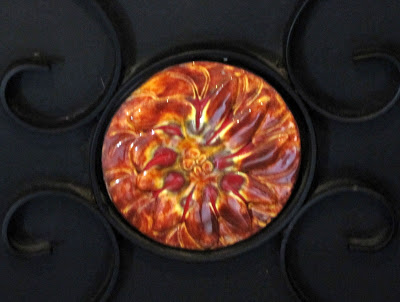 Continuing around the room this is the entrance to the dining area and kitchen.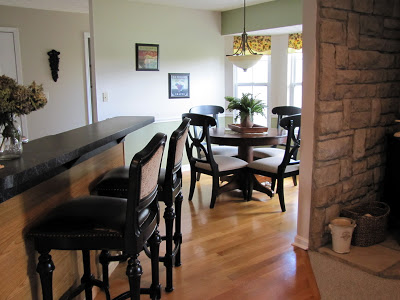 The oak table is from my Mom's house and is in the arts and crafts style. It is where we ate many family dinners.
The chairs are from Penney's. I looked high and low for chairs to match the table and when I decided to not be matchy-matchy is when I found these great quirky black chairs.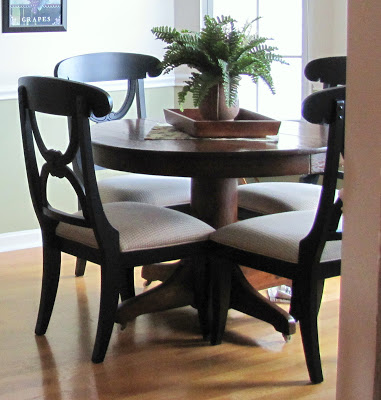 These bar stools are probably my favorite buy ever from Big Lots. And that is saying a lot because I love a good deal at Big Lots.
I bought these when they were on clearance plus I had a 10% discount coupon. They are ridiculously sturdy, have real leather seats and a tapestry fabric back. I don't know what they were doing at Big lots in the first place, but I was happy to stumble across them.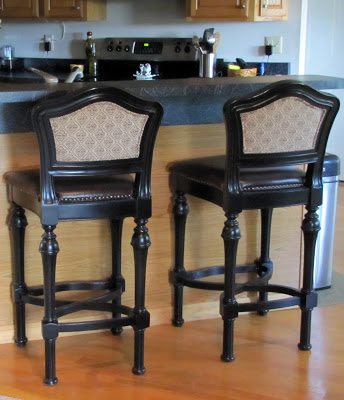 This stairway leads down to the lower level also known as the basement/family room. Or more precisely, cat bathroom. I had always wanted a finished basement, but we never, ever, ever use it. I can't tell you the last time I was down there that didn't involve cat litter.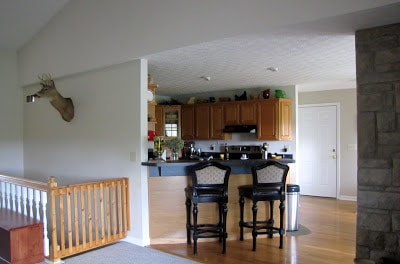 And in case you noticed, yes I have a deer head in my living room.
No, it's not a decorating decision on my part.
When we were clearing out my Mom's house prior to it being sold, my husband only wanted dibs on one item. And it was this old deer head. He kept talking about how cool it would look in his man cave of a garage, so I finally gave in and told him to throw it in his car. Who cares if he just sticks it in the garage?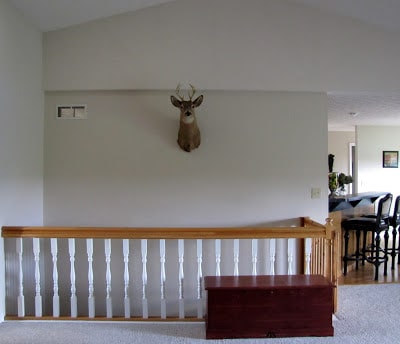 Well, he drove home one day earlier than I did from my Mom's house and when I got home the next day he had taken down my nice huge wall clock (seen here in its new location)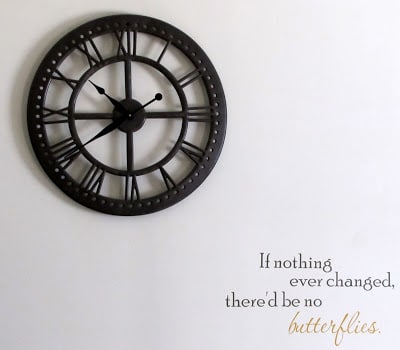 and replaced with Bambi's Dad.
But since it's hanging above the stairwell I cannot reach it to move it! And hubby is fully and completely aware that I cannot reach it. So this is his contribution to our living room decor. It's been there a few years, so it's probably permanent now.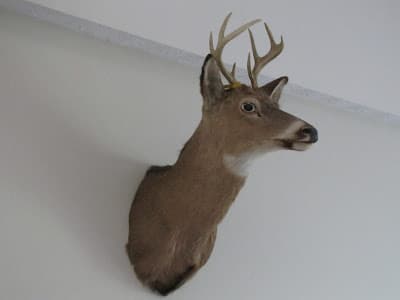 So back to the living room tour – this is a shot from the french doors looking toward the front door. The bright holes in the wall are the two dormer windows that go through the ceiling and up to the 2nd floor.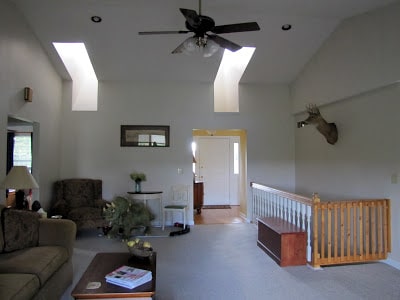 Except there really isn't a second floor, it's just a window placed on the roof line to make it appear like there is a second floor.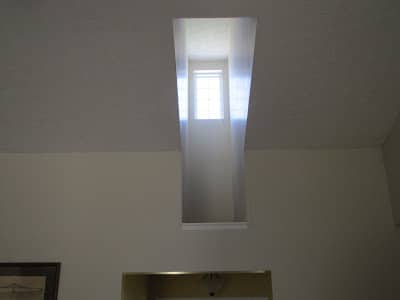 Maybe it makes more sense to see it from outside.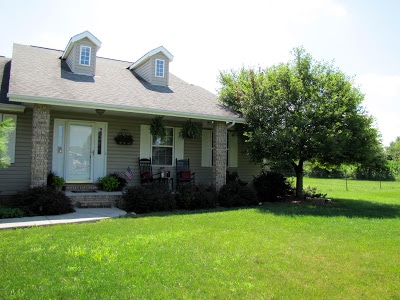 This is the artwork hanging on that wall (again, sorry for the quality of the photos – the light and glass were wreaking havoc on the camera)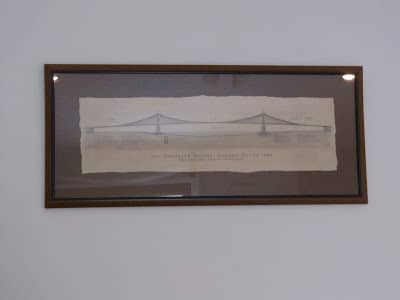 It is an architectural drawing of the Brooklyn Bridge.

Which then ties into the New York Subway art project on this wall from Part 1.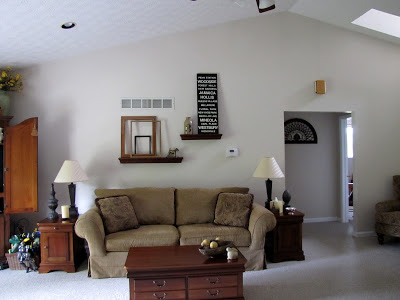 Hubby is from New York. Which you would realize within two minutes of talking to him. He's lived in Ohio for almost 30 years and he still has a thick New York accent. Get him, his brother and friends from Rhode Island and Jersey together and I feel like I'm in an episode of The Sopranos minus the whole mob, drugs, prostitution and killing people thing.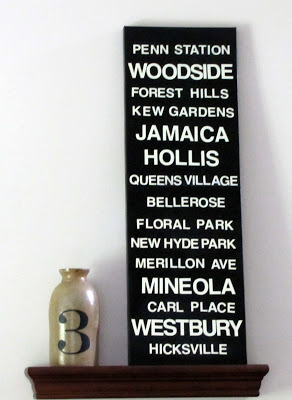 Hope you enjoyed the tour.
I'll post a tutorial on how I made the subway sign later this week in case you are interested in making your own.