This is the last installment of my holiday home tour series for this year. With the events on Friday, I was hesitant to write about this today. It just seems so trite to be discussing cute Christmas decor when so many children in Connecticut won't be celebrating any Christmas at all.
But then I thought that maybe some of you would want a little levity in your day. I know I do. With all that has occurred this weekend, it is easy to get glued to the tv trying to figure out how this could have happened. I have felt the need to step away from the tv remote for a while and just look at pretty things for a few minutes, so thought you might be in the same situation.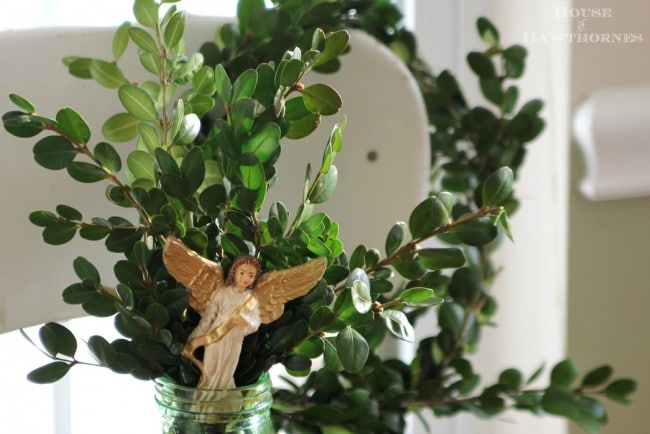 My prayers and thoughts are with the victims, their family and friends and the emergency personnel of the area.
My buddy Frosty and I would like to take you on a tour of the living room today.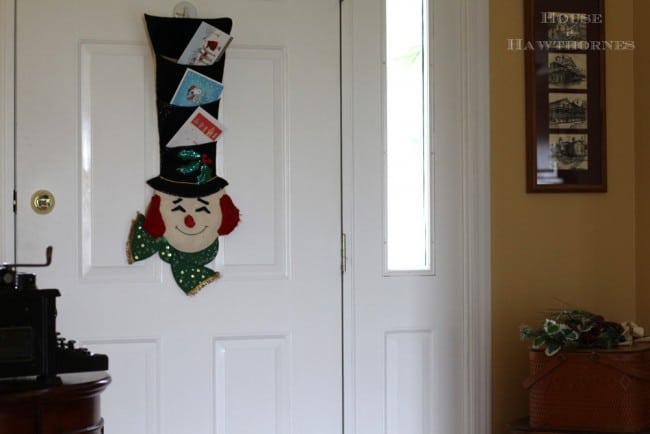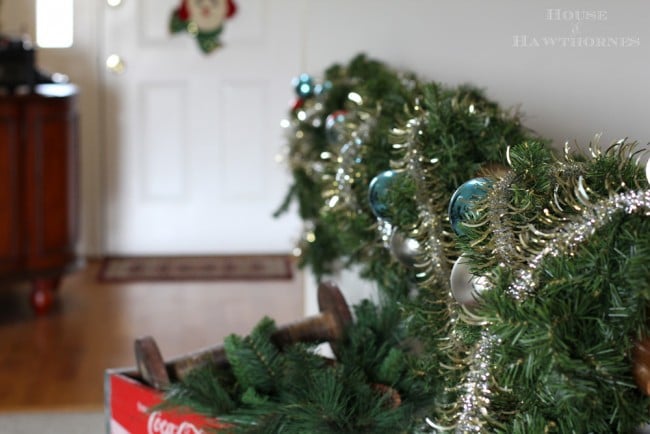 I found this olive bucket at Tuesday Morning. Olive, of the blog Olive Out, had found one at a Tuesday Morning in Georgia, so of course, since I'm an olive bucket obsessed, I had to run to my store and pick one up. That's a world's record for the number of times you can write the word olive in one sentence.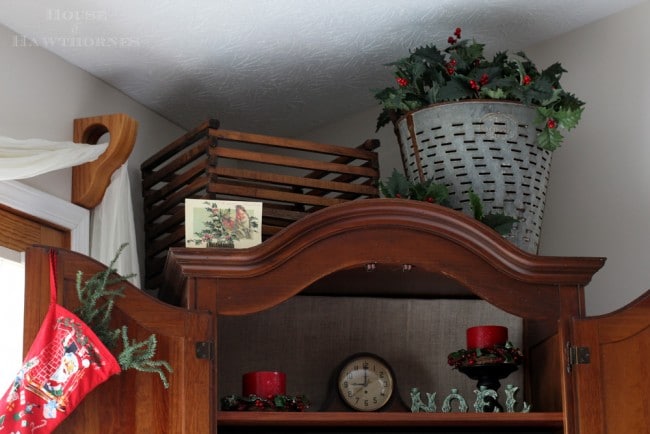 I have no idea why I love these old, rusty, holey buckets, that are way over-priced for what they are, but I do. I adore them.
The NOEL candle holders were my Mother's and are probably Lefton or Napcoware.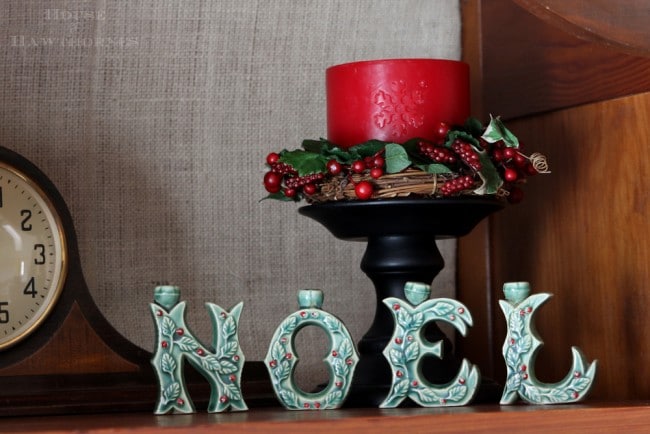 And this is my childhood Christmas stocking. Sort of. Mine was misplaced and my sister found this on ebay and it happens to be exactly like my old one.
The wreath that I won in a giveaway from Linda at My Vintage Soul hangs from my naked picture frames. At various time throughout the year, I hang postcards, photos, etc from them, so they were the perfect place for this fantabulous vintage filled wreath.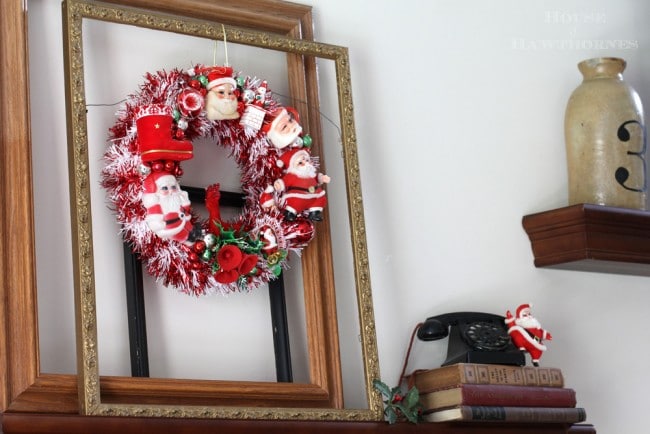 I used this paper mache Santa vignette as the subject of my Christmas Bokeh post last week. I am pretty sure he was a candy container.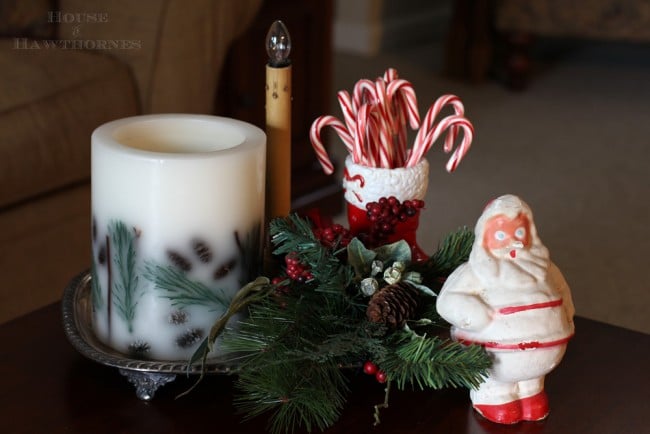 Our dear deer friend got a holiday makeover. He wanted to wear an ugly Christmas sweater, but I put my foot down on that one. I didn't want him to look silly or anything.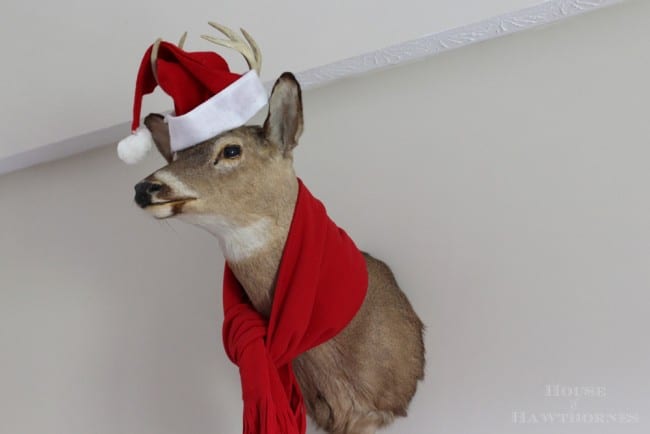 For the first time this year, I added aqua blue balls to my normal red and white ornaments. I was worried that it would look too patriotic. Not that patriotic is a bad look for a tree, just not what I was going for. But it is just the right shade of aqua to give it a different feel.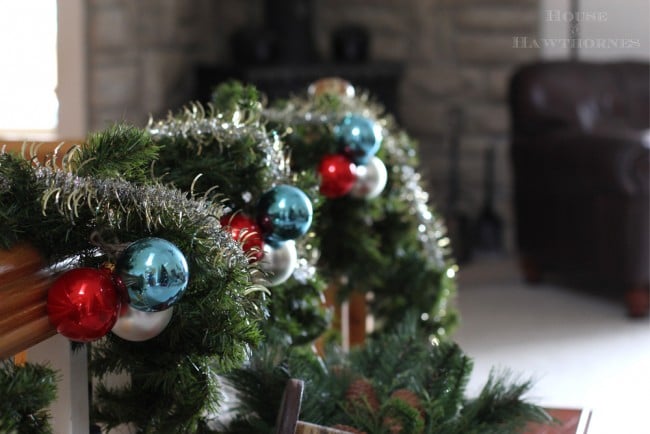 My tree is definitely not one of those theme trees though.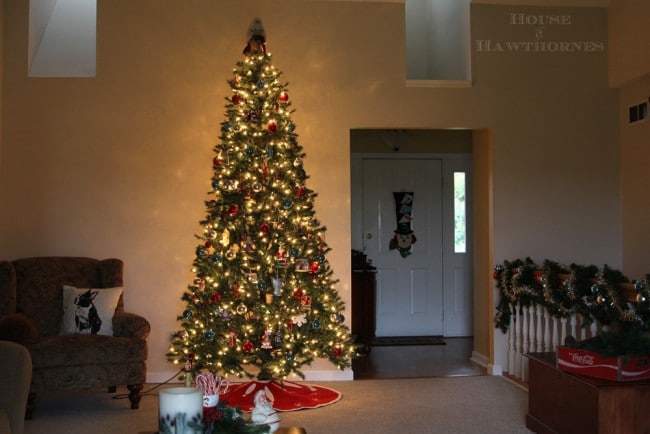 Besides the white, red and blue balls (hee hee, I said blue balls), it is filled with lots of glass figural ornaments we have collected over the years, ornaments that my son has made in school and ones that people had given us. It's a total mishmash of Christmas goodies and I would have it no other way!
This is one of my favorite ornaments. Only a few years old, but a fun vintage vibe to it.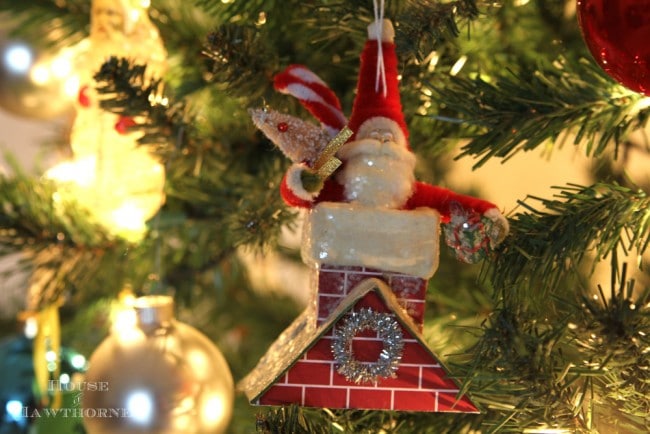 This is one of my husband's favorite Christmas ornaments.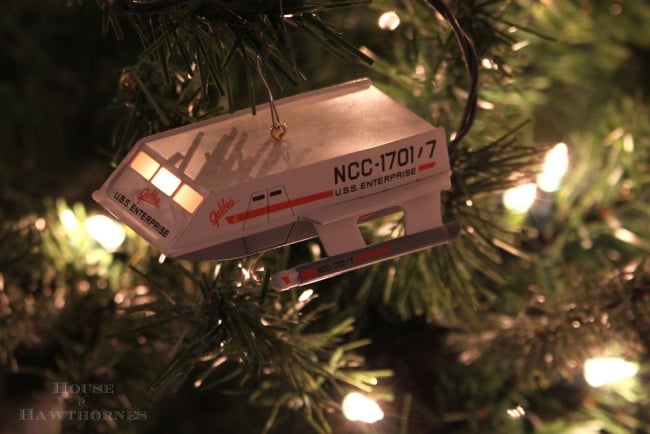 Why yes, that is from Star Trek.
And it gets better. You press a button and it says "Shuttlecraft to Enterprise. Shuttlecraft to Enterprise. Spock here. Happy Holidays. Live long and prosper".
It's a wonder how we ever made it to the alter.
If you want to see more of my 2012 holiday decor you can check out:
The Holiday Kitchen
The Holiday Dining Room
My Holiday Front Porch