Enjoy a warm and cozy lodge look for the holidays using vintage rustic Christmas decorations.
I'm loving the plaid, snowy, pineconey (not a word?), lodge look this year in Christmas decor. So I decided to mix all that comfy cozy stuff in with some of my vintage Christmas decor to create a Vintage Rustic Christmas look for my dining room.
The last time you saw my dining room it was a golden yellow color. I had painted it a few years ago in the fall and in my fall frame of mind I thought it would look very warm and cozy being all golden yellow.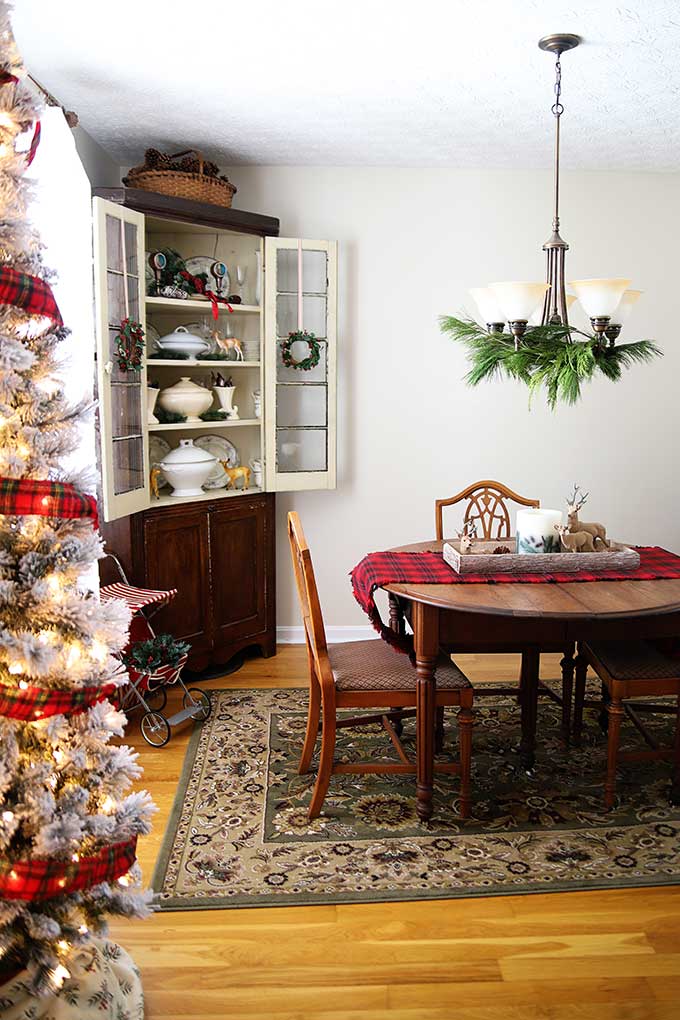 (You can see Old Yeller in all its glory HERE).
But it was VERY hard to take photos in there. Everything had a yellow cast to it and it was so dark and dreary in the winter!!!
So since I had snowy winter plans for the dining room, I took the opportunity to finally put Old Yeller down. It was inevitable.
Dogs color choices don't live forever and I'm loving the lighter brighter look to the room.
I picked up this skinny flocked tree at Michaels a few weeks ago.
I have a link to a similar one in my Amazon store.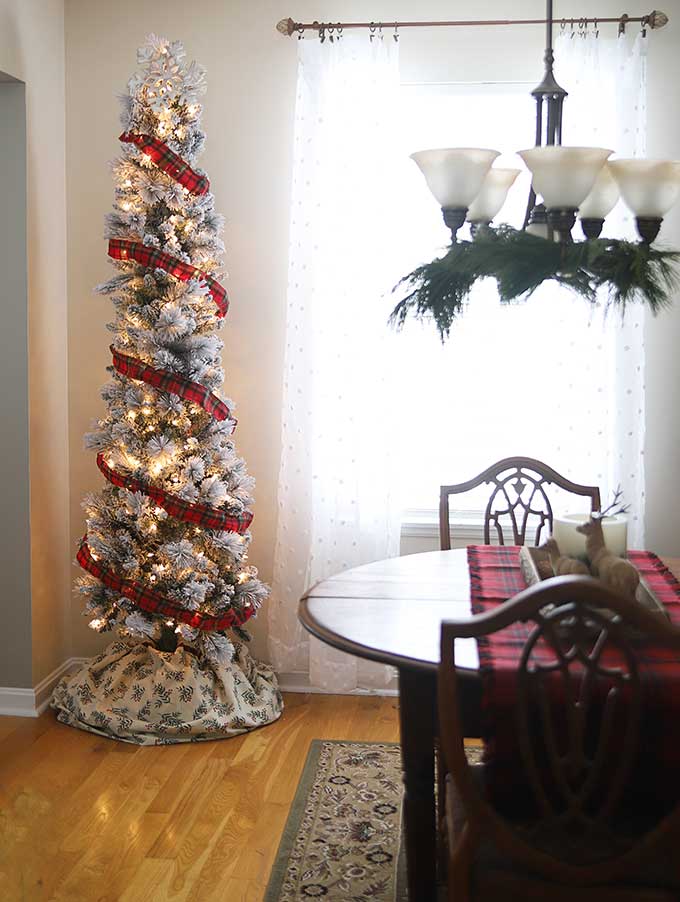 When I bought it I already had in my head that I wasn't going to throw a bunch of decorations on it like a normal Christmas tree. I just wanted it for the snowy look.
I ended up wrapping some plaid ribbon around it, putting a huge wooden snowflake on top and being happy with the woodsy look of it.
This is my grandmother's corner cabinet. Which is probably one of my most favorite things in the world. Sigh.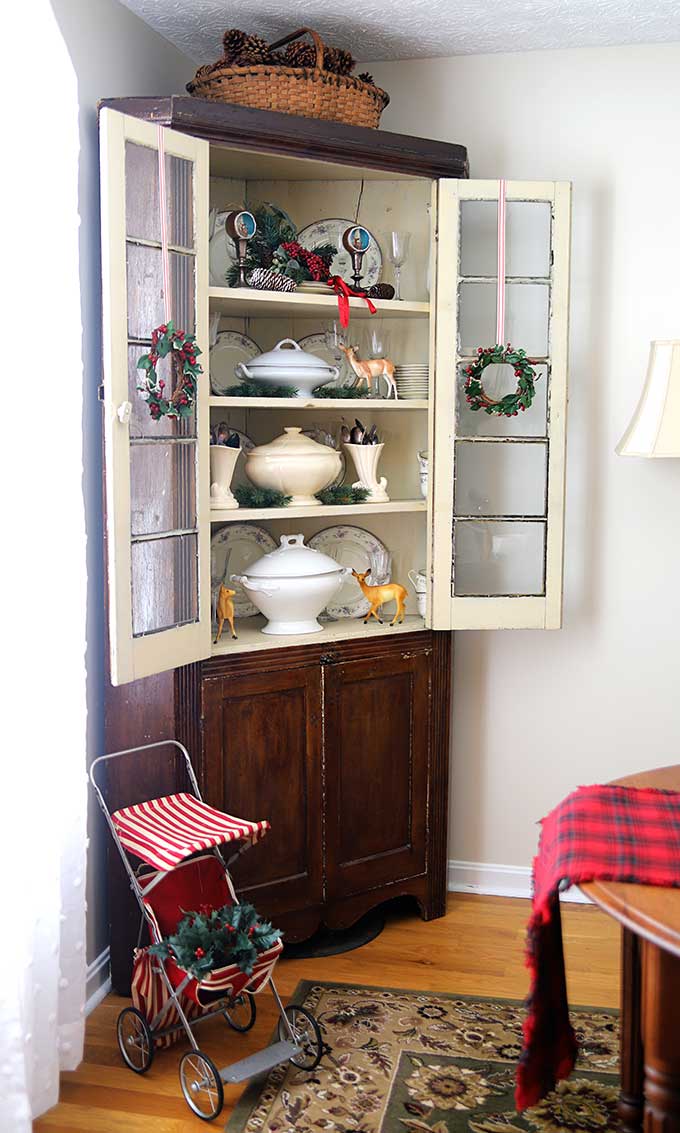 I just love knowing she liked to decorate the inside of it as much as I do.
Right now we have my wedding china (haven't used it in YEARS), some ironstone tureens (never held a can of Campbell's soup) and some kitschy vintage plastic deer (LOVE these guys).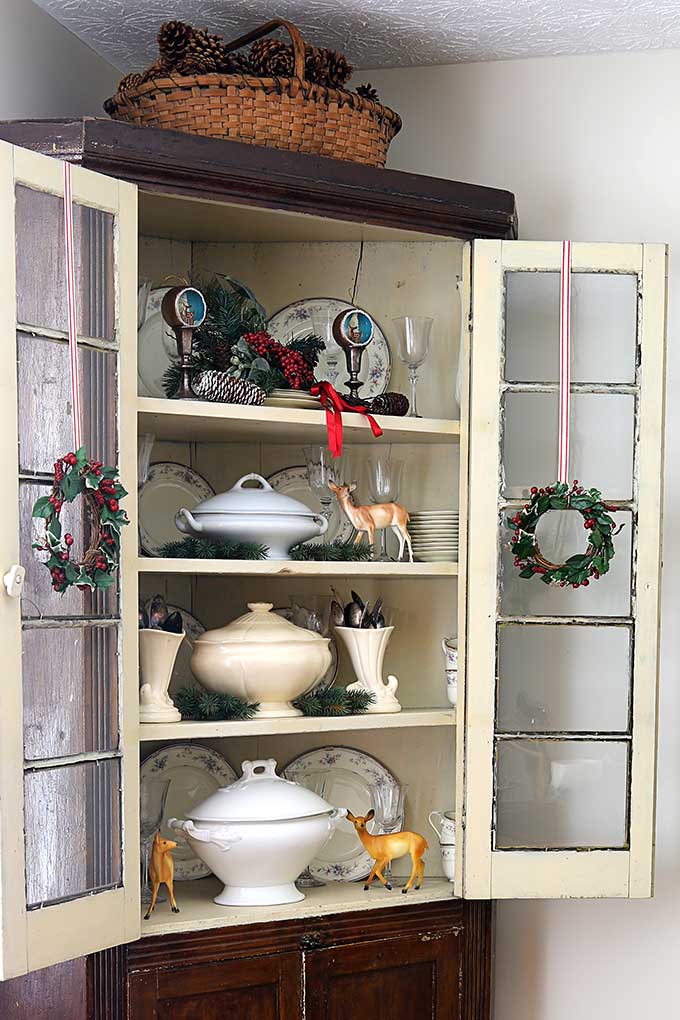 To give it a little more Christmas cheer, I hung the little wreaths from the doors with red and cream ribbon.
This doll stroller is the one I found at the Country Living Fair this year and as soon as I saw it Christmas decor came to mind.
I don't collect dolls, I knew my dog was too big to fit in it (and would be very upset with me for trying to embarrass her like that), but I knew it would look cute as a button decked out for the holidays!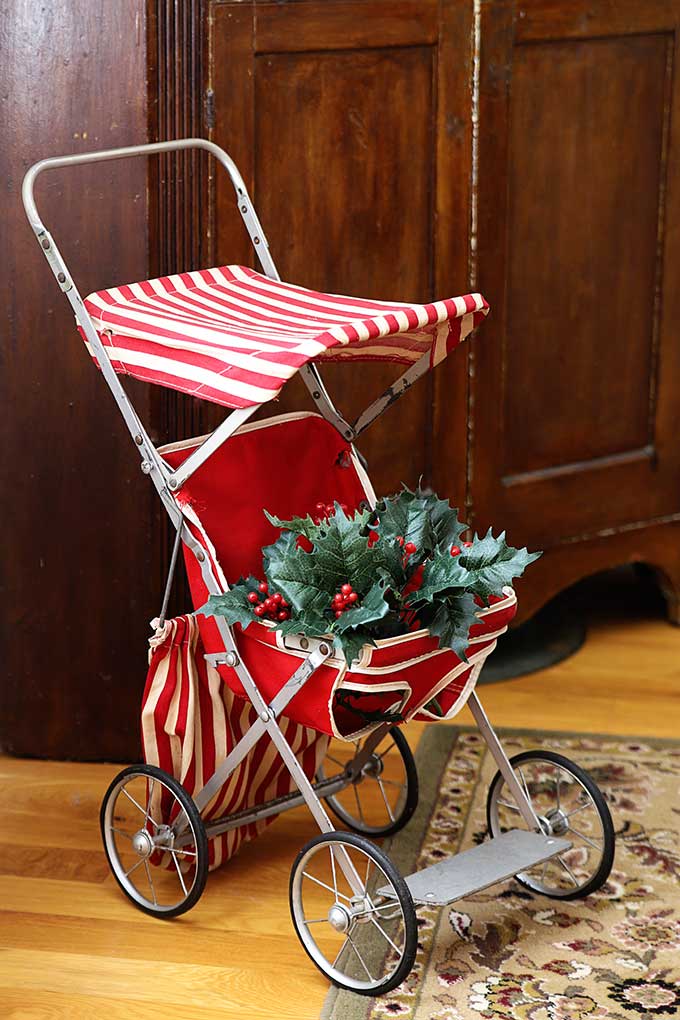 OK, so by "decked out" I mean I put some faux holly in it.
I hung some real greenery from the "chandelier". It is part of a 15 foot garland that I cut into a few pieces and put in different rooms of the house.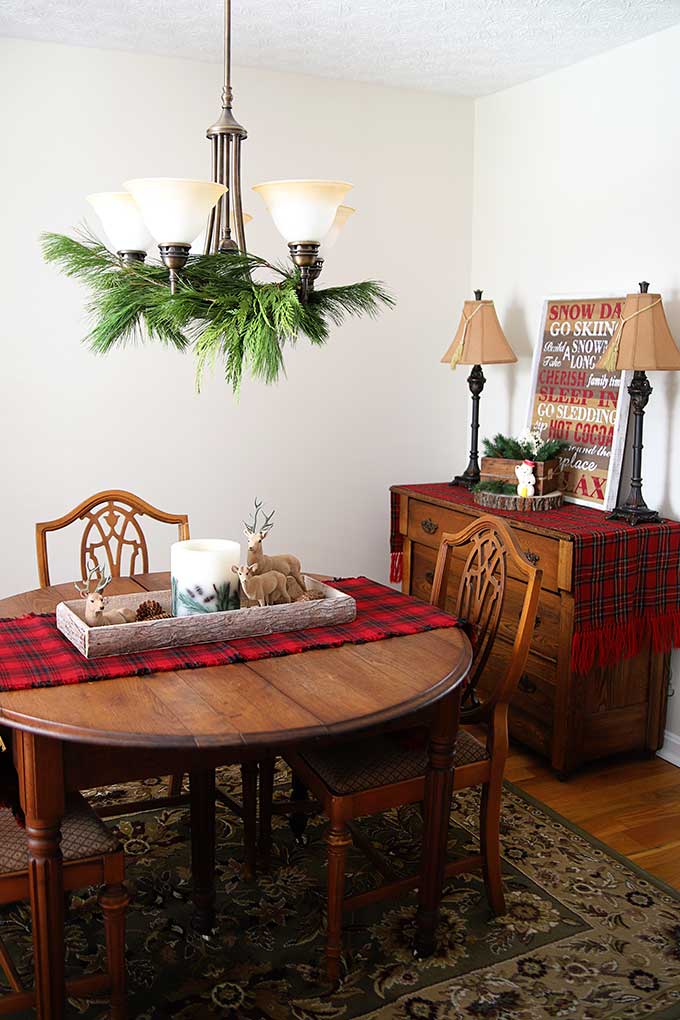 The best $6.99 I ever spent at Home Depot.
My vintage flocked deer are just hanging out with some pinecones as part of my rustic Christmas centerpiece.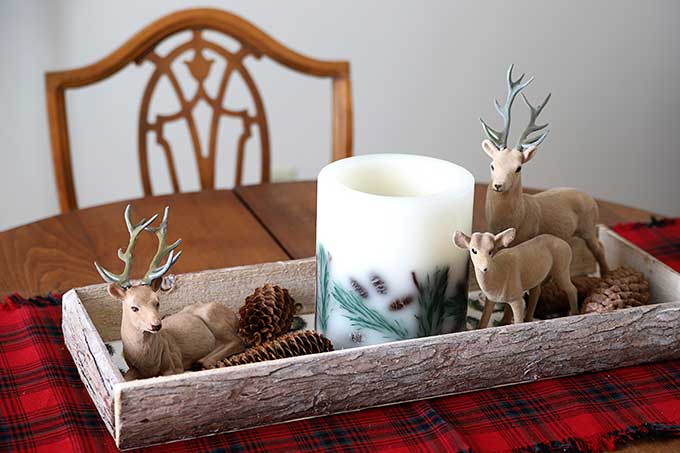 I do not remember where I bought the "log" tray (some craft store in Oregon I think), but the plaid table runner came from HomeGoods just this year.
Speaking of plaid table runners, this one is actually a men's winter scarf that I found in my basement last year when I was doing my huge declutter-athon aka KonMari Method: For Thrift Store Shoppers.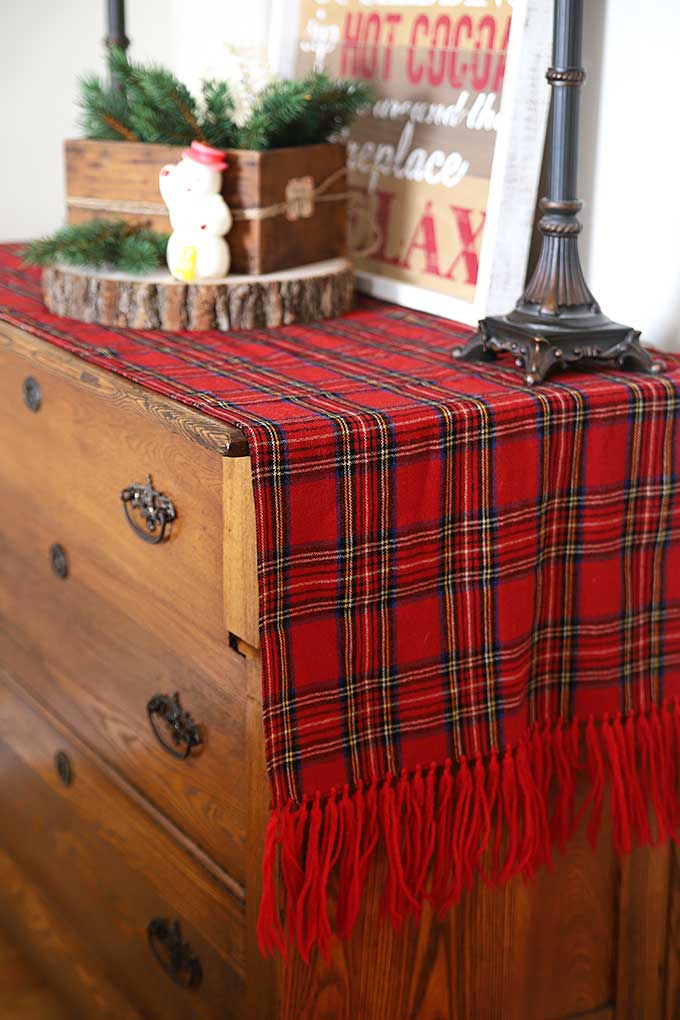 Needless to say, it sparked joy, so it didn't get put in the donate pile.
I fell in love with this lodge style sign at Michaels so as soon as it went on sale AND I could use one of their wacky % off coupons, I grabbed it.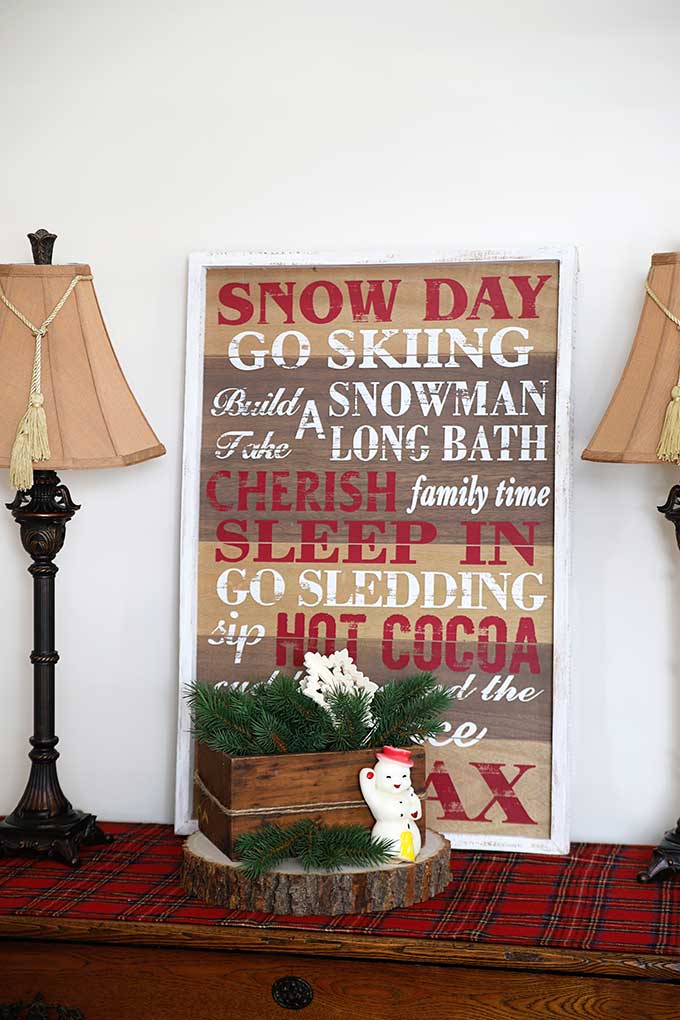 It's not available online anymore, but you might be able to find one in the stores - I think it was around $40, so that means you would probably never pay more than $20 with discounts and with coupons I think I only paid $14-ish.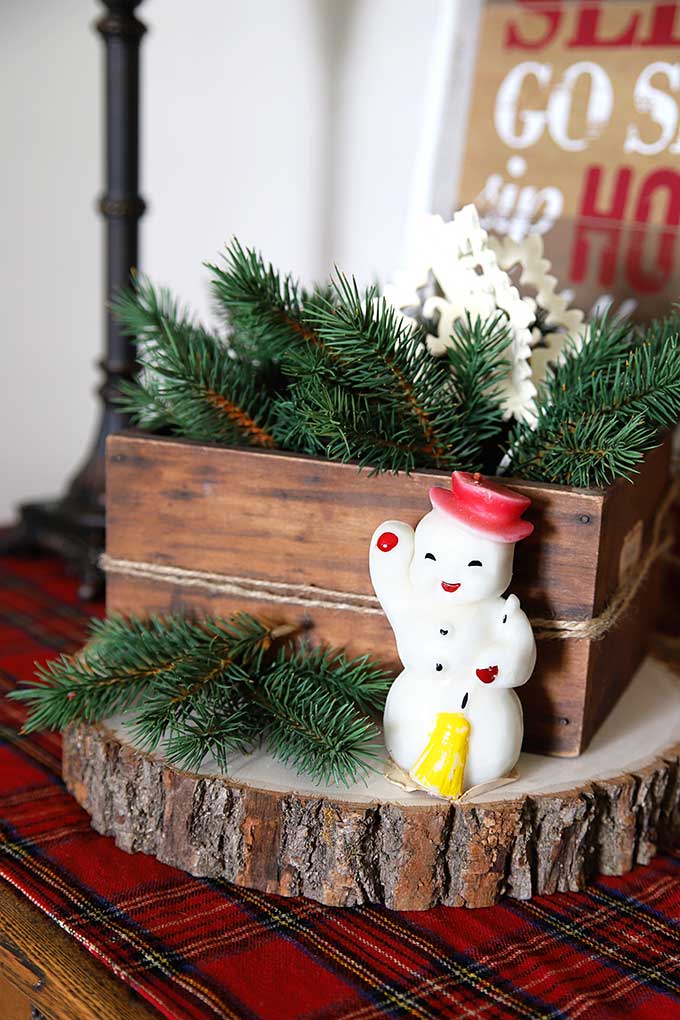 And I just had to show you my new curtains.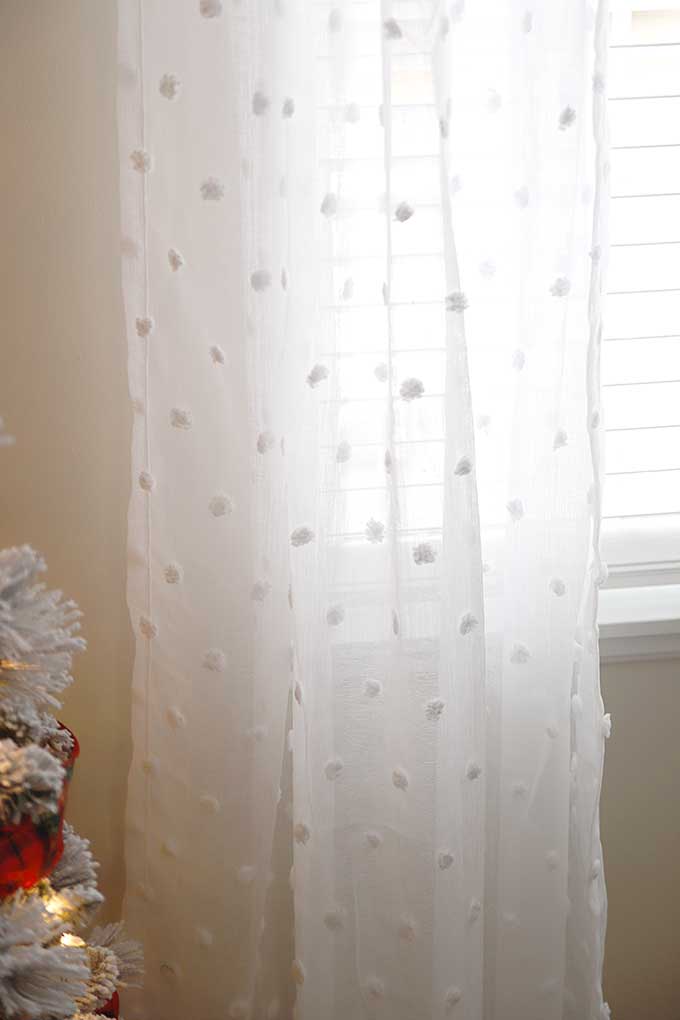 I had originally thought I could use the vintage barkcloth ones I bought this summer that had the cute deer on them. Because deer = Christmas.
But they ended up being too short. And made the room too dark. So two strikes and they were out.
But then I found these light and airy puffy dotted curtains from HomeGoods! And they made me smile!
They sort of look retro to me. I don't know if the photos show it too well, but the dots sort of look like the bumps on chenille bedspreads.
And if a chenille bedspread isn't retro then I don't know what is!
OK, I really have to finish up some Christmas shopping so I'm out of here.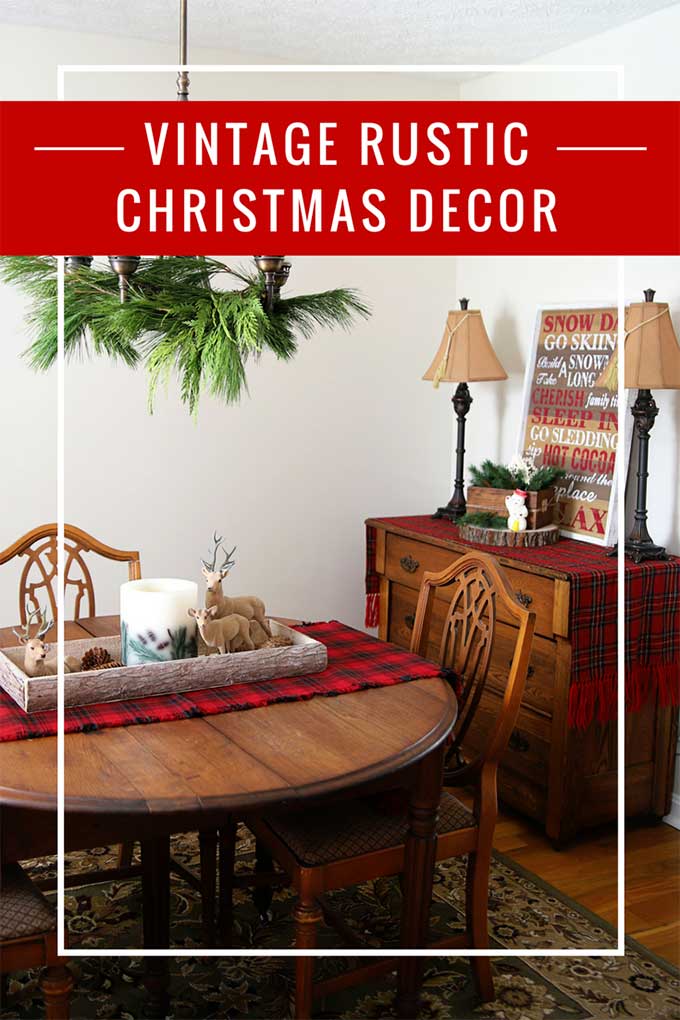 (This post contains some affiliate links for your convenience. You can read my full disclosure policy here.)

Other posts you may enjoy:
A Vintage, Farmhouse, Retro Kind Of Holiday Home Tour