Weekend thrift store score including vintage plaid Thermos picnic set, mid-century modern rolling kitchen cart and lots more kitschy goodness.
There's a little antique mall in a podunk town not too far from here that sort of doubles as a thrift store or flea market. They have a porch area that vendors just toss their "lesser" stuff on and mark it really cheap just to get rid of it.
I love that place!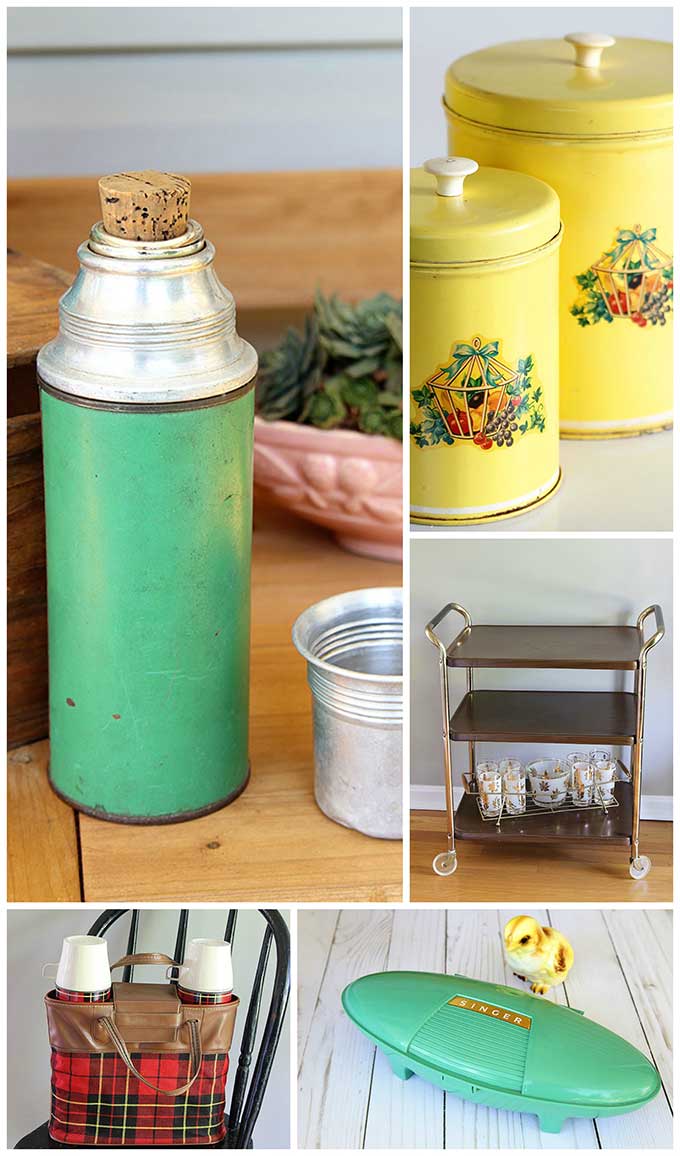 I've found many things there over the years, from my son's over-endowed stuffed squirrels to various lunchboxes and thermoses.
Did I just say the "T" word? Why yes, I did.
This week, I found this super cute, jadeite green colored Icy Hot vacuum bottle (aka a thermos) there.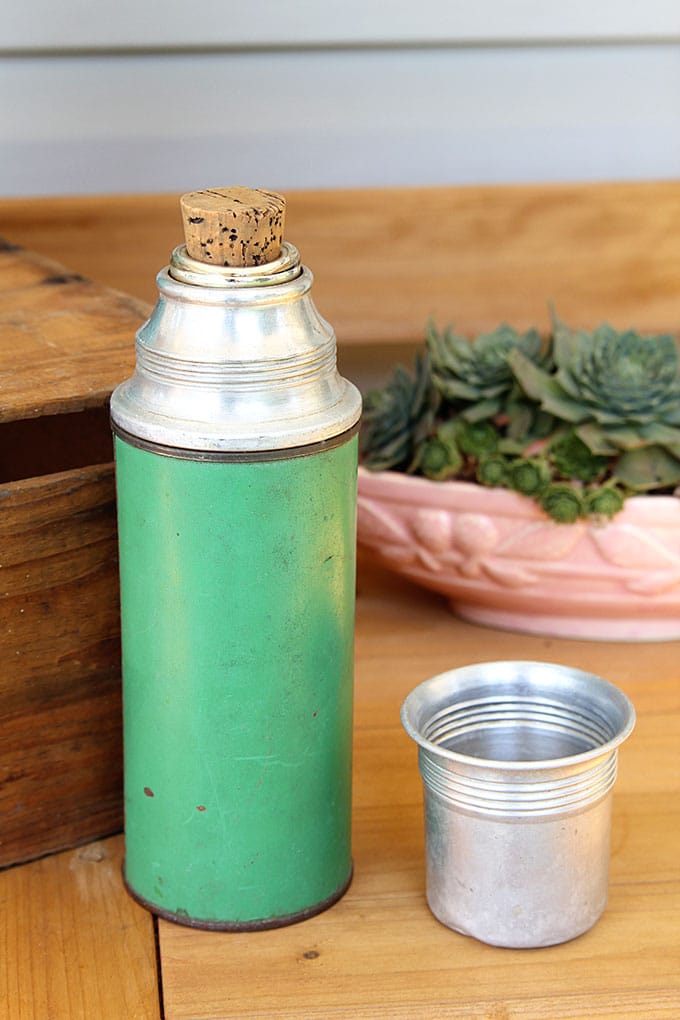 It's jadeite green, for gosh sake!!! I had to buy it!
And while we're talking jadeite colored things, I found this singer sewing machine buttonholer case a few weeks ago at the very same antique mall / thrift store / flea market.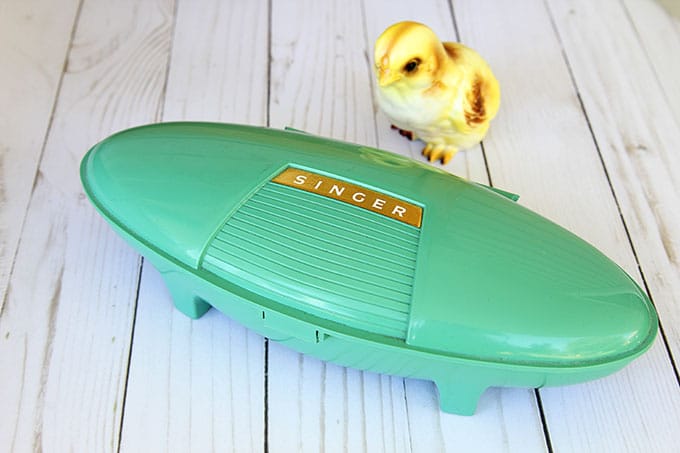 Without the actual buttonholer parts, but it makes a cute case to hold pens and paper clips on my desk.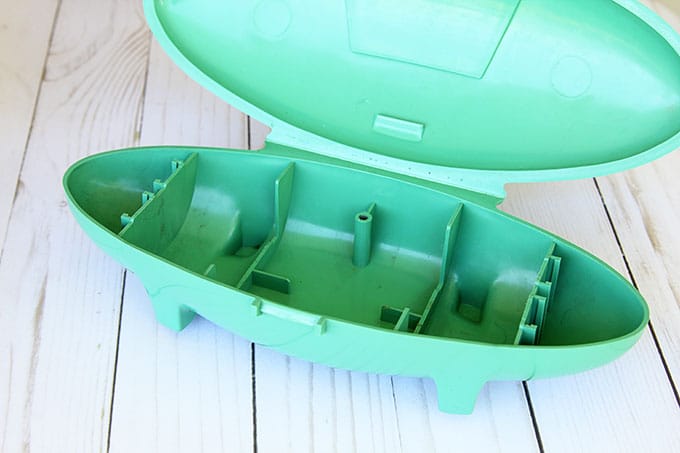 Probably would have made more sense to have taken the photo with said pens and paper clips actually in the case. You live, you learn.
This is a little boring, but I bought this metal jello mold for a buck.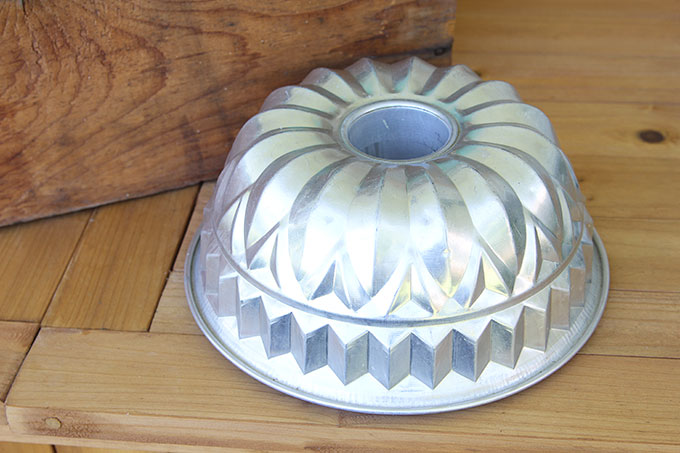 Hopefully you'll see it in action in a few weeks and no, there will not be Aunt Bee's jello salad being made in it.
Although I could go for some orange jello with banana slices in it right about now.
In the past, I have made Birdseed Suet Cakes out of them and Glittery, Kitschy Jello Mold Christmas Wreaths. So the sky's the limit here with jello molds.
Whenever I run across a vintage metal canister set and it's under $5 I buy them.
They're a little too rusty to store flour, sugar and whatever else people who cook store in these canister things, but they are great to hold all sorts of stuff in the office or craft room.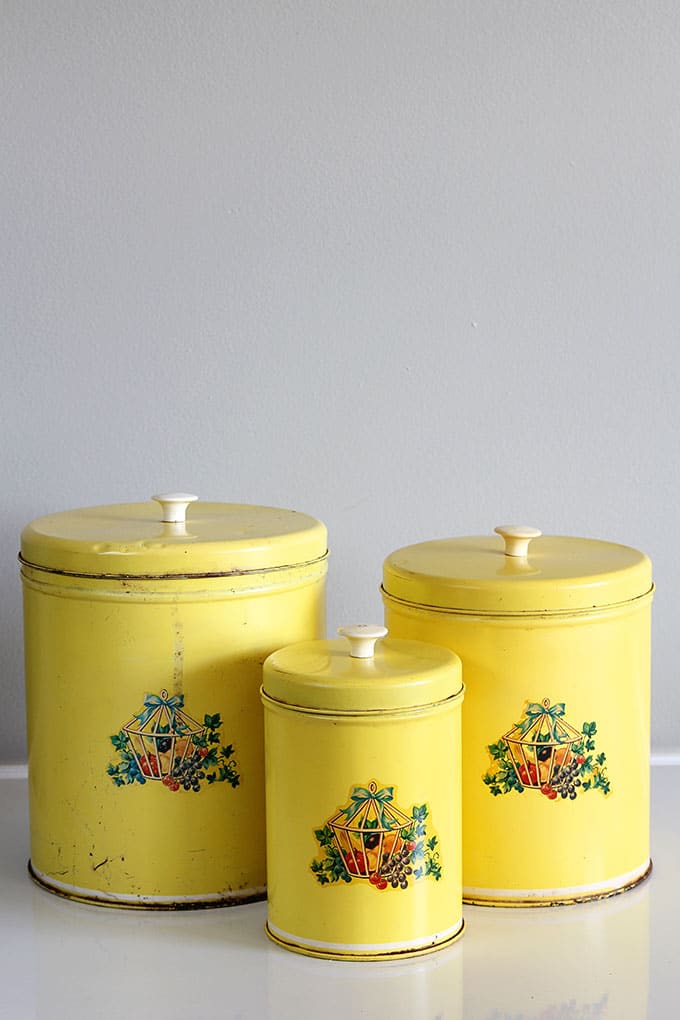 You can see similar canisters, picnic baskets and whatnots used in action in my Home Office Decor: Vintage Style or Home Office Organizing: Vintage Style blog posts from earlier this year.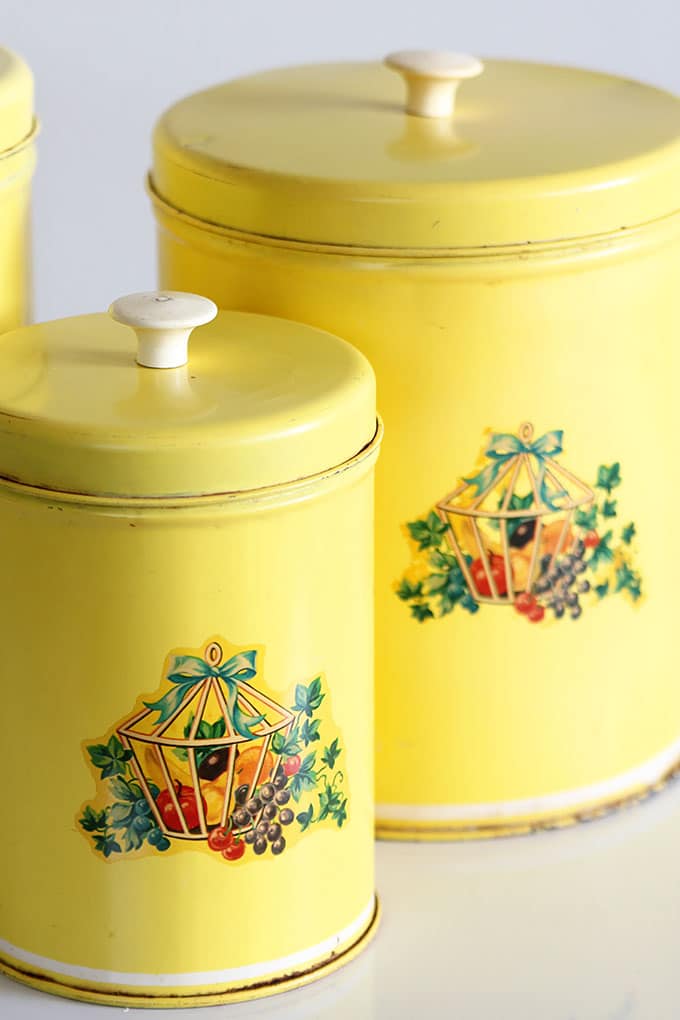 I have NO IDEA what I am going to use these for, but I found 3 vintage barkcloth deer curtains just setting in a plastic bag thrown underneath a table.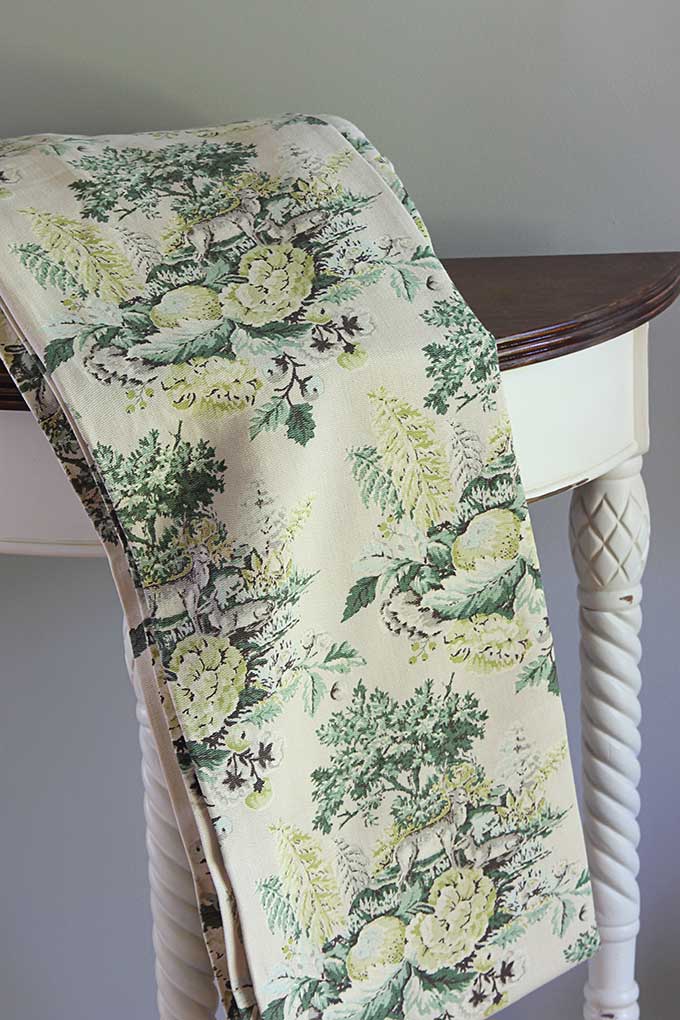 I don't know if they are faded or if this is what they are supposed to look like, but my rule is to never pass up barkcloth when you find it at a good price. Never.
I may use one panel for winter porch pillows. They don't exactly shout Rudolph and Santa, but I thought it might be good for a low key rustic cabin look?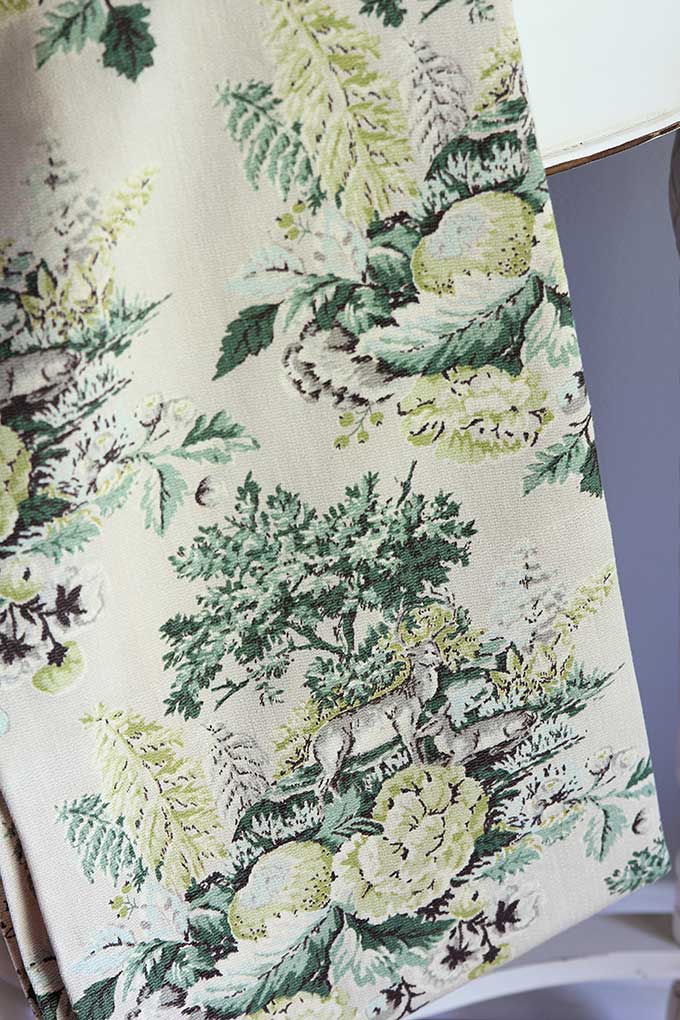 Now, when I found this baby I immediately fell in love with her. She's a vintage mid-century modern woodgrain metal kitchen cart in pretty darn good condition for her age.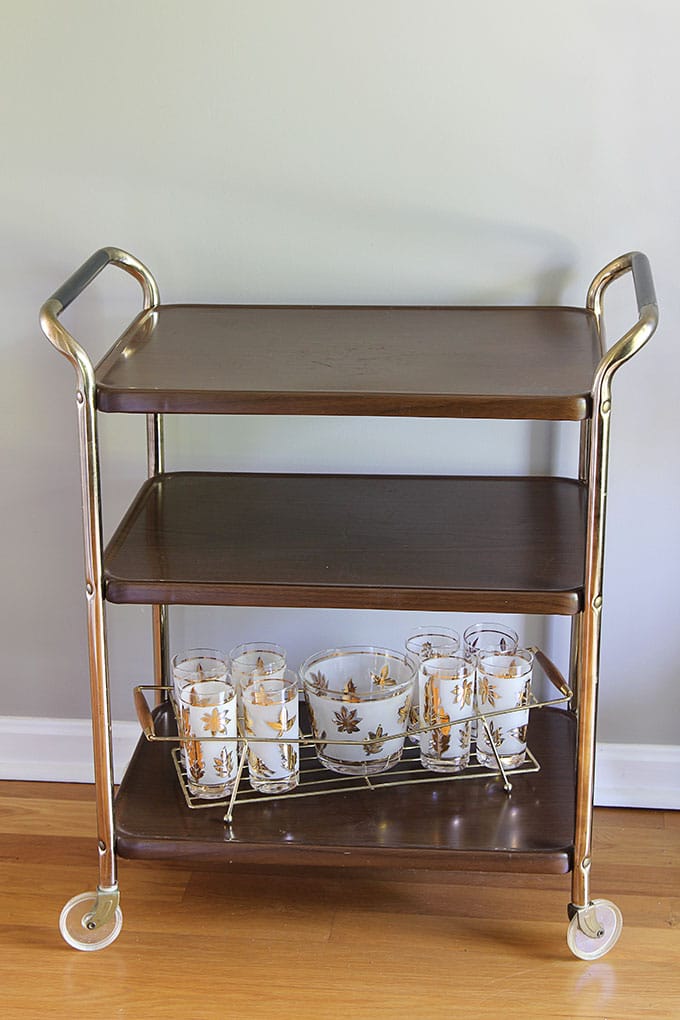 I was thinking she would make a great bar cart, but after I pulled out my vintage Libby Golden Foliage bar set I realized
a) I really have no other pieces of barware and
b) I don't drink
At least not enough to have a bar cart!
You normally see these carts in bright colors with chrome legs, but this one has nice golden legs with black accents and she just shouts mid-century era coolness to me.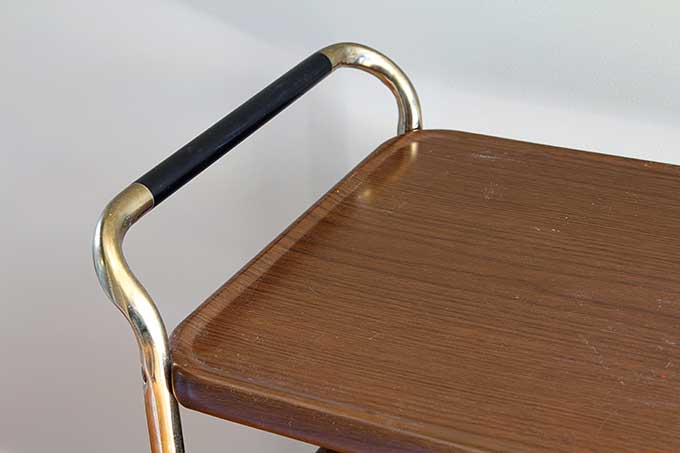 She even has her original lucite/plastic rollers.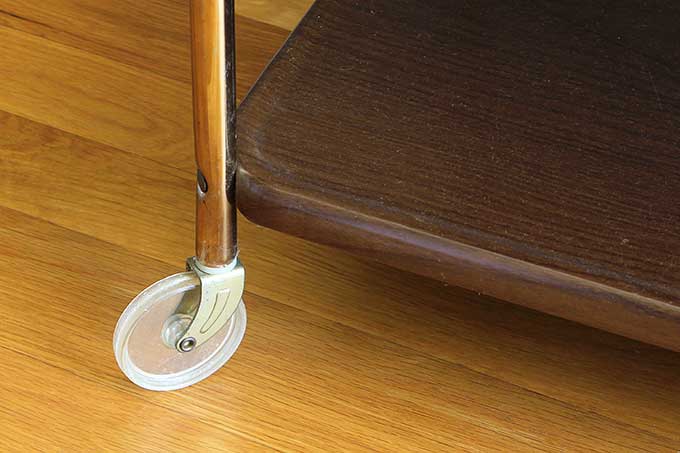 Now to just decide what to do with her.
And last, but certainly not least, I found a vintage plaid Thermos picnic set.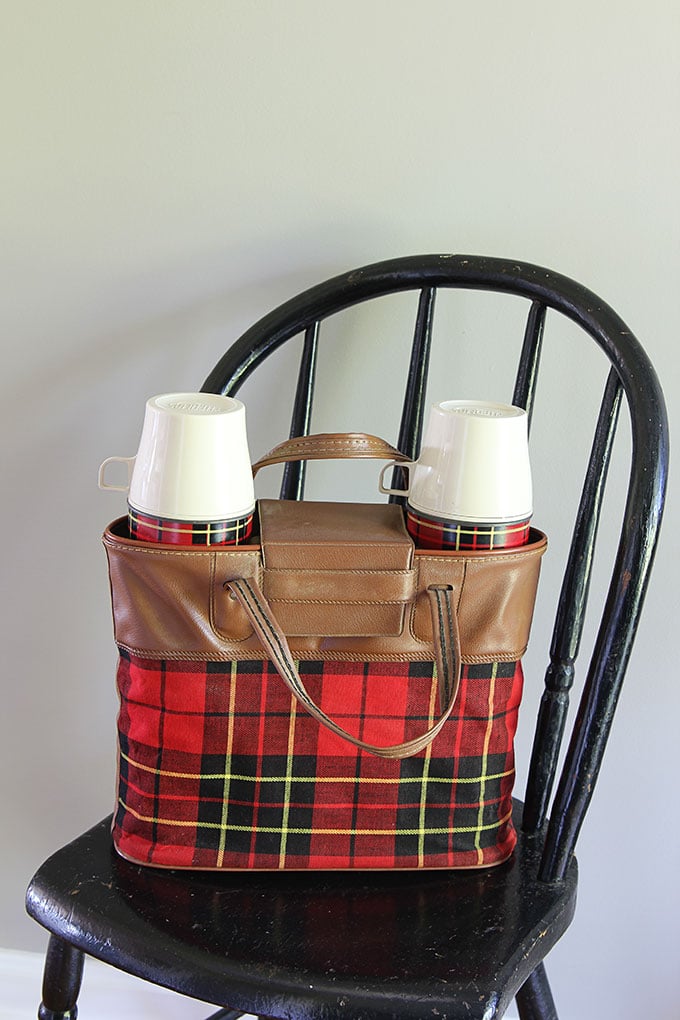 And . . .
wait for it . . .
It was in original packaging!!!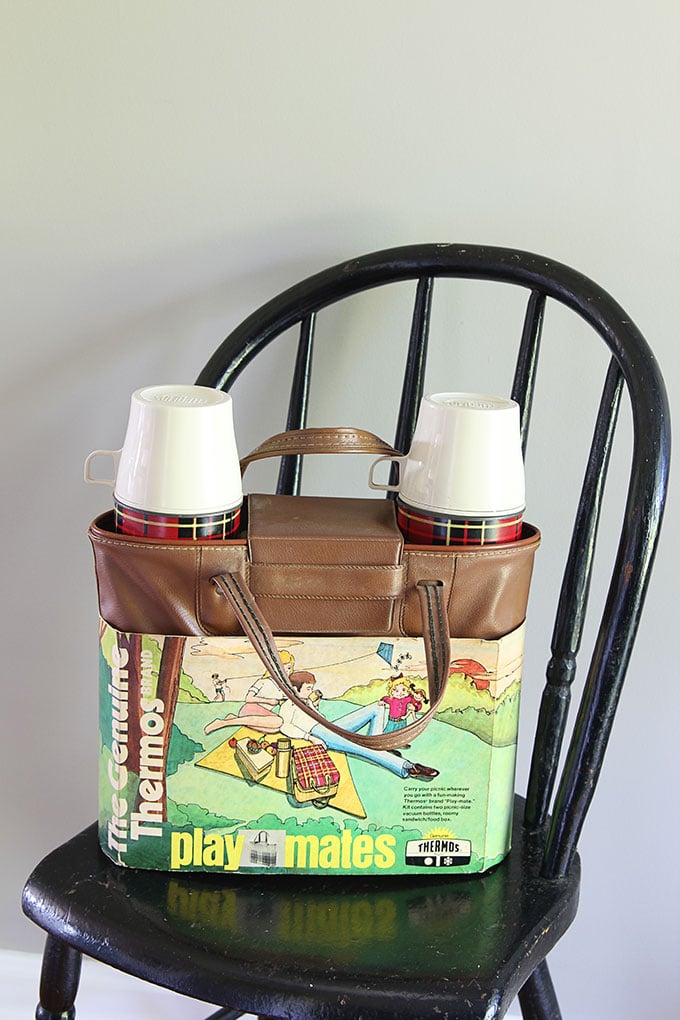 It doesn't look like it's ever been used or out of the packaging.
Sort of like finding the unicorn of the Thermos world!
Check out these groovy 1973 graphics.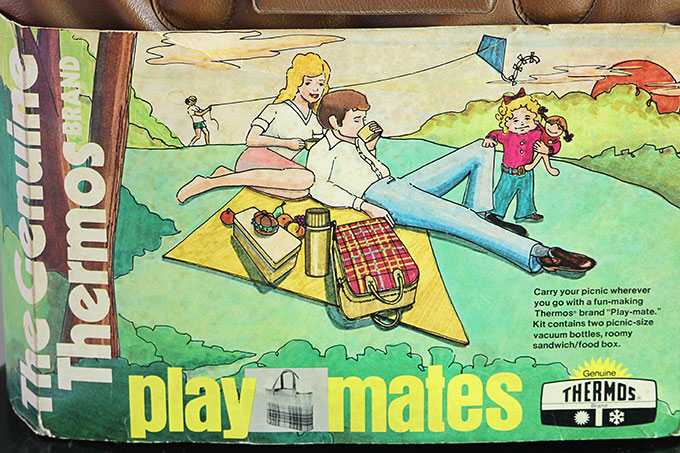 And just because so few people follow my Instagram feed, here's a little video I pieced together of my Instagram Stories from that day.
Some things to keep in mind:
IG Stories are 15 seconds clips of your life sort of done in real time, so this is a bunch of 15 second clips throughout the day stapled together.
Instagram Stories are a more natural way of doing video, so it's not all about the beauty shot. It's more real life, down and dirty, maybe I need to get my hair colored again or put on lipstick sort of videos. If you're looking for perfection, look elsewhere.
Oh, and I'm not cross-eyed. I'm looking at the screen on my phone, but the phone is shooting the video from the camera which sets right above the screen, so it makes it look like I'm not looking at you. Anyhow, I haven't perfected the art of walking and talking at the same time, so filming myself and looking at the right spot on the phone may take a while!
And can I say that people think you are nuts when you are basically talking to yourself on your phone. It's odd enough for this little antique mall/thrift shop when I tell them I'm taking photos to post on IG, but start talking about posting a video to IG Stories and the weird looks go to a whole different level.
If you want to pitty-follow me on Instagram you can find me at House Of Hawthornes on Instagram .