Welcome to my Fall Home Decor Tour!
I was over-the-moon excited when Brenda from Cozy Little House invited me to be part of her Blogger's Fall Home Tour. This is day 3 of the tour and at the end of the post I will show you how you can see all of the other cool fall-ified houses on the tour.
And if you're visiting from Debra at Common Ground's house, thanks for coming over! Pull up a stool and relax.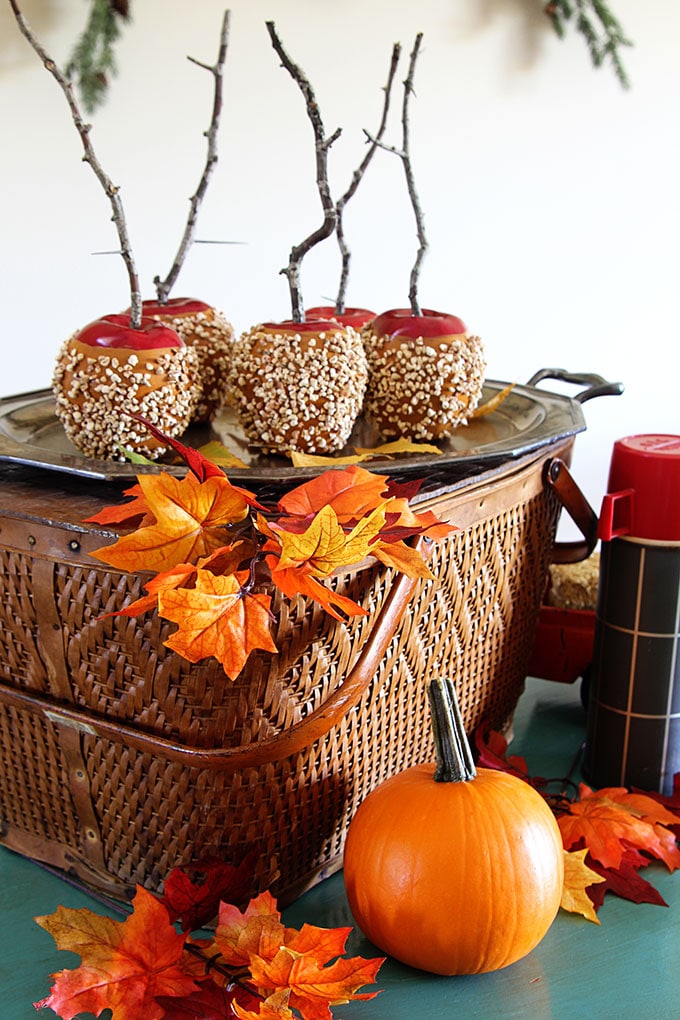 You know what? I've decided that having a broken arm is a good thing.
You heard me. As Martha Stewart is so fond of saying, it's a good thing!
It means I can't rely on my old fall decor standbys. No pulling out bins and bins and bins (I have a LOT of fall stuff) and just rehashing what I've done in the past.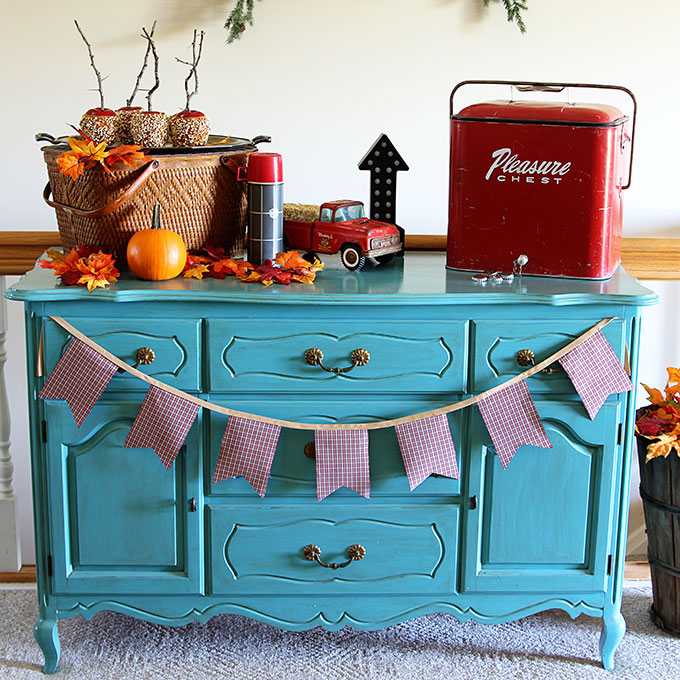 No, having a broken arm and not being able to get to the mountain of bins has forced me:
To simplify
To repurpose what I have around the house already
To look to nature for decor
Take for instance, my picnic basket.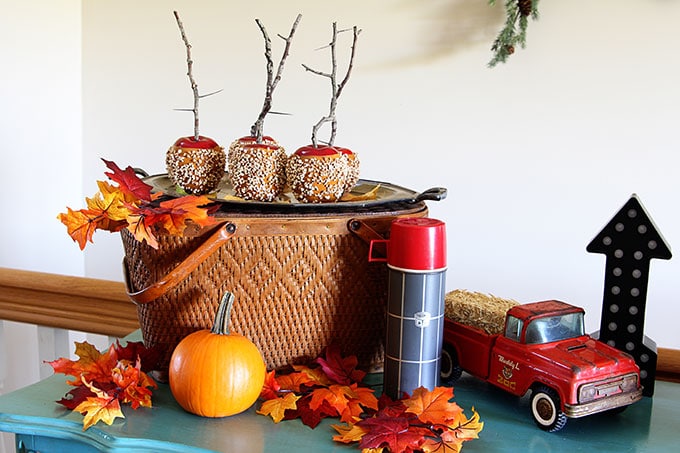 I have a few of these Redmon picnic baskets. I use them for storage and normally have them all stacked on top of each other, looking all cute and useful.
But the colors are pattern are great for fall decorating, so I drug one out and put it on top of my turquoise credenza/dresser in my living room and it was the start of a fall vignette.
I added the faux caramel apples I showed you how to make the other day.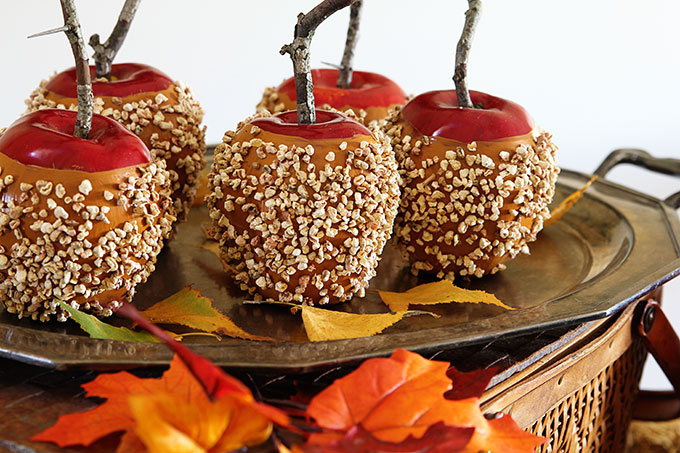 Along with my little red truck hauling a bale of straw.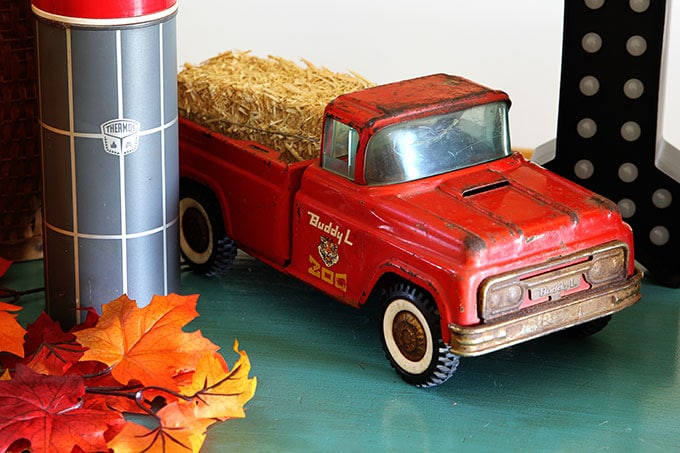 Just a few cheap sprigs of fall leaves (they're fake, can you tell?) and a pumpkin and we're good to go.
I added the vintage Pleasure Chest to give it another pop of red color.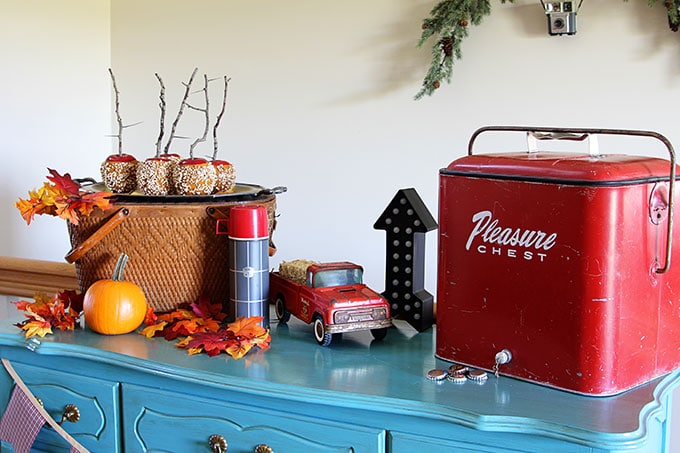 The peach basket is filled with a cheap garland of fake leaves I bought on sale at Hobby Lobby the other day.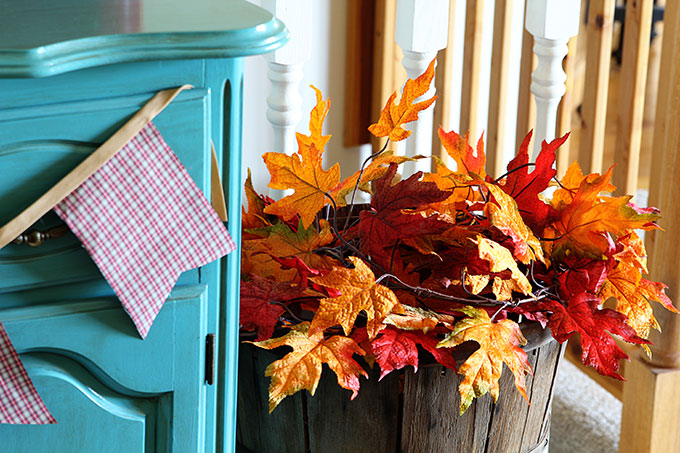 It was roughly $6 and much cheaper than buying enough leaf bushes to fill up the basket.
After all that, I still felt the dresser needed a little more pizzazz, so I threw together a bunting made from double folded bias tape and "flags" made from a 99 cent plaid thrift store shirt.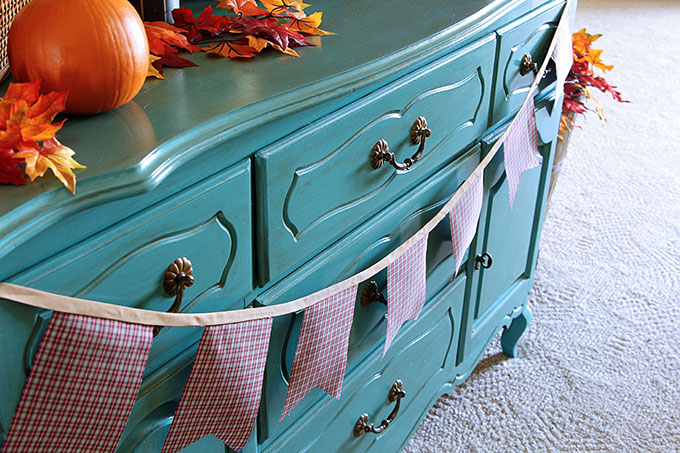 I did a pretty detailed tutorial on how to make a similar one this summer you can check out if you want to know more about it - DIY Nautical Patriotic Banner .
What's the arrow for? It's pointing to my friend.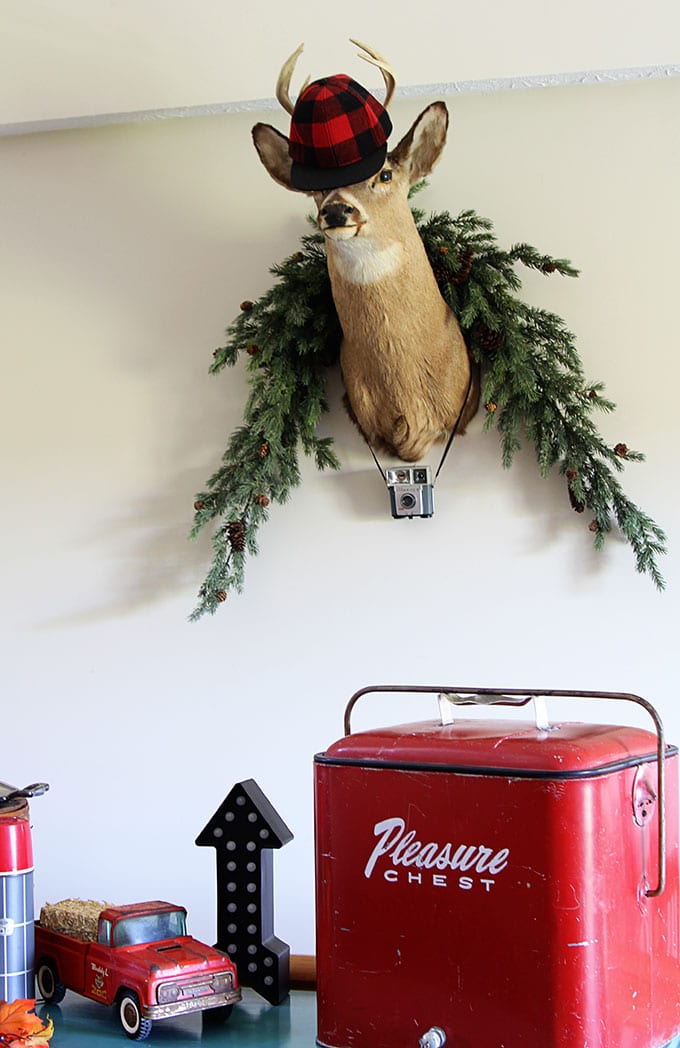 My dear deer friend.
I'm bound and determined to make last year's Christmas deer decor last clear through to this Christmas!
So really, on this vignette the only things that are clearly fall are the caramel apples that I made and the leaves and hay bale that I bought.
The rest of the stuff is normal stuff I had setting around the house in other areas that I just repurposed as "fall" for the season.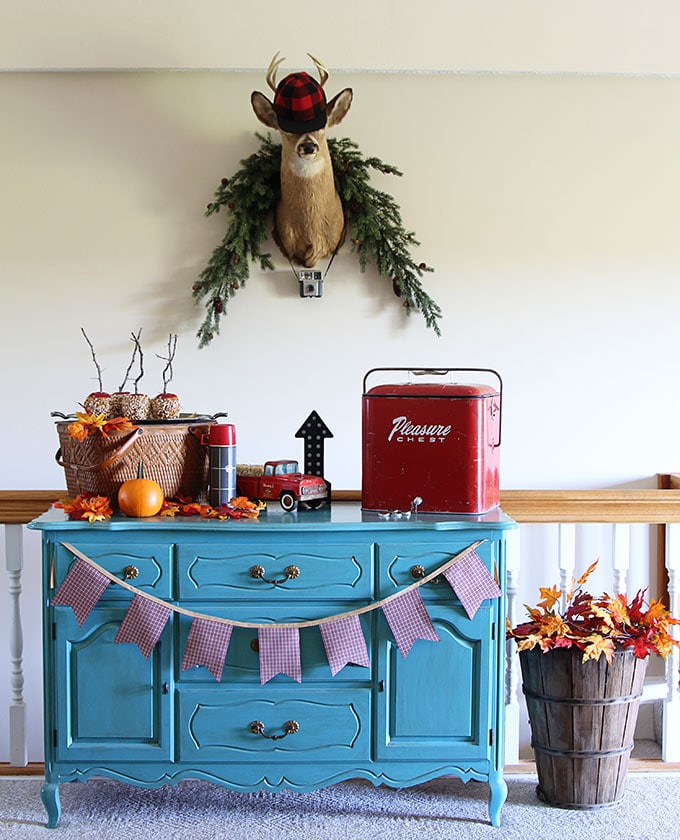 I made another vignette in the dining area of the kitchen that pretty much uses what I had on hand or what nature provides.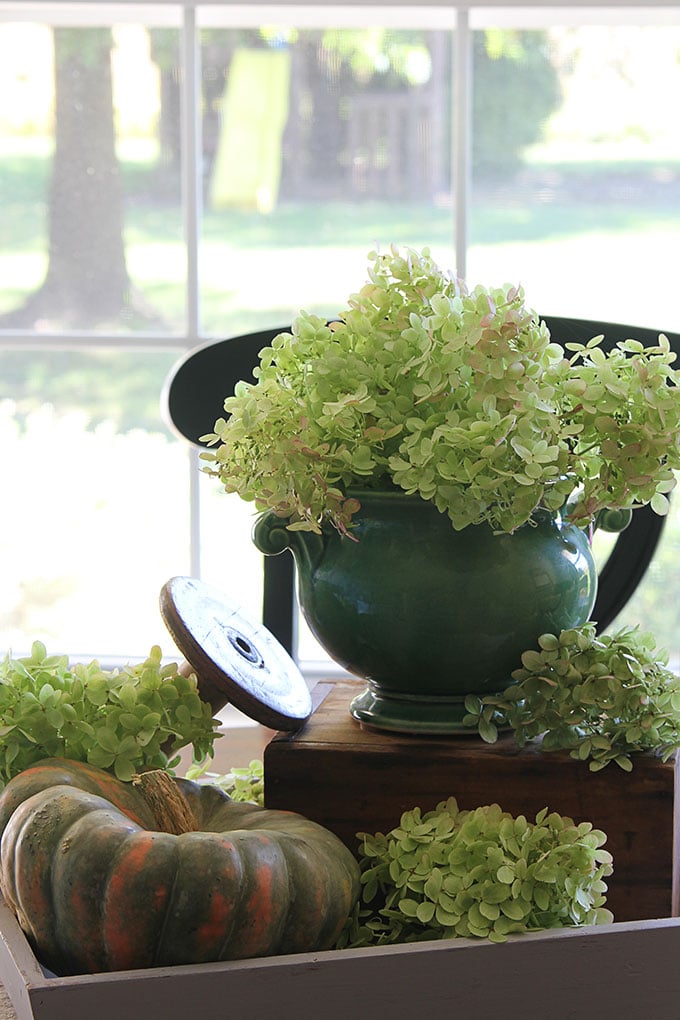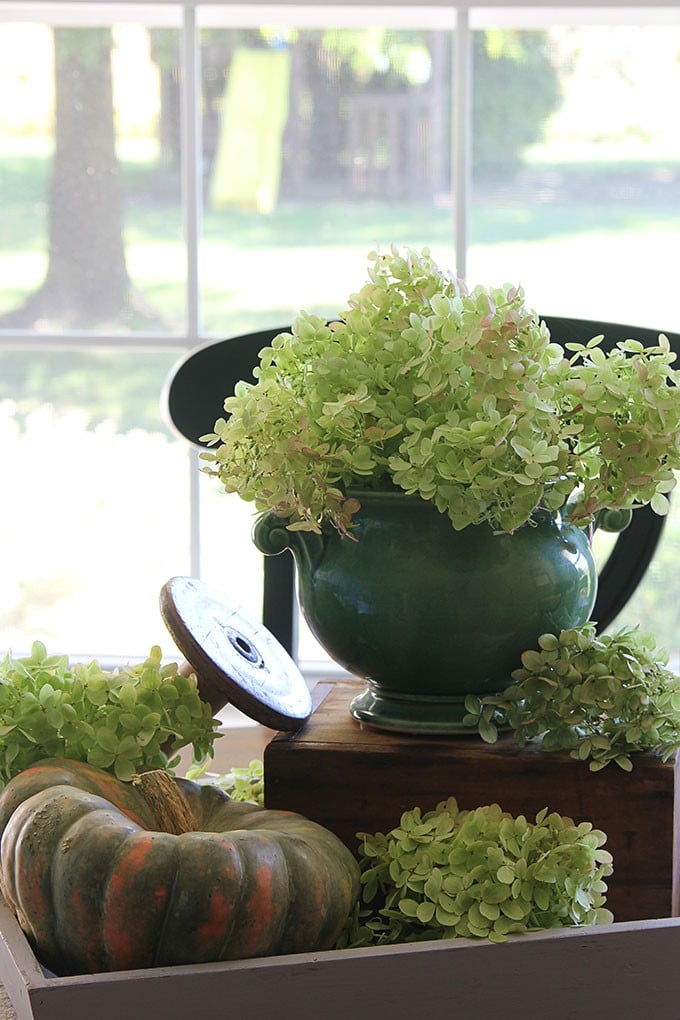 I found the green McCoy vase at a yard sale just last week and filled it with Limelight Hydrangea from the front yard. You can't beat free flowers.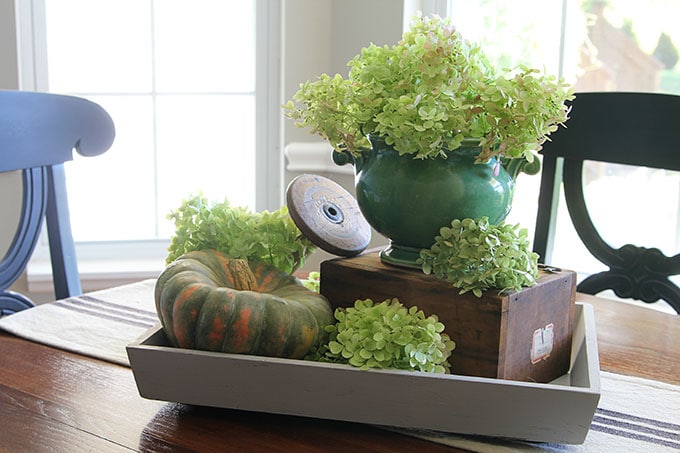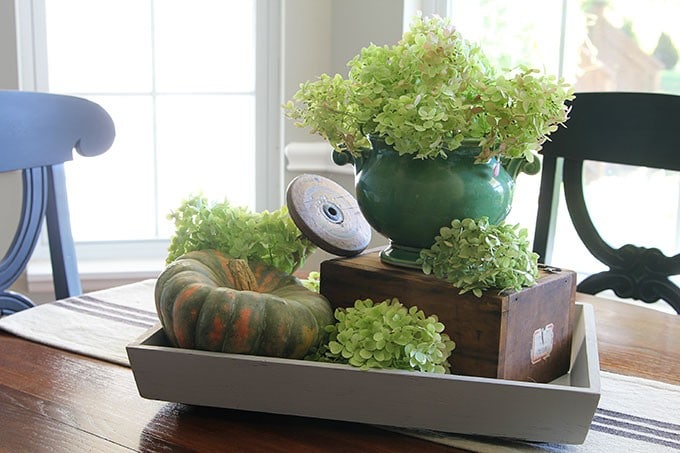 I set in on top of an old wooden box turned upside down. And plunked the whole thing into a wooden tray that I just recently (as in about 15 minutes before taking these photos) painted with gray chalkpaint.
The wooden spool is just one of those random doodads that I have around the house that I "go to" whenever I need to a fill a hole in a display. It always seems to work.
As soon as I saw the green and orange pumpkin at Walmart (in the produce section) I knew it would look cute on the kitchen table.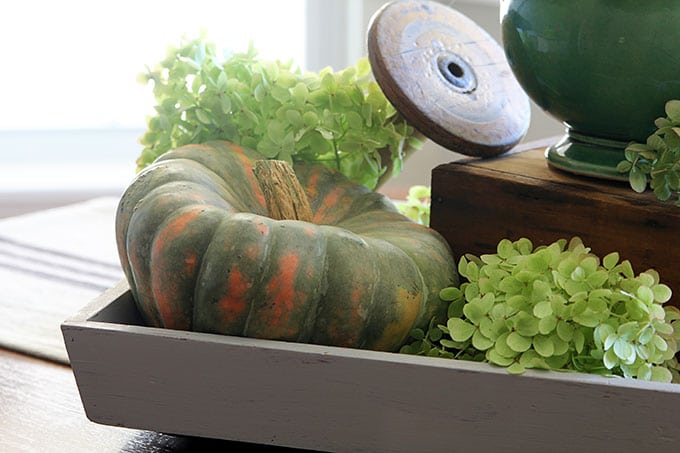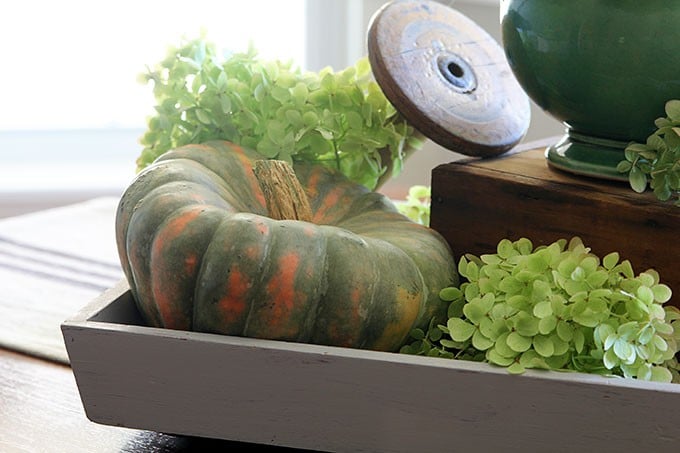 I ran back the next day and picked up some of its cousins.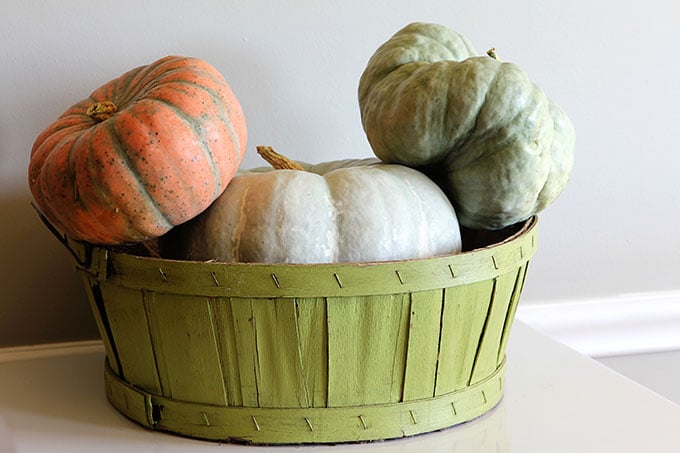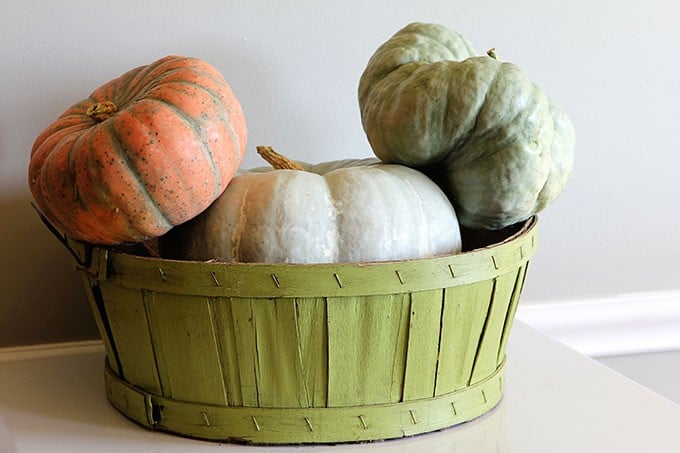 What I'm really liking about my decor in here is that most of it will just get tossed in the compost pile when the season is over.
No bins to pull back out this year, just move stuff back to where I had it in the past. Or just toss the natural stuff.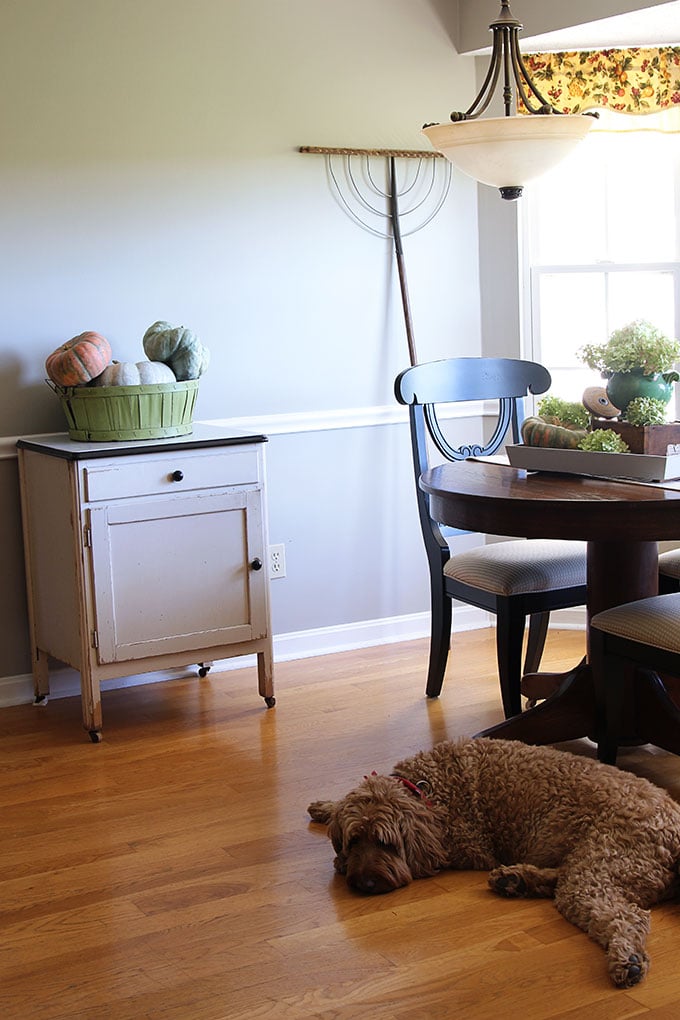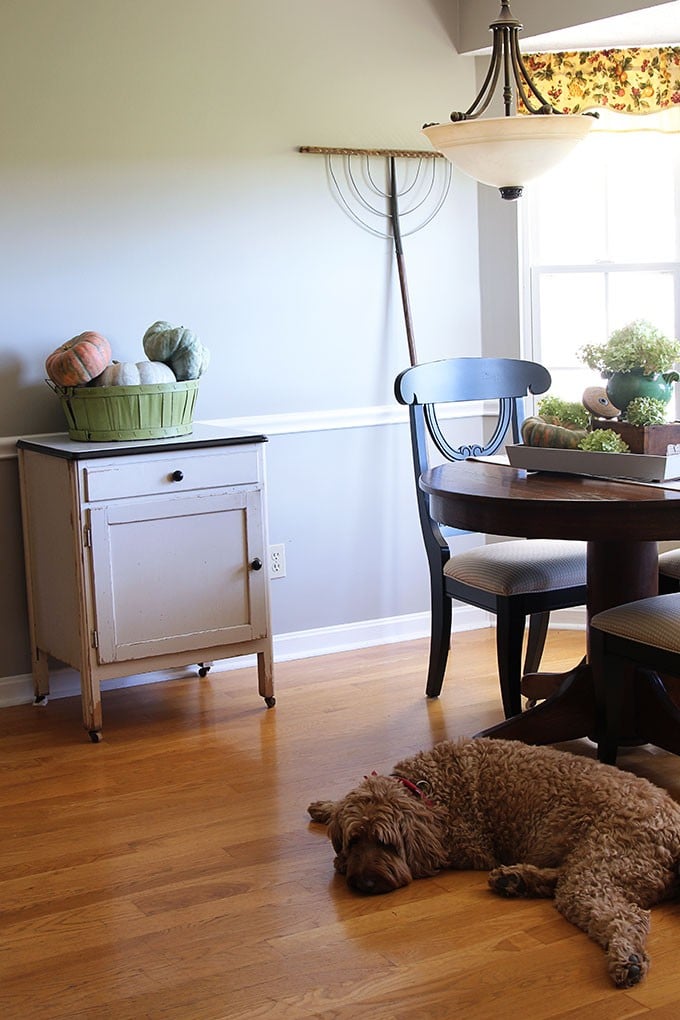 And yes, Lacey is quite comfortable laying on the floor there. She would not move when I was taking photos, so I had to work around the girl.
So, if you're stressing about decorating for fall or need to do something cheap and easy (or were a klutz and broke your arm and can't get to your fall stuff), just remember my new mantra:
simplify
repurpose
look to nature
It's freeing, I tell you!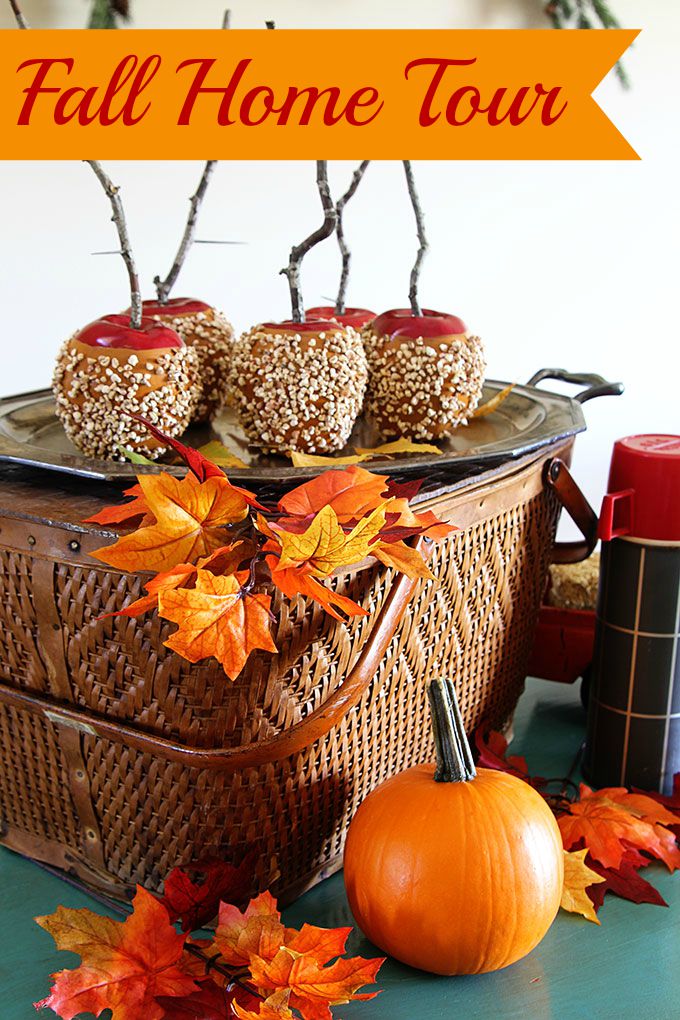 Some other fall posts you may enjoy:
Crockpot Baked Apple Recipe
Inexpensive Fall Centerpiece (Fall In The Dining Room)
Eclectic Vintage Farmhouse Fall Porch (2014)
Fall On The Porch (2013)
Easy To Make Fall Wreath
Painted Halloween Mason Jar
Now pop on over to the next stop on the house tour train, Priscilla's.
And I hope you'll pop over and check out even more homes in today's tour:
Today's Homes
Faded Charm | Shabby Fu Fu | Love Of Home
Common Ground | House Of Hawthornes (hey that's me) | Priscillas
Tuesday's Homes
Thoughts From Alice | Exquisitely Unremarkable | It All Started With Paint
D.D.'s Cottage | Chatfield Court | Itsy Bits & Pieces | Cozy Little House
Wednesday's Homes
Town & Country Living | The Sweetest Digs | House Of Hipsters
Little Farmstead |Sunny Simple Life | Dwellings
Friday's Homes
House Honeys | So Much Better With Age | Chasing Quaintness | Karla's Cottage
Northern Nesting | White Tulip Designs | My Thrift Store Addiction