I hope you all had a wonderful holiday season. Mine was absolutely magical!
Lots of time spent playing with my son, putzing around in my house and just genuinely enjoying all the fun and festiveness of this time of year. I am so glad I took a few days off from blogging to just unplug and enjoy everything.
Oh, and I ate a bit too much, but that is what New Year's resolutions are for, right?
I thought I'd jump on the bandwagon of top ten countdowns for the year. I love a good bandwagon. Who doesn't?
But instead of top viewed posts or top DIY projects, I am doing my top thrifting finds for 2012. Because, hey, thrifty is what I do best.
So in no particular order, here are my most favorite thrifty finds for 2012: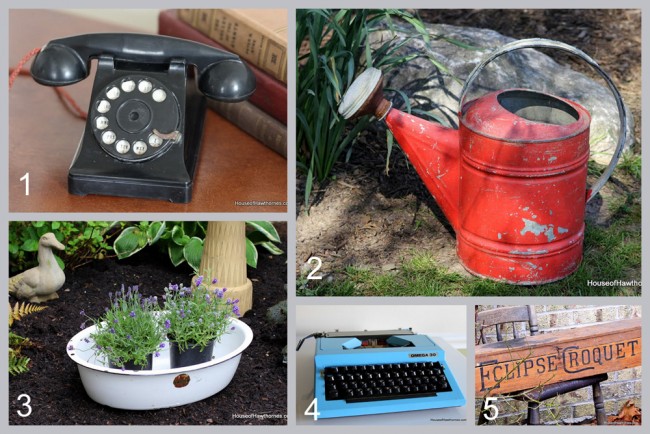 1. Toy Phone 2. Watering Can 3. Enamelware Basin 4. Turquoise Typewriter 5. Croquet Box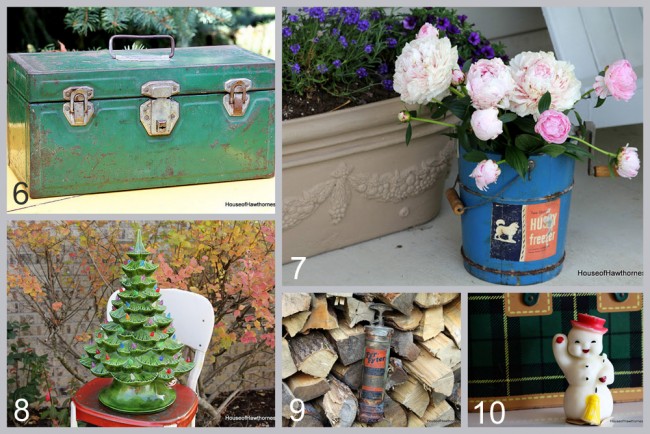 6. Toolbox 7. Ice Cream Churn 8. Ceramic Christmas Tree 9. Fire Extinguisher 10. Gurley Candles
I've used each and every one of these in my house. Some of them over and over again.
I have used the heck out of that turquoise ice cream churn. Everything from a flag holder at 4th of July to a fall flower vase. And that ceramic Christmas tree was a hit and a half at Christmas in my dining room. The toolbox is still the centerpiece on my kitchen table and the toy phone always has a place on the shelf in my living room.
The only one of these that I haven't used is the fire extinguisher. Don't get me wrong, Sparky was a fun find, but I am scared it's going to blow up my house. And really, how ironic would it be that I would need a fire extinguisher to douse the explosion caused by my fire extinguisher.
It has left over, very old fire extinguisher chemical in it and I need to get it drained before I bring it inside and finish cleaning it up. Yes, I know I bought it six months ago.
OK, well that's it for now. I'll be back to my somewhat normal posting schedule this week.
Have a fun and safe New Year's Eve!